Southcross Energy (SXE) is a midstream MLP, connecting Eagle Ford and Permian gas to the Corpus Christi pull demand. With 22 million shares trading at under $0.50, I think there is a chance for this stock to possibly quintuple. A lot of things can go wrong for SXE, though. This asymmetric opportunity has a real a possibility of dying a slow death and going to zero. I am cautiously long with a small position.
SXE primarily consist of 3,100 miles of pipeline in south Texas, Mississippi and Alabama, a 22,500 Bbls/d fractionator (Bonnie View) and two processing plants. Most of SXE's assets are located in south Texas and are situated to connect the Eagle Ford to Corpus Christi. Southcross Holdings owns 72% of SXE as well as 800 miles of pipeline and a 64,000 Bbls/d fractionator in Robstown, TX, which it has agreed to sell.
To give a very brief history of the company: SXE was crushed by debt after the 2014 energy crash. It had a lot of debt, narrowly escaped bankruptcy in 2016. To escape bankruptcy, two of its sponsors Tailwater and EIG each paid $170 million for a roughly 25% stake in the company. Then the sponsor focused on selling the company; less focus was placed on righting, the company, which was perhaps prudent, given the amount of debt. My takeaway from the 2016 transactions by EIG and Tailwater is this: they each contributed $170 million dollars and got about a quarter of SXE, because they thought the company was worth significantly more than four times their $170 million contribution.
A year ago, SXE sold to AMID for $813 million. The deal was complicated, involving the assumption of about $600 million in debt and about $200 million of a variety of AMID equity for holdings and public holders of SXE. The market did not price SXE as if the sale was going to go through. Then AMID slashed their dividend, halving their market cap. In late July, the sale to AMID was cancelled by Southcross Holdings. The reason that Holdings gave for cancelling the sale was that they doubted AMID could complete the sale in time. I think there are two much more likely reasons why Southcross Holdings cancelled the deal: 1) the equity they were offered in AMID was now worth substantially less than it was when they agreed to sell. 2) The natural gas market finally picked up somewhat. The important thing that I take away from the actions of Southcross Holdings and the markets pricing of SXE is this: Equity that was being sold for around $200 million in November 2017 was now being valued by the market at around $50 million once AMID tanked (77 million shares, 22.1 million held by the public, trading around $0.75 at the time) and Southcross Holdings, who holds all the power over SXE, was confident that they could do better.
What was priced at around $200 million last year is currently being priced around $35-40 million ($0.45-0.50/share). But what has changed with the market? Natural gas prices have gone up and Eagle Ford volumes are growing. https://seekingalpha.com/article/4209553-escalating-ethane-prices-implications-mlps-midstream ConocoPhillips (COP), for example is positive on the region as their Vice President of Exploration explained on their third quarter conference call:
The Eagle Ford is going to continue to grow for quite some period of time. It's not the – the flat spot on is not in sight. It's not something that's going to happen next year.
And there may once again be interest from buyers of midstream assets in the area. On October 10th it was announced that EPIC would buy the 64,000 Bbls/d Robstown fractionator from Holdings.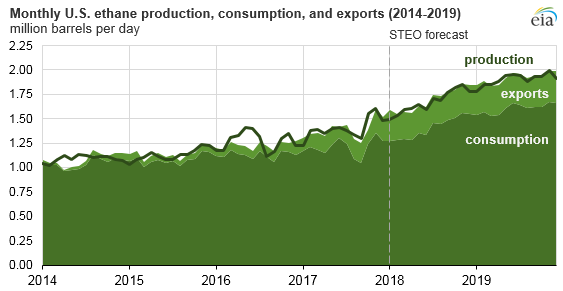 Source: U.S. Energy Information Administration, Short-Term Energy Outlook February 2018
What is SXE worth? This is something that I cannot say precisely. Replacement costs would probably come close to $2 billion, but I cannot confidently say that a savvy actor in this field would replace SXE's assets, so they may be worth less than replacement. Book value says its worth north of $400 million dollars, a figure net of debt, approximately twice what AMID was offering. Book value is probably more realistic, but not a sure thing. The market, AMID to be more precise, said it was worth a little over $200 million last year when volumes and prices of natural gas in the region were lower. Today the market is saying it is worth only $35-40 million. I think the market is wrong. I think SXE is credibly worth something much closer to what AMID offered and perhaps even more. I am confident that Southcross Holdings agrees with, as evidenced by their termination of the AMID deal.
SXE's chances of thriving in its current state are not great. They will have EBITDA in the ballpark of $60 million this year. This can probably be improved quite a bit given the improving market in the region, the fact that they will be reopening their Bonnie View fractionator this month. As discussed in their 2Q conference call, the company let opportunity slip by as it was preparing to sell itself to AMID, but they are now working seize the improving market now. However, SXE has around $530 million in debt and in order to get anywhere near a distribution, something spectacular will have to happen to decrease debt or to increase earnings. Such an improvement could happen but I'm not holding my breath for the energy miracle that has been just around the corner for four years now.
There are two timing issues that should be discussed. The first is that the share price has fallen under $1 and if it remains depressed, the stock faces delisting. https://seekingalpha.com/news/3387312-southcross-energy-partners-receives-nyse-delisting-warning The second issue is that SXE's revolver is coming due in August of 2019. SXE will have to either pay off debt or come to some kind of agreement with its lenders. Of course, one option is the Southcross Holdings can buy both time (and more SXE shares at a discount) by using the proceeds from the sale of the Robstown fractionator to exchange SXE debt for equity.
It seems that while Southcross Holdings is trying to make improvements at SXE, their best bet (and also their apparent course of action) is to find a buyer. If a buyer cannot be found there is a small chance that this company can right itself in a few years, but it is also possible that it can go bankrupt or be gobbled up by Southcross Holdings. If it can find a buyer, a near term upside may be as high as 5X.
Disclosure: I am/we are long SXE.
I wrote this article myself, and it expresses my own opinions. I am not receiving compensation for it (other than from Seeking Alpha). I have no business relationship with any company whose stock is mentioned in this article.
Editor's Note: This article covers one or more microcap stocks. Please be aware of the risks associated with these stocks.