The last time Tableau (DATA) traded above $120 was in 2015, when many Wall Street analysts lauded Tableau for being able to bring big data visualization to non-technical users and calling it one of the most innovative software stocks of the era. This was before its terrible 4Q16 earnings release that caused the stock to plummet to the low $40s, as well as continued chatter about intensifying competition from big-name vendors, that eventually prompted a CEO change in the middle of this year.
Well, it's taken nearly three full years for Tableau to make this round trip, but now shares are bouncing back toward new all-time highs after posting Q3 results and are now up about 3x from their February 2016 lows: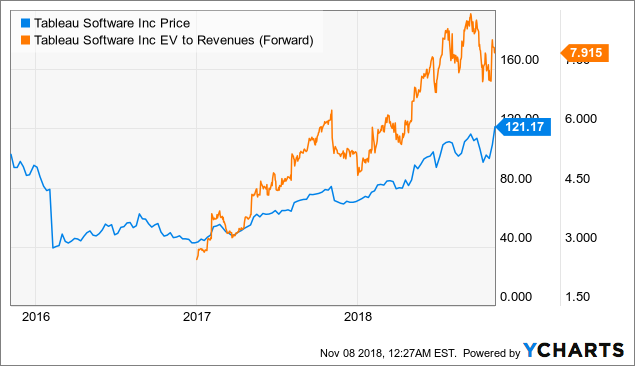 Despite investors' newfound confidence in Tableau, I'm hesitant to be bullish on the stock as it heads into the $120s. I was bullish on Tableau after its fall last quarter that put it in the low $100s, but I'm appalled at the fact that Tableau shares rose more than 10% in conjunction with a revenue miss. Sure, the upside guidance for Q4 is nice (revenues of $266-$276 million, versus consensus of $270.7 million), but how can we believe that a Q4 beat is in the cards when Tableau can't even hit its near-term goals?
With shares of Tableau catching fire again and blossoming into an 8x forward revenue multiple, despite disappointing growth, my doubts on the company begin to outweigh my positive opinions on the product (as a user of Tableau Desktop) and its premium placement in the BI space. The biggest question mark surrounding Tableau, of course, is competition. Tableau is one of the oldest and best-known BI solutions out there in the market, but newer and cheaper tools like Microsoft Power BI (MSFT) have been in the space for a far shorter period of time. Over the long run, users may opt to converge on a non-Tableau solution like Power BI, which carries the additional advantage of being natively linked to Microsoft Excel and other Microsoft applications.
Tableau's low teens growth speaks for itself: the company's market opportunity has already hit a saturation point. While the company is making greater efforts in the cloud and getting its customers to consume Tableau on a subscription basis (instead of paying Tableau's notoriously expensive upfront license fees for perpetual use), Tableau hasn't really extended its product into any new categories of software that can bring in long-term incremental revenue.
My take on Tableau: there's only a narrow range of stock prices that make Tableau attractive, and in my view, that's in the low $100s. Now having rallied 73% in the year-to-date period and on track to hit 52-week highs, Tableau shares again look extremely expensive and overrated for a slow-growth, high-competition stock. Steer clear.
Q3 download
Here's a look at the results of Tableau's third quarter:
Figure 1. Tableau 3Q18 results, ASC 606 and ASC 605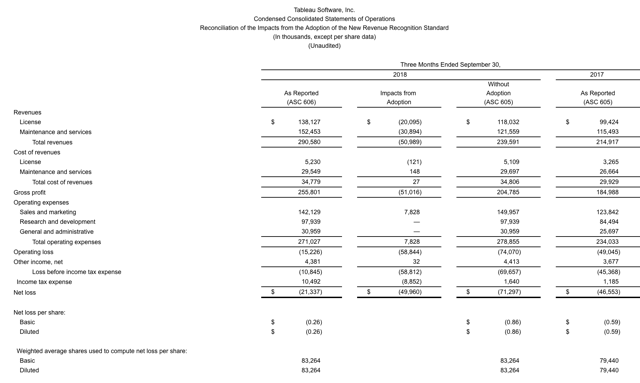 Source: Tableau investor relations
Like many other large-cap technology stocks this quarter, Tableau missed analysts' revenue expectations (and strangely enough, Tableau was one of the only companies to do so while still seeing a stock price surge post-earnings). As a reminder, Tableau switched accounting standards this year to ASC 606, in-line with other SaaS companies that report installment billings. ASC 606 revenue as reported above was $290.6 million, but revenue under the old standard was $239.6 million and grew just 11.5% y/y, missing Wall Street's estimates of $242.2 million (+1.7% y/y) by one point. This also represents nearly three points of deceleration from Tableau's Q2 growth rate of 14.4% y/y.
Sluggish growth aside, there are strong points to pick apart in the quarter, however. In particular, subscription revenues continue to do well as Tableau makes a greater push for its cloud offerings. Tableau's ratable bookings mix jumped to 81% this quarter, up from 67% in 3Q17. According to Tableau's CFO, this quarter saw the "largest sequential uptick in subscription adoption since the beginning of our transition last year." A great portion of recurring bookings increasers Tableau's revenue visibility as well as its long-term value attainment from customers. The company also reported 160% y/y growth in annual recurring revenues (NYSE:ARR) from subscriptions, to an impressive figure of $362.4 million - more than the equivalent of a full quarter's worth of revenues. The stronger cloud transition was partially to blame for the company's revenue miss in Q3, as it had modeled a 76% ratable bookings mix instead of the 81% it achieved.
Adam Selipsky, Tableau's new CEO, also echoed subscription strength in his prepared remarks on the Q3 earnings call:
We continue to make healthy progress in the subscription transition as customers increasingly turn to subscription licensing to help rapidly scale their Tableau footprint. And even with the launch of our role-based subscription offerings in April of this year, we've made it easier for customers to tailor Tableau to everyone in an organization, regardless of skill set, from analysts that shape, manage and prepare data to the frontline employees that view and interact with dashboards. Q3 marked the first full quarter of our role-based subscription launch, and we've continued to see strong customer adoption and momentum with our Creator, Explorer and Viewer offerings. The flexibility of our subscription offerings means that customers can choose to deploy Tableau in the way that best suits their unique organizational needs."
Selipsky also noted that Tableau discovered cloud-based solutions were helpful at landing new customers who wanted a quicker time-to-value than license customers who would have undergone a lengthier on boarding process.
On the profit side, Tableau's top line miss prevented it from making substantial improvements. Under the old ASC 605 standard, Tableau lost one point of gross margin to 87%, down from 88% in the year-ago quarter. We still note, however, that with gross margins approaching the 90s, Tableau still has one of the strongest margin profiles in the software industry - partially reflecting its relatively high mix of upfront license deals (though likely not for much longer), plus the premium prices that Tableau's product commands.
Sales and marketing costs, however, jumped 21% y/y - much faster than revenue growth, and indicating some loss of efficiency. The company also invested into product development and saw a 19% y/y increase in R&D costs.
As a result of heavier spending, Tableau's operating losses widened to -$74.1 million, indicating a -30.9% operating loss margin. This is more than eight points worse relative to just -22.8% in the year-ago quarter. For a lower-growth, legacy technology stock like Tableau, we'd have liked to see much greater profit improvement than what Tableau was able to achieve.
Key takeaways
Among business intelligence software vendors, Tableau is already king of the hill - with so many new entrants into the scene, this means Tableau has the most to lose. The company was late to pivoting into the cloud, and its anemic growth now highlights the hypothesis that Tableau is gradually falling behind the market. Growing losses also highlight another major concern - legacy technology companies are typically able to sustain their valuations on the promise of profit and free cash flow growth, but Tableau has done the opposite.
There's no doubt that data visualization is an increasingly massive market opportunity that Tableau will always be a part of, but it's hard to imagine that Tableau isn't losing market share when its low-teens growth is likely far below that of Microsoft's (Microsoft doesn't break out PowerBI revenues or growth specifically, but it reported 20% y/y growth in its "Dynamics products and cloud services" segment in its most recent quarter; Power BI growth is likely similar).
Tableau can be a strategic long when it's trading cheaply, but with the stock now zooming toward $120 again and hitting an 8x forward revenue multiple, now is not the right time to invest in the stock.
Disclosure: I/we have no positions in any stocks mentioned, and no plans to initiate any positions within the next 72 hours.
I wrote this article myself, and it expresses my own opinions. I am not receiving compensation for it (other than from Seeking Alpha). I have no business relationship with any company whose stock is mentioned in this article.