Despite the recent sell-off in WTI crude oil, we see crude oil continuing in its long-term uptrend after this correction has ended. This article outlines the price levels that we are considering for a long position in the United States Oil Fund (NYSEARCA:USO). Any follower of USO knows that this ETF is intended to track the value of the front-month WTI crude oil contract.
An end-of-year sell-off has been typical in crude oil over the past five years, and 2018 has not been an exception. The chart below shows the 5-year seasonal pattern for USO crude in red, and this year's price in grey.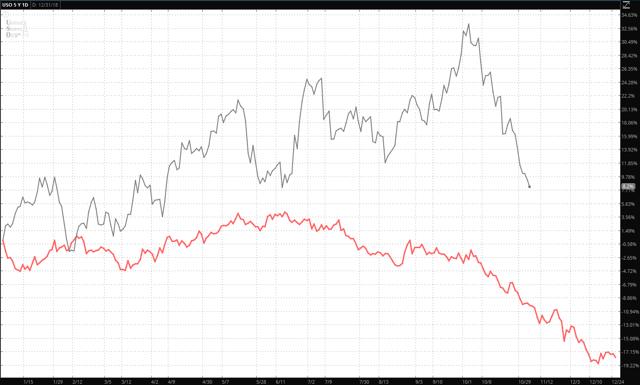 Source: ThinkorSwim
The annual sell-off could be triggered in part by producers and traders who are unwinding or adjusting their hedge positions in advance of the new calendar year. The front-month December futures contract was typically active all year long, and that contract will expire mid-November. Will futures contract expiration coincide with one final flush?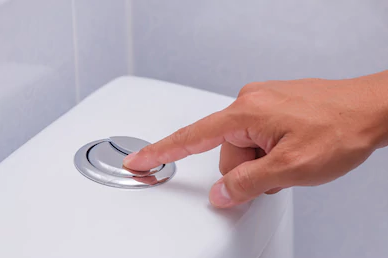 The recent sharp sell-off in WTI can be modeled as a linear regression with a very high confidence value of 98%. On a 4-hour chart, we see the next key support level near a value of $59.14/bbl. On the other hand, crude could find support at its current level near $61.72/bbl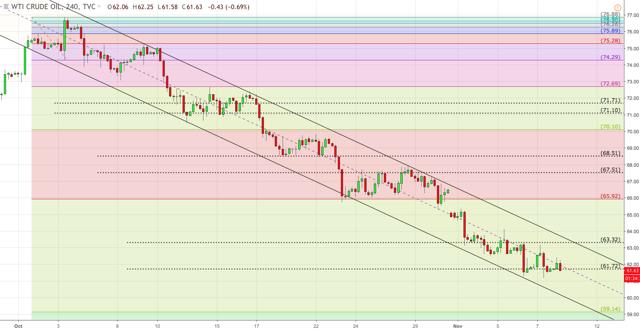 Source: TradingView
Op-ex Price Magnet
Each morning, we calculate and publish daily price levels for crude oil, stocks and other commodities. This report shows where the options markets are wagering that the price will settle on option expiration day. We can demonstrate mean-reversion action towards the Op-ex Price Magnet about 70% of the time in many different markets. In the case of the crude oil market, the option expiration price has settled right at the option expiration price 5 times in a row.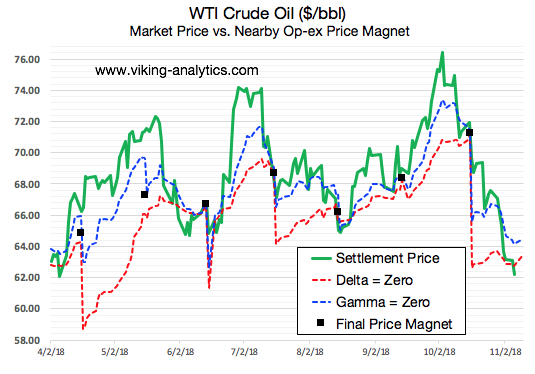 December crude oil options expire on November 14th, and the current Price Magnet is in range of the price. The January and February Price Magnets, however, have priced in a recovery which could begin before the end of 2018. If you would like more information on Op-ex Price Magnets, please click this link.

Source: Viking Analytics
We are hoping for one final flush in WTI crude to the $59 price level before establishing a long position in USO. The relevant price level for USO for WTI at $59/bbl is in the range of $12.50/share.
Commodity Conquest
In our Commodity Conquest service, I publish a daily Price Magnet report for the S&P index, gold, crude oil, natural gas, and agriculture. I also do in-depth coverage of eight energy firms.
My verifiable trading record from on all completed trades through October 23rd includes a win rate of 84% on my stock coverage trades, with an average return of 8.2% on an average hold period of 36 days.

Disclaimer and Notes
This article was written for information purposes, and is not a recommendation to buy or sell any securities. All my articles are subject to the disclaimer found here.
Disclosure: I/we have no positions in any stocks mentioned, and no plans to initiate any positions within the next 72 hours.
I wrote this article myself, and it expresses my own opinions. I am not receiving compensation for it (other than from Seeking Alpha). I have no business relationship with any company whose stock is mentioned in this article.