Markel Corporation (NYSE:MKL) just updated its long list of earnings successes.
The best takeaways from the quarter come from the rapidly growing Markel Ventures business. It recently recorded another acquisition, a strong investing performance (boosted by a strong summer for equity securities) and, most importantly, a very promising development in the insurance business, which dodged cat losses and managed to make a decent profit despite unfavorable events, like Hurricane Florence (96% combined ratio).
In addition to the above-mentioned positive developments, what are truly intriguing are Markel's so-called "other operations". That's because the company is on its way to acquire another big asset management firm (Nephila Holdings) and become the leader in the ILS (Insurance Linked Securities) management market.
Markel Q3-18 highlights
Here is my usual short list of Markel's main achievements for the last quarter:
Insurance combined ratio: 96% last quarter vs 119% a year ago.
Investments div&yield: $106.3M last quarter vs $104.5M a year ago.
Markel Ventures profit (

EBITDA

): $46M last quarter vs $23M a year ago.
Net investment gain: $426.1M last quarter vs a $40M loss a year ago*
Net income to shareholders: $409.4M, or $28.5 per share, last quarter against a loss of $259M, or $19 per share a year ago.
BV per share $704.7 last quarter vs $641.2 a year ago.
*Net investment gains are partially offset by fixed income unrealized losses for the period in the amount of $101.67M, but the total net investments gains figure was $324.4M for the last quarter, against $289M a year ago.
Visually it looks like this: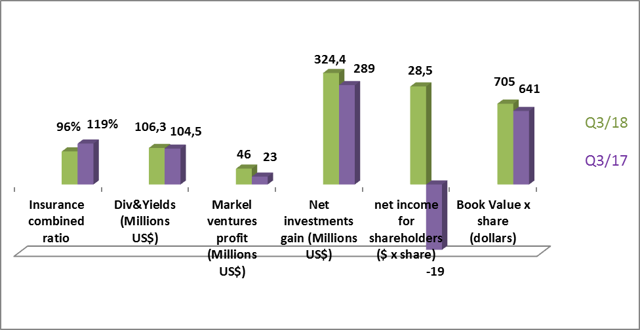 Source: Company reports (Author's elaboration)
Insurance operations performed better than expected and the company posted a profit of $6.5 million, despite losing $76 million in underwriting cat losses, with gross written premiums up by 14% YoY. That was accomplished thanks to a mix of organic and inorganic growth (Markel Surety, previously SureTech Corporation, and State National collateral protections were added in 2017). During the conference call, the company predicted that, due to hurricane Michael, the following quarter would bring cat losses in the range of $60 to $120 million (worse than with hurricane Florence).
Most likely, the year will end with an insurance profit and a combined ratio between 96% and 98%.
Investments performed very well last quarter when it came to the equity portfolio (which is included in the net income entry this year), as a result of the positive performance of the main equity indexes.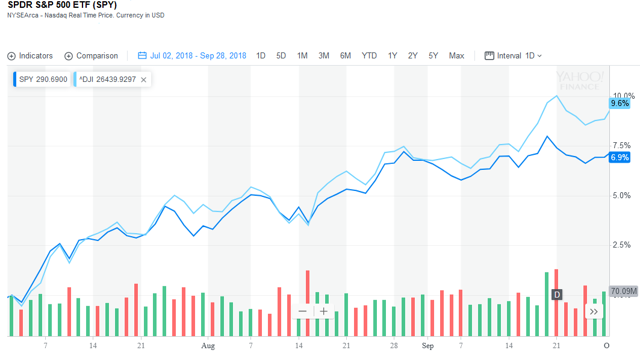 Source: Yahoo Finance
Dividends and yields are also increasing sequentially, partially because of last year's rise in US short interest rates. For the same reason, they were largely offset by the decrease in fair value of the bond portfolio. In any case, in the first nine months of 2018, the securities owned by Markel saw a spike in their fair value of about $20 million.
The total publicly-traded equity portfolio now accounts for 66% of the shareholders' equity, an increase from the 63% figure from the end of last year. There will still be a lot of room for improvement here if the company keeps on switching its investments from the fixed income towards the more profitable listed equities sector. Investment leverage could also be raised to at least 2.0, a number more in line with Markel's long-term average for this ratio (which, actually, stands at around 3, although we should also take the increasing weight of the company's venture capital in recent years into account)
| | | | | | |
| --- | --- | --- | --- | --- | --- |
| | | | | | |
| | Book Value | Investment Leverage | Markel Ventures assets | Equities | Bonds |
| December 31, 2017 | $9.5B | 1.68 | $1.9B | $5.97B | $9.95B |
| September 31, 2018 | $9.8B | 1.68 | $2B | $6.5B | $9.95B |
| % Var | 3.1% | / | 5% | 9% | / |
Source: Company reports (Author's elaboration)
Thanks to new acquisitions (Costa Farm was acquired in 2017, but started to fully contribute to the segment in 2018), Markel Ventures maintains its expansion trend, as shown by its 50% increase in revenue to $1.44 billion in the first nine months of 2018. Recently, Markel added another venture business to its collection: Brahmin. EBITDA increased by 100% in comparison with Q3/17.
The company's "other operations", made of its fronting program service business and ILS management, are the icing on the cake for the quarter.
The program service business added $561 million of gross written premium in the quarter and $1.6 billion in the first nine months. The ceding commission fees were $23 million in the quarter and $67 million in the first nine months of 2018, better than the most optimistic forecasts.
Markel CATCo's total revenues (basically management commissions and fees) amounted to over $18 million in that quarter and $53 million in the first nine months, steadily increasing from the $20 million collected in the same period in 2017.
It is worth mentioning that the acquisition price for CATCo in 2015 was slightly more than $200 million.
Markel has also some investments in the CATCo funds, whose results are accounted for in the equity securities' performance on the company's consolidated balance sheets. Assets under management are at $6.6 billion and increasing.
ILS Developments
In August 2018, the company entered into a final agreement to acquire all of the outstanding shares of Nephila Holdings Limited, a Bermuda-based investment manager offering a broad range of investment products, including insurance-linked securities, catastrophe bonds, insurance swaps and weather derivatives, for around $1 billion. Nephila has more than $12 billion in assets under management and, just like CATCo, it generates revenue primarily through management and incentive fees. This deal will also represent an exit opportunity for Nephila's minority investors, KKR Group and Man Group.
Through this acquisition, Markel is about to become the main player in the ILS market with a 20% share and is clearly targeting relevant synergies among its several insurance and reinsurance businesses.
Historically, the ILS market emerged due to the unprecedented cat losses suffered after Hurricane Andrew in 1992 (more than $15 billion), as an attempt to transfer cat risks outside the traditional reinsurance capital pool, by selling derivative products directly to the broad capital market. This market is fast-growing because different types of investors appreciate the uncorrelation to traditional asset classes and the relatively low volatility of such securities.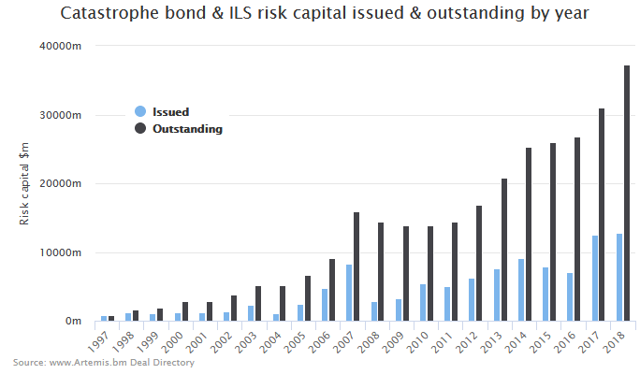 Source: Artemis
During the conference call, Markel management expressed their enthusiasm regarding the new acquisition:
Obviously, we manage for our shareholders roughly $10 billion in capital. And then through Nephila and Markel CATCo, we manage another almost $20 billion in capital for our investors. There is just so many more opportunities that we can address with $30 billion of capital than we could with $10 billion of capital. And so, I think in terms of the solutions we can offer to our insureds and to our production partners it's just – it's so much larger. It's a complete game changer in that regard.

State National and Nephila already worked together previously. We would expect that relationship to continue to grow and probably grow at a faster rate, now that we're all part of the same family.
Bottom Line
Once again, Markel reported solid results in the third quarter of 2018.
All the three traditional driving forces (insurance, investments, Markel ventures) showed promising signs of improvement.
Additionally, Markel shareholders should be very pleased with the positive development of the "other operations", with the fronting business growing much more than expected and the ILS management set to offer a massive growth opportunity.
If you haven't already done so, consider buying Markel for your long-term portfolio.
Disclosure: I am/we are long MKL.
I wrote this article myself, and it expresses my own opinions. I am not receiving compensation for it (other than from Seeking Alpha). I have no business relationship with any company whose stock is mentioned in this article.