Investors in Synergy Pharmaceuticals (SGYP) have been completely perplexed and caught off-guard by a press release from the company warning that it could seek bankruptcy protection from its creditors. Lender CRG seems to have shown zero flexibility on reworking their sales targets even after aggressive cost-cutting measures and insurance wins have taken place. It seems I made a bad judgment call when I called CRG a "flexible lender" in my last article.
CRG, a specialty lender that claims to understand how biotech companies work should know that a company's sales ramp-up rarely tends to be smooth progress. There were significant new to market blocks imposed on sales of Synergy's Trulance treatment. I would go out of a limb here and say that Synergy's sales growth, given the insurance coverage they got for the year, has been nothing short of impressive. Year over year, sales are on target to increase by 400% despite the fact that insurance coverage for 2018 only covered the CIC label, while, in 2019, both IBS-C and CIC labels will be covered. Also, unrestricted insurance access will go from about 35% in 2018 to about 85% in 2019.
The significant shortfall on Ironwood's (IRWD) Linzess sales for the quarter, as well as Allergan's (AGN) acknowledgment during Q3 conference call that due to competition on the market and a more competitive pricing environment - sales were likely to not reach more than $1 billion for 2020 - should be enough of a signal for CRG that even Allergan expects Trulance to gain significant market traction and to erode their market share going forward. Allergan will need to offer higher rebates in order to keep preferred formulary coverage against Trulance.
CRG's focus for loans should be on cash burn instead of on financial targets which commonly are out of a company's control and which could lead companies to make poor decisions for short-term financial gain. Their market cap requirements make any CRG-related company a flashing red target for shorts to attack. And finally, their sales requirements incentivize competition to play dirty in the short term.
The Background
On September 5, 2017, Synergy disclosed that it had closed on a $300 million debt financing structured as senior secured loans from CRG. Under the terms, the first $100 million tranche was funded upon execution of the loan documents. Then, the company had the option to borrow an additional $100 million on or before February 28, 2018, and up to two additional tranches of up to $50 million each on or before March 29, 2019.
In order for the company to be able to borrow more money, they had to have at least $128 million at the end of January. Then, they needed to achieve sales of at least $100 million for 2018 to remain compliant with their loan.
Since the company received approval of the IBS-C label till January of 2018, insurance coverage for IBS-C would have to wait till the following year to be covered on most formularies. Trulance had an unrestricted coverage access of just about 35% for 2018 along with a single indication for CIC on most formularies.
Synergy's management found it prudent - given the insurance coverage - to reduce expenditures for the year and conserve cash until better insurance coverage was established by the company.
Amended Loan
The company then reached an agreement with CRG that reduced the total loan commitment of CRG from $300 million to $200 million. The sales target was reduced from $100 million to $61 million for 2018.
The minimum market cap requirement was also amended from $300 million to 200% of the outstanding principal amount of the loan.
Hefty Penalties, Crippling Sanctions, and Market Cap Requirements
The confusing language and crippling terms on the loan can scare investors or big pharma from partnering with Synergy. Here are some examples of the original crippling terms to the best of my legal understanding:
The loan carries up to a 40% prepayment penalty which goes down to 32.5% after the fourth payment date and 22.5% after the eighth payment date and 12.5% after the twelfth payment until it goes to a reasonable 2.5% after the sixteenth payment date. If a 40% prepayment penalty isn't predatory lending, then what is it?
The loan requires Synergy to have a Market Capitalization of $1.5 billion for 60 consecutive days on or before June 30, 2022, in order to continue having an interest only period.
Maintaining a market cap of at least $300 million for the first part of the borrowing and of $1 billion for the second $100 million (as if the company had any control over its market cap).
Market cap had to stay over $1 billion for the last two $50 million tranches.
A change in control of the company would force the company to prepay the outstanding balance of the loan with prepayment penalties effectively blocking Synergy from ever being able to find an equity partner without being forced to pay back the loan.
CRG owns all the intellectual property of the company effectively blocking the company from being able to sell part of the rights to a valuable drug to provide a financial cushion.
Market Cap Requirements are a Magnet for Shorts
Perhaps particularly concerning in this case and others, where CRG is involved, is the rather high short interest. Given the market cap requirements included on CRG loans, shorts only have to aggressively short CRG related stocks to cause a default based on market cap requirement on their loans. It's even possible that CRG is shorting the same stocks where it's lending as a way of hedging their risk. It seems that under the Investment definition of the Synergy-CRG agreement, "short sales" are included.
But even if CRG is not shorting the stock of companies where it lends, any time CRG enters an agreement with a pharmaceutical company, shorts get an "all clear" signal to short those stocks knowing a successful downward campaign will make the company default on its market cap requirement and the loans outstanding principal become due.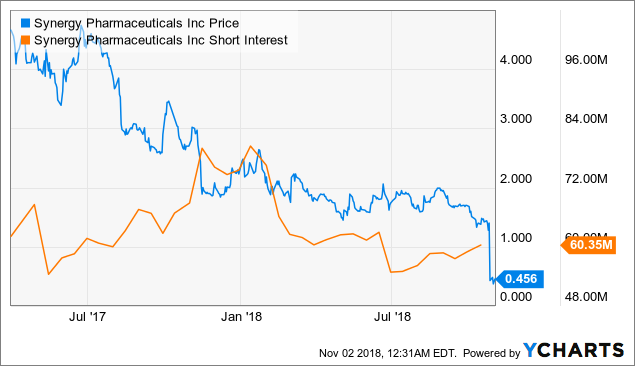 Lack of Cash Burn Focus
What CRG should focus on is on things that a company is actually able to control. Sales rampup is not always smooth, and market cap requirements are beyond ridiculous. The SEC prohibits companies from making comments on market moves, yet CRG wants companies to maintain certain market cap requirements.
What CRG should focus instead is on cash flow burn. Companies should be rewarded with more funds for the prudent use of cash.
Reduced Leverage and Possible CRG Control of the Company Going Forward
We still need to see what the outcome for CRG's largest to date loan commitment looks like. But what it's certain is that Synergy's leverage with possible partners is low considering how crippled it's with all the legal jargon on their loan and the hefty prepayment penalties. I have heard several people in the industry call the people at CRG vultures, wolfs dressed like sheep, etc. I have also heard people in the industry say they won't approach Synergy for negotiations until CRG is gone. It's too time-consuming for them to try to walk through all the landmines on CRG's agreements.
It's possible CRG will want to keep a significant portion of the company in exchange for further funding. It seems they forced the company into a corner to destroy all their market equity to get the most out of negotiations and all the upside in negotiations. It seems to be a very lucrative business.
Significant Disruption
The press release last Thursday and the collapse in share price will certainly create significant distraction and disruption in sales on a time where all the focus should be on increasing sales. It's hard to fathom sales of $42 to $46 million when 2nd quarter net sales were $12.3 million and 3rd quarter volume was about 15% higher vs. Q2. So, sales for Q3 should come at around $14 million and for Q4, I was expecting $17 million. Sales for the first six months were $20.8 million. So, according to my projections, sales would exceed $51 million. But it seems management is considering that CRG's unwillingness to negotiate will have a significant disruption to scripts on the 4th quarter, and/or they might be forced to extreme options to conserve cash.
Employees will be wondering whether it's time to jump ship, look for a job elsewhere as they see their investments plummet, and it will become a self-fulfilling prophecy for CRG that Synergy falls short of their sales revenue.
All year, I had been expecting a shortfall of revenue, and all my articles confirm that, but what I never expected was CRG making a big deal about it to the point of bringing Synergy to the verge of bankruptcy - given all the progress the company has made.
Aggressive Cost Cutting
When Synergy gave its financial guidance for 2018, they guided for total expenses of $175 million to $185 million. They renegotiated their agreement with CRG for an additional $100 million funding based on sales of $61 million on revenue and $175 million to $185 million of expenses. So, CRG should have expected a net loss of at least $114 million for 2018.
When Synergy reported Q1 results, they lowered their expense guidance to $165 to $175 million. So, CRG should have expected a loss of $104 million.
When Synergy reported Q2 results, expenses came down to $37.5 million from $43.5 in the first quarter. At $37.5 million for the remaining 3 quarters, plus the Q1 $43.5 million, Synergy is on track to have expenses for the year of just $156 million and perhaps even lower as the company continues to aggressively pursue cost-cutting. The net loss for Synergy at $156 million in expenses and sales of $42 to $46 million (as stated on their business update) would result on a net loss for the year of $112 million which is in line with the minimum net loss of $114 million that CRG was expecting for the year.
So, when we take into consideration cost-cutting, Synergy results are in line with what CRG was expecting them to accomplish this year. And instead of rewarding them for cutting costs and saving money, they are punishing them for being prudent.
Maximizing ROI
Synergy wanted to maximize their return on investment by waiting till next year to more aggressively push sales when their unrestricted market access will increase by about 300%. I have no doubt that if Synergy would have borrowed the additional $100 million this year, they could have achieved the $61 million in sales but at a very high cash burn. Instead, Synergy took the prudent way of saving money and cutting cost until insurance coverage increased, and CRG seems to be wanting to take them to bankruptcy for them being a responsible borrower.
Hidden Agenda
I contacted Luke Duster, managing partner of CRG at New York through email several times, as well as partners Weinmann and Carter with a plan to install Dr. David H. Crean at the board of directors. I have already won Dr. Crean's commitment to serve on the board. Few people are as qualified to serve on the board as Dr. Crean whose firm Objective Capital Partners specializes in M&A on the life sciences industry, and its firm has overseen over 500 successful transactions.
There are several hundred investors who are part of the Synergy Investment Group who are ready to commit millions in new capital in exchange for a board shakeup. But their lack of response makes me believe CRG is not interested in any outcome where they don't come out on top being the main beneficiaries of the predicament where their outrageous demands and covenants have put Synergy on.
Self-Fulfilling Prophecy
The huge miss on Allergan/Ironwood Linzess drug sales despite a 12% volume increase indicates heavy discounting is taking place via coupon cards. Don't think for a second that Allergan/Ironwood don't know about the sales target that Synergy has to meet in order to access additional funding. They do significant market research on one of their top-selling drugs. CRG's covenants incentivize any of their borrower's competition to take whatever necessary measures are needed in the short term to ensure the breach of their borrower's covenants to prevent them from having access to additional funding. This is reflected by the significant increase in coupon cards and DTC campaign for Linzess this year.
Then, add an incentive for shorts to make money betting on a breach of market cap requirements and you end up with a company ready to be bullied on all sides of the aisle.
I understand CRG's side of the equation, but forcing sales and market cap requirements which are sometimes entirely outside of a company's control is a wrong way to proceed about achieving results. If CRG wanted to put covenants on the loan, they should do so based on cash flow burn. This will give the company an incentive to cut costs and do everything they can to increase sales without worrying about outside factors which rarely are in a company's control like their market cap. CRG covenants seem to be a self-fulfilling prophecy for a company's destruction.
Summary
It's very difficult to know what the outcome in this company can be. All shareholders are at the mercy of CRG and their covenants. Companies and shareholders alike should follow how this situation unfolds and make a decision on whether equity deals are preferable than to make business with CRG or invest in companies with CRG involvement.
There are no doubts scripts will take a dive thanks to this significant disruption of the company's day-to-day operations, and unless quickly resolved, the company will have no option but to be sold for pennies on the dollar on a time where its market value was about to explode to the upside.
I can't understand how, with significant cost-cutting measures and a very bright insurance future, CRG allowed the company to go under and lose all leverage in possible partnership negotiations.
The outcome of this situation will let us know what kind of ethics and motivation moves the CRG management team. I still have hope that all CRG wanted in exchange to remove financial covenants was a board shakeup, and chairman Gary Jacobs departure was the only thing on the way of a deal.
As for the Synergy Management, they should issue a 3 for 1 rights offering allowing current investors to buy more stock or to sell their rights on the open market to finance their deficit instead of giving the keys of the company to CRG.
Disclosure: I am/we are long SGYP.
I wrote this article myself, and it expresses my own opinions. I am not receiving compensation for it (other than from Seeking Alpha). I have no business relationship with any company whose stock is mentioned in this article.
Additional disclosure: The statements included in this article are just my personal opinion and some of the statements could be made based on the personal opinions of other veterans in the industry. There's significant risk on the stock of SGYP and investors should be prepared to lose all their capital when investing in such a speculative play. Consult a financial advisor before placing any trades.
Editor's Note: This article covers one or more microcap stocks. Please be aware of the risks associated with these stocks.