Bonterra Resources Inc. (OTCQX:BONXF) is a small micro-cap gold explorer and developer with properties located in the Urban-Barry district of Quebec, Canada. Bonterra recently acquired Metanor Resources Ltd., who I had profiled last year, helping to unite common properties between the two companies in one entity while adding milling capabilities to a larger, continuous land package. It has also launched a $20m CAD private placement in conjunction with a 10:1 stock consolidation to shore up its balance sheet and simplify its share structure, which was recently upgraded to $21.8m CAD.
This merger brought together a number of adjacent properties, doubling the number of viable near-term deposits in addition to some operating synergies as well. I believe this recent transaction will help to accelerate the consolidation activity occurring among the various juniors in the area. With gold prices starting to come off of a technical bottom, I believe the improved scale, near-term production, and strategic fit Bonterra has with other companies give the potential for multiple catalysts.
The Properties
Bonterra has three main areas of operations: the Bachelor mine and Moroy deposit, where the mill is located, the Barry Deposit acquired from Metanor and the Gladiator Deposit that originated with Bonterra pre-acquisition.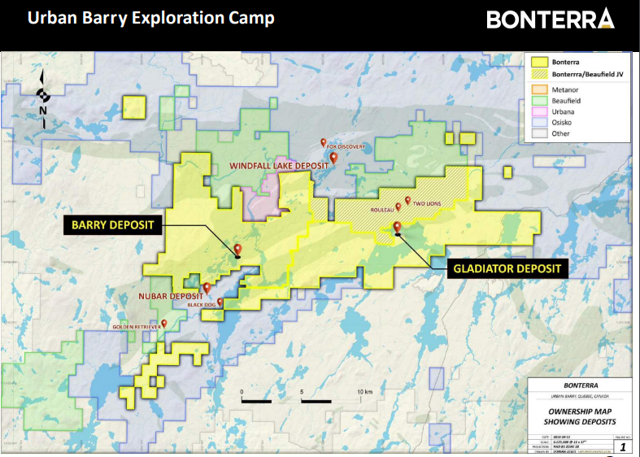 Source: Company Presentation
The below map of the same area pre-acquisition illustrates how the land packages of Metanor and Bonterra were complementary to its future operations as Bonterra's land package wrapped around Metanor's. It is also intertwined with Osisko Mining's properties, along with Beaufield's as well.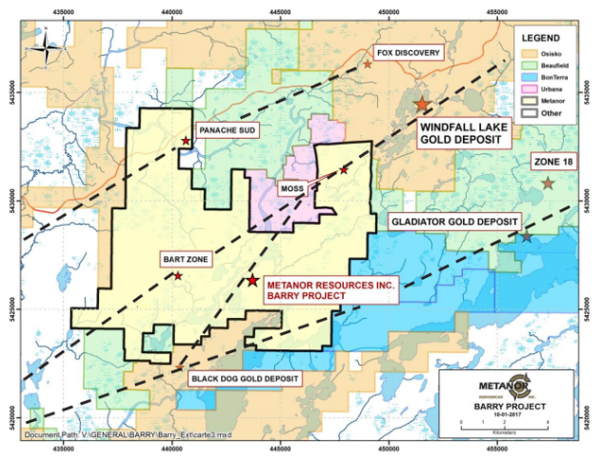 Source: Metanor Company Presentation, 2017
Gladiator
The Gladiator deposit has continued to intersect strong gold veins, with its most latest announcement on October 1, 2018 highlighted by a 37.5g/t intersection over 3.3m. Bonterra is continuing to explore the project as there is not yet a defined resource to model.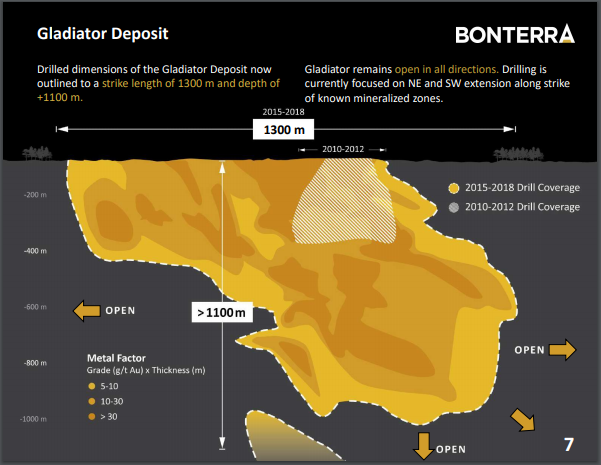 Source: Company Presentation
The company is working towards further defining this resource. It has also entered an option agreement with neighboring Beaufield Resources (OTCPK:BFDRF) (which is being acquired by Osisko Mining (OTCPK:OBNNF) to potentially acquire a 70% stake in further acreage for a minimal dilution (approximately 1%) and exploration costs. The company intends to produce a NI 43-101 Mineral Resource estimate prior to the end of 2018 which gives better visibility to investors on the value of the property.
Barry
The Barry deposit is less delineated, which can be good and bad. The good is that they have so far achieved good drilling results, most recently from June 2018; the bad is that it is very hard to quantify how good these results are and whether they are economical. As with the Gladiator deposit, management is intending to have a NI 43-101 statement out by year end which will bring added clarity.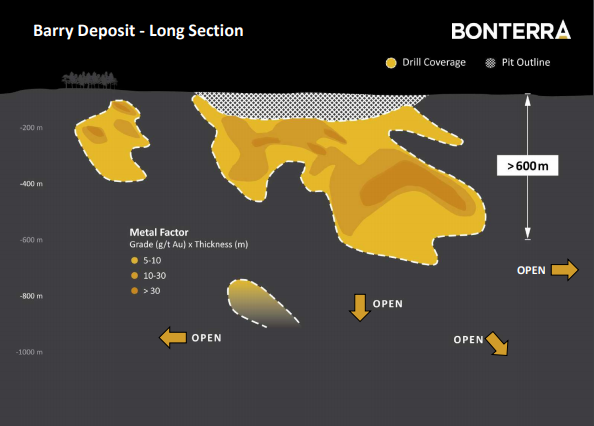 Source: Company Presentation
Moroy
The Moroy deposit runs parallel to the Bachelor mine where Metanor had been producing gold with over the last several years, but is now largely mined out. In July 2018, the company announced new results, which continued to build on the other results. As with the other projects, further detail needs to be determined through further exploration with an estimate planned for early in 2019.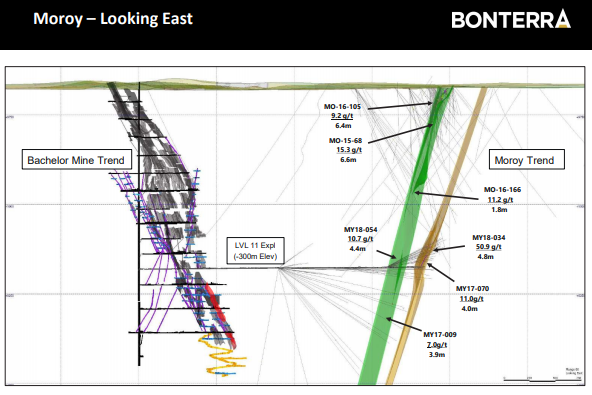 Source: Company Presentation
Action Plan
According to the company, its projects are all very close to going into production. The amount of money the company needs to spend in order to get these projects producing is not substantial: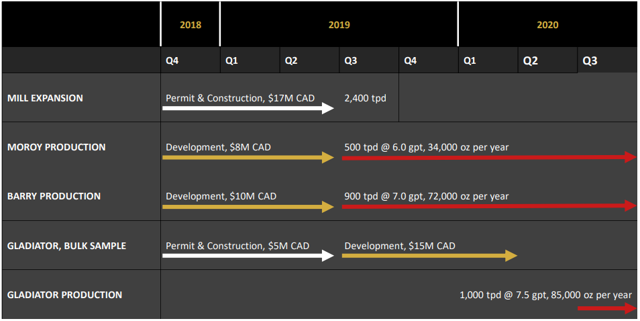 Source: Company Presentation
The mill currently has a capacity of 800 tons/day; based on the above, management needs to triple this by 2020 and at least double it in a year. The company already began permitting this expansion (as Metanor) in April 2017 with a defined plan in place to upgrade the mill, swapping out older smaller ball mills for a bigger SAG and larger ball mills, along with several other technical steps. In parallel, the company is going to move forward with exploration and production on both the Barry and Moroy projects. The company is also pushing forward the permitting process at the Gladiator project.
All this will involve cash above and beyond its on-going operating costs. Utilizing management's estimates we can see the company has the following near-term commitments (under 1 year) to execute its action plan:
| | |
| --- | --- |
| Event | Amount |
| Mill Upgrade | $13m USD / $17m CAD |
| Moroy to Production | $6m USD / $8m CAD |
| Barry to Production | $7.5m USD / $10m CAD |
| Gladiator Permitting | $3.8m USD / $5m CAD |
| Total | $31.3m USD / $40m CAD |
Source: Company Estimates
Capital Structure
With these commitments, the company needed to raise some capital. Post-Metanor merger, as of September 26, 2018, the combined company had $15m USD or roughly $20m CAD cash on hand which is enough to get the factory upgrade going. The current Bachelor mine production has dropped 33% compared to the same period as last year, making the mine un-economical at current gold pricing. Understandably, Bonterra is shifting its focus to its other projects.
On October 15, 2018, Bonterra announced a $20m CAD private placement, with $7.5m CAD raised through a flow through share offering and the remaining $12.5m CAD through regular common stock. The $12.5m CAD is likely designated towards the mill upgrade as flow-through shares are raised at a higher share price as the issuing company renounces the exploration expenditures which pass to the subscribing shareholders as a tax write-off.
At the same time, the company announced a 10:1 stock consolidation which reduces the pre-issuance shares outstanding to 39.8m shares. There are a lot of negative connotations around a stock consolidation as they are often done to avoid delisting shares. I don't believe this was a risk for Bonterra as it paves the way to eventually move the company off of the TSX Venture exchange and on to the TSX Big Board at some point but a negative reaction by shareholders cannot be ruled out.
Bonterra has some influential mining investors behind it. Kirkland Lake (KL) owned 9.44% of the company prior to the recent financing, with warrants that could increase this stake to 11%. Eric Sprott, a noted mining investor, owns a further 4.3% of the company; he is also a major shareholder of Kirkland. Kirkland has stakes in many of the plays in the Urban-Barry camp, including Beaufield and Osisko Mining. Kinross Gold has also taken a 3.5% stake in Bonterra, though this was taken prior to the Metanor transaction which diluted it down to the 3.5% level.
Changing Landscape
Bonterra has several near term shots on goal. Both the Moroy and Barry projects are less than a year from production. The company already has firm plans in place to expand its production mill in order to meet the planned production from both these properties and the Gladiator deposit. The company has made some assumptions on the expected grades which, if they pan out, would have the company producing 190,000 oz per year by 2020. At roughly $1,200 per oz, this would give the company annual revenues of $228m, well above the post-private placement market cap of $165.2m CAD or $127.1m USD.
I believe it is a bit pre-mature to make these assumptions for valuation at this point. The company needs updated NI43-101 statements to give investors a better idea of how big the resources the company has at each of its projects. The progress on the near-term projects should give investors some potential catalysts as management works towards becoming a gold producer, first by delineating the resource and then reaching production itself.
More interesting is the interplay of the various other companies operating and exploring in the area. Bonterra, through its Metanor assets, has the only operating mill in the area currently, with an expansion planned in the near-term.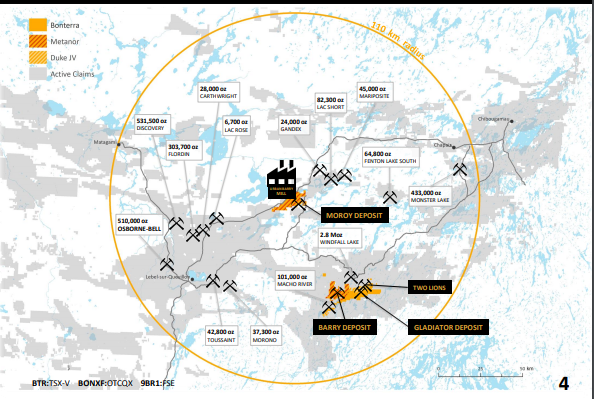 Source: Company Presentation
The obvious move is that the company could mill ore for other companies in the area in the event it takes longer to get its other two mines operational. There has been a lot of consolidation going on in this area, with Osisko Mining acquiring nearby Beaufield Resources in August 2018 on top of Bonterra's acquisition of Metanor. Osisko has also been raising a lot of money recently with $76.4m CAD in September 2018 with $6.5m CAD of this being non-flow through shares and an additional private placement for $25m CAD announced on October 30, 2018. This is on top of $46m CAD cash on hand as of June 30, 2018. With Bonterra's post-private placement market capitalization sitting at just $165.2m CAD, it is not inconceivable for Bonterra to be bought into Osisko. A merger of these companies would help to further reduce the combined overhead and back office costs that are already being rationalized at both companies with their Metanor and Beaufield acquisitions.
The combined land packages are also very complementary, with Bonterra's package sitting on the western exploration area from Osisko's flagship Windfall deposit. This would also allow further rationalization of some of exploration costs as Osisko looks to build out its deposit model.
Bonterra's mill complex could also be an asset for Osisko. Right now, the estimated price tag for Windfall is $379m CAD in capex to get it up and going; this is a substantial sum that the company doesn't have on hand without a very dilutive raise or financing. These costs may continue to escalate as the company continues working its deposit. The current plan has a mill set to be 108 km away from Windfall; having most of the infrastructure setup, though potentially on a smaller scale than would be required eventually. With the main work done, a further mill expansion on top of the current plans may both be possible and more cost effective than the current mine plan.
Bonterra may also provide a way for Osisko to self-fund as both its Moroy and Barry deposits are close to going into production, with Gladiator also estimated to be in production within 18 months based on the mine plan. As noted above, if these deposits grade out as management expects at their estimated AISC of $660/oz, Bonterra could be generating over $100m in annual cash flow at today's rough price of $1,220/oz. This would go a long way towards funding Osisko's development. A comparison of Bonterra's relative value to other develops below show that it is both cheap and nearer to production than other near-term developers.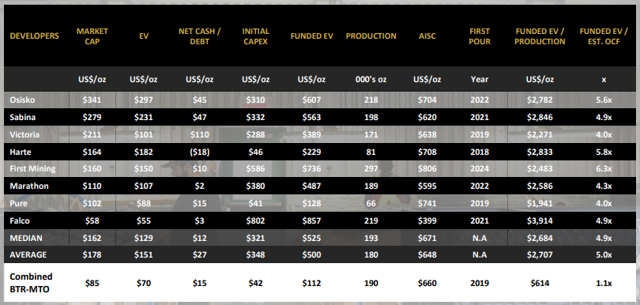 Source: Company Presentation
The end goal is likely that Kirkland Lake ends up owning all of this area. Kirkland Lake now owns 13.6% of Osisko, while Eric Sprott owns 22.1m shares of Kirkland as of April 2018 out of 209.7m shares o/s or 10.5%. Kirkland also owns over 11% of Bonterra while Sprott has 4.3% himself. Although Kinross has a small stake, it doesn't appear to be core to Kinross' development while Kirkland is clearly making a play in the region. With all the companies there and with share prices still very weak for junior companies, it appears Kirkland and Sprott are enabling the smaller companies to rationalize their costs piece-meal, rather than trying some very complicated mega-merger as they are down to just two key players in this particular cluster, both of whom are working through recent mergers. This could change if junior share prices catch a bid which could force Kirkland or Osisko to act sooner than later. I believe this cross-ownership sets this up as a likely scenario in the next 1-2 years, assuming no material change to precious metal pricing.
The recent share consolidation can be a negative as it could appear to be a sign of weakness. Raising funds at the same time somewhat negates this risk. It also helps to concentrate shareholders, as it flushes out small shareholders making a potential transaction easier as well.
The Takeaway
Bonterra has a very strong near-term production profile, with two deposits slated to be go into production before the end of 2019 requiring just $35m CAD in investment to go live and a third deposit with 18 months. Should this come to pass, it is not hard to see Bonterra producing over $100m cash annually, making today's current market cap of $165.2m CAD seem ridiculously low.
Near-term catalysts will come as the company is actively drilling its sites, though this will likely coming to a close as winter approaches. PEA's for all its projects will help to better define the upside potential in terms of grade and production levels over the coming months as well which will help to better define the value proposition in Bonterra.
I don't believe this will come to pass though as the cross ownership with Kirkland Lake/Eric Sprott with Osisko Mining, combined with the clear operating and development synergies that would occur, make a takeover quite likely.
If you see something in this article that you agree with, or even better disagree with, please take the time to comment below. This makes all of us better investors. I predominantly focus my investing in the small- and micro-cap company space but reserve the right to deviate from time to time, including short thesis. If you like what I'm doing, you can follow me by hitting the "Follow" button at the top of this article. Plus, you can follow me in real time by selecting that option.
Disclosure: I am/we are long BONXF.
I wrote this article myself, and it expresses my own opinions. I am not receiving compensation for it (other than from Seeking Alpha). I have no business relationship with any company whose stock is mentioned in this article.
Additional disclosure: I am long through the more liquid TSX Venture ticker V.BTR.
Editor's Note: This article covers one or more microcap stocks. Please be aware of the risks associated with these stocks.