AbbVie (ABBV) delivered a strong quarter producing financial results that exceeded street expectations. Revenues grew 19% and earnings per share soared 52%. Global net revenues were $8.236 billion in the 3rd quarter which increased 19% excluding a 0.7% unfavorable foreign exchange impact. The street was expecting revenues of $8.22 billion. Global sales of the company's flagship Humira product increased 9%. The geographic breakdown of Humira growth was 13% domestic growth and 4% international growth. Global sales of Imbruvica were $972 million, $812 million of which was derived in the United States, and represented 41% growth. Global HCV revenues were $862 million in the quarter.
Gross margin for the 3rd quarter was 77.7% on a GAAP basis, a modest expansion over the prior year quarter. SG&A expense and R&D expense were 23.3% and 15.4% respectively of net revenues. This resulted in an operating margin of 38.4% for the quarter. The company is targeting a 50% operating margin by 2020 although this may be challenging given the competitive pricing environment it faces on multiple fronts. Net interest expense was $302 million, and the adjusted tax rate was 9% for the quarter. Diluted EPS were $1.81 while adjusted EPS of $2.14 excluded specified items. Adjusted earnings surpassed the consensus estimate of $2.01 for a 6% beat. Adjusted EPS growth came in at 51%. Management cited strength in their hematologic oncology business which is now producing quarterly revenues above $1 billion and is well-positioned for continued strong growth.
Humira, Imbruvica Drive Solid Quarterly Results
Imbruvica provided the biggest boost to results with revenues of $972 million compared to the consensus expectation of $892 million. This was, however, not too surprising given partner Johnson & Johnson's strong Imbruvica results a few weeks back. Imbruvica is performing well and taking market share in the lymphoma/leukemia market. Global sales of Humira also surpassed expectations primarily due to solid sales in the United States. This may suggest that domestic Humira prescription trend concerns may be overdone. Finally, results in the Hepatitis C (HCV) unit were in-line with expectations.
Management Updates Full Year 2018 Outlook
AbbVie management once again raised their full year 2018 earnings guidance. Its GAAP diluted EPS is expected to be in the range of $6.43-$6.45, while its adjusted EPS guidance range was raised from $7.76-$7.86 to $7.90-$7.92 for the full year. The adjusted EPS guidance represents a 10 cent (or 3%) raise at the midpoint and excludes $1.47 per share of intangible asset amortization expense, changes in the value of contingent considerations, a one-time net tax benefit related to U.S. tax reform, and other specified items. At the midpoint the adjusted EPS guidance represents 41% year over year growth.
AbbVie Declares a Dividend Increase of 12%
The board of directors approved an increase in the company's quarterly cash dividend from $0.96 per share to $1.07 per share. The increase will be effective with the dividend payable February 15th to shareholders of record as of January 15th. With the announcement, the shareholder friendly AbbVie reaffirmed its commitment to a growing cash dividend. The dividend has increased for 45 consecutive years dating back to 1973 and including each year since its 2013 spinoff from Abbott Labs. The new $4.28 annual dividend represents a 5.1% forward yield based on current price levels.
Competitive Pressures Remain a Concern
Humira's sales in the European Union are under pressure due to direct competition from a biosimilar drug. Moreover, AbbVie's competitors in this space carry the advantage of being able to offer deep discounts to its government customers without the need for commercial support. This forces AbbVie to offer deep discounts of their own sometimes as much as 75-80%. The company reduced their 2019 international Humira sales forecast to a 26-27% year over year decrease followed by a more tempered decline in 2020 which differed from its previous forecast of a 18-20% decrease over the two-year span. Given that other biosimilar products exist on the market and more are on the way, the arthritis/Chron's disease drug is likely to continue to face pressure for the foreseeable future. Further pipeline diversification away from the company's concentrated Humira product would bode well for AbbVie.
AbbVie also faces pressure in regard to its Mavyret drug which is used in the treatment of Hepatitis C. Gilead recently offered a generic version of the drug at a price just below the weighted average cost of capital of Mavyret to gain market share in the Managed Medicaid market.
AbbVie's Product Pipeline Offers Potential
AbbVie plans to launch 20 new products or line extensions of marketed drugs before Humira competition in the U.S. begins in 2023. The company's product pipeline developments include results of a trial of Imbruvica for the treatment of pancreatic cancer, phase 3 data on elagolix for uterine fibroid treatment, and the recently filed Venclexta which is used to treat chronic lymphocytic leukemia in those who failed the first line of treatment.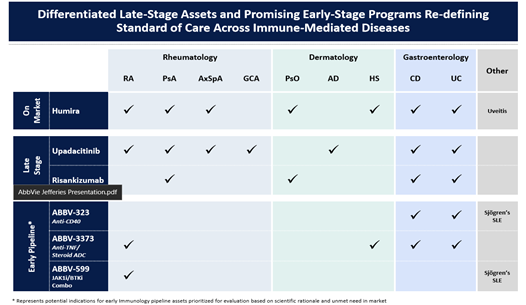 (Source: Abbvie)
A Word on Valuation
AbbVie's valuation has become depressed over the course of the year on account of lowered expectations and ongoing competitive risks related to Humira which account for the lion's share of net revenues. Nevertheless, demand trends have been solid for Humira and its other products despite competitive headwinds. There is also tremendous potential for Imbruvica in various applications and Mavyret is expected to be a major growth driver for the company. Overall, despite the competitive pressures and recent regulatory setbacks, there is still plenty to like about the growth prospects of the company, not to mention its growing dividend profile. AbbVie currently trades around 10 times forward earnings compared to an industry average of 14 times.
Disclosure: I/we have no positions in any stocks mentioned, and no plans to initiate any positions within the next 72 hours.
I wrote this article myself, and it expresses my own opinions. I am not receiving compensation for it (other than from Seeking Alpha). I have no business relationship with any company whose stock is mentioned in this article.