Investment thesis
Bausch Health Companies (BHC) continues to progress beyond market expectations. Q3 showed that its multi-year turnaround plan has been working in all aspects. First, its core businesses had a clean sweep of organic growths. Second, it has reduced debts further by $360M to bring the total down to below $25B. Third, five new drugs have launched during the quarter (Lucemyra, Aqualox, Plenvu, Doptelet, and Altreno), more to come in the next few quarters ( Bryhali, Duobrii). Finally, its legacy issues continued to be resolved. If the company can genuinely reduce its substantial debt obligations by growing free cash flow or refinance new debt terms favorably, dare we say, the new Valeant (VRX) is the real turnaround story.
In this report, we want to review the organic growth. Importantly, we dive in the immediate question that can limit the share price appreciation: Is the share dilution happening soon?
Core businesses organic growth
Over the course of the turnaround, the company has been shredding a lot of non-core businesses. Understandably, the business revenue shrank by 4% this quarter compared to Q3 last year. Despite, Q3 results did not disappoint.
Organic growth across the core products was impressive. The top 10 products delivered 7% organic revenue growth YoY. Importantly, B+L and Salix, which comprise 75% of BHC, grew 3% and 2% respectively. Surprisingly, diversified products grew by 4%, a segment that was dead weight to the company in the past few quarters.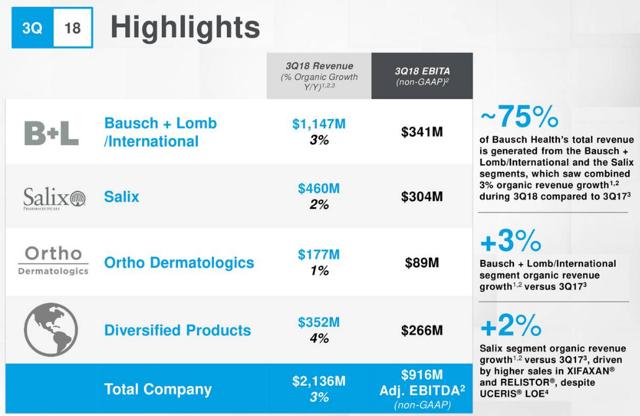 Source: BHC Q3 presentation 2018
The growth in the core businesses helped smashed the EBITDA's target and allowed the management to raise FY2018 EBITDA guidance to
Revenues: $8.15B – 8.35B (UNCH);

non-GAAP EBITDA: $3.30B - 3.45B from $3.20B – 3.35B.

Source: BHC, Q3 2018 earnings call (emphasis ours)
This quarter was the fourth consecutive guidance increase. Granted, the management has been low-balling, but their strategy worked as the market reacted positively after each of the earnings results.

Source: BHC Q3 presentation 2018
Near-term Share dilution is debatable
Now to the important question "Is share dilution coming?"To aid the discussion, below is the debt maturity profile as of Q3 2018: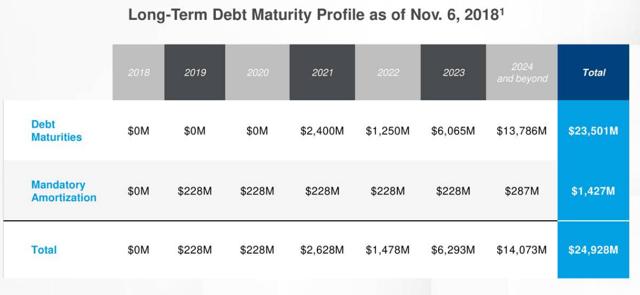 Source: BHC Q3 presentation 2018
As the table shows, in the short-term, shareholders have nothing to worry. No significant maturity is on sight until 2021, and then the next big one is another two years away, in 2023. Additionally:
approximately 82% of our debt is fixed rate debt as of September 30, 2018, as compared to approximately 65% as of January 1, 2017.

Source: BHC, Q3 FY2018, 10-Q
Back to the issue, BHC will finish FY 2018 with more or less $3.3B of adj. EBITDA. Comparing to the debt figure, its net debt to EBITDA is 7x. The ratio leaves much room to be satisfied.
Therefore, management commitment has been clear; they want to reduce the enormous amount, $25B, down to a level that yields 5x net debt EBITDA ratio. How will they achieve this commitment?
First, it can grow its EBITDA by 5%-8% CAGR for 2018 to 2021, a way that will only generate a few hundred million each year. Second, it can refinance its debt, ideally to reduce its current mammoth $1.68B of annual interest expense (including amortization). Third, it can issue equity, which dilutes shareholders. Finally, and not easily executable, it can divest some of the remaining businesses.
We want to focus on the equity dilution because that will hurt shareholders the most in the short run.
Last year, they filed a shelf filing which signaled to the shareholders that equity dilution was part of the turnaround. Our take is that the management has laid their cards out partially. Thus, if an equity raise does happen, it will not be an 'out-of-the-blue' shock. But when will it happen?
Let's start with the most glaring signal:

Source: BHC Q3 presentation 2018
The extract above is one of the management commitments in 2018. So should we interpret at face value that it will happen within the next quarter, Q4?
During the Q2 earnings call, Louise Chen, a Cantor analyst asked if the equity raise was still on the table? And what would be a trigger for something like that? Paul Herendeen responded:
It happens the two ways … One is by growing adjusted EBITDA, that's the best way. Second is by prioritizing the use of cash flow we generate from our business to reduce debt.

And if you just push that over a handful of years, yes, you get a leverage down to, what I'll characterize as, a reasonable and sustainable level. Around your question about equity, is that off the table, on the table? We have said consistently for, I guess, the eight or so quarters that I've been here is that when you are levered the way we're levered, it needs to be on the table, it needs to be something we think about. Am I going to disclose on a public call the timing and exactly what we're thinking?

Source: BHC, Q2 2018 earnings call (emphasis ours)
Next, a few months later at the Cantor Global Healthcare conference, Louise Chen raised the equity issue again by asking whether BHC can lower its leverage ratio down to 5x. Joe Papa responded:
if we can bring down the leverage from the let's call it the seven times seven plus times down to under five, we think that's a great goal for us. And our view on this is probably the best way to do this is to grow the EBITDA which obviously helps us to bring those overleveraged ratio.
Finally, during the recent quarter earnings call, a different analyst, Annabel Samimy, tried her luck. Joe Papa responded:
So clearly, as we're looking at it right now that our best long-term suggestion here solution for us, grow EBITDA and that by growing the EBITDA will -- naturally delever, especially right now, as we believe the stock is undervalued relative to where we believe it should be. So, I think our long-term solution is still to keep all options on table, but over the long term, we want to make sure that we focus on the freedom to operate, in growing our EBITDA in the long term.

Source: BHC, Q3 2018 earnings call (emphasis ours)
Joe Papa expressed that over the long-term - and insisted "long-term" - it will be an option. So that contradicts the FY 2018 goals printed on the earnings call slide.
Overall, from the rhetoric of the management over the course of the year, the extracts above suggest that the risk of dilution is not off the table. Yes, not a definitive conclusion. However, to management credit, they showed restraint towards raising equity and signaled their plan to reduce debts by other means.
Finally, as we write our report, BHC files a cash tender offer with the intention to cover their $1.5B 7.5% loan. In truth, we are pleasantly surprised. No further details can be read from this except that we expect the future interest expense will be lower as a result of the refinance. Investors should be excited.
Takeaways
BHC produced another strong quarter. It delivered strong organic growth across all products; it continued to reduce debts by $360M this quarter, which brought the total debt reduction to date to $7B since it started the turnaround plan, which exceeded its goal by $2B.
Finally, we tackled the question that has been on many investors' mind. Is the equity raise on the table and will it happen in the short-term? Our research showed that the management has been prudent to keep it on the table and showed unwavering focus on resolve the leverage problem by other means. The recent cash tender offer issued was a good surprise and should alleviate doubts about the near-term risk of shareholder dilution. BHC remains a great stock to own.
Endnote
If you found this article helpful and would like to refer back to it in the future, please click the "Like" button and it will be saved to your favorites.
If you would like to stay up to date on our latest analysis, we invite you to follow us on Seeking Alpha (click the " Follow" button next to our profile picture at the top) as we continue to uncover hidden investment opportunities.
Disclosure: I am/we are long BHC, GNC, TEVA.
I wrote this article myself, and it expresses my own opinions. I am not receiving compensation for it (other than from Seeking Alpha). I have no business relationship with any company whose stock is mentioned in this article.