Market Intro

CNBC: 11:49 AM
Oil (USO) has officially entered a bear market, down 20% from recent highs. Volatility is heating up in the space, reaching some of the highest levels since early 2017.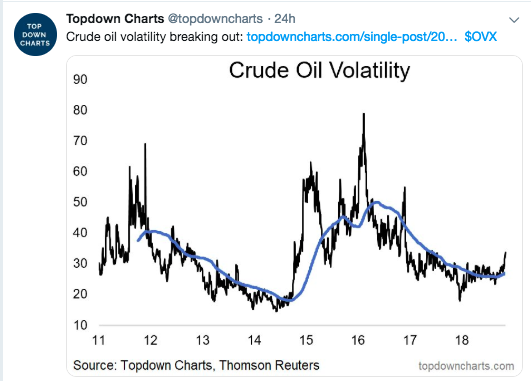 CNBC
The US stock market (SPY, DIA, IWM) is trading fairly sideways after Wednesday's vigorous rally. This is one of those reasonably rare occasions where both SPX volatility and the broader averages trade lower. Note that several of the large tech names (AMZN) posted very impressive showings yesterday, and so the modest decline in the NASDAQ (QQQ) looks to be something of a yawn.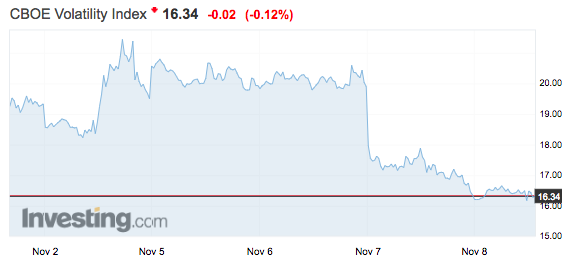 Spot VIX now prints at a one-month low... were October's jitters about the midterms? Maybe, but I think it is difficult to assert that any one factor was the cause of the large intraday fluctuations that investors weathered.
Thoughts on Volatility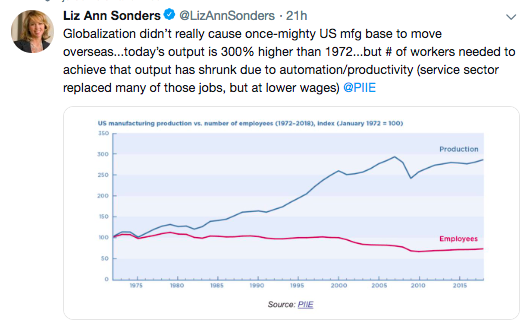 Sometimes treasured beliefs can mask an altogether narrative. I know many individuals who believe that "we don't make anything here anymore".
Exercises that cause us to challenge and question some of our a priori beliefs can be healthy for us to become more flexible thinkers. A greater willingness to adopt alternative explanations can coincide with better trading or investment outcomes.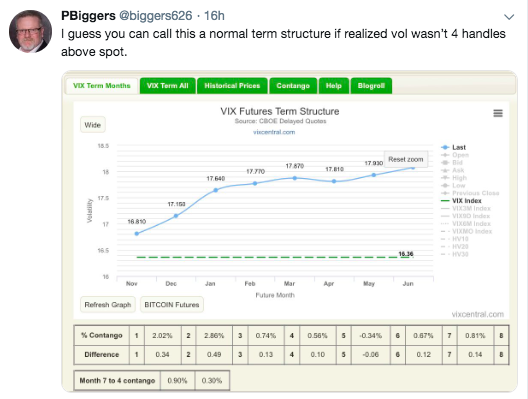 We'll have a look at this in the Term Structure segment, but implied vol is most certainly trading at a steep discount to realized vol. Markets look to be in something of a rush to return to business as usual.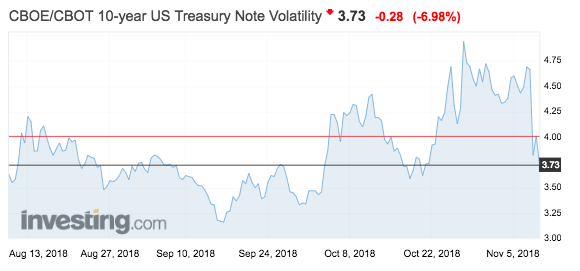 10-YR US Treasury VIX has traded in quite a wide range over the last three months. Mid September oversaw the lowest recorded print on record for the metric (which, in fairness, is a reasonably new index).
It's likely fair to say that a decent chunk in reduced equity vol is attributable to midterms: look at the steep decline in Treasury vol in the wake of the election results.
Term Structure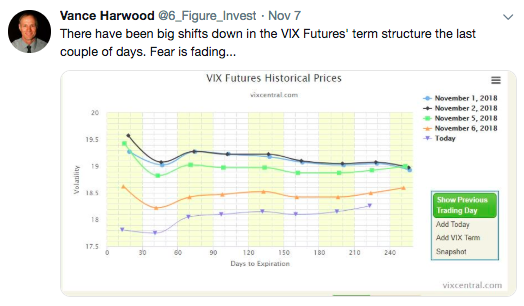 It most certainly is, Vance. Now, I want to call to readers' attention the fact that we had several false "all-clear's" back in mid-to-late February, and again in mid-March, of this year. We did not really begin to build a truly sustained recovery until early May (the SPX hit 2591 on May 3).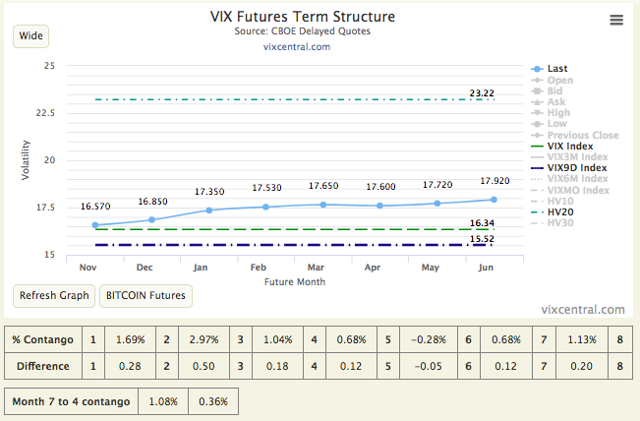 Those who shorted vol (SVXY, ZIV) have certainly been rewarded for that decision over the last week or so. VIX9D has more or less been cut in half since late October. As the Tweet above mentioned, there is a pretty gaping hole between HV20 and the VIX complex.
Neither implied volatility nor future actualized volatility are beholden to historical vol. That said, at the very least HV can take past action and distill it down to a single number.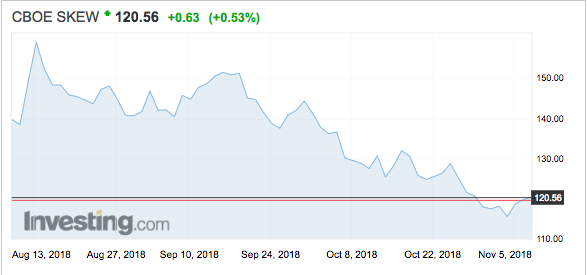 SPX skew is reasonably low here, which insinuates that the current risk profile is two-sided. If this metric is a guide, then SPX options traders are open to the prospect of a further recovery effort rather than a failed rally. Keep in mind that the mid August peak marks an all-time high for the Skew index.
Conclusion
If this is your first time reading Market Volatility Bulletin, thanks for giving it a try. If you're a regular, we thank you for your ongoing contributions in the comments section.
Thank you for reading.
Please consider following.
Disclosure: I/we have no positions in any stocks mentioned, and no plans to initiate any positions within the next 72 hours. I wrote this article myself, and it expresses my own opinions. I am not receiving compensation for it (other than from Seeking Alpha). I have no business relationship with any company whose stock is mentioned in this article.
Additional disclosure: I actively trade the futures and options markets, potentially taking multiple positions on any given day, both long and short. I also hold a more traditional portfolio of stocks and bonds that I do not "trade". I do believe the S&P 500 is priced for poor forward-looking returns over a long timeframe, and so my trading activity centers around a negative delta for hedging purposes.