NewLink Genetics (NLNK) is currently traded at ~$2.15 per share. The cash value of the stock given the projected balance sheet on December 31, 2018, is ~$2.88.
With upcoming catalysts by mid-2019, the stock can potentially either jump 50-100% or lose 20%, that creates an asymmetric risk-reward opportunity.
Company Background
NewLink Genetics is a clinical-stage immuno-oncology company focused on discovering and developing small-molecule product candidates to treat various cancer types.
NewLink's current pipeline is focused on developing targets via the indoleamine-2, 3-dioxygenase, or IDO, pathway, which is one of the key pathways for cancer immune escape. These product candidates, indoximod, NLG802 (a prodrug of indoximod) and NLG919 are IDO pathway inhibitors with mechanisms of action that center around breaking the immune system's tolerance to cancer.
During the past year NLNK stock lost ~75%: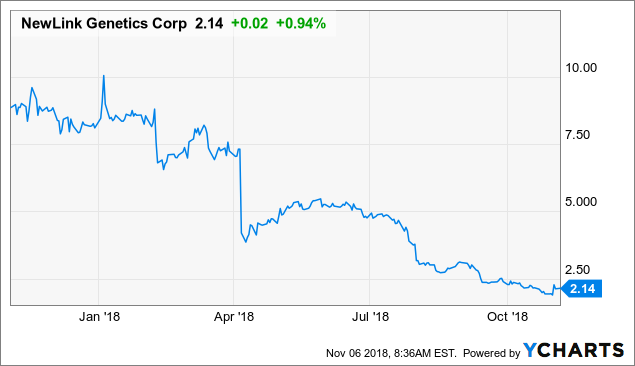 The decline accelerated in April 2018 when Incyte (INCY) announced the failure of it its IDO inhibitor in combination trial with Keytruda to treat melanoma. As usually happens, the whole class of IDO inhibitors was downgraded by analysts and researchers, and any potential IDO trial was viewed with extra suspicion and scrutiny. Incyte's stock lost 20% since April 2018, whereas NewLink's stock lost 70% during the same period: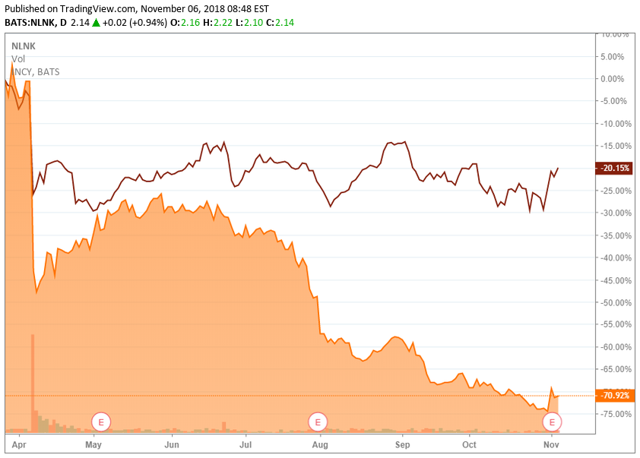 Indoximod vs Epacadostat
We wanted to deep dive into the IDO pathway to understand whether there is actually a difference between IDO inhibitor epacadostat developed by Incyte and IDO inhibitor indoximod developed by NewLink.
The IDO pathway is active in many tumors, providing a direct defense against T-cell attack. It is also active in many antigen-presenting cells, resulting in peripheral tolerance to tumor-associated antigens.
The two IDO isozymes, IDO1 and IDO2, are believed to be involved in the metabolic breakdown of the amino acid tryptophan, an essential α-amino acid that is used in the biosynthesis of proteins. The resulting depletion of tryptophan inhibits T-cell proliferation. Additionally, the tryptophan metabolite kynurenine (a metabolite of the amino acid L-tryptophan used in the production of niacin) can induce development of immuno-suppressive regulatory T-cells (Tregs), as well as causing apoptosis of effector T-cells (specifically Th1 cells).
IDO pathway can suppress T-cell activation within malignancies, and promote peripheral tolerance to tumor-associated antigens. Through both of these mechanisms the IDO pathway may enable the survival, growth, and metastasis of malignant cells by preventing their recognition and destruction by the human immune system. In theory, inhibitors of the IDO pathway may potentially block these immuno-suppressive pathways and enhance the efficacy of checkpoint inhibitors.
Incyte's epacadostat is a direct inhibitor of IDO1. Epacadostat targets and binds to IDO1 and by doing so it decreases kynurenine in tumor cells and increases and restores the proliferation and activation of dendritic cells, NK cells, and Tregs.
NewLink's indoximod, however, does not inhibit IDO per se, but rather inhibits the IDO-related enzyme IDO2. Indoximod also works to reverse the IDO-mediated inhibition of the immuno-regulatory kinase MTOR (Mammalian Target of Rapamycin). Indoximod is beleived to function as a tryptophan mimetic that suppresses the downstream effects of IDO activation on amino acid-sensing pathways and MTOR signaling and can theoretically reverse the effects of tryptophan catabolism mediated by the IDO pathway.
Indoximod's complex mechanism of action is not properly investigated and validated. The Phase 2 clinical data presented at ASCO 2018 on the treatment of advanced melanoma patients with a combo of indoximod + pembrolizumab indicated that 70 patients experienced an ORR of 56%, with CR 19% and PFS of 12.4 months: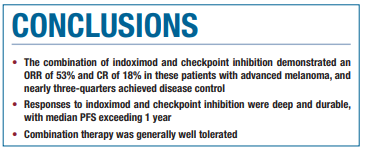 Source: From ASCO 2018 poster
However, it appears that after the epacadostat failure in melanoma, NewLink decided not to move forward with Phase 3 trial in melanoma. We assume that this decision was driven by the financial implications of running a large Phase 3 study as well as a negative publicity associated with epacadostat's Phase 3 melanoma trial failure.
After Epacadostat Failure
After the failure of epacadostat in melanoma, NewLink tried to distance itself from that failure by pointing out that its asset, indoximod, has a different mechanism of action than epacadostat: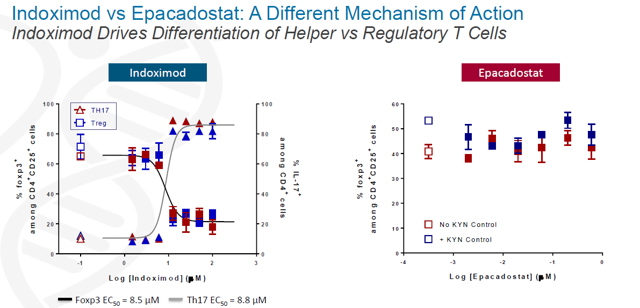 Source: NewLink investor presentation, May 2018
In spite of the series of investor presentations following April 2018 epacadostat failure, NewLink was not able to persuade the investor community that its IDO inhibitor is different (we think that the difference is not explicitly called out on the slide):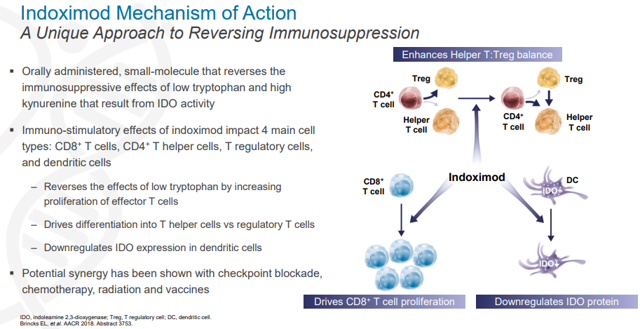 Source: NewLink investor presentation, May 2018
In the meantime, as the NewLink stock continued to decline (from $5 in May to $2.5 in September), the company came up with updated clinical and corporate strategy that prioritized cancer indications that haven't been previously targeted by IDO inhibitors. NewLink also reduced its cash expenditure on R&D and SG&A by focusing on the near-term target validations within upcoming 2-3 years. The slide below was presented to investors in September 2018: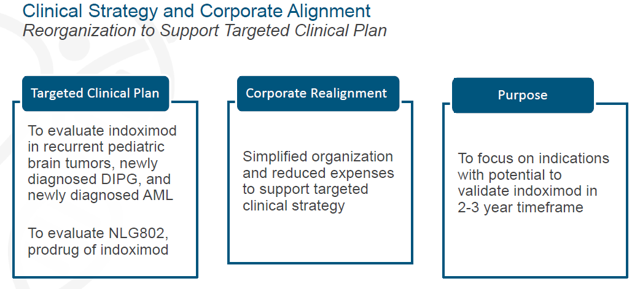 Source: NewLink investor presentation, September 2018
Then, during the Q3 2018 presentation on October 25th, 2018, NewLink outlined its targeted indications for indoximod: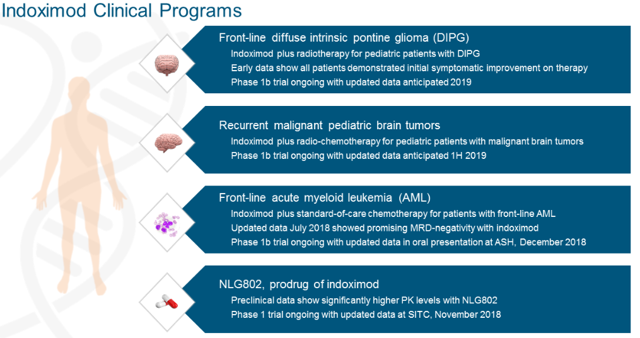 Source: NewLink investor presentation, October 2018
And AML indication appears to be the most promising one: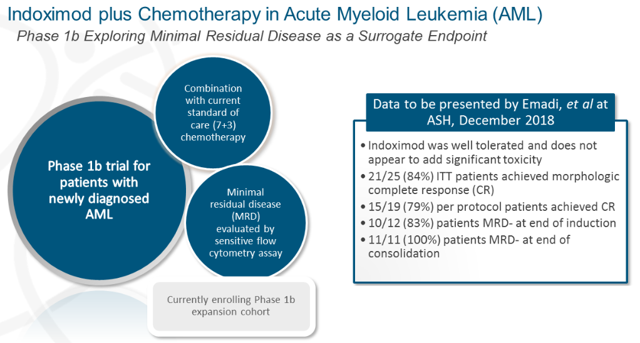 Source: NewLink investor presentation, October 2018
Financials
As of September 30, 2018, NewLink had around $122 mm in net cash and no debt:

Source: NewLink Genetics SEC filings
The cash burn rate in Q3 2018 was around $15 mm:

Source: NewLink Genetics SEC filings
So, even if we assume that the similar cash burn rate will continue in Q4 2018, we can project the cash balance at the end of the year will be at ~$107 mm.
Moreover, per NewLink's corporate alignment strategy, the cash burn going forward is projected to be ~$10 mm per quarter:

Source: NewLink investor presentation, October 2018
Valuation and Catalysts
NewLink has 37.2 mm shares outstanding, which constitute $2.88 cash value per share (107/37.2) as of December 31, 2018.
Nevertheless, due to investor distrust and major sell-offs, the stock is currently traded at ~$2.15, below its cash value.
We think that the upcoming catalysts will occur around mid-2019 when the company can share the progress of indoximod in brain tumor and AML indication trials.
SITC in November and ASH in December can also move the stock, however, due to too early-stage progress and overall distrust of investors, it is unlikely:

Source: NewLink investor presentation, October 2018
If there is a meaningful progress in Phase 1b AML, Phase 2 melanoma, pancreatic cancer, or pediatric DIPG, then the progress on one of those indications would mean an additional $50-100 mm valuation:
NewLink is testing indoximod in 1L AML. AML drugs such as Rydapt and Vyxeos are forecasted to bring hundreds of millions in sales creating a $1.5 bn market by 2026. Risk-adjusted NPV of a Phase 2-ready asset in AML would mean around $50 valuation (PoS of Ph 2 drug, 15%, multiplied by 30% of market penetration)
Melanoma indication is less promising as the public has a negative perception associated with IDO inhibitors in melanoma
Pancreatic indication is more interesting but has a lower probability of success. Some early progress can generate $50 mm in rNPV in that indication
And finally, as unrealistic as this may sound, if Incyte shows some progress in its development of epacadostat in combination with pembrolizumab in lung cancer that it currently runs as Phase 2 studies (ECHO-305 and ECHO-306), then this news could potentially lift the valuation of the whole IDO pathway class.
So, this $50-100 mm increase in valuation on top of current $80 mm market cap would mean ~$155 mm or ~$4 per share.
On the other hand, no news or bad news can sink the stock another 20%, but if this happens in 2018 it will be temporary as the company has a strong cash position (as of the end of 2018).
In the long run, although NewLink declared that they have cash enough to run operations through 2H 2021, we think that 2019 will be a "make it or break it" year for the company. It appears that everyone agrees that the IDO pathway exists, but not everyone trusts that NewLink can commercialize its expertise in IDO pathway and its unique IDO2 inhibitor.
Wrapping Up
We think NewLink is a Buy opportunity, but we would caution that this is a micro-cap stock with significant fluctuations in price. The IDO concept does not ignite trust within the medical and investment communities and the data to be presented by mid-2019 would have to be unambiguous to make the stock work again.
Nonetheless, at this point, we do believe that at ~$2 NewLink stock is worth investing in.
Disclaimer: This is not an investment advice. Please do your own research prior to making any investment decisions. This article represents our independent opinion and it cannot be construed as an investment advice.
Disclosure: I am/we are long INCY, NLNK.
I wrote this article myself, and it expresses my own opinions. I am not receiving compensation for it (other than from Seeking Alpha). I have no business relationship with any company whose stock is mentioned in this article.