The Breakout Is Here
The reception to Verizon Communications, Inc. (VZ) Q3 earnings was strong with shares jumping 4.1% on the report, the second biggest daily gain for the stock in 10 years. VZ is trading with positive momentum, now at the highest level since the year 2000.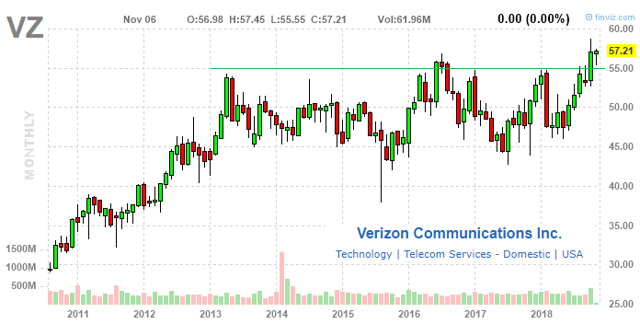 Verizon Monthly Stock Chart. Source: finviz.com
In Q3, Verizon beat top line and EPS market expectations but more importantly, reported strong wireless operating figures with 515k net postpaid subscribers, likely the most closely watched metric. The company was able to grow its customer base while keeping costs down. Wireless EBITDA has climbed steadily over the past three years reaching a year to date level of 47.8%, the highest ever.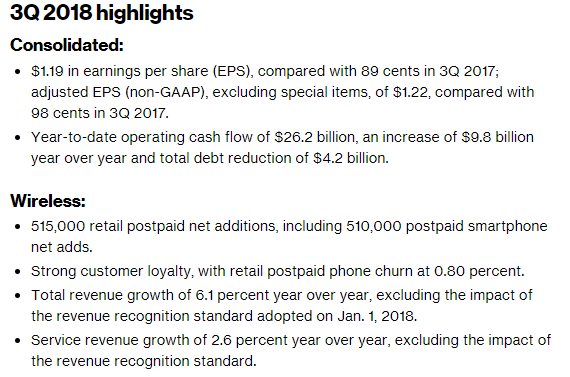 Time For Verizon Dividend Yield To Move Under 4%
The stock is currently trading at $57.64 per share and yields 4.12% for the trailing twelve months. Notably, for the first time since July 2016, Verizon is approaching the 'mythical' 4% yield level. Numerous times over the past decade, the 4% yield level has acted as a sort of technical resistance on the stock from further appreciation. The stock hasn't traded consistently under the 4% yield level since 2002, each time selling off taking the yield higher.
Some investors may view this peculiarity as evidence the stock is currently expensive or a sell signal, but I disagree. In my opinion, the company has evolved and this time is different. The stock can move higher pushing the dividend yield lower.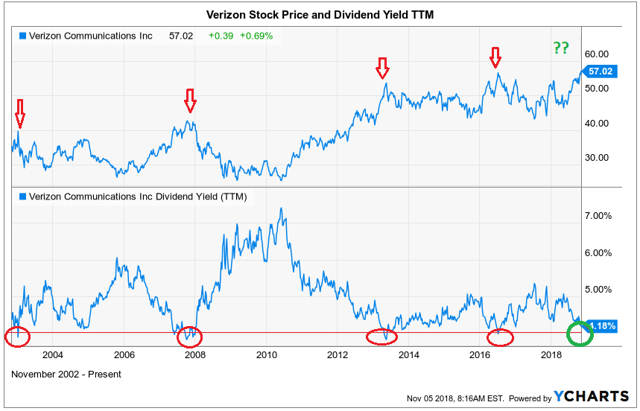 Verizon - stock price and dividend yield. Source: YCharts.com
The following points outline my bullish thesis.
Management guidance for flat CAPEX over the next couple of years (from ~17 billion for 2018) suggests increasing free cash flow which will lead to sustained debt reduction.
Company is set to consolidate its position as the leader in wireless with a first in the nation rollout of 5G technology.
Verizon shares will command more and more of a premium for quality as its fundamentals firm.
There is nothing special about the 4% yield level; that is to say, there is no textbook rule that says VZ stock price is capped by this one dividend metric. The math here is simple. Verizon just paid its last dividend of $0.6025 per share so on a trailing twelve-month basis, the stock yields 4.12%. Verizon needs to climb to at least $59.31, representing just 2.9% upside from the close on November 7th to cross the 4% yield mark. I think the stock can trade above $60 in the next 3 to 6 months
A Few Points To Consider:
Profitability is increasing: Net Income Margin reached 15.1% this quarter; on a normalized basis, the highest for a Q3 in over 15 years. The company overall has solid margins with strong customer retention. It is known that Verizon's churn rate is the lowest in the industry. Looking forward to 5G in 2019, even as pricing has yet to be announced, I believe the introduction of the service will offer a pricing opportunity to increase margins. Verizon benefits from taking the industry lead in this regard. Early adopters will be more than willing to pay a premium for next generation data speeds.
TTM free cash flow covered the dividend by 1.8x: The company reports free cash flow (CFO - capex) of $14.2bn YTD compared to a dividend payout of $7.3 billion in dividends. With management expecting capex to remain flat over the next couple of years, this indicates that the dividend coverage is set to improve going forward. Considering a balance sheet cash position of $2.5bn, I view Verizon's dividend as safe as they come at the 4% yield level. Investors have been getting a relatively paltry 2-3% annual dividend rate increase in recent years. The company may have room to bump this going forward, but I think a conservative approach keeping the payout ratio subdued will simply translate to more upside in the stock price.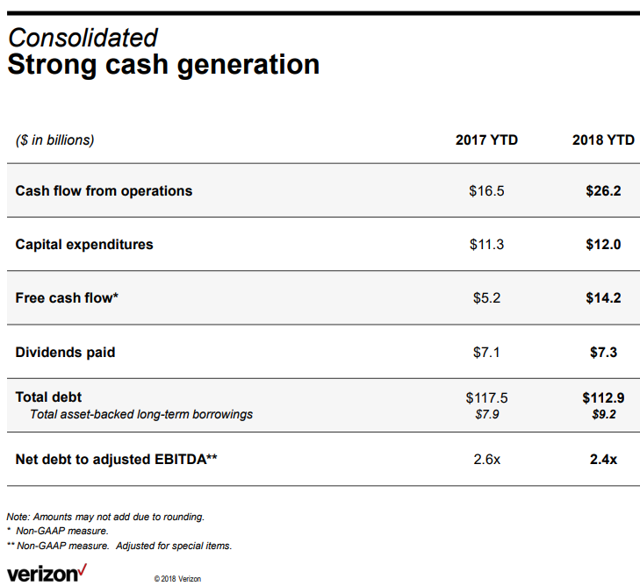 Source: Verizon Communications, Inc. Q3 2018 presentation
Total debt will trend lower: A large part of the excess free cash flow is being used to reduce leverage. The company reported a total debt position of $112.9bn to end Q3, down 4% compared to $117.5bn this period last year and this should continue. Lower leverage going forward will be a positive catalyst.
4% yield in 2018 is different from 4% yield in 2008: One of the things to consider is how Verizon has evolved over the last decade, and certainly compared to early 2000s. Now, more than ever, wireless service is nearly a necessity for a large part of the population as the only source of phone and texting services. It's clear that Verizon today is different from Verizon 10 or 20 years ago considering the evolution of its service and product. The increasing number of post-paid subscribers lowers the volatility of its revenues making earnings more consistent. The story here I think is effective management with disciplined cost controls which is something Verizon had been struggling with for the better part of its history but is finally getting right. The market rewards trends like this.
Dividend Yield Has Little To No Relationship To Interest Rates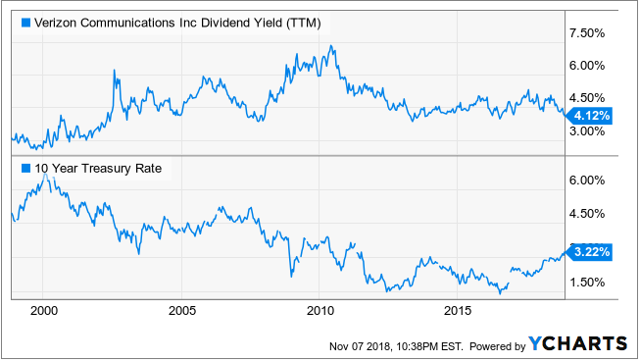 Source: YCharts
Based on the chart above, interest rates have had little to no role explaining Verizon's dividend yield. Going back to 1998, Verizon's dividend has traded at both a discount and premium to 10-year treasury yields. The stock has climbed 26.5% in the past year as treasury rates have increased. This suggests to me that rising interest rates now should not limit further appreciation in the near term.
This Time Is Different
Verizon is a solid company with positive momentum and a number of catalysts in the medium term drive the stock price higher. Consensus EPS for 2019 of $4.71 per share suggests earnings growth of just 1% in the next year but investors should look underneath and see the quality of those earnings is stronger. The 4% yield level is just a number that Verizon can step over. I have a price target on the stock at $61 representing 13x 2019 earnings. Together with a current forward yield of 4.2%, the price target suggests a total return of 10.8% in the next year.
Disclosure: I am/we are long VZ.
I wrote this article myself, and it expresses my own opinions. I am not receiving compensation for it (other than from Seeking Alpha). I have no business relationship with any company whose stock is mentioned in this article.