Quick Take
Canada Goose Holdings (GOOS) hannounced it has acquired Baffin for $24.77 million (CA$32.5 million).
Baffin designs and manufactures performance outdoor and industrial footwear.
GOOS is making a sensible play to significantly expand its offerings with the logical addition of Baffin's high-quality outdoor footwear.
Target Company
Stoney Creek, Ontario-based Baffin was founded in 1997 to manufacture footwear suitable for both outdoor and industrial conditions, such as agriculture, food processing, petrochemical, chemicals, high visibility, utilities, cold weather, ice paw grip, construction, and non-metallic industries.
Management is headed by Founder and President Paul Hubner, who has over 30 years of experience in the footwear industry.
Baffin's primary offerings include:
Men's Footwear
Women's Footwear
Kids Footwear
Safety
Market & Competition
According to a market research report by Fact.MR, the global hiking footwear market is projected to grow to over $7 billion by 2022.
The main driver for this expected growth is the growing inclination towards combining leisure with adventure.
Based on product type, hiking shoes and approach shoes are projected to grow at a CAGR of 26% during the period between 2017 and 2022.
Major competitive vendors that provide hiking footwear include:
Skechers (SKX)
New Balance
V.F. Corporation (VFC)
Deckers Outdoor Corporation (DECK)
Wolverine World Wide (WWW)
Amer Sports Corporation (AMEAS.HE)
Under Armour (UA)
According to a market research report by Global Market Insight, the global industrial safety footwear market is projected to grow to $7.8 billion by 2024.
Main drivers for this expected market growth are the growing workplace hazards along with strong regulatory framework by OSHA, ILO, and BSI to ensure employee safety.
Major competitive vendors that provide industrial safety footwear include:
V.F. Corp. (VFC)
Dunlop Boots
Bata Industrials
Uvex Group
Honeywell International (HON)
JAL Group France
COFRA
Acquisition Terms and Rationale
GOOS disclosed the acquisition price as CAD 32.5 million ( USD 24.77 million) but didn't file a 6-K. The firm said it doesn't expect the deal to have a material impact on its fiscal 2019 financial results.
A review of the firm's most recent quarterly results indicates that GOOS is seeing strong growth in its DTC (Direct To Consumer) revenue and continued and significant gross margin increase, which it attributed to its DTC growth.
DTC allows the firm to avoid markdowns necessary to sell through distributors or retailers.
GOOS acquired Baffin as a beachhead to launch initiatives in performance and industrial footwear.
As GOOS CEO Dani Reiss stated in the deal announcement,
As we continue to execute our current growth initiatives and build an enduring brand for generations to come, Baffin provides us with valuable infrastructure and know-how to start exploring the exciting global footwear category. This strategic and long-term investment is an important first step in Canada Goose's footwear journey.
In the past 12 months, GOOS's stock price has risen by 146% vs. the S&P 500 Index 4%, as the chart below indicates: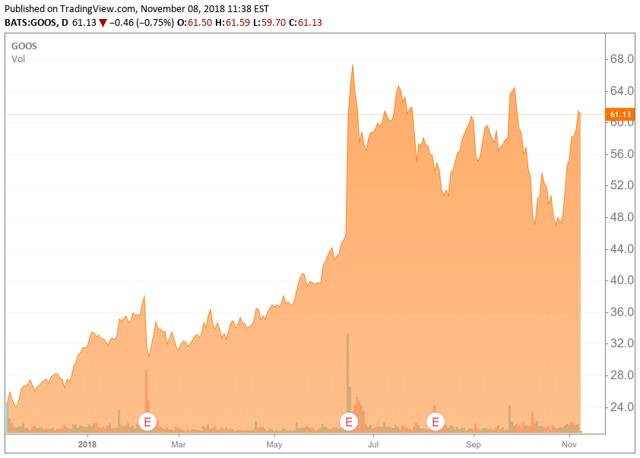 (Source:Seeking Alpha)
However, in October, analyst Dan Victor, CFA wrote that GOOS is facing 'headwinds' due to valuation and being a 'one-trick goose.'
With the acquisition of Baffin, it would appear GOOS management held a similar view and has moved aggressively to expand its offerings through a logical adjacent acquisition.
Analyst ratings on GOOS currently show 10 'strong buys,' 3 'holds,' and one 'sell' rating, with a consensus price target of $63.30:

(Source:Seeking Alpha)
With Baffin tucked under its wing, I expect GOOS will work hard to incorporate its offerings into its DTC and wholesale channels while rationalizing its supply chains to bring in additional suppliers and other infrastructure.
The worldwide outdoor footwear market is quite large, and GOOS has significant growth opportunities from the acquisition.
While valuation at its current price level may be a short-term caution, interested investors may wish to look to 2H 2019 to begin seeing the effects of the Baffin deal on GOOS' revenue growth.
Thank you for reading. I write about IPOs and M&A deals, though I focus most of my time on IPOs. If you're interested in investing smarter in IPOs, you should check out IPO Edge.
Disclosure: I/we have no positions in any stocks mentioned, and no plans to initiate any positions within the next 72 hours.
I wrote this article myself, and it expresses my own opinions. I am not receiving compensation for it (other than from Seeking Alpha). I have no business relationship with any company whose stock is mentioned in this article.