It's a common theme on Seeking Alpha for self-directed investors; what am I going to do with my portfolio when I am no longer here, or no longer able to manage the investments?
Self-directed investors are a rare breed, whether they are managing an individual stock portfolio or a Model ETF Portfolio. We know that most friends and family have absolutely no interest in investing and hence, their knowledge level will barely move the needle. On Seeking Alpha we will often hear readers or authors state that their spouse has 'no interest'.
So that creates a very interesting and unique problem for self-directed investors. How do we transition the portfolios so that a spouse who does not care and has no interest can access the funds, and so that the investments are arranged to provide durable long term income?
Now off the top I'd suggest that you/we might be overreacting on the need for someone to manage the investment portfolio after we're gone. If you're in retirement and your assets are arranged in a sensible-risk managed fashion, the portfolio might be able to run on auto pilot for many, many years or decades. Now that might not be a popular thought for many self-directed investors as they feel that their tinkering and monitoring is adding value, or managing risks.
If we have arranged our portfolio with a nice mix of market leading companies that make generous profits and have a history of paying increasing dividends, with risk managed by investment grade bonds and treasuries, and perhaps a modest cash pile, we can let that mix run. They don't really need you, as much as we like to think it's essential to keep an eye on things. It's popular for retirees to invest in Dividend Aristocrats (NOBL) and Achievers (VIG) or other stocks that you might find in other Dividend Funds such as (SCHD). When we buy a bunch of 'em, and if we have enough of 'em, we are usually creating our own index and the investment portfolio will share much of the risk and return characteristics of the total index. My readers will know that in 2015 I purchased 15 of the largest Dividend Achievers and those 15 essentially track the fund VIG.
From that recent update link, Portfolio 1 is my 15 Achievers Portfolio 2 is VIG.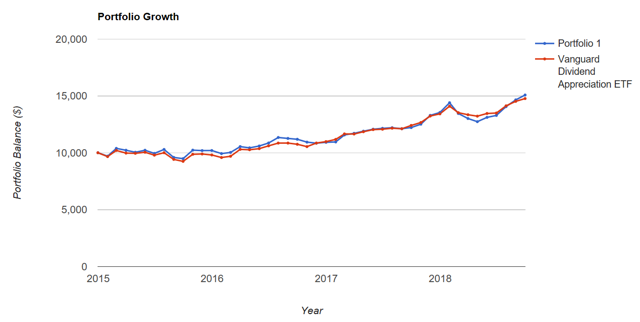 For more support on the Achievers retirement front, I had a look at the original top 10 Achievers from 2006 and how they would have fared through the very severe market correction known as the financial crisis, in this article, The Original Dividend Achievers Top 10, This Should Not Have Worked.
Those Top 10 delivered superior risk adjusted returns for many years through the correction of 2007-2009 and beyond. And of course that's why many retirees embrace the Aristocrats and Achievers as that meaningful dividend history can be a divining rod that can find greater financial stability compared to the broader market. Minimizing failure becomes more of a consideration in retirement.
That said, 10 stocks is certainly not enough. Many will suggest that you at least have 20 stocks for enough 'diversification'. A retiree may also pay attention to the sector allocations and avoid or minimize exposure to cyclical stocks or ETFs. Here's my article The Lowest Volatility Sectors For Retirees.
And again, part of the special sauce for retirees will be some exposure to bonds to manage that sequence of returns risks, and that dividend sustainability risk, if one has slanted the portfolio to rely on dividend income
So your first consideration might be that your portfolio can stay the course, even though you've moved on and you're now watching 'from above'. Do nothing. Leave it be. Let your spouse remove assets from your sensible well-balanced portfolio that you've designed to deliver durable retirement income.
You may choose to convert your stock portfolio to an ETF model. The self-directed investor will or should know what stock and bond funds (and what allocations) will potentially deliver that durable income. You can take the stock picking risks out of the picture.
Self-directing retirees may also choose to move the funds to a lower fee managed mutual fund. I'd suggest a Balanced Growth or Balanced model, but I'll leave that up to you to gauge the risk tolerance level of your spouse. And it is VERY IMPORTANT that you have that risk chat. Your spouse will have to understand and be prepared for a portfolio that will decline in value. Your spouse will likely not share your penchant for risk. It's even possible that your spouse has no tolerance for risk. If that's the case, you either have to educate your spouse on the markets and the importance of taking on some risk to protect against inflation, or if your spouse 'ain't buying' the argument you may have to create a risk-free investment. That may include laddering CDs or the dreaded annuity (not a self-directed investor's favorite word). If you are moving down that risk-free route you will have to do your research on annuities and other options well in advance. You'll find some very good research on annuities on Seeking Alpha, but of course you'll be best-served to broaden your scope. There are some very solid products available.
Retirees might also seek the advice of a financial planner or a fee-for-service advisor. As always do a ton of research to ensure that your fees are reasonable and that you've found a trusted, and highly-recommended advisor.
You might also hand over your portfolio to a Robo Advisor. Many think of Robo Advisors as a wonderful option for millenials in the accumulation stage. Investors get managed portfolios and robo fees can be very low, even at no cost. Of course, you'll still need to pay the ETF management expenses. But free is not necessarily the best, you will have to know your robo. I have been doing extensive research on the Canadian Robo Offerings and it is surprising how unique are each of the robos. It's important to 'know your robo'. Some robo's will be more plain vanilla while others will be more sophisticated and offer a full suite of products and advice.
And what's more than interesting is that the US digital wealth managers are developing more sophisticated tools that can be very advantageous for the retiree. They can develop tax strategies and full financial retirement funding plans. The fees will vary of course and may increase as you add services and complexity but it can still be very cost-effective advice.
Here's an article from Barbara Friedberg of Robo Advisor Pros, The 4 Best Robo Advisors for Retirees.
The very popular investorjunkie blog suggests that Robo Pioneer Betterment is a leading choice for retirees. Here's Can Retirees Use Robo Advisors Too? Technology (fin tech) might be a wonderful enabler for retirees who want or need a managed portfolio.
And of course the name Vanguard always comes to mind when seeking sensible investment solutions, even for the retiree. From the Vanguard site
The annual cost for Vanguard Personal Advisor Services is only 0.30% of your assets we manage.
There are many lower cost options available. As always the key will be planning and to have that transition plan in place.
Author's note: Thanks for reading. Please always know and invest within your risk tolerance level. Always know all tax implications and consequences. If you liked this article, please hit that "Like" button. If you'd like notices of future articles, click the "Follow" button.
Disclosure: I am/we are long BNS, TD, RY, AAPL, NKE, BCE, TU, ENB, TRP, CVS, WBA, MSFT, MMM, CL, JNJ, QCOM, MDT, BRK.B, ABT, PEP, TXN, WMT, UTX, BLK.
I wrote this article myself, and it expresses my own opinions. I am not receiving compensation for it (other than from Seeking Alpha). I have no business relationship with any company whose stock is mentioned in this article.