One year ago, I proclaimed TowneBank (TOWN) as "the best bank in town for a flat yield curve". Well, the yield curve has only gotten flatter: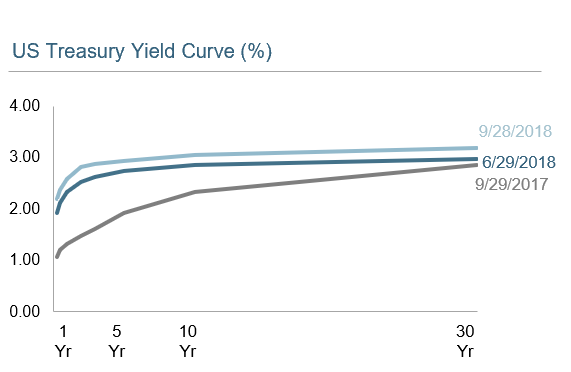 Source: Dimensional Funds Quarterly Market Review
And TowneBank stock has not fared well (Even compared to the S&P regional banking index):
TowneBank remains one of my largest positions, and seeing one of your largest positions down 15%, and underperforming the market, hurts. So a check up is in order.
Is this recent drop warranted?
Should my long thesis be changed?
To begin to answer, first let's take a look at how TowneBank's fundamentals have fared over the last year.
Year in Review
Below, the most recent numbers are from TowneBank Q3 2018 investor presentation. Last year's numbers can be found on their Q3 2017 10-Q.
All numbers below are year to date values (covering the first 9 months of the respective year):
| | | | |
| --- | --- | --- | --- |
| | Q3 2017 | Q3 2018 | YoY Change |
| Revenue | $340.1 million | $401.2 million | +18% |
| Net Interest Income | $195.4 million | $251.8 million | +29% |
| Non Interest Income | $144.6 million | $149.3 million | +3.3% |
| Net Interest Margin | 3.55% | 3.64% | 9 basis point improvement |
| Total Assets | $8.6 billion | $11.1 Billion | +29% |
| Total Deposits | $6.5 billion | $8.2 billion | +28% |
| Non-Performing Assets | 0.39% | 0.25% | 14 basis point improvement |
| Return on Assets | 1.22% | 1.26% | 4 basis point improvement |
| Book Value | $18.03/Share | $20.54/Share | +14% |
| Pre-Tax Earnings | $112.9 million | $125.2 million | +11% |
| Net Income | $75.3 million | $97.8 million | +30% |
| Dividends Paid | $0.41/Share | $0.46/Share | +12% |
It's hard to find much to complain about in TowneBank's most recent numbers, certainly considering the stock is down nearly 20% over this time!
In my article a year ago, several comments pointed out that TowneBank was simply too expensive at the time. And I think they were right. In early 2017 especially, TowneBank traded at a PE over 30. But that has come down significantly since then. TowneBank's fundamentals have once again caught up with the lagging stock price.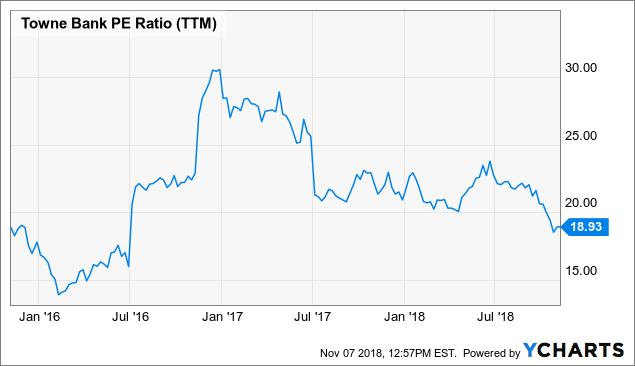 And looking forward, it is even better: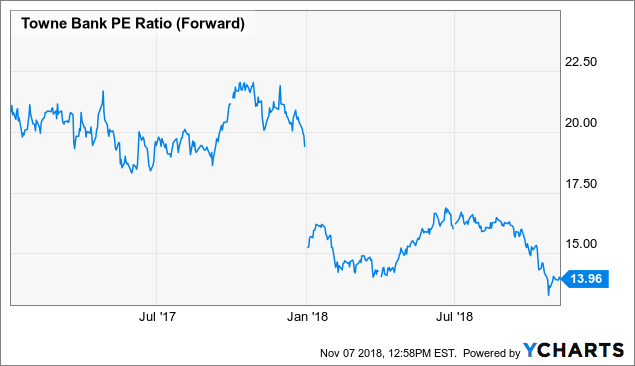 But, staring at a 20% decline is not easy, no matter how the fundamentals look. Thankfully there are other aspects of TowneBank's business that I believe set it apart from its competition and give me confidence to continue to hold this stock:
Leading Market Share
TowneBank is headquartered in Hampton Roads, Virginia. The area is classified as the "Virginia Beach-Norfolk-Newport News, VA-NC Metro Area" and is the 39th largest (out of 391) metropolitan statistical area "MSA" in the United States.
The census estimated the population of the area to be 1.76 million people.
And TowneBank, a small $2 billion market capitalization bank, is competing (and conquering) its mega-bank competition:

TowneBank has larger market share in the Hampton Roads metropolitan area than Wells Fargo (WFC), Bank of America (BAC), BB&T (BBT), and SunTrust (STI).
A small regional bank leading in market share in a large MSA is very rare. How rare? Here is a list of all the MSAs larger than Hampton Roads, and the area's leading bank by deposit market share:
| | |
| --- | --- |
| Metropolitan Statistical Area "MSA" | Leading Bank by Market Share |
| New York-Newark-Jersey City, NY-NJ-PA Metro Area | JPM |
| Los Angeles-Long Beach-Anaheim, CA Metro Area | BAC |
| Chicago-Naperville-Elgin, IL-IN-WI Metro Area | JPM |
| Dallas-Fort Worth-Arlington, TX Metro Area | BAC |
| Philadelphia-Camden-Wilmington, PA-NJ-DE-MD Metro Area | COF |
| Houston-The Woodlands-Sugar Land, TX Metro Area | JPM |
| Washington-Arlington-Alexandria, DC-VA-MD-WV Metro Area | BAC |
| Miami-Fort Lauderdale-West Palm Beach, FL Metro Area | BAC |
| Atlanta-Sandy Springs-Roswell, GA Metro Area | STI |
| Boston-Cambridge-Newton, MA-NH Metro Area | BAC |
| San Francisco-Oakland-Hayward, CA Metro Area | BAC |
| Detroit-Warren-Dearborn, MI Metro Area | JPM |
| Riverside-San Bernardino-Ontario, CA Metro Area | BAC |
| Phoenix-Mesa-Scottsdale, AZ Metro Area | JPM |
| Seattle-Tacoma-Bellevue, WA Metro Area | BAC |
| Minneapolis-St. Paul-Bloomington, MN-WI Metro Area | USB |
| San Diego-Carlsbad, CA Metro Area | WFC |
| St. Louis, MO-IL Metro Area | USB |
| Tampa-St. Petersburg-Clearwater, FL Metro Area | BAC |
| Baltimore-Columbia-Towson, MD Metro Area | BAC |
| Denver-Aurora-Lakewood, CO Metro Area | WFC |
| Pittsburgh, PA Metro Area | PNC |
| Portland-Vancouver-Hillsboro, OR-WA Metro Area | USB |
| Charlotte-Concord-Gastonia, NC-SC Metro Area | BAC |
| Sacramento--Roseville--Arden-Arcade, CA Metro Area | WFC |
| San Antonio-New Braunfels, TX Metro Area | CFR |
| Orlando-Kissimmee-Sanford, FL Metro Area | STI |
| Cincinnati, OH-KY-IN Metro Area | USB |
| Cleveland-Elyria, OH Metro Area | KEY |
| Kansas City, MO-KS Metro Area | UMBF |
| Las Vegas-Henderson-Paradise, NV Metro Area | WFC |
| Columbus, OH Metro Area | HBAN |
| Indianapolis-Carmel-Anderson, IN Metro Area | JPM |
| San Jose-Sunnyvale-Santa Clara, CA Metro Area | SIVB |
| Austin-Round Rock, TX Metro Area | WFC |
| Virginia Beach-Norfolk-Newport News, VA-NC Metro Area | TOWN |
You can find this information for these MSAs, and others, on the FDIC's website.
(Puerto Rico was removed from the list above for lack of FDIC data)
You may have heard of most of the banks on this list:
In fact, besides these mega-banks, there are only a few outliers:
And then there is TowneBank, with just a $2 billion market cap - With leading market share in the Hampton Roads area.
How TowneBank Competes
How is TowneBank able to compete with these banks 100x its size? I think there are 2 main areas where TowneBank excels.
First, TowneBank serves its customers much more efficiently. Despite its dominant market share, Townebank has almost half the number of banking branches in the area as Wells Fargo. The average TowneBank branch (of which there are 26) has $217 million in deposits, while Wells Fargo has 46 branches, with an average branch size of $104 million.
Next, TowneBank has businesses that serve almost every financial need of its clients and prospects.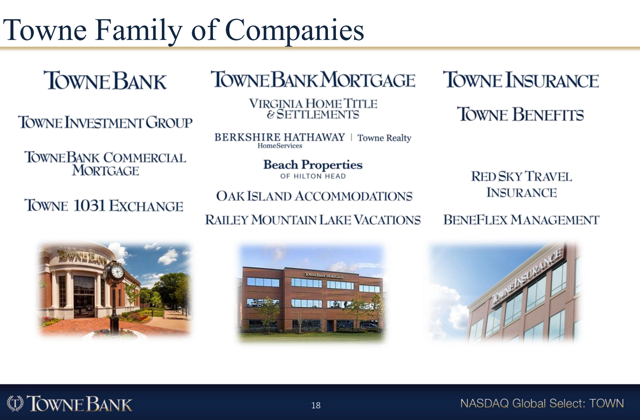 Source: TowneBank's Q3 2018 investor presentation - Slide 18
Wells Fargo was known for its strategy in cross selling its wide variety of products to its customers. Banking customers would invest with Wells Fargo Advisors, get their mortgage through Wells Fargo, and buy insurance through Wells Fargo agents. TowneBank seems to be copying that business model with success, as all lines of business seem to be growing in tandem:
| | |
| --- | --- |
| Segment | CAGR |
| Insurance (Gross Commissions) | 15.60% |
| Investment (Assets Under Management) | 21.70% |
| Mortgage (Origination Volume) | 18.50% |
Source: Multiple slides on TowneBank's Q3 2018 investor presentation.
Growth in the table represents compounded annual growth rate over the time periods provided in the presentation.
This efficiency and growth has led to great returns for TowneBank and its shareholders. But where will future growth come from now that TowneBank has achieved a dominant position in Hampton Roads? Thankfully, there is more than just Hampton Roads in TowneBank's sights.
Growing Geographical Footprint
The bank, and its proven model of gaining market share despite the maga-bank competition, is moving into Richmond Virginia, Raleigh North Carolina, and Charlotte North Carolina. These bigger markets represent huge growth opportunities for TowneBank.
How is it going so far?
TowneBank's move into Raleigh started with its acquisition of Paragon Bank in early 2018. As of the FDIC's latest market share report (which was the end of June, 2018) TowneBank, despite having just 2 branches in the area, is 9th in market share with 2.68% of deposits.

Source: FDIC
Though a tiny fraction of the $27 billion in deposits in Raleigh, TowneBank is projecting 20% loan growth in the area (Per page 13 of their Q3 2018 investor presentation). If their optimism proves correct, and those loans help attract deposits to the bank, this little bank has a lot of growth ahead of it.
Like Raleigh, Richmond Virginia represents another tough, but large, market.
Banks are fighting for $37 billion in deposits in the Richmond area, and TowneBank currently has $860 million of that, or about 2.3%. However, once again note the limited number of branches that ToweBank has compared to its competition: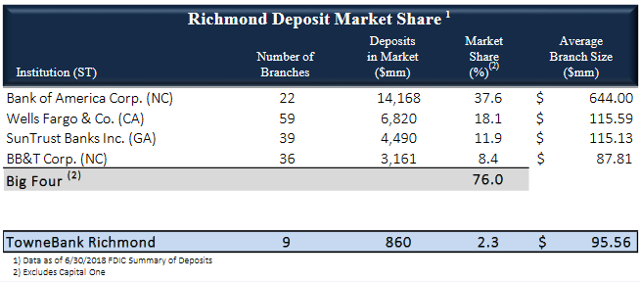 Source: TowneBank's Q3 2018 investor presentation
TowneBank is projecting 15% loan growth in the region, which will hopefully translate to growing deposits as well.
Lastly, Charlotte North Carolina. This area is huge, with more than $215 billion in bank deposits. It undoubtedly will be those most challenging for TowneBank to compete, but the rewards are very high.
Today TowneBank, with its 1 branch in Charlotte, has just a fraction of a percent of market share with $445 million in deposits.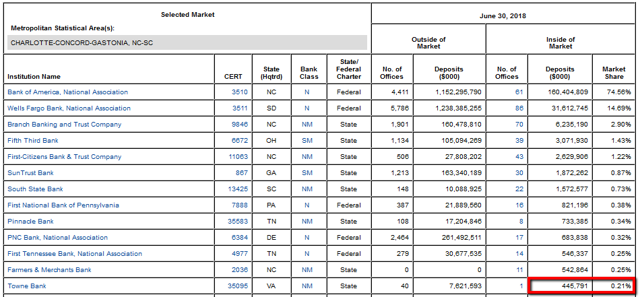 Source: FDIC
However, there are plenty of signs of life. Just over the last year TowneBank's Charlotte deposits are up 18.6%.
David beat Goliath in Hampton Roads. Can the success be repeated in other, larger cities?
TowneBank's footprint in these large areas is currently small, and knowing the conservative management at TowneBank, their entrance in these markets will remain steady, but unlikely rapid. Thankfully, there is still a great reason to hold on to the stock while the growth story plays out - Its dividend.
Be Paid to Wait
Growth into the Raleigh, Charlotte, and Richmond areas will take time. However, I expect TowneBank to continue to be very rewarding to shareholders while the growth pans out.
TowneBank has raised its dividend for 6 consecutive years now, and as business has grown the payout ratio of the company has dropped, despite the dividend doubling over the last 6 years.
I think we can expect another dividend raise in 2019: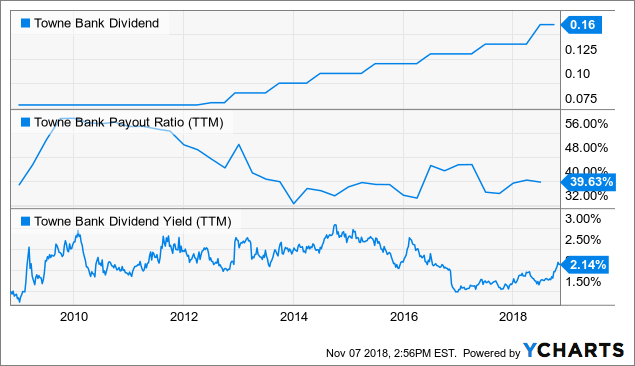 And these dividends are based on very positive fundamentals.
TowneBank has posted rising earnings for 19 years, and 18 years of those years had positive earnings: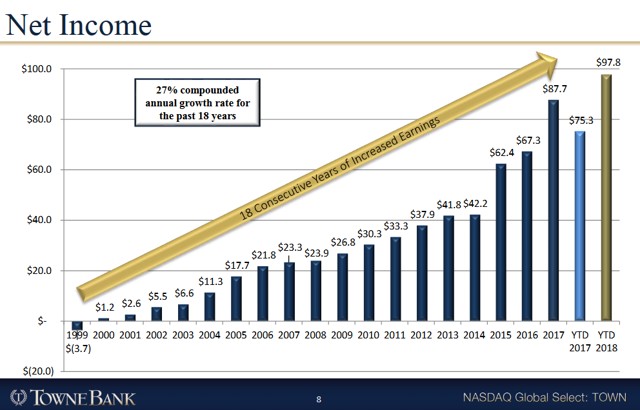 Source: TowneBank's Q3 2018 investor presentation - Slide 8
Notice the lack of slowdown even in 2008-2009. This bank is exceptionally well run, and should give long term shareholders very little worry.
In Summary
Although the potential growth is the exciting part about TowneBank, even without it, the bank has an excellent operation at its home base in Hampton Roads Virginia.
Based on these numbers alone, the recent drop in TowneBank's share price seems unwarranted.
The company's sound fundamentals, growing dividend, and leading market share gives me great confidence in holding the stock, regardless of what the market does in the short term.
Disclosure: I am/we are long TOWN.
I wrote this article myself, and it expresses my own opinions. I am not receiving compensation for it (other than from Seeking Alpha). I have no business relationship with any company whose stock is mentioned in this article.