The Oklahoma-based O&G exploration and production giant Devon Energy (DVN) just reported its third quarter earnings. Both rising production volume and underperforming production expenses caused EPS to increase 37%. I remain very optimistic as the company is likely going to continue the current growth streak, as long as oil prices remain at current prices or continue their longer term rally, of course.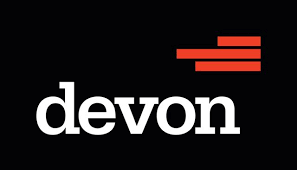 Source: Devon Energy
Sales Growth Continues To Impress
First of all, adjusted EPS came in at $0.63. This is a massive beat, given that experts estimated EPS of just $0.45. In other words, according to this data, analysts expected a growth rate close to 0% given that Q3/2017 EPS totaled $0.46.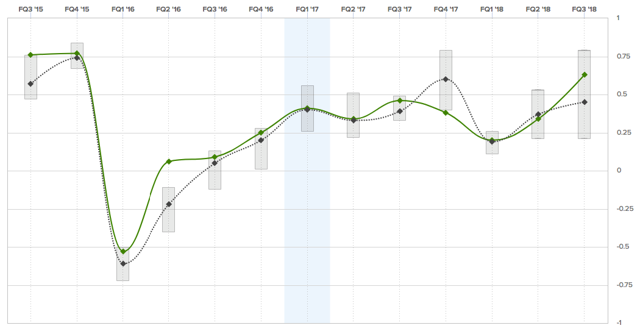 Source: Estimize
Official revenue declined from $3.16 billion to $2.58 billion. At this point, there are two things I have to mention. The first one being that sales did beat estimates of just $2.13 billion which is an extremely good sign. The second point is that sales are down 18% due to divestitures. These divestitures are the sale of the EnLink midstream shares as well as assets like the Wise County package located in the Barnett Shale.
The overview below shows the adjusted data. What we see is that sales are up 33.4% between Q3 of 2017 and the most recent third quarter.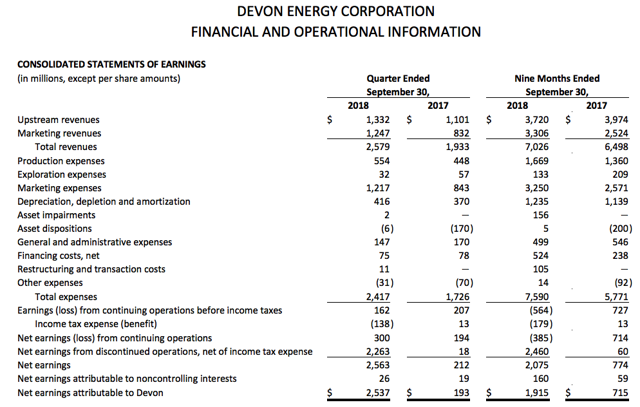 Source: Devon Energy Q3/2018 Earnings Release
Production was supported by strong company-wide production. Total production averaged 522,000 BOE per day in the third quarter. Total oil and natural gas liquids were 67% of total production. This number will likely increase as the company continues to focus on high margin products.
US production averaged 418,000 BOE per day which is well above the company's own guidance of 398,0000 to 417,0000 BOE per day.
The strongest growth was provided by the company's assets in the Delaware Basin operations in southeast New Mexico. Oil production from these assets increased 45% year on year, pushing total volumes up to 79,0000 BOE per day. This was made possible by seven prolific Wolfcamp wells that averaged 4,000 BOE per day per well.
The company's Eagle Ford assets in Texas with production rising 12% compared to the second quarter of this year. 20 high-rate wells that were brought online during the third quarter provided this production increase. These wells will produce 30,000 BOE per day each.
All things considered, the company is planning to advance production 17% in 2018. This is 2 points above the company's original expectations adjusted for asset sales.
Before I continue, let me share the slide below. Not only has production done quite well this year, Devon is planning on maintaining these growth rates until at least 2020. The company is also continuing to reduce costs which will (hopefully) provide Devon with $6-8 billion of free cash flow.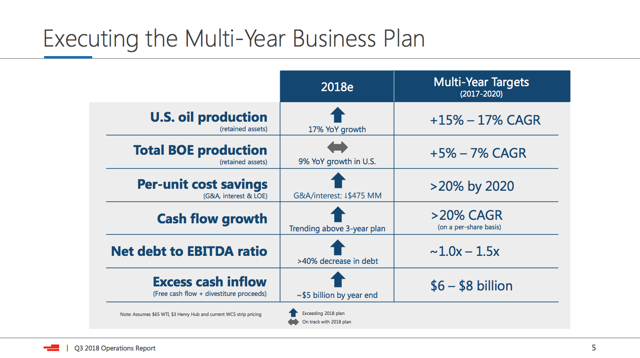 Source: Devon Q3/2018 Earnings Presentation
And speaking of costs, total production costs increased 23.7%, which is mainly the result of higher drilling volumes. EBITDA margins soared to 24.4% from 22.8% in Q3 of 2017.
What's Next?
One of the problems after discussing oil companies is that they are all dependent on the oil price (obviously). Even the best companies are not going anywhere when oil prices are declining. This does not mean that company's fundamentals don't matter. The companies with the best balance sheets and shareholder value will always be outperformers.
That's why I fully agree with Devon's measures to enhance its balance sheet and shareholder value. The company is using the cash from the EnLink sale and other divestitures to retire debt and to buy back shares. The total number of shares outstanding is expected to be 20% lower in March of 2019 compared to Q1 of 2018. Adding to that, the total debt has been reduced by more than 50%. That's why the oil crash of 2014 and 2015 can be seen as a blessing in disguise for some companies that survived. I have seen a number of companies that are massively deleveraging while focusing on more efficient production methods. This will be a huge benefit on the long run and even if oil prices start another correction.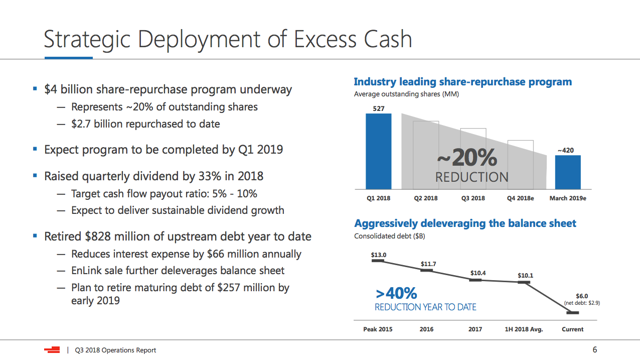 Source: Devon Q3/2018 Earnings Presentation
That said, I believe the current stock price is at a very interesting spot. The price has fallen back to its support around $30 during the most recent oil price decline. At this point, the company is trading like oil is trading in the low $50s range. As an oil bull, I think this stock has the potential to bottom above $30. When oil prices rise again, I think we will see a breakout at $45.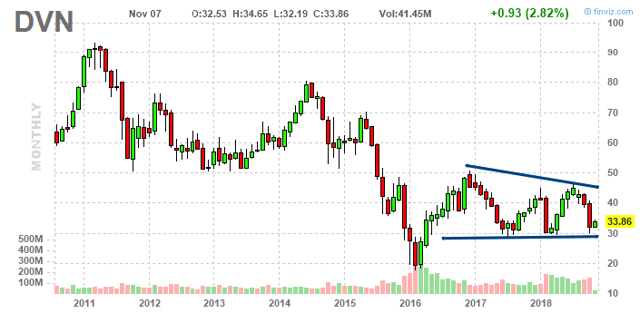 One of the reasons why I believe that oil prices are going higher is the pressure on inventories. This article written by HFIR is a great example of the pressure from falling exports from Saudi Arabia. In addition to that, there are still supply issues in most oil-producing countries.
All things considered, I think the risk/reward is very good. Devon got pushed down to its support line once again thanks to lower oil prices. I think traders are completely ignoring the company's potential of reducing its debt load, increasing shareholder values, and increasing production.
I would not be surprised to see a rally from the current prices to at least $45. After that, I think it's up to the oil price when it comes to a potential breakout of the descending triangle.
I'll keep you updated!
Thank you for reading my article. Please let me know what you think of my thesis. Your input is highly appreciated!
Disclaimer: This article serves the sole purpose of adding value to the research process. Always take care of your own risk management and asset allocation.
Disclosure: I/we have no positions in any stocks mentioned, and no plans to initiate any positions within the next 72 hours. I wrote this article myself, and it expresses my own opinions. I am not receiving compensation for it (other than from Seeking Alpha). I have no business relationship with any company whose stock is mentioned in this article.