Quick Take
RTI Surgical (RTIX) announced it has agreed to acquire Paradigm Spine for up to $300 million.
Paradigm Spine provides motion preservation in spinal stenosis patient via its non-fusion spinal implant.
RTIX management is continuing to execute on its plan to transform the company by acquiring differentiated and scalable technologies.
The deal for Paradigm, if approved by shareholders, won't impact RTI's financial results until well into 2019.
I suggest investors look again in 2H 2019 for evidence that management's plans are producing results.
Target Company
New York-based Paradigm Spine was founded in 2005 to develop a full non-fusion product portfolio of motion preserving, tissue sparing technologies, as well as fusion products.
Management is headed by Co-Founder, Chairman, and CEO Marc Viscogliosi, who was previously Principal at Viscogliosi Bros.
Paradigm Spine's primary offerings include:
Investors have invested at least $167.6 million in equity and debt financing in the company and include PDL Biopharma, Trevi Health Ventures, Praefinium Partners, Fifth Third Capital, Healthcare Management Directions and Timothy Davis. (Source:CrunchBase)
Market & Competition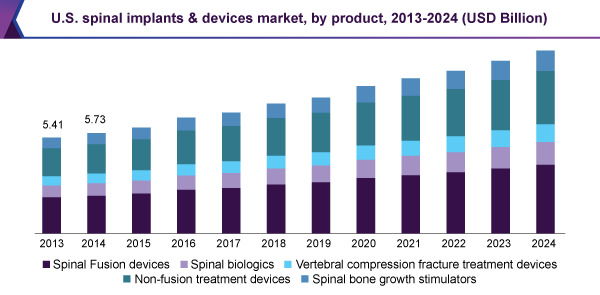 According to a market research report by Grand View Research, the global spinal implants and devices market was valued at $11.1 billion in 2015 and is projected to grow at a CAGR of 5.8% during the period between 2018 and 2024.
The main drivers for this expected growth are the increasing prevalence in the treatment rates of degenerative spine disorders, rapidly growing elderly population, advancements in medical technology, and increasing demand for minimally invasive procedures.
The motion preservation technologies segment is anticipated to grow at a faster rate with a CAGR of 6.4%.
Major competitive vendors that provide spinal implants and devices include:
LDR Holding
Orthofix Medical (OFIX)
Alphatec Spine
Globus Medical (GMED)
Zimmer Biomet Holdings (ZBH)
NuVasive (NUVA)
Stryker Corporation (SYK)
Medtronic (MDT)
Acquisition Terms and Rationale
In an 8-K filing, RTI disclosed the acquisition price as $100 million in upfront cash, $50 million in RTIX stock and up to another $100 million in cash and up to another $50 million in stock upon the achievement of certain revenue targets between transaction closing and December 31, 2022.
The firm also received a commitment from Ares Capital to provide a $100 million senior secured second lien credit facility to finance the transaction.
A review of the firm's most recent 10-Q filing indicates that as of September 30, 2018, RTIX had $10 million in cash and equivalents and $103.1 million in total liabilities.
Free cash flow during the three months ended September 30, 2018, was negative ($1.6 million).
RTIX is acquiring Paradigm for its differentiated, non-fusion (minimally invasive) spinal implant system.
As RTI's CEO Camille Farhat stated in the deal announcement,
Coflex® is FDA PMA approved and an established treatment that we believe is poised for accelerated and sustainable long-term growth given its clinical efficacy and ongoing progress toward insurance coverage.
In the past 12 months, RTIX's stock price has risen only slightly vs. the S&P 500 Index gain of 4%, as the chart below indicates: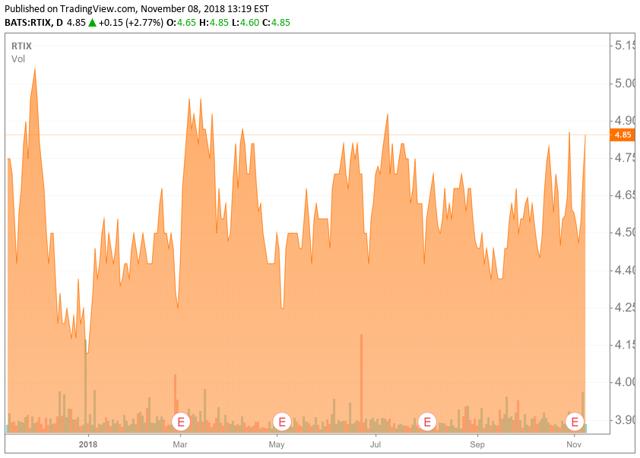 (Source:Seeking Alpha)
RTIX is paying up significantly for Paradigm as part of an ongoing transformation to focus its efforts and capital on differentiated products.
It expects Paradigm to be 'EBITDA accretive within 12 months of closing' (Q1 2019). Paradigm has $40 million in 2018 TTM revenues, so RTIX is paying up to a maximum of 7.5x TTM revenues.
This is a pricey acquisition. By comparison, OrthoFix Medical (OFIX), currently has an EV/Sales multiple of only 2.27x.
I agree with RTIX management's deal presentation that aging U.S. market demographics are favorable to Paradigm's lead product, but management also hints that it will need to make headway on coverage reimbursement to fully address the available market.
Two analysts have a 'strong buy' rating, and one has a 'hold' rating, as the chart shows below: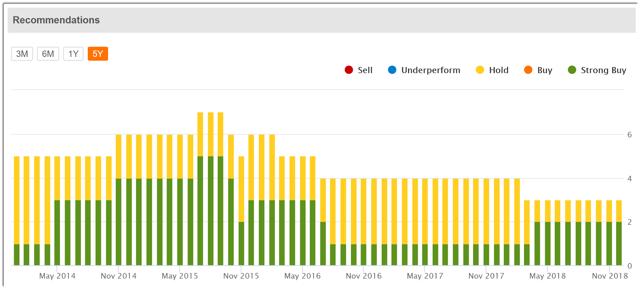 (Source:Seeking Alpha)
However, the story for RTIX is that it has lost coverage in recent years, going from a high of seven analysts in 2015 to the current three. With far less coverage, it is more difficult for RTIX to get its message out to the wider investing community.
The transaction, which is scheduled to close in Q1 2019, is subject to approval by RTI shareholders and Paradigm Spine equity holders.
Interested investors won't see accretion to RTI's financials until later 2019, so I see no rush to acquire shares currently.
A s management's transformation of the company begins to play out in its financial results, I would look again at the stock later in 2019 to determine whether that transformation is bearing fruit.
Thank you for reading. I write about IPOs and M&A deals, though I focus most of my time on IPOs. If you're interested in investing smarter in IPOs, you should check out IPO Edge.
Disclosure: I/we have no positions in any stocks mentioned, and no plans to initiate any positions within the next 72 hours.
I wrote this article myself, and it expresses my own opinions. I am not receiving compensation for it (other than from Seeking Alpha). I have no business relationship with any company whose stock is mentioned in this article.