This research report was produced by The REIT Forum with assistance from Big Dog Investments.
If you want to retire, you are going to need passive income.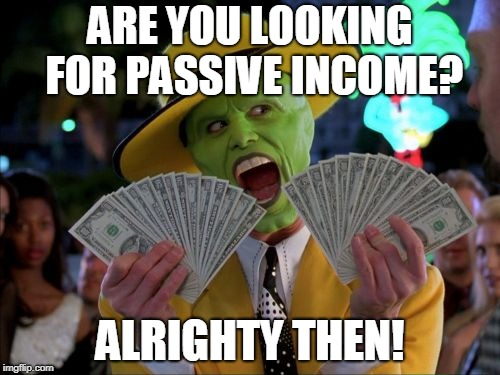 There are a few ways to tackle that challenge, but some are better than others. Investors who fail to tackle the income issue effectively end up with a less desirable retirement. The least desirable form of retirement is the one where the retiree continues to work full time.
That's not retirement. That is the opposite of retirement.
Let's begin by examining how that happens so we can avoid that situation entirely.
Going back to work
Few people dream about the day they can end their retirement by hunting for a low wage position. Unfortunately, that day occurs for all too many Americans. This situation comes from investors focusing on yield instead of safety. These investors spot dividend yields in excess of 10% and believe they can simply buy the stock, spend the dividend, and ignore the change in share price. Often, the share price will tank because the dividend will need to be reduced. When the investor loses half of their income stream, they have a much harder time dealing with expenses. Since the share price often tanks leading up to the dividend cut and often after the dividend cut, the investor ends up eating an enormous loss when they sell the position. Initially, they may have planned to hold the shares, but the dividend reductions often drive them out.
In some cases, the dividend is reduced to $0. That's not a problem if the retiree doesn't intend to drive, eat, or live underneath a roof. If those are important parts of retirement, then dividend cuts need to be avoided.
Solid dividend track record
Many investors focus on stocks with a solid track record for dividend growth. Using past price performance to predict future price performance is generally a poor strategy. There can be some very valid uses for technical analysis, but simply assuming share prices will continue moving the same direction they did over the last month is not analysis.
Rather than attempt to predict the price movements, many investors focus on predicting dividend growth. Dividend champions are companies which have increased their dividend per common share for each of the last 25 years. This milestone is rarely a random occurrence. Continuing to grow the dividend through multiple recessions reflects careful financial planning. We would expect more of these companies to have strong balance sheets. When a company's balance sheet is weak, it is more difficult for the company to continue refinancing its debts during a recession. Without the ability to refinance debts as they come due, it is dramatically harder to have the consistent cash flows necessary for dividend growth in every single year.
Some of the most popular stocks on Seeking Alpha, including a few dividend champions:
Consumer Staples

Healthcare

Consumer Discretionary

Technology & Others

Target

(TGT)

2.99%

Gilead Sciences

(GILD)

3.24%

General Motors

(GM)

4.18%

Apple

(AAPL)

1.44%

Altria Group

(MO)

4.94%

Merck & Co Inc

(MRK)

2.99%

Ford Motor Company

(F)

7.66%

AT&T Inc.

(T)

6.51%

Walmart

(WMT)

2.03%

Eli Lilly & Co

(LLY)

2.12%

Disney

(DIS)

1.44%

Verizon

(VZ)

4.24%

Philip Morris

(PM)

5.13%

J&J

(JNJ)

2.52%

McDonald's

(MCD)

2.56%

Intel Corporation

(INTC)

2.54%
Building the retirement portfolio
Investors using only dividend champions will still have a hard time getting a sufficient dividend yield. Most of the champions should be able to continue growing their dividends through the next recession. However, many retirees need a higher yield. Reaching for an average 7% dividend yield is unlikely to give the investor enough room for dividend growth to offset inflation. However, an investor focused on dividend safety with a moderate amount of growth could use a significant allocation to preferred shares as a way to boost their total dividend yield. Many of the preferred shares have fixed-rate coupons (dividend payment amount). If inflation increases, those preferred shares may not perform as well. The investor would continue receiving the income, but they may be looking for a higher yield in that situation. Investors can protect against the risk of inflation driving bond yields higher by using a fixed-to-floating preferred share.
For shares that have a floating rate, you can easily see when the floating starts in the chart below. In practice, this is generally the same date that their original call protection ends. We check to be sure and record the date.
Floating Rate of 3-Month LIBOR +
The floating rate of 3-month LIBOR + tells you what spread the shares will earn over LIBOR. By the time this kicks in, a replacement for LIBOR may be in place. It should still function the same way. It provides a benchmark for short-term interest rates.
Some examples include NLY-F (NLY.PF), AGNCN (AGNCN), and TWO-A (TWO.PA).

Source: CWMF's subscriber spreadsheet (subscription required for 50+ preferred shares and baby bonds with comparing prices)
These preferred shares begin with a fixed coupon rate and several years of call protection. When call protection expires, they switch over to a floating rate. If short-term rates are higher, the coupon rate will increase. However, if short-term rates are lower, the coupon rate could decrease accordingly. If short-term rates are lower, inflation is not a significant factor. The floating rate aspect allows investors to hedge against that change in rates.
Each of these 3 preferred shares carries a significant credit spread over LIBOR when call protection ends. Consequently, even if short-term rates were lower than they are today, the dividend rate would still be a significant source of income.
Preferred share index funds
For investors interested in The REIT Forum's preferred share ratings, see my guide to preferred shares. I also have a guide for preferred share dividend captures.
One common question from retail investors is if we like the iShares U.S. Preferred Stock ETF (PFF). We don't dislike the ETF, but our results have consistently outperformed PFF. Below, we have a chart showing the average annualized returns on all our trades in preferred shares compared with the return on PFF annually.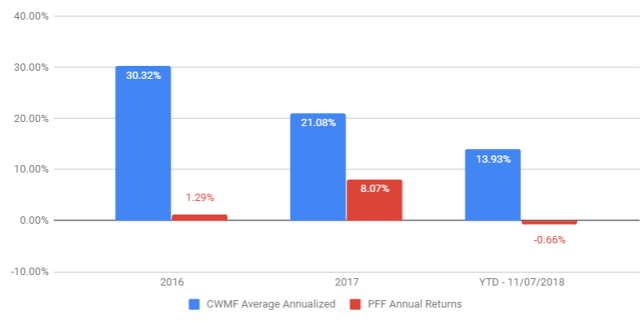 Source: The REIT Forum
If you want to see all of our individual trades, here is a photo: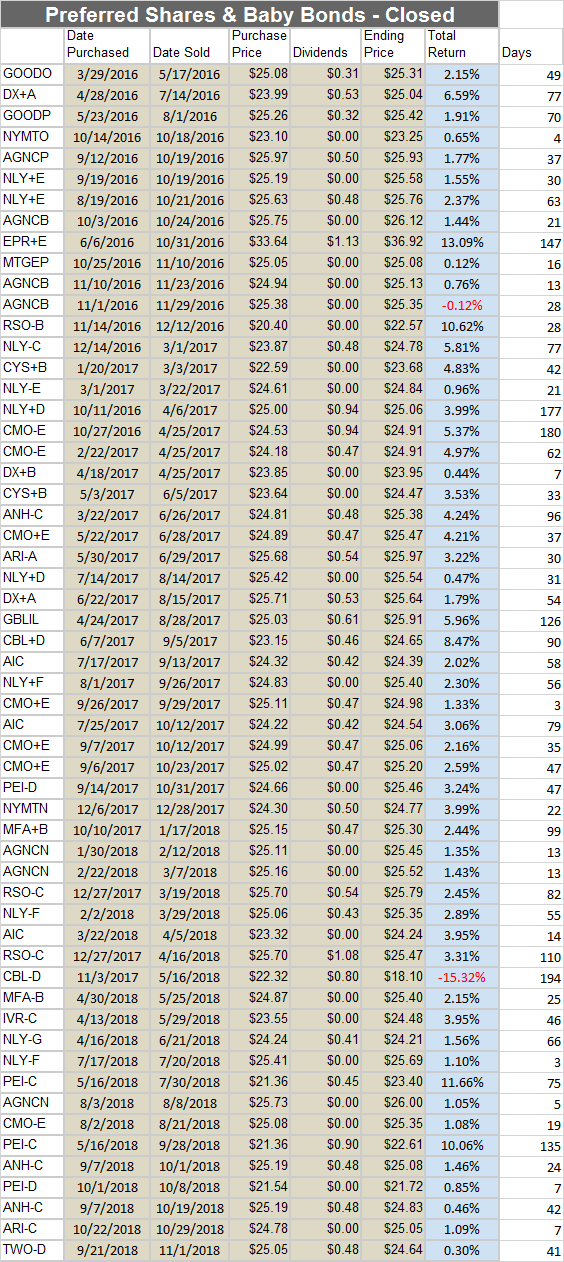 Source: The REIT Forum
Picking individual preferred share offers many advantages over PFF.
We believe directly investing in individual securities is dramatically superior to just using the ETFs. The ETFs carry pretty hefty expense ratios, such as .40%, That means an individual investor could get a comparable yield with a much safer security because they wouldn't need to pay the expense ratio. Alternatively, they get a higher yield with the same risk. However, there is an added benefit here because the individual investor can watch for the right entry prices and use the weaker liquidity to their advantage (limit-buy orders and limit-sell orders, never a market order).
We are always happy to have my preferred share investment performance compared to PFF because we beat it so thoroughly by taking advantage of those simple factors.
Final thoughts
Investors planning on a long and happy retirement should focus on the quality of their income. Grasping for high yields is a terrible way to invest. It is possible for investors to get a very respectable dividend yield without taking on massive amounts of risk. If investors are able to plan around a portfolio yield of 4% to 5%, they will be in a dramatically better position. Investors who need to sustain 10% for several decades are putting themselves in a terrible position. The odds are stacked against them.
We believe investors should focus on a combination of preferred shares and solid dividend stocks including REITs. We cover equity REITs, mortgage REITs, and preferred shares. The equity REITs include a few dividend champions. Investors utilizing lower risk stocks such as those with high credit ratings are putting themselves in a much better position for the next recession whenever it comes. By the time investors can see the recession on the horizon, it will be too late to position their portfolios without significant losses. We believe it is much wiser to position the portfolio conservatively today rather than waiting for a recession to be underway.
If you enjoyed reading this article and want to receive updates on our latest research, click "Follow" next to my name at the top of this article.
About "The REIT Forum"
The REIT Forum is the #1 rated service on Seeking Alpha. We focus primarily on defensive investments with high growth potential. With our strategy, we have returned 22% every year since the inception of our service. It is our objective to find quality investments at a discount, along with trading opportunities for the more active investors. Most of our research is on companies that are excellent investments over the long term.
Disclosure: I am/we are long PM, WMT, MO, NLY-F, NLY-G, TWO-A, AND SEVERAL OTHER PREFERRED SHARES. I wrote this article myself, and it expresses my own opinions. I am not receiving compensation for it (other than from Seeking Alpha). I have no business relationship with any company whose stock is mentioned in this article.