Berkshire's announcement
The buyback was disclosed in a table within Note 19 Common Stock to BRK.B's quarterly statement (see below):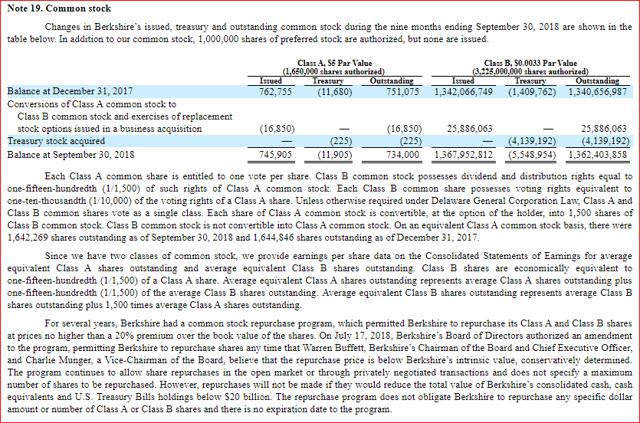 Source: SEC filing 10Q report Berkshire Hathaway 11-5-18
The table shows that most of the buyback was for Class B shares in the "Treasury Shares" column. Since each Class A share can be converted into 1,500 Class B shares, Berkshire bought back 4,476,692 Equivalent Class B shares. The value at an average price during the quarter was about $900 million.

But compared to BRK.B's market value this is not a significant amount:

The table above shows that the buyback represents only 17 basis points of BRK.B's market value.
The buyback is also insignificant compared to BRK.B's available cash resources. The Q3 10-Q BRK.B report has a section Statements of Cash Flows that is titled "Cash Flows from Financing Activities". This can be seen in the table below:

Source: SEC Filing BRK.B 10-Q report 11-5-18
BRK.B spent $5.53 billion in total financings but of that amount only $928 million was used for the buyback, or just 17% of its cash flow financing budget for the first 9 months of 2018. It also represented only 3.5% of the company's Cash Flow from Operations ($26.555 billion) during the period.
History
In 2012 BRK.B reduced its shares by almost 12 million. Since 2012 there was a net growth of 2.8 million shares on net equivalent basis. The table below shows this:

For 2018 year-to-date BRK.B reduced its shares by 3.84 million, including the 4.476 million share buyback in Q3. But over the past 5.5 years up until Q3 2018, BRK.B grew its net equivalent share base by 2.83 million shares. So after this quarter's buyback the net decrease is only 1 million shares for the past 5.75 years since the last major share buyback in 2012. This is an insignificant amount compared to the 2.464 billion net equivalent B shares (.04%) that were outstanding at the end of 2012. In other words, the buyback only barely covered the amount of shares that Berkshire issued over the past 6 years since its last buyback.
Keep in mind this history is on a net equivalent Class B share basis. So it takes into account any Class A shares that were converted into Class B shares and also any shares of both classes issued on a net basis. Most of the shares bought back this past quarter were Class B shares. In 2012 most of the shares bought back were Class A shares. This change probably reflects the fact that the number of Class B have grown 21% since 2012 but the number of Class A shares have fallen 18%.
Class B shares were first introduced on May 6, 1996, over 23 years ago, to help finance three Berkshire acquisitions (General Re, Dairy Queen and Executive Jet). Prior to this, Berkshire mostly paid cash for acquisitions (such as the 49% of GEICO shares it acquired in August 1995 for $2.3 billion in cash). When Berkshire did pay cash it was careful to issue small amounts of Class A shares for acquisitions. For example 15,672 shares were used for the 1994 purchases of Helzberg Diamond Shops and R.C. Wiley Home Furnishings (valued at about $460 million). From 1996 on, or over the past 23 years, Berkshire has used a mixture of Class A and B shares for acquisitions where it did not pay cash. Conversions from A shares account for over 80% of the growth of B shares, and acquisitions account for most of the rest. This can be seen in the following table: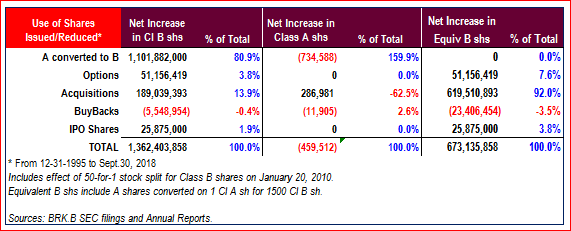 The first three columns show that over 1.1 billion of the 1.3 billion increase in Class B shares from 1996 on have been due to Class A shares being converted into B shares. This washes out when converting all shares into a net Equivalent B share basis (the last three columns). The last three columns shows that over 92% of the remaining shares issued, not including Class A into B conversions, have been used for acquisitions. Let's look at this further.

This tables shows that over the past 23 years Class A shares have been used more than B shares, accounting for 70% of the net Equivalent B share that were used. The same holds true for buybacks. Most of the buybacks were done using Class A shares. But what about the past 10 years?

The table shows that the same percentages generally hold up over the past 10 years. Acquisitions using shares included Class A shares 83% of the time and the 76% of the time for buybacks. Of course, this past quarter, 92% the shares bought back this past quarter (Q3 2018) were Class B shares, as seen in the first table in this article.
Further analysis of all these trends can be seen in the two extensive spreadsheets covering the 23 years in which Class B shares have been outstanding, included at the end of this article.
Buyback Policy Changed in Q3 2018 - Wait Until Buffett Buys on Dips
Up until recently Berkshire's "repurchase program" authorized by its board allowed open market or privately negotiated buybacks as long as the repurchase was no more than a 20% premium over book value. During Q3 2018 the policy changed, shown in its Q2 10-Q report:

So now as long as Buffett and Munger agree that Berkshire's stock is selling "below Berkshire's intrinsic value, conservatively determined" shares can be repurchased "any time" and with no expiration to this program (with certain minimum cash balance conditions).
Berkshire's stock is at an all time high, but that did not prevent Buffett and Munger from buying back stock. In the future, Berkshire could buyback large holders of Berkshire's stock, including presumably Buffett's and Munger's stock holdings, or institutional investors. In effect, it is a carte blanche program. It allows Buffett to buy back shares at will. In the past when Berkshire's stock fell dramatically Buffett would hold off purchasing since the stock was not below the 20% premium over stated book value. Now there would be no excuse for not buyback stock if the stock fell dramatically, since he did so when the stock was at a peak and still presumably below intrinsic value.
It makes no sense to buy BRK.B solely because Berskhire is buying back its stock this quarter and because Buffett believes, ipso facto, that the stock is below its intrinsic value. The same would be true if and when BRK.B falls dramatically, which is not unlikely at all. At that point, if you see Buffett buying back stock (and following through on his oft pointed out philosophy that buying more of an item when their price goes on sale), buying BRK.B because of the buyback would make more sense.
Conclusion
Berkshire Hathaway has initiated a buyback of shares this past quarter. There is no indication that Berkshire will continue these buybacks. This buyback alone is not enough to encourage one to buy the stock. We have shown that this is an insignificant amount in terms of its share base, cash flow and history. If the stock falls in the future and Buffett buys back shares at that point, it would make sense to buy BRB.B based solely on its buyback policy.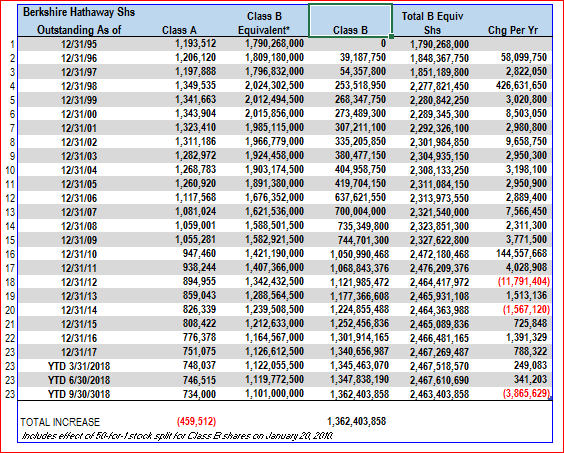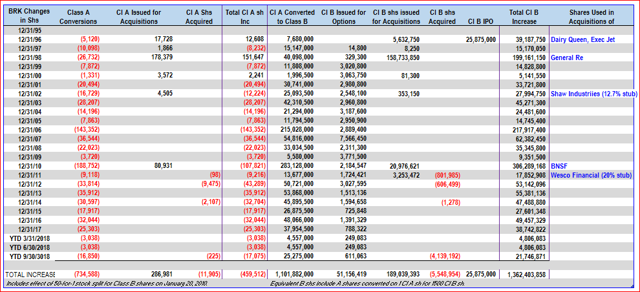 Disclosure: I/we have no positions in any stocks mentioned, and no plans to initiate any positions within the next 72 hours.
I wrote this article myself, and it expresses my own opinions. I am not receiving compensation for it (other than from Seeking Alpha). I have no business relationship with any company whose stock is mentioned in this article.