Sector Stock Performance
The stock market was not very pretty in October, but utility investors had something to be happy about. After two straight months of underperformance utilities finally turned things around. The Utility Select Sector SPDR ETF's (XLU) 1.98% rise during October trailed the XLP by only 2bp, making it the market's second best performing sector during the month. All remaining sectors had substantial losses, so it looks like there was a bit of a flight to the safety in October. The XLU's outperformance over the S&P 500 increased to 1064bp YTD. Utilities are now the top performing sector for the year by far, with the next closest 563bp behind. (You can see my review of September's utility performance here.)
EXHIBIT 1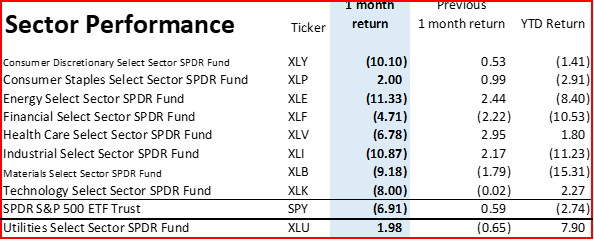 Source: FactSet and Garnet Research
The outperformance for the month was also helped by the XLU's poor performance at the end of September, which gave the ETF a lower starting point to measure against.
EXHIBIT 2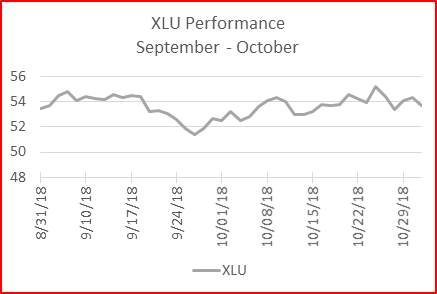 Source: FactSet and Garnet Research
The rise in the XLU also came against a slight headwind of rising interest rates. With utilities often considered a "bond substitute", rising rates typically hurt the sector's performance. The yield on the 10-year Treasury was up 10 bp for the month, but the rise in rates didn't really seem to impact the XLU's performance, providing further evidence that this rally was driven by a flight to safety.
EXHIBIT 3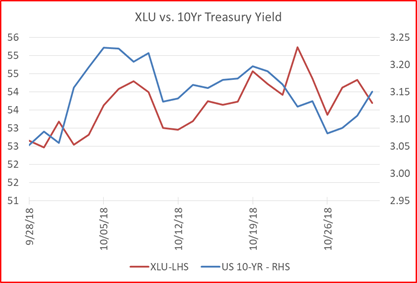 Source: FactSet and Garnet Research
According to FactSet, XLU assets under management increased by $390M during October to $7.9B. This 5.2% increase in AUM gives additional evidence of a flight to safety by the market. As would be expected with a lot of money entering the sector, the positive performance was broad based, with only four XLU component stocks declining during the month.
EXHIBIT 4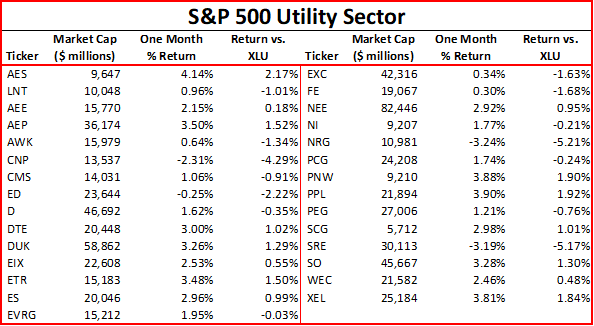 Source: FactSet and Garnet Research
NRG was the worst performer in October, after being the top performer for the previous two months. Some of the underperformance was likely due to giving back earlier gains. Also, as a merchant power producer, NRG doesn't always move in step with the broader utility group, and can sometimes be influenced by general energy trends. Looking at a chart for NRG's performance during the month, you can see that NRG's down days tended to occur on days when the Energy Select Sector SPDR ETF (XLE) was having even bigger drops.
EXHIBIT 5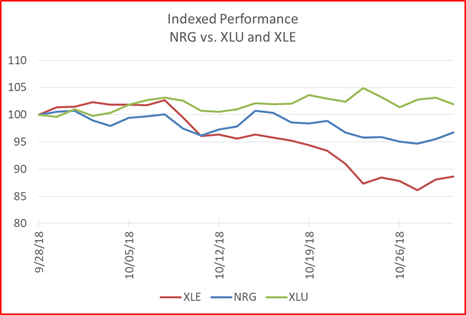 Source: FactSet and Garnet Research
The second worst performer for the month, SRE, also has a lot of energy exposure and was likely hit by these same forces that impacted NRG and the XLE.
AES led the way as the top performing member of the XLU for the month, with a 4.1% rise. The company benefited from a $44M rate increase at its Indianapolis Power and Light subsidiary and a $29.8M rate increase at its Dayton Power & Light subsidiary.
Wholesale Power Markets
EXHIBIT 6

Source: SNL and Garnet Research
October typically has mild weather, which can make for uninteresting wholesale power markets, but this year there seemed to be some positive news. With the exception of California, average peak hour and average full day power prices were higher throughout the country compared to last October.
When looking at the weather data, you can see that, as usual, cooling demand dropped off substantially compared to September.
EXHIBIT 7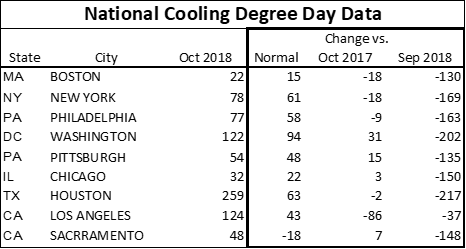 Source: NOAA
Looking at heating degree days In Exhibit 8 shows how much the cooler weather really got started during the month.
EXHIBIT 8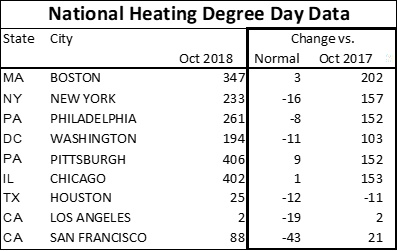 Source: NOAA
While October heating degree days weren't much different than normal, it was substantially cooler than last year in much of the country. It is possible that the weather cooled enough to increase demand and raise power prices slightly vs. last year. Later on in EXHIBIT 10 you can see that these regions with the higher number of HDDs actually did increase total electricity consumption vs. 2017.
Even though California wholesale power prices were lower YoY, there were actually some encouraging aspects to October results. For one thing, the infamous "Duck Curve" issue seemed to play a smaller role during the month, as peak hour power prices were actually higher than 24-hour average prices. This is only the third month this year that has happened. Also, even though the weather in California was much cooler in October than September, October power prices were much higher. You should also note that even though power prices were lower than last October, this was still the second best October for Northern California power prices over the last six years.
EXHIBIT 9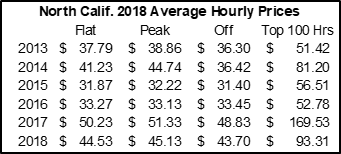 Source: SNL and Garnet Research Utility Stats Monthly
The California pricing in October looks even more impressive when you see that total electricity consumption for the month was down almost 8% compared to September, and the peak load for the month was down 9.8%.
EXHIBIT 10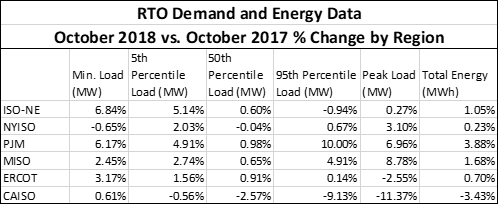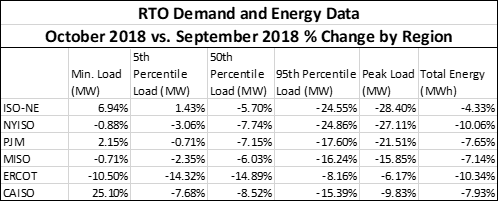 Source: SNL and Garnet Research
A big driver for the September to October increase in California power prices was likely local natural gas prices, which rose substantially during the month.
EXHIBIT 11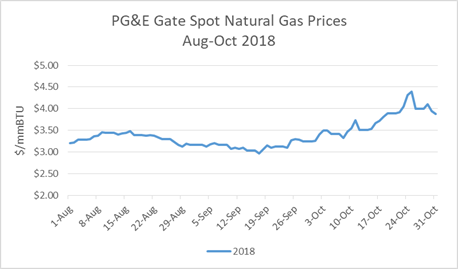 Source: SNL and Garnet Research
The forward power curve for California is also encouraging. The chart below shows prices for peak hour northern California power for the next few years. As you can see, throughout the beginning of this year, 2019 power has been trading at a discount to other years. But by the end October, power in 2019 began trading at a premium.
EXHIBIT 12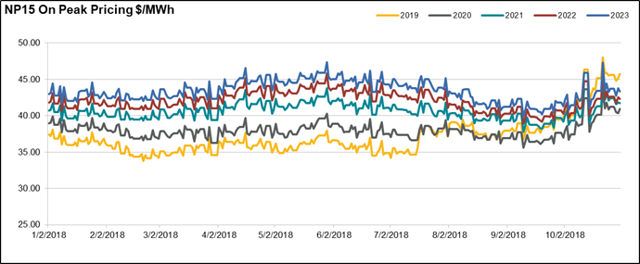 Source: SNL and Garnet Research
Natural Gas Markets
With natural gas playing a bigger and bigger role in electricity pricing, it is an important market to follow for utilities. Henry hub gas prices did increase slightly during the month, but they still stayed near the $3/mmBTU mark they have been over the last two years with the exception of the bomb cyclone event this past winter.
EXHIBIT 13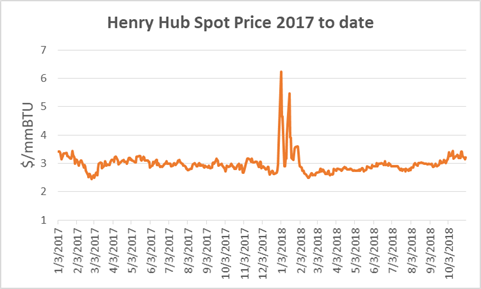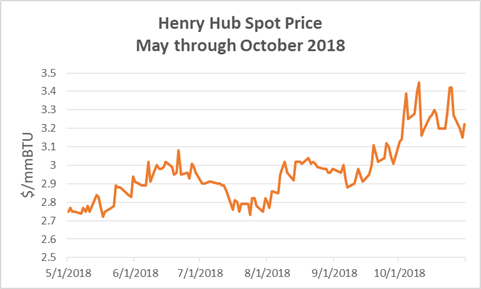 Source: Factset and Garnet Research
Low natural gas storage levels have been a big driver for the rising natural gas price. EXHIBIT 14 shows that storage levels are well below the low of the least five years. While the U.S. is producing more gas than ever before, it is also using more, and we haven't gotten as much gas into storage for the cold winter months as we usually do. It will be interesting to see how these two factors play out, but a cold winter could cause some really big gas price spikes, which would also lead to spikes in electricity prices.
EXHIBIT 14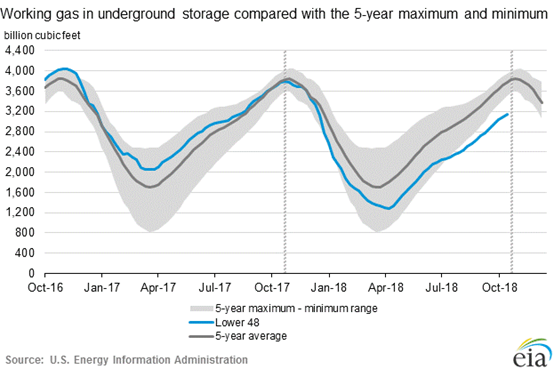 Not only did the Henry Hub spot price move up during the month, but natural gas futures prices moved up along most of the forward curve, particularly for winter 2019 delivery. Also note that for most future periods gas prices are well below where they were a year ago. This seems to imply that the market is not worried about this year's low storage levels continuing in future years.
EXHIBIT 15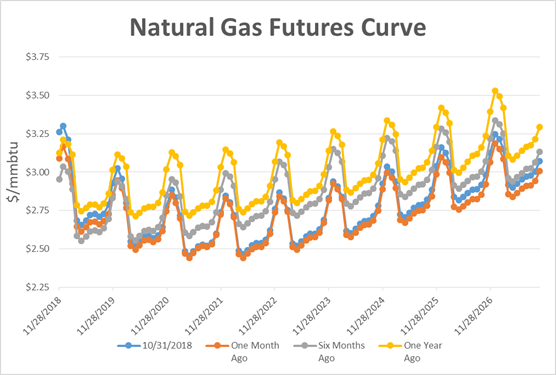 Source: Factset and Garnet Research
Disclosure: I am/we are long NRG. I wrote this article myself, and it expresses my own opinions. I am not receiving compensation for it (other than from Seeking Alpha). I have no business relationship with any company whose stock is mentioned in this article.