It's been a year since I published my bearish article on Radcom (NASDAQ:RDCM) making the case for the stock price to be overvalued and with an unattractive risk-reward profile. After being criticized for wrongly interpreting the company's leading position within the promising NFV (Network Function Virtualization) ecosystem, I witnessed the stock price sharply falling by more than 50%, with RDCM's story only getting worse.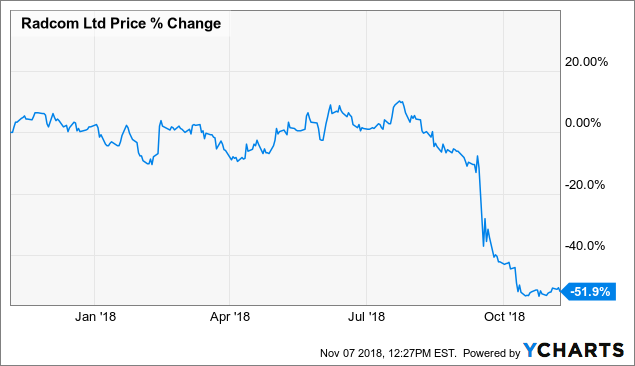 RDCM posted its Q3 2018 earning results on last Wednesday which failed to meet investors' expectations for providing some meaningful updates.
Beating both on revenue (by US$ 0.08m) and EPS (by US$ 0.13) has nothing to do in light of tumbling figures and very bad year in all material aspects:
1. Q3 revenue amounted at US$ 8.52m (decreasing by 12% YOY), while non-GAAP net income amounted at US$ 1m (decreasing by 42% YOY), implying a FY2018E revenue decline of 10% and a full year negative bottom line for the first year since 2015.
2. Departure of 3 key executives (VP of Professional Services, CFO and CBO), leading to some turnover in senior management level.
3. No Communication Service Providers (CSPs) to be added to the (very) centralized customers base (currently consists of only 3 top-tier clients) in spite of heavy marketing efforts, together with a huge lack of clarity with regards to a renewal of a 3-year contract signed with AT&T (its main customer) in 2016.
While I do accept the CEO comments, mentioning its leading position within the NFV ecosystem together with a successful delivery of project commitments and advancing of R&D activities, I hardly see any positive sign in those statements. I would rather expect to hear some comments discussing the management's view for 2019, which seems to be unclear as of now.
With only 3 CSPs on its customers base and zero contract wins during the last 12 months, the future of RDCM as a standalone NFV player is hazy than ever.
While most of us (including me) would agree that RDCM's NFV technology is best-in-class, it seems like the current environment of CSPs looking to go with one-stop-shop providers (as mentioned earlier this year by the CEO) is not supporting the growth narrative for companies like RDCM, which built their glory for dealing solely with NFV. Moreover, the CEO's comments about the slower-than-expected adoption of NFV during the Q3 earnings conference call ("The pace of NFV deployments and operators decisions on spending is not in our control and is slower than we previously expected") clarify the lack of visibility with regards to the company's performance during the foreseeable future.
From my point of view, there is only one way for RDCM to turning back into a growing mode, and that involves the merging with another communication player who may utilize its technological moat (and US$ 67m pile of cash) and combine them into a broad package of network solutions. While Nokia (NYSE:NOK), Erricson (NASDAQ:ERIC) and VMWare (NYSE:VMW) may be great candidates for leading such a merger transaction, the salvation may also arise from the side of AT&T (NYSE:T) which may see some great synergies from such a deal. While I'm taking into account that some of you may disagree with my thesis, I am quite sure than sooner or later that picture will be clearer. When that will happen, the board will have no choice but paving the way for such a merger.
Following the aforementioned point of view, I believe that investing in RDCM stock (which is trading at 4-years lows) is a speculation game for a potential buyout, which may be for a great benefit to all parties. As of now, the growth trajectory of RDCM as a standalone player is dead, and even a surprising contract win during the coming months won't change that picture.
Disclosure: I/we have no positions in any stocks mentioned, and no plans to initiate any positions within the next 72 hours.
I wrote this article myself, and it expresses my own opinions. I am not receiving compensation for it (other than from Seeking Alpha). I have no business relationship with any company whose stock is mentioned in this article.