The Q3 earnings released by Nutrien (NTR) earlier this week didn't disappoint. The strong momentum of the company's operations was confirmed, and the 2018 guidance was hiked for the third time.
In this piece, I will focus on a few key takeaways from the Q3 report and earnings call regarding Nutrien's outlook and strategy going forward.
FY 2018 Guidance Revised Upwards
Against a backdrop of rising fertilizer prices, Nutrien was able to post solid results across the board. The improvement is seen to be significant vs. the comparable period last year in all business segments:

(Source: Nutrien's Q3 earnings presentation)
With good visibility going into Q4, the company again raised its guidance, and at this point, it is likely that Nutrien will meet the high end of the new range:

(Source: Nutrien's Q3 earnings presentation)
The market's reaction to this publication was, understandably, a positive one, and Nutrien's share price moved accordingly, along with peers Mosaic (MOS), Intrepid Potash (IPI), and CF Industries (CF):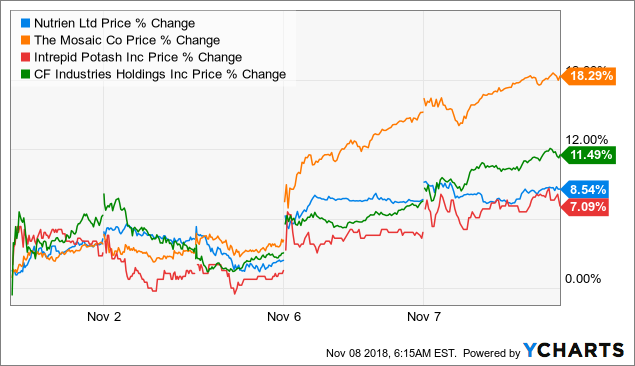 Supportive Markets - Potash Scenario Confirmed
With a strong 2018 under Nutrien's belt, attention will be shifting to 2019 and beyond. During the Q3 earnings call, Nutrien's management shared a number of interesting messages on market trends.
The momentum is strong for all three nutrients, though Nitrogen and Phosphate may take a breather in the short term:

(Source: Nutrien's Q3 earnings presentation)
Nutrien is bullish on nitrogen's prospects and could consider capacity expansions. It will favor brownfield developments that involve limited capital expenditure, rather than greenfield projects. I think limited expansions are indeed the way to go, not only due to lower capex but also to avoid flooding the market with too much product, which would harm all producers, Nutrien included.
But to me, the most important message was the confirmation of the favorable outlook for Potash. Canpotex, the marketing arm of Nutrien and Mosaic, is sold out to the start of 2019, and 2019 itself will be another year of tightening supply demand fundamentals. No surprise there. But the tightening should continue well beyond that, according to CEO Chuck Magro:
When we start thinking about 2021, 2022, so a little bit more mid-term, we see very tight supply-demand fundamentals. And we see that we would almost start to be entering peak-type conditions where we have a strong and sustainable cycle because after the new capacity that's been well-documented and discussed, there's nothing behind it to speak of. So once we get out to 2021, 2022, we think that this could have quite a sustained recovery.

(Source: Nutrien's Q3 earnings call)
Basically, Mr Magro sees a clear horizon for the foreseeable future. He made no mystery that he views Nutrien as the market's swing producer, a view we expressed in this article about the muriate of potash (MOP) fundamentals. In fact, during the call, Mr Magro said the following:
But you can imagine that with being the only company that will have any real incremental capacity left at that period of time our view is one of we will meet the market, and that's an important guideline.
The future is of course uncertain, and you never know how competitors will react. But if Nutrien manages to keep prices low enough to deter new entrants like BHP's (BHP) Jansen mine, Mr Magro could be proven right.
Meanwhile, Nutrien has kept working on internal capacity rationalization. Any future increase in output will come from the company's Saskatchewan facilities, which have the lowest cash costs and capital requirements. The New Brunswick mine, placed on care and maintenance since 2016, will be closed permanently.
Nutrien To Invest Heavily Into The Retail Business, Especially in Brazil
With the sale of the Sociedad Quimica Y Minera de Chile (SQM) stake expected to be finalized by year-end, Nutrien will have a huge war chest, in excess of $5B. The company plans to use some of this cash to develop its retail segment (inherited from Agrium).
More acquisitions will be made in North America, but the next growth avenue is expected to be Brazil, where Nutrien sees huge potential:
We plan to continue to look for consolidation opportunities in North America, we are looking aggressively at Brazil. We firmly believe that Brazil over the long term will become a very, very significant part of our retail portfolio. We actually think that it could become the second largest part of our retail portfolio over many years.

(Source: CEO Chuck Magro, Nutrien's Q3 earnings call)
The idea is to establish a strong network to become a one-stop shop for farmers. Importantly, this is a way for the company to place its proprietary products, leveraging Nutrien's vertical integration:
Our model for retail is very different than just being a pure distributor. We have of course fertilizer chemistry seed. We provide agronomic knowledge and advice, services and digital technology. And of course, our proprietary product portfolio. So that's how we think that the model will create a lot of value for Brazilian farmers.

(Source: CEO Chuck Magro, Nutrien's Q3 earnings call)
What should investors make of this move? Apart from capitalizing on vertical integration (proprietary products) which I find very positive, I think the retail segment also brings more stability. Retail tends to be less profitable than fertilizer production, but it is also less cyclical.
Agrium did well in 2016 during the trough in fertilizers, unlike Potash Corp. Currently, Agrium's shareholders appear to be the main beneficiaries of the merger with the fertilizer markets improving. But the retail network could prove its worth in more volatile conditions. This should help Nutrien reward shareholders with growing dividends.
Nutrien To Become A Dividend Growth Stock
In fact, I expect Nutrien to become a dividend growth stock in years to come. Along with the Q3 earnings, the company announced a 7.5% increase to the quarterly dividend, from $0.40 to $0.43.
This completes a shareholder-friendly 2018, as the company has also been active buying back shares:
And finally, we moved aggressively to complete our 5% share buyback, repurchasing a total of 32 million shares since late February at a weighted average price of $51.62 per share. Combined with our dividend payout, we will return over $2.6 billion to shareholders in 2018 alone.
The priority is to spend the proceeds from the SQM sale on M&A in the retail segment (see above). But once this is done, plenty of resources will be available to grow the dividend, even if the company didn't want to be too specific at this point:
Beyond that though, we also think that there will be an opportunity to return more capital to shareholders. But until we actually have completed and closed all the transactions it's a little too early to get more specific than that.

(Source: CEO Chuck Magro, Nutrien's Q3 earnings call)
I expect Nutrien to adopt a gradual, "dividend growth" strategy. Potash Corp.'s significant raise backfired as the company had to cut the distributions twice during the market trough. A dividend growth strategy backed by the stability of the retail business would make sense for Nutrien.
Technical Picture
Back in September, it looked like the NYSE-listed shares were about to break out above $58. Market conditions prevented this, but the shares have staged a fast recovery since the end of October.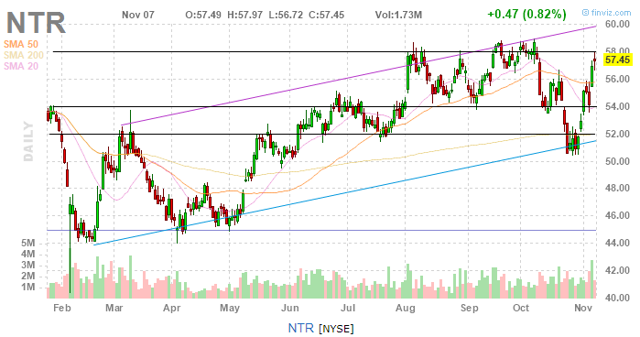 (Source: finviz)
$58 remains a resistance at this point. If the shares could break above that, the path to $60 would be clear. From a fundamental perspective, the stock is obviously worth more than that.
Conclusion
All the lights are green for Nutrien. I see a lot of positives in the outlook and strategic moves mentioned in the Q3 earnings call. The company should benefit from a favorable backdrop, especially in potash, and will strengthen its competitive position and geographic footprint in the retail business. I expect deals to be announced, once the SQM sale is finalized. Shareholders are already seeing some benefits, and they should be rewarded through increasing dividends in the coming years.
Disclosure: I am/we are long NTR, IPI, CF.
I wrote this article myself, and it expresses my own opinions. I am not receiving compensation for it (other than from Seeking Alpha). I have no business relationship with any company whose stock is mentioned in this article.
Additional disclosure: The opinions and views expressed in this article are for information purposes only and should not be used or construed as an offer to sell, a solicitation of an offer to buy, or a recommendation to buy, sell or hold any security, investment strategy or market sector.