Preface
Within my exclusive marketplace, The Formula, I look for assets that provide therapeutic differentiation (superior efficacy and safety; serve unmet needs; have limited competition).
Viking Therapeutics (VKTX) is continuing to prove they have not one but two clinical candidates that could procure therapeutic differentiation in highly profitable and growing indications.
Introduction
On Wednesday, Viking Therapeutics held a conference call following the release of 3Q earnings. Within my exclusive marketplace, Viking is one of the biotechnology companies I follow closely, so I listened in and took notes. I believe the following three topic discussions are most relevant to Viking today.
VK2809: Best-In-Class Potential In NASH
Management reiterated their thyroid beta agonist's, 2809, best-in-class potential in NASH:
This threshold is of interest as multiple studies have demonstrated that one liver fat is reduced by 30% percent or more, a corresponding increase in the odds have improved overall histology is also observed.

Our responder analysis of our data revealed encouraging results, among patients treated with VK2809 dosed at 10 milligrams every other day, approximately 77%, demonstrated at least a 30% reduction in liver fat content. Among patients treated with VK2809 dose of 10 milligrams per day, approximately 91% demonstrated at least a 30% reduction in liver fat.
Additionally mentioned, two-thirds of patients taking 2809 were considered super-responders, with liver fat reductions exceeding 50%.
Recall, Madrigal's (MDGL) own thyroid beta agonist saw 60% of patients see liver fat reductions exceeding 30%.
Importantly (especially for this mechanism of action), Viking reiterated the safety of 2809:
The trial was without any severe adverse effects
Total adverse effects were actually lower in the placebo cohort
Viking will present full data on 2809 on Monday at AASLD via an abstract that has been highlighted by key opinion leaders as important:
In addition, we were informed that our abstract has been nominated for inclusion in the best of AASLD, which serves to highlight contributions of particular importance at each annual meeting.
Quality Of Life/Functionality Endpoints Key For VK5211
Viking announced that the FDA is expecting a phase 3 trial for VK5211 centered around quality of life (QOL)/functionality endpoints. Some investors may have been simply wishing for muscle mass as the primary endpoint, but this may have been wishful thinking.
QOL/functionality endpoints come as no surprise to me, as I recently dedicated an article on the endpoints Viking and the FDA should pursue in a pivotal trial. Here's a summary of what to expect:
Hip fracture surgery patients are, generally, over the age of 65
After surgery, many of these patients continue to have very limited mobility
There is a statistically significant relationship between limited mobility and increased 1-year mortality in these patients
VK5211, via improvements in muscle mass, is theorized to improve mobility and, therefore, mortality in these patients
Management Continues Search For VK5211 Partner
Management reiterated their search for a VK5211 partner. Such a partnership would benefit Viking twofold. It would provide additional validation to their clinical candidate and additional cash to help fund two later-staged trials (which, especially because these indications are prevalent and chronic, will be very costly).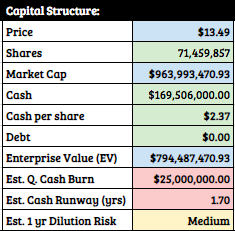 Source: The Formula Cheatsheet
Following the conference call, I raised Viking's Est. 1 yr Dilution Risk from "Low" to "Medium". Securing an advantageous partnership will be key to avoiding further dilution in the near- to intermediate-term.
Summary
Viking seems to be on track to advance two blockbuster-potential candidates to late-stage trials. Additional validation to 2809's best-in-class potential in NASH, management's ability to secure an advantageous partnership, and a favorable phase 3 trial design could procure major upside in Viking's valuation. I look forward to additional updates from the company later this year and will watch closely.
Disclaimer: The intention of this article is to provide insight, not investment advice. While the information provided in this article is intended to be factual, there is no guarantee and prospect investors are encouraged to do their own fact-checking and research before investing in a company. One must also consider one's own financial standings, risk tolerance, portfolio diversification, etc. before making a decision to buy shares in a company. Many of my articles detail biotechnology companies with little or no revenue. These stocks are, therefore, speculative and volatile. Even when prospects seem promising, there is no predicting the future. Losses incurred may be significant.
Author's note: I present and update my best ideas only to subscribers of my exclusive marketplace, The Formula. Try a free 2-week trial today by clicking the pictured flask below!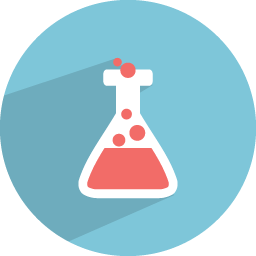 Disclosure: I am/we are long VKTX.
I wrote this article myself, and it expresses my own opinions. I am not receiving compensation for it (other than from Seeking Alpha). I have no business relationship with any company whose stock is mentioned in this article.
Editor's Note: This article covers one or more microcap stocks. Please be aware of the risks associated with these stocks.