Recently W. P. Carey & Company announced plans to merge its Corporate Property Associates 15 Inc. (CPA®: 15) non-traded REIT into W. P. Carey & Co., LLC (NYSE: WPC ). Upon merging of these two entities, the merged company will become a publicly-listed REIT. The total transaction value is estimated to be around $2.6 billion, including the assumption of CPA®: 15 debt of $1.2 billion. The proposed merger transaction is expected to close around Q3 2012.
By owning over 75% of its combined (merged) assets, W. P. Carey will qualify as a REIT and the benefits of the planned merger will provide further risk-alignment for current and future investors:
· The merger will substantially increase W. P. Carey's scale and liquidity - pro forma equity value of approximately $3 billion
· Transaction expected to be accretive to AFFO per share and CAD per share, and provides for continuation of stable dividend growth
· Provides liquidity to CPA®:15 stockholders without incurring significant additional indebtedness
· Increases income contribution from owed properties, reinforcing benefits from REIT conversion while preserving asset management platform
In addition, the new REIT will provide access to capital markets and simplify tax reporting for shareholders. The conversion will also increase Wall Street coverage and qualify Carey to be included in REIT indices. Also, shareholders and investors will be able to benchmark Carey against similar triple net REITs (like O, NNN, and ARCT).
Corporate Property Associates
W. P. Carey has successfully liquidated 13 prior CPA® investment programs: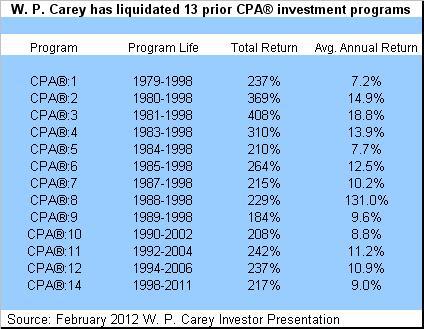 CPA®: 15 is a non-traded REIT that was formed in 2001 and the high-quality portfolio consists of 321 properties (substantially all of which are triple-net leased to 76 tenants). The CPA®: 15 portfolio consists of 29 million square feet with an average occupancy rate of 96% and an average lease term of 10.6 years. As evidenced below, the CPA®: 15 portfolio is well-balanced by diverse property type: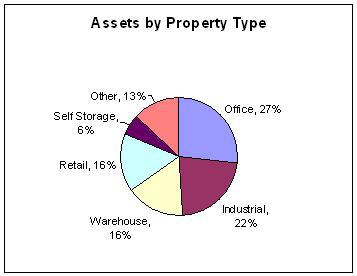 In addition, CPA®: 15 has a broad-based geographic composition: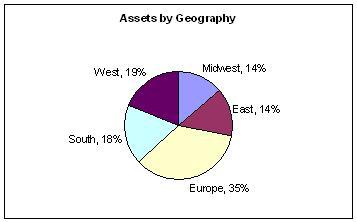 The Merged New REIT
Following the merger transaction, W. P. Carey's rental revenues are expected to represent 81% of the company's revenues, which will likely solidify the market's recognition of W. P. Carey as a REIT and reinforce the benefits from REIT conversion. Here is a snapshot of W. P. Carey's current revenue model (for 2012 estimates):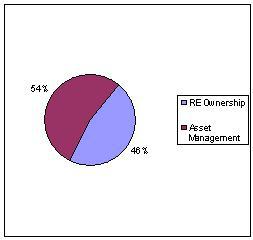 And here is a snapshot of the proposed combined company (for 2012 estimates):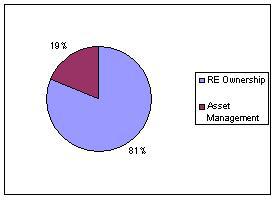 The combined company market capitalization will be approximately $5.0 billion - making the REIT the second largest triple net REIT in the NAREIT sector (behind Realty Income). The combined high-quality portfolio will consists of 450 properties and around 43 million square feet. The well-balanced portfolio will consist of a diverse spectrum of property types ranging from office (27%), industrial (22%), retail (16%), warehouse/distribution (16%), and self-storage (6%).
In addition, the combined company will have a broad geographic reach with 70% of assets in the U.S., 10% in France, 11% in Germany, and 9% Europe (Spain, Poland, Finland, Netherlands, Belgium, and United Kingdom).
Like the other triple net REITs, Carey should also continue to be a classic dividend champion. The company's historical performance supports continued dividend durability as Carey has increased its dividend every year since going public in 1998. In addition, Carey has increased its quarterly dividends each of the last 43 quarters. Annual dividend growth has averaged 2.4% from 1998-2011: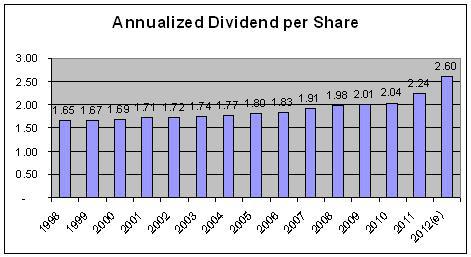 Carey's current payout ratio is 81% (based on a dividend of $2.24 per share) and the pro forma dividend of $2.60 is supported by a strong payout ratio of 82% (projected). The proposed merger is expected to be accretive to AFFO per share and CAD per share, and provides for continuation of stable dividend growth.
Carey Soaring towards a Flight to Quality
When Carey becomes a merged entity, the new triple-net REIT will be differentiated by its high-quality portfolio and its world-class asset management platform. The company's founder, Wm. Polk Carey, passed away in January of this year after leading the iconic sale-leaseback legend to over four decades of consistent performance. Last year I wrote a Seeking Alpha article on the company and Mr. Carey explained the "bond-replacement" investment operation as follows:
"These returns demonstrate our success in fulfilling our most important corporate mission: Investing for the long run. Our aim is to help our investors build and maintain lifestyles, and have the resources they need to meet their obligations and achieve their dreams, without constant worry about where the income to fund will come."
During W. P. Carey's recent earnings call, president and CEO Trevor Bond said that the merger announcement was an "extremely important milestone" and he went on to say:
The transaction will increase our income contribution from owned properties, which will reinforce the benefits from the REIT conversion, while at the same time, preserving the very valuable asset management platform.
The merged companies and new REIT will provide the same sound fundamentals that Mr. Carey described - Investing for the long run. This remarkable track record of consistency built on extraordinary risk-control and principal preservation is what makes the namesake REIT an exceptional choice. By continuing to invest in high-quality triple-net assets, Carey's consistent and durable brand will provide strategic competitive advantages that will enhance the REIT and also enable shareholders to soar like a SWAN (and sleep well at night)!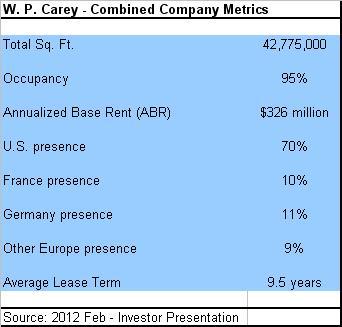 The merger transaction was announced on February 21, 2012 and the anticipated shareholder vote will be Q2-12 with an expected closing in Q3-12.
Disclosure: I have no positions in any stocks mentioned, and no plans to initiate any positions within the next 72 hours.