With another interest rate hike likely coming in December, and a second one just around the corner, increasingly many investors ask themselves whether they should sell their REIT (VNQ) holdings and reallocate in other potentially-less interest rate sensitive sectors.
Many of you have sent us private messages asking for our opinion on the manner. Is now the time to sell-off, or should you continue holding on to your REIT investments?
For us, there is no doubt that REITs remains one of the most attractive asset classes for long term investments. We believe that the fears over interest rate hikes are widely overblow when you consider that:
REITs are historically cheap.
They are currently enjoying strong fundamentals.
Outperformance commonly follows underperformance.
We are not market-timers. We are not short-term traders. We do not know where the market is heated in the coming months. What we do however know is that REITs have historically performed well during times of interest rate increases with positive total returns up to 75% of the time.
We do also know that REITs have historically produced returns far exceeding the broad equity market and outperformed almost all other asset classes over long time periods. Today, with strong fundamentals, and relatively cheap valuations, we feel optimistic that REITs are set for strong long-term performance.
The near-term outlook is expected to be highly volatile with increasing fears over interest rate hikes; but this is irrelevant to the long-term investor who can focus on the high dividend payments and use the occasional sell-offs to their advantage.
REITs are Historically Cheap
Regardless of what valuation metrics you look at, all the evidence points out that REITs are relatively cheap today. Therefore, the potential impact of any interest rate hike appears to be already priced in.
On a cash flow multiple basis, Lazard notes that REITs valuations have now fallen 20% below the long-term average of 16.5x FFO: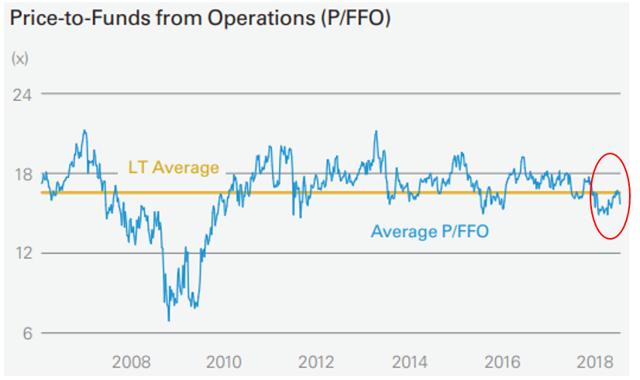 Source: Lazard Real Estate
The current P/NAV also suggests that REITs are substantially undervalued at a 4-7% average discount, compared to a 2-3% long-term average premium.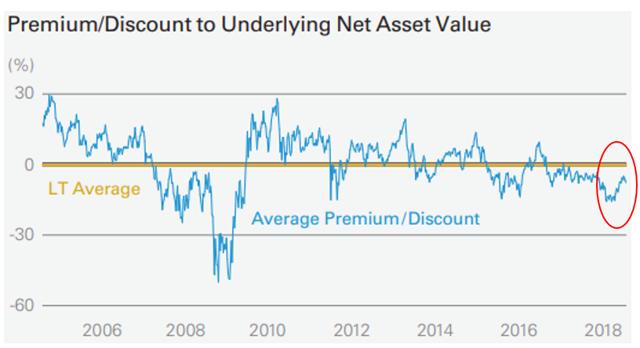 Source: Lazard Real Estate
What is your main alternative? The broader stock market?
The S&P500 (SPY) trades today at close to all-time highs with a P/E ratio close to 23, or up to a 35% premium to its historical average.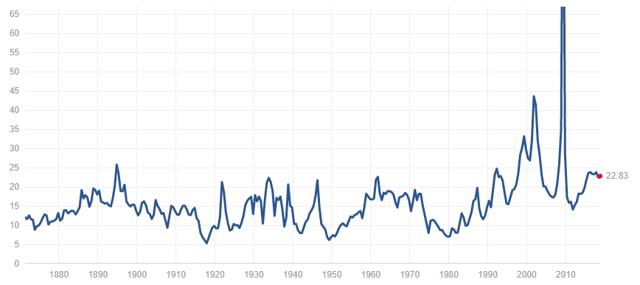 Source: Multpl
REITs have significantly less optimism and growth priced into their share prices - providing greater margin of safety in today's increasing interest rate environment.
Priced at just 9.4x cash flow on average, our Core Real Estate Portfolio is paying us a 7.5% dividend yield with a low payout ratio of 70%. Value is what you get… Price is what you pay… And with this collection of undervalued REITs, we see great value, regardless of whether interest rates keep on rising a bit or not.
We cannot same say the same thing about most large cap stocks including Amazon (AMZN), Alphabet (GOOG) (NASDAQ:GOOGL) or Netflix (NFLX) which are backed by high optimism and rely on strong growth forecasts to continue generating attractive returns.
REITS Are Enjoying Strong Fundamentals
Interest rates are rising today because the general economy is doing well. This leads to higher occupancy rates, higher rents, and more demand for real estate space in general. All very positive for REITs.
This is directly reflected in the results, with most REITs achieving higher FFO and dividends per share in the first half of 2018. NAREIT makes the following note:
Current operating performance for the REIT industry is right in its "sweet spot": over the last four quarters, same-property NOI growth averaged 3.2 percent, consistent with the industry's long-term norm. Same property NOI growth greater than about 4 percent can be "too much of a good thing," stimulating so much new construction that it results in oversupply that reduces occupancy rates and rents, eventually suppressing same-property NOI growth to its "soft" range of 2.5 percent or less.
Moreover, REITs are today particularly well-positioned to sustain another period of interest rate hikes as balance sheets are stronger than ever before and leverage is at an all-time low.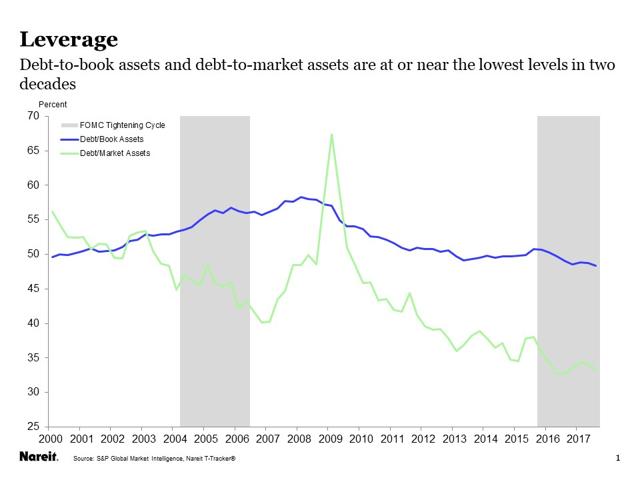 Source: NAREIT
REITs have steadily fortified their balance sheets since the great financial crisis, leaving the industry in an exceptionally resilient financial position. The leverage levels are very reasonable today, with the average debt-to-assets at just ~30%, and the majority of even that is structured as long-term fixed-rate debt. As such, the exposure to interest rate movements is minimal today. With NOI rising, and little debt, REITs are set for more cash flow growth, regardless of a few interest rate hikes.
REITs Outperform in the Long Run
Over the long run, REITs have consistently outperformed broad equity markets returning over 12% per year on average for the last 40 years.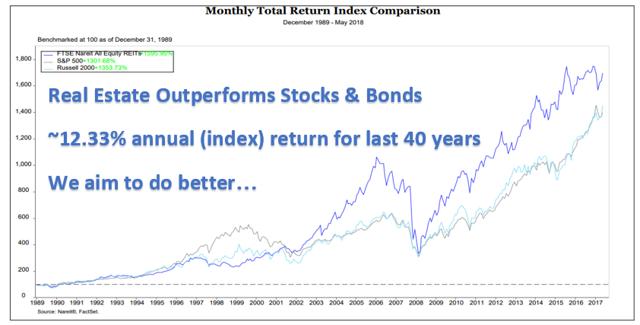 Yet, in the recent past, REITs have underperformed broad markets due to interest rate fears.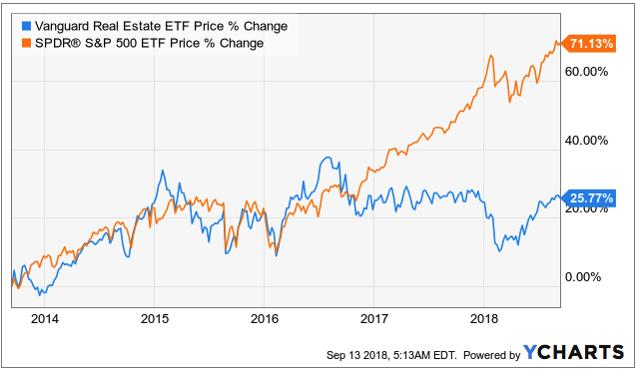 This has resulted in discounted valuations (as noted above) and positioned REITs for stronger future performance.
Underperformance is commonly followed by future outperformance; and this is especially true for REITs when trading at Discounts to NAV. Academics have found "large positive excess returns to a strategy of buying REITs that trade at a discount to NAV", and with REITs being currently priced at a discount on average, we expect superior performance in the times ahead.
Bottom Line
There are today many quality REITs that trade between 10-15 times FFO with 6-9% dividend yields, including W.P. Carey (WPC), Iron Mountain (IRM), Medical Properties Trust (MPW), Spirit Realty Capital (SRC), Kimco Realty Corp. (KIM) and Brixmor Property Group (BRX), to name just a few. If you own this type of REITs and earn a mid-to-high single digit dividend yield, you really do not need much growth to get to double-digit returns. Even if interest rate hikes cause the FFO multiple to contract a bit, your returns would still look very compelling in the long run.
We have no idea where the REIT market is headed in the coming months, and there could well be another sell-off leading to interest rate hikes, but this is irrelevant to long term-oriented investors. At High Yield Landlord, we rather focus on our 7.5% average yield, and wait for our REITs to grow cash flow to force appreciation in the long run.
If you enjoyed this article and wish to receive updates on our latest research, click "Follow" next to my name at the top of this article.
About High Yield Landlord
High Yield Landlord is one of the largest and fastest-growing communities of real estate investors with over 150 members. We provide a comprehensive service ranked among the very best in uncovering high-yielding securities of undervalued real estate companies. Subscription includes:
A real-money portfolio funded with $50,000 currently yielding 7.6%.
Timely BUY & SELL alerts for simple portfolio emulation.
A wealth of data and market intelligence on REITs, mREITs, and other real assets.
If you are looking for the newest and most profitable real estate opportunities, you have come to the right place. For a 2-week free trial, click HERE.

Disclosure: I am/we are long IRM; BRX; SRC; WPC; MPW. I wrote this article myself, and it expresses my own opinions. I am not receiving compensation for it (other than from Seeking Alpha). I have no business relationship with any company whose stock is mentioned in this article.