This is a Z4 Research pre call note:
JAG Reports 3Q18 Beat; Ups Volume Guidance; Holds Capex Flat; Cuts Operating Cost Guidance; Seeking Partners for Big Tex Development (to lighten the HBP Obligation in 2019)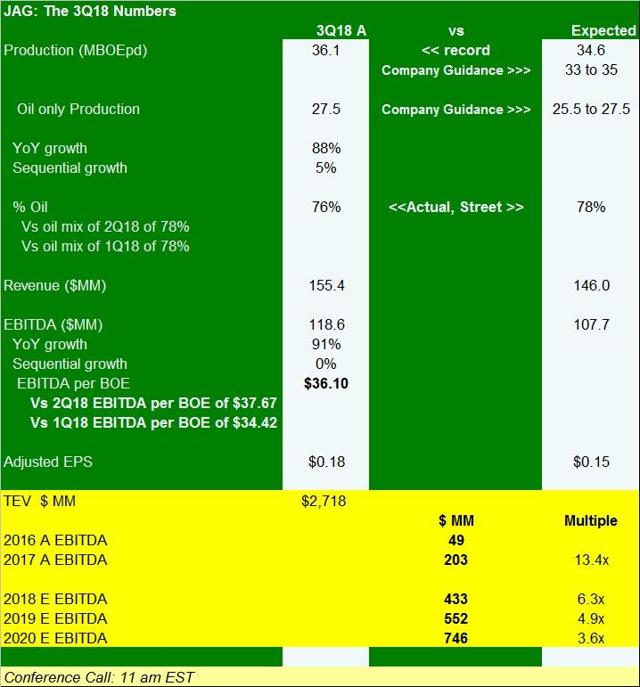 The 3Q18 Numbers:
Oil differential: $13.49 off WTI vs $7.41 in 2Q and $1.47 in 1Q. This 3Q figure is essentially in line with most Permian reports this quarter.
LOE: $3.37 / BOE vs $3.59 in 2Q.
Total Cash Costs: $9.15/ BOE vs $8.96 last quarter.

ROCE

: 17.7%
Favorite Quotes Watch:
"The better than expected production growth in the quarter is primarily attributed to the continued strong well performance from wells brought online, many of which are showing lower decline rates than expected."
"The Company continues to see improvements in its well results with its 2018 program exceeding its 2017 program and its 1.2

MMBOE

type curve, on average."
"we are actively seeking partners to develop a portion of our Big Tex acreage, which will allow for a greater portion of our capital to be allocated to the full-field development of our Whiskey River and Cochise project areas." At 41 wells, they have a big drilling obligation in 2019 to get the acreage here (30,500 net acres of their 78,900 total) held by production.
Guidance: Increased volumes, lowered OPEX, flat Capex
2018 Volumes: Tightened around upper end of range: 33.6 to 34.1

MBOEpd

(up 102% on mid) vs prior 32 to 34

MBOEpd

(79% oil) (up 96% on mid)
Street is at 33.2

MBOEpd

(78% oil).

4Q18

Volumes: 36 to 38

MBOEpd

(78% oil) vs Street at 36.3

MBOEpd

.
2018

Capex

: Unchanged vs prior range of $668 to $702 mm. Last quarter

capex

was increased to add a couple of more wells to the program and to increase program average lateral lengths and to account for increased working interests.
2018 Operating Cost Guidance: Reduced. LOE, G&A, and production tax expense guidance were inched lower.
2019 will be announced with the

4Q18

press release.
Highlights:
3D seismic - fully received at Cochise and Whiskey River with fast track data now in hand at Big Tex (this should be the western side closest to strong offset wells from FANG and PE) and the final data set scheduled to arrive before year end.
Drill times and stages per day continue to improve.
Drill times now 830 feet per day in 3Q vs 745 feet in 1H. They noted this quarter starting to upgrade to higher spec rigs. Look for questions on net cost of that move (higher day rate meets even faster drill time).
Completions per day were noted as up 30% over 2017 levels (bit of a change in metric here as we generally look for stages per day).
Reiterated that use of regional sand continues to yield a $0.4 mm savings per well.
Whiskey River
2018 vintage wells now outperforming 2017 wells which were already outperforming their 1.2

MMBOE

curve.
They attribute better 2018 wells to the combination of better steering with benefit of the new 3D plus bigger

frac

loads and tighter stage spacing.
Cochise
No substantive update in the release or presentation.
Big Tex
Same comment (no real update). We had expected hear about their second 3rd Bone Spring well with the release. Look for questions on that and whether or not data they are seeing from the first one, which was a very strong well, has either prompted to JV the play on economics (glass half empty) vs giving them confidence to be able to attract a partner (glass half full). Look for lots of questions regarding whether partner talks are in progress, what the structure could look like, and how much capital could be diverted to the other two core acreage pods. Also look for questions on whether or not it would make sense to monetize the area and for management to shoot those questions down as premature. Finally, look for updated timing for then next Woodford test.
Balance Sheet (remains strong) and Outspend (gradually narrowing):
Net debt to

3Q18

annualized EBITDA of 0.9x vs 0.7x at the end of 2Q.
Liquidity: $634 mm, including cash of $94 mm plus an undrawn revolver. The borrowing base was increased by $75 mm to $900 mm this month and JAG elected to hold commitments at the $540 mm level (no reason to pay more for what you don't need now).

Capex

of $165 mm in 3Q vs $118.6 mm EBITDA in 3Q.
Flow Assurance Watch:
30

Mbopd

gross production 5 year deal penned with

Trafigura

to capture waterborne pricing beginning in

2H19

(when Cactus II is fully on line). Look for rough terms questions on the call.
Combined with an extension of their existing sales agreement with Oryx they have good flow assurance through the tight spot of 2019.
In yesterday's post we noted:
"JAG has an elevated chance this quarter of a production beat based on better than expected well performance. Differentials should be better than peer average this quarter. We also see the name as less likely to further increase

capex

guidance for the remainder of 2018 with tomorrow's report. In August we said "Estimates will head higher for 2018 and should for 2019 and 2020 as well on better than expected well performance and we have reason to believe that well performance improvements continue into next year." 2018, 2019, and 2020 have seen Street EBITDA rise 11%, 7% and 4% respectively while the stock is off 7% (10% after yesterday's group swoon) since the day before the

2Q18

report. There should be a little more color on the Big Tex area with this release as well. We continue to hold JAG as our second largest holding in the ZLT at 8.5% of the portfolio. "
Nutshell: Better than Street expected quarter. Volume guidance upped on well performance and no capex increase this quarter should be well received as should the continued progress on reducing per unit costs. Estimates will again plod higher for 2018 and 2019 but the idea that they are now willing to JV on Big Tex should provide comfort to analysts concerned that such a higher drill to HBP obligation would place a higher burden on a far less de-risked wedge of their footprint.
Disclosure: I am/we are long JAG, FANG, PE.
I wrote this article myself, and it expresses my own opinions. I am not receiving compensation for it (other than from Seeking Alpha). I have no business relationship with any company whose stock is mentioned in this article.