From a share price perspective it would appear Enservco's (ENSV) chips are down. But with a solid hand to play, the Company upped the ante with the purchase of Adler Hot Oil Service in late October, and got help on the flop with the rejection of Proposition 112 on November 6th. Now it's time to see if we hit on the turn or river cards in 4Q18 and 1Q19.
The Company will announce 3Q18 earnings on Wednesday, November 14th. With the number of key developments in the last few months there won't be a shortage of topics for management to cover. I'll share what trends I'm following and what I'm hoping to learn more about on the 3Q18 earnings call next week.
Macro Factors
Proposition 112
Proposition 112, which would have increased O&G development setbacks rending much of the state unavailable for development, was rejected by Colorado residents during midterms on November 6th. At the least, this removes a large concern overshadowing the stock and reduces uncertainty around the Company's performance in the coming year. At best, it seems viable this could provide a tailwind in the coming quarters if activity has been at all delayed.
Oil Price / Rig Count Update
Below I've updated the chart showing the rig count in ENSV's primary service area and oil prices. In the total service area rig counts are flat q/q and up 12.5% y/y. In the DJ Basin, rig counts have remained relatively stable and were flat y/y, but generally trending up in the last six months.
Oil prices have taken a ~20% fall in recent weeks, but it is too early to tell if the drop will fall below a critical level. ENSV believes it can continue to drive profitable growth with oil prices at $45+, but if prices declined further it'd be bearish for the stock.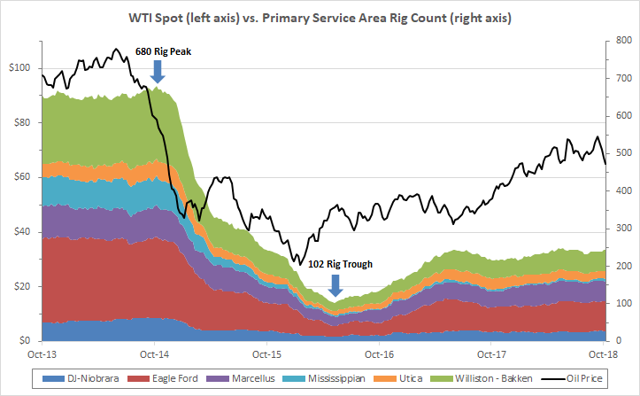 Heating Season Weather Outlook
The National Weather Service is predicting a warmer than average winter along side the formation of an El Nino weather pattern. I've seen other forecasts calling for the same, however, importantly it's estimated to be a weaker El Nino.
No one has a crystal ball, so it's impossible to say if this materializes or how it would impact the business, but it's something to monitor. It wouldn't be surprising if this led to a later start and/or earlier end to the season (I really don't know - I just checked a weather map and it looks pretty cold...).
Regardless, the Adler acquisition grows share in its coldest markets that on average will have longer heating seasons.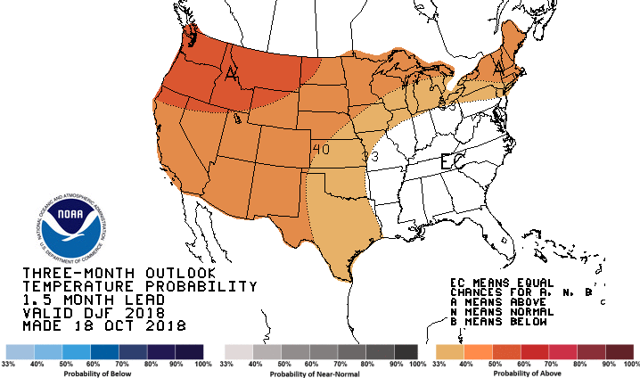 Source: National Oceanic and Atmospheric Administration
3Q18 Update and Earnings Call Considerations
During the same release that ENSV announced the Adler Hot Oil Service acquisition, it guided for 3Q18 revenue to be down 22% y/y to $4.4MM - $4.5MM and Adj. EBITDA was negatively impacted due to the wind down of the Water Hauling business, costs associated with the Adler transaction, and restructuring actions.
If you assume that the Water Hauling business had 50% of its 2Q18 revenue in 3Q18, then using the mid-point of guidance 3Q18 sales would down 17% y/y. This shows the core business performance was down y/y as well.
While 3Q18 performance matters, it won't be the most important topic given the other changes that occurred. Below are the items I'll be looking for more info on during the 3Q18 earnings call.
Adler Acquisition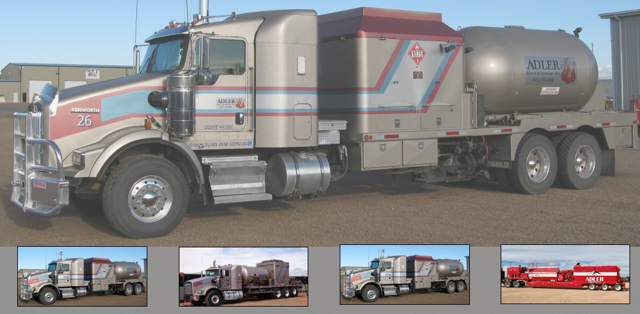 Source: Company Presentation
In October ENSV announced the acquisition of Adler Hot Oil Service (LTM 6/30/18 $18.5MM revenue, $2.9MM EBITDA). The acquisition was financed with a $6.2MM sr. secured draw, $4.8MM sub. seller note (due 1Q19), and $2.0MM in delayed payments in the form of a $1.0MM indemnity hold back and $1.0MM earn out. I'm assuming the financing is also included fees associated with the transaction as this comes out to $13.0MM total.
The 4.3x LTM EBITDA/EV multiple on its own seems like a very good price - and if synergies from fixed cost reductions and higher earnings (driven by the same factors as ENSV's earnings) can be achieved, it will prove to be a solid buy.
Further, by buying out a competitor in its primary service area in the DJ and Bakken basins, ENSV will be able to better optimize pricing and deployment of equipment in the market. As previously mentioned, this also grows the Company's presence in its coldest markets (DJ / Bakken basins).
Guidance around the Adler acquisition impact will be key in valuing the stock.
Management Addresses Growing Cost Base
In the release, ENSV announced:
Sale / closure of Dilco water hauling business ($3.6MM LTM 2Q18 revenue or 7% of total) and Hugoton, KS location assets
Closure and sale of the Garden City, KS, facility and real estate and relocation of its hot oiling and acidizing units to the nearby Okarche, OK, service yard.
Consolidation of the Bryan, TX, facility into the Jourdanton, TX, facility, which will now service both the Eagle Ford and Austin Chalk basins.
In my last article, I wrote:
While some of the high expenses can be explained away, it sounds like that between increased maintenance from higher utilization, wage inflation, and other operating expenses, it's difficult for them to achieve profitability at this utilization/revenue level. It'll very likely take revenues of $9MM+ per quarter to generate breakeven EBITDA operating with the Company's current cost structure.
It seemed to me that cash burn during the off season should be reduced given we're in a relatively strong part of the cycle and they were still solidly below breakeven. I was excited to see management take action. Perhaps equally encouraging was CEO Ian Dickinson's comment, "We will continue to evaluate ways to enhance earnings through thoughtful management of our assets and national operations footprint."
I'll be looking out to hear how accretive these actions will be to run rate earnings, estimated proceeds, and planned use of proceeds.
E&P Budget Exhaustion in 4Q18
One of the headlines we've seen across the industry has been E&P budget exhaustion in 4Q18 and an increase in DUCs (drilled but uncompleted wells). This is primarily occurring in the Permian where ENSV does not operate. Recent DUC counts alone suggest this is isolated to only the Permian, but given weak 3Q18 performance I'm curious if ENSV's service areas were also impacted (i.e. budget exhaustion isn't fully reflected in DUC count).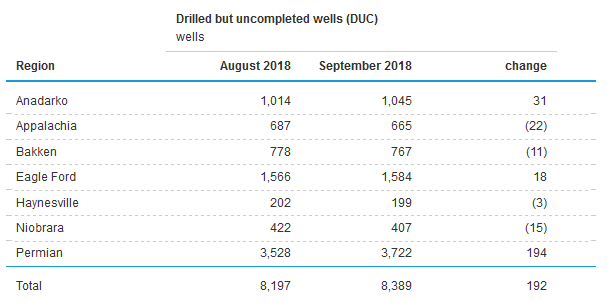 Source: EIA
Below are a couple of excerpts from the most Keane Group (FRAC) and Patterson UTI (PTEN) earnings calls, respectively (though the trend has been observed among others).
FRAC:
...our fourth quarter completion schedule is likely to develop additional white space due to customer budget exhaustion, early achievement of production targets, ongoing commodity price differentials, and typical weather and holiday-related seasonality.
PTEN:
For the fourth quarter, we currently expect pressure pumping revenues of approximately $330 million to $340 million, with a gross profit of approximately $55 million to $60 million. The year-end slowdown in pressure pumping is expected to be temporary with activity increasing in 2019 as operators refresh their budgets.

The increase in the DUC count should accelerate over the coming months given the year-end slowdown in completion activity as operators slow their work to remain within budget. A drawdown in the DUC count in 2019, as operators complete wells to fill incremental pipeline capacity, would have a significant positive impact on pressure pumping demand.
Again I'm not sure if this impacted ENSV or not, but if so, I'd be interested to hear their view of when budgets may be refreshed.
Heating Season Outlook
This is really a combination of everything that's discussed above and more and obviously the most important part of the call. ENSV makes the vast majority of its money during the winter months and it's just about showtime.
Conclusion
There are quite a few puts and takes with the Company in 3Q18 and the results will be very noisy, but there's a lot to like in my opinion. This is not a complacent management team and I'm encouraged by its sustained efforts to transform the business.
If you believe in the Company as a going concern as I do (I only phrase it this way because of the share price), the Adler acquisition was unambiguously positive and shares just got cheaper (earnings grew, price did not). Purchasing assets that should both increase revenues ~40% y/y and pay for themselves in ~5 years (very rough math) is a good way to deploy capital. It comes with no equity dilution and the seller note allows the Company to manage it cash.
It's not all good though, as oil prices have gone into a bear market just as we enter heating season. Sustained weakness would most certainly impact performance of the now more highly levered company following its acquisition of Adler.
ENSV remains a high risk / high reward investment. The rejection of Prop 112 and continuous operational improvements clearly decrease the stock's risk profile, commodity price levels increase it, and the increased leverage and earnings power that comes with the Adler acquisition amplifies both the risk and reward sides of the equation.
Heating season is upon us and I'll be looking for any tips from management next week during the call as to how that may play out.
Disclosure: I am/we are long ENSV.
I wrote this article myself, and it expresses my own opinions. I am not receiving compensation for it (other than from Seeking Alpha). I have no business relationship with any company whose stock is mentioned in this article.
Editor's Note: This article covers one or more microcap stocks. Please be aware of the risks associated with these stocks.