Co-produced with Nicholas Ward for High Dividend Opportunities.
Note: All images were sourced from EPD website unless otherwise stated.
Enterprise Product Partners (EPD) released its third quarter earnings this week, beating on both the top and bottom lines, further bolstering our "must own" opinion of the company.
A Strong Third Quarter
EPD posted GAAP and non-GAAP earnings of $0.60/share and $0.51/share, respectively. Both of these figures were well above analysts' estimates and the fully diluted earnings per share of $0.60 result is up more than 100% year on year.
As you can see on the graphic below, EPD's results were stellar across the board. These numbers come alongside a 2.4% distribution increase during the quarter, as well as strong distribution coverage ratios, solidifying Enterprise's status as a best in class MLP.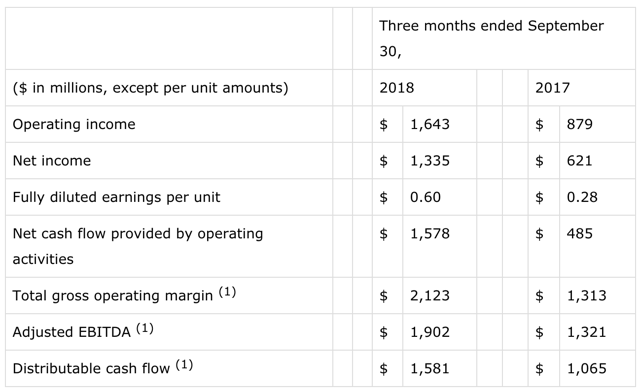 Source: EPD Q3 Earnings Report
An Illustrious History
To start the quarterly conference call, CEO Jim Teague took some time to highlight the fact that this quarter marked EPD's 20th anniversary as a publicly traded company. He mentioned that EPS is:
...on track for our 20th consecutive year of increasing our cash distributions to our partners and to our knowledge no other U.S. midstream company has accomplished that.
He also mentioned that a $1,000.00 investment into EPD shares on IPO day would be worth ~$17,000.00 today. This represents a "Compound Annual Growth Rate" ('CAGR') of more than 15% during that period of time. This just goes to show that income oriented investors can also do quite well as far as total returns go when purchasing shares (or in this case, units) of very high quality companies.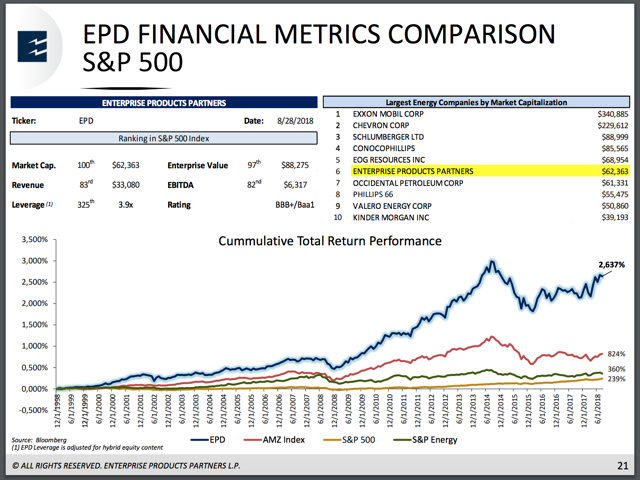 Source: Barclay's CEO Energy-Power Conference presentation, page 21
Dividend History
The reason that we're so bullish on EPD as an income play is the fact that it offers unit holders a safe high yield with strong growth prospects. After a weak month in October, EPD is yielding 6.45%. This is more than twice the yield on the U.S. 10-year Treasury, which currently sits at 3.13%. It's also nearly 3.5x the 1.85% yield that the S&P 500 (SPY) currently provides.
As we mentioned before, EPD is on pace to increase its distributions for the 20thconsecutive year. Further showing the reliability of its income growth, it's worth noting that EPD has increased its quarterly distribution for 57 consecutive quarters. This type of regular, reliable growth doesn't happen on accident. EPD's management team prioritizes shareholder returns as well as sustainable business practices that haven't exposed the dividend nor the balance sheet to excess risk.
This continues to be the case. In Q3, EPD produced $1.6b of distributable cash flows, representing 170% coverage. In the conference call, management noted that for the first 9 months of 2018, EPD has produced $4.4b in DCF, good for 160% coverage. This is above the 150% coverage target that most self-funding MLPs shoot for.
Above, we mentioned the ~15% total return CAGR that long-term EPD investors have received, but when you look at distribution growth related metrics, they're even more impressive. As you can see on this F.A.S.T. Graph image below, investors who bought EPD units 20 years ago yield on cost is approaching 50% today. Every $1000 invested in EPD at its IPO has produced nearly $6000 of distributions since. It's no wonder that we like EPD so much!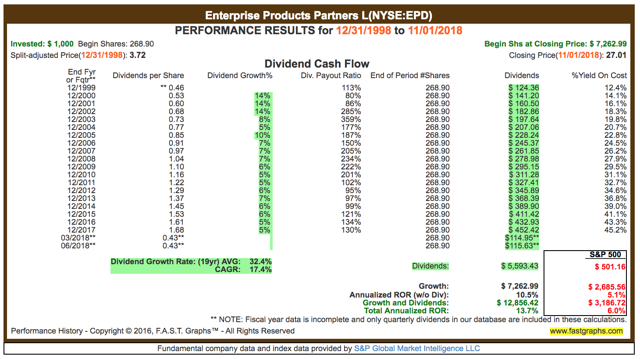 Source: F.A.S.T. Graphs
Organic Investment
For EPD to continue to pay out a high yield and grow the distributions into the future, the company must produce growth. Thankfully, this management team is not shy about investing in strategic projects that should fuel this future growth.
In the company's presentation at the 2018 J.P. Morgan Energy Conference, EPD noted that since the company's IPO in 1998-2017 the company made ~$38b of organic investments and ~$26b of major acquisitions.
EPD's capital spending during the first 9 months of 2018 was $3.3b. Management expects to spend ~$4.2b in 2018, highlighting a favorable business environment and increasing demand for its products and services.
Teague said,
The current environment of strong demand for our services coupled with productive discussions with customers to develop new infrastructure projects across all of our business segments is the strongest climate we have seen in the recent memory."
Because of this, management is confident to continue to invest moving forward. EPD has $6.6b of capital growth projects under construction that it expects to be completed and generate increased cash flows by 2020.
Vertical Integration
Another reason why we're bullish on EPD is because of the company's strong infrastructure and unique vertically integrated business model. From the production sites to the consumer, EPD owns assets that find, move, and store the product for its customers. This integrated system allows EPD to better cope with and adapt through price swings in the oil market.
As of September 5th, the company's asset base included:
~50,000 miles of natural gas, NGL, crude oil, petrochemicals and refined products pipelines.
260 Millions of barrels of NGL, petrochemical, refined products, and crude oil storage.
14 Billion cubing feet ('BCF') of natural gas storage capacity.
28 natural gas processing plants, 23 fractionators, 11 condensate distillation facilities, and a PDH facility.
18 docks handling the export of NGLs, PGP, crude oil, and other refined products.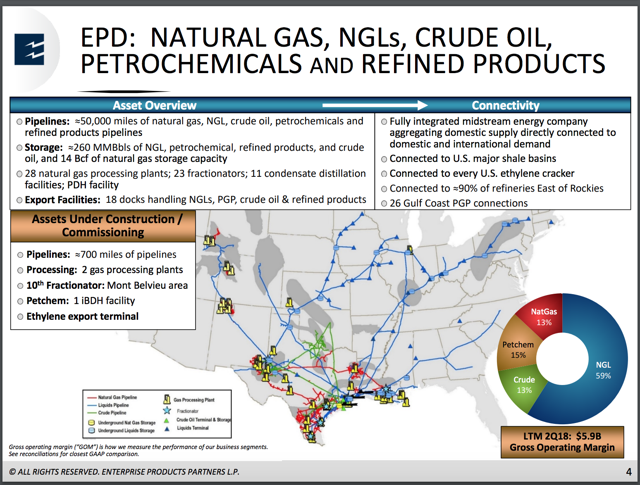 Source: Barclay's CEO Energy-Power Conference presentation, page 4
EPD's integrated model allows the company to be more flexible and extract benefits throughout the value chain. This is shown clearly in this image, showing the company's relatively stable DCF compared to the price of crude during recent years. The fact that EPD was able to navigate the oil crash of '15/'16 so successfully gives us confidence that this company can stand the test of time.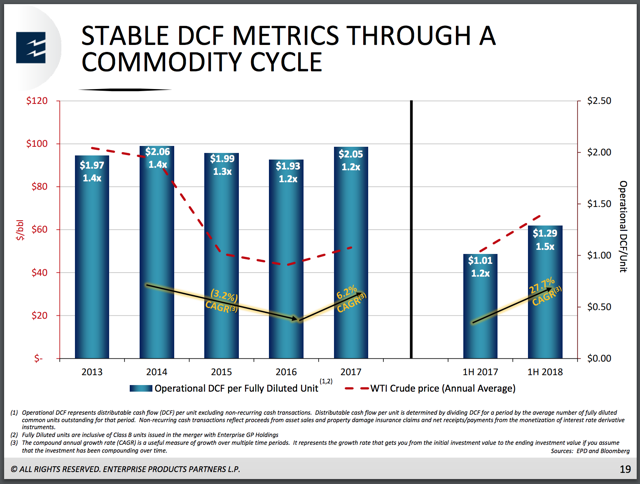 Source: Barclay's CEO Energy-Power Conference presentation, page 19
The Future of Energy
While renewable energy is certainly a threat to many of the traditional energy companies in the fossil fuel space, the world is a long way away from ending its thirst for hydrocarbons. As you can see on the graphic below, while energy consumption from certain fuel sources is expected to slow in the coming years, natural gas demand is expected to continue to grow.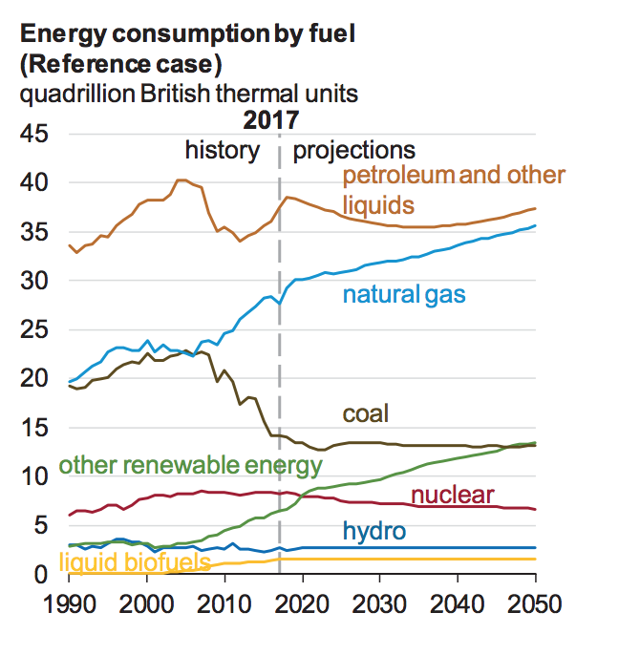 Source: EIA 2018 Annual Energy Outlook 2019, page 13
Thankfully, the majority of EPD's gross operating margins come from the natural gas and natural gas liquids segments. We expect this NGL segment to provide long-term growth for EPD, especially as the U.S. grows its exports. As you can see below, EPD management expects U.S. production to outpace domestic demand which should lead to more exports. EPD is situated nicely to benefit from increased energy exports with its terminal assets in the gulf.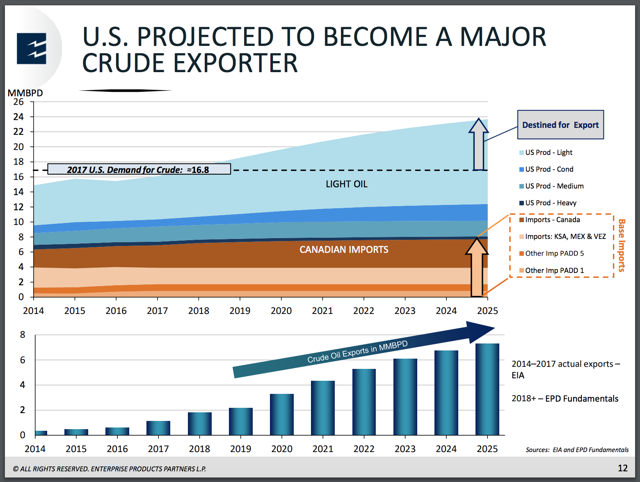 Source: Barclay's CEO Energy-Power Conference presentation, page 12
To help meet this demand, the company recently announced that it would be adding an incremental 150k bbl/day expansion to the NGL fractionation facility at Mont Belvieu, Tx (outside of Houston). Management noted that the planned expansion will be funded by long-term, fee-based contracts, further solidifying the fact that it's doing its best to slow the unit dilution.
Valuation
EPD's strong distributable cash flow growth, combined with its recent share price weakness has pushed the company's valuation down to bargain levels.
EPD is currently trading for ~10.5x ttm DCF.
EPD is trading for ~10.3x ttm operational cash flows, which is below the company's long-term average of 10.7x.
EPD is trading for just 15.6x diluted EPS, which is well below its long-term average P/E ratio of 26.9x.
Either way you slice it, EPD appears to be cheap. This is further solidified by the fact that EPD's 6.4% yield is currently 9.1% above its 5-year average of 5.87%.
Based on our calculations, we come up with a fair value for the stock which is at $33.50/share, or an upside potential of 27%. This is close to what other analysts are projecting.
Based on the latest data from the Wall Street Journal, there were 27 analysts who cover the stock with an average consensus price target of $34/share, suggesting a ~ 29% potential upside from the current price (source: wsj.com). Our price target is very reasonable and we believe it could be achieved within the next 12 months.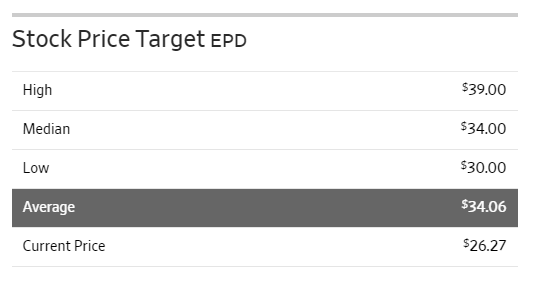 Conclusion
We've viewed EPD as the 'Blue Chip' holding in the MLP/energy space for some time now and the company's Q3 results have done nothing to change that opinion. This company appears to be firing on all cylinders at the moment and we view the recent share price weakness as an attractive opportunity for investors, offering 27% to 29% upside potential over the next 12 months, in addition to the growing dividend. EPD is unique in offering a safe, high yield with long-term growth prospects. This company is well on its way to becoming a dividend aristocrat, which is a welcome reprieve from recent stressful market volatility.
A note about diversification: To achieve an overall yield of 9-10% and optimal level of diversification, we recommend a maximum allocation of 2-3% of the portfolio to individual high-yield stocks like EPD, and a maximum of 5% allocation to high-yield exchange traded products (such as ETFs, ETNs and CEFs). For investors who depend on the income, diversification usually results in more stable dividends, mitigates downside risk, and reduces the overall volatility of your portfolio.
If you enjoyed this article and wish to receive updates on our latest research, click "Follow" next to my name at the top of this article.
About High Dividend Opportunities: We are the largest community of income investors and retirees with over 1600 members. We provide a comprehensive service, ranked #1, dedicated to high-yield securities trading at attractive valuations: Overall target yield of 9-10%. Subscription includes:
A managed portfolio of stocks currently yielding 10.0%.
A "Dividend Tracker" to know exactly when to expect your next dividend.
A "Portfolio Tracker" to track your holdings, income, and sector allocations. For video, click here.
If you are looking for the most profitable high-dividend ideas, you have come to the right place. For more info, please click Here.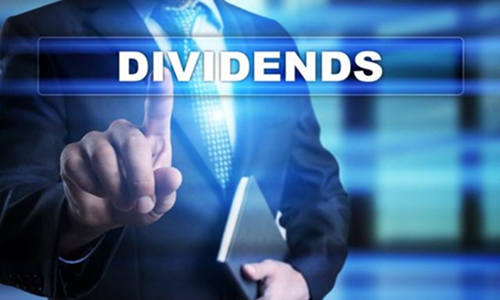 Disclosure: I am/we are long EPD. I wrote this article myself, and it expresses my own opinions. I am not receiving compensation for it (other than from Seeking Alpha). I have no business relationship with any company whose stock is mentioned in this article.