Hanesbrands (HBI) continues to be misappraised by the market despite management executing on their promises. While the Sears (OTCPK:SHLDQ) bankruptcy and declining revenues from innerwear weighed on headline numbers, the underlying business remains healthy and growing. Shares look exceptionally cheap here trading at 10x 2018 earnings and yielding a dividend payout north of 3.5%.
Significant Deleveraging
The biggest positive from the quarter was the significant reduction in debt and debt leverage. HBI used its free cash flow to pay down debt by ~$115 million, thereby reducing its debt to EBITDA ratio to 3.8x, very close to being within its long-term target range. Given that they only paid debt down by $52 million in the second quarter, this is a very encouraging development and a delivery on management's promise to pick up the pace of debt pay-down in the second half of the year.
Sustained Organic Growth
For the fifth straight quarter, HBI achieved organic growth. Furthermore, activewear and international sales grew at strong 7% and 11% year-over-year rates, respectively. The chief driver of these strong results was the robust performance of Champion products. Outside the mass channel, the brand's sales grew by 40% and 30% overall on a constant currency year-over-year basis. This is especially impressive because it achieved double-digit growth in the U.S., Asia, and Europe and was coming up against strong double-digit comps from last year as well. The growth also appears very sustainable and truly brand/quality based rather than driven by a fad in a particular region of the world or among a certain niche of shopper given that Champion sales increased across all channels and geographies.
The company also reduced its dependence on oft-disappointing bricks and mortar retailers by growing its consumer-directed sales (online and company-owned stores) an impressive 15%, pushing that category to a not insignificant 21% of total sales.
Finally, management delivered on its promise to grow underlying operating profit margin: raising pro forma adjusted operating margin (excluding the Sears bankruptcy charge) by 50 basis points to 15.8 percent. This reveals the ongoing strength of the business in offsetting inflationary pressures through improving efficiencies and strong brand pricing power.
Innerwear Shows No Signs of Turning Around
The main bad news from the quarter was the continued downtrend in the core innerwear business: sales declined 7% year-over-year and operating profit fell an even steeper 14%. However, management pointed out a silver lining: the decline was primarily driven by an imbalance between weak replenishment orders and strong point-of-sale purchases from consumers. This means that the decline is not due to HBI's products losing customer interest, rather it was more of a timing issue and possibly a minor shift in inventorying merchandising preferences.
However, innovation products continued to enjoy strong demand from retailers and consumers. Given that HBI has a considerable pipeline of innovative innerwear products hitting the market in 2019, this should drive a strong performance. Additionally, innerwear bookings in the first two weeks of October have confirmed management's suspicion that the disconnect between retailer orders and customer purchases was more of a timing issue than anything else. Guidance for Q4 and 2019 is flattish in innerwear, which would be a significant improvement over recent trends.
Another One-Time Hit
The hits from retailers just keep on coming. Last quarter, it was the loss of a C9 contract from Target (NYSE:TGT) that scared the market and sent shares plunging. This quarter, it was a large write-off ($14 million) of bad debt from Sears, thanks to their bankruptcy. While this is certainly not something to ignore (that money could have been put to good use in further deleveraging the balance sheet for example), it clearly should have been foreseen so it shouldn't shock investors like it did. However, the fact that management had not accounted for that in their previous guidance is a bit troubling, revealing them to be not quite as conservative as they claim to be in forecasting the future performance of the business.
Shares Look Remarkably Cheap
Despite the terrible performance in innerwear and the significant write-off from the Sears bankruptcy, management continues to execute its strategy. Underlying margins and organic growth are indeed here, just as management promised. Now, with an outlook for significant improvement in innerwear, the stock could see a break-out performance in Q4. If the innerwear business can truly stabilize in Q4 and beyond, activewear's Champion-fueled growth should help the share price significantly rebound.
Additionally, the company remains a cash-cow. With a midpoint 2018 EPS of $1.71, shares trade at just under 10x earnings. While organic growth is likely going to be low moving forward (0-3% depending on the frequency and magnitude of unforeseen one-time events, continued retail disruption, and inflation/currency impacts), the company has a very high free cash flow generation rate and pays a hefty dividend yield north of 3.5%, making up for much of the missing growth.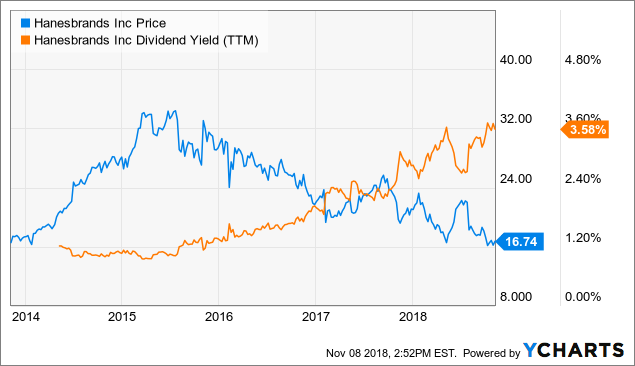 Additionally, this quarter saw HBI make a sizable dent in its debt burden, which should help results moving forward by reducing interest expense as well as moving them closer to their target leverage ratio range. Once this range is reached, management plans to resume dividend growth and share buybacks while also looking for further accretive acquisitions to once again grow revenue and enable them to drive synergies through their supply chain. In the meantime, investors can expect a 4-6% dividend plus growth boost to total returns as well as an aggressively reduced leverage ratio, combining to produce strong total returns.
Investor Takeaway
Investor patience is certainly being tried by the market as something always seems to come up each quarter to taint the headline numbers for HBI. In spite of this, however, the underlying business continues to get healthier as supply chain efficiencies improve, Champion continues to drive strong activewear and international growth, and the lower-risk online and company store channels become an increasingly significant part of revenue. As a result, organic revenue and earnings growth and underlying profit margin growth have returned as promised and the company appears poised for a strong Q4 that should finally cause shares to return to the $20-25 range. HBI remains one of my three top buys.
Disclosure: I am/we are long HBI.
I wrote this article myself, and it expresses my own opinions. I am not receiving compensation for it (other than from Seeking Alpha). I have no business relationship with any company whose stock is mentioned in this article.