MannKind Corporation (MNKD) received FDA approval for its diabetes medication Afrezza in 2014. At that time MannKind described itself as
a biopharmaceutical company focused on the discovery and development [emphasis mine] of therapeutic products for diseases such as diabetes
This is the business I invested in. Much to my delight MannKind partnered with Sanofi (SNY) to market Afrezza, but that partnership ended in July 2016. MannKind was left with left with few options and initiated the marketing of Afrezza with a contract sales organization. By early 2017, MannKind decided to build a specialty sales group to promote Afrezza to endocrinologists and high-prescribing physicians.
MannKind transformed itself from an R&D organization to
a biopharmaceutical company focused on the development and commercialization [emphasis mine] of inhaled therapeutic products for patients with diseases such as diabetes and pulmonary arterial hypertension
Despite the focus on endocrinologists and high-prescribing physicians, Afrezza sales are not lighting fires under Wall Street analysts. While there is growth, it is not increasing at a rate that will offset manufacturing and selling costs for the foreseeable future. Afrezza numbers since MannKind hired its own sales staff were as follows.
| | | | | | | | |
| --- | --- | --- | --- | --- | --- | --- | --- |
| (000's) | 1Q2017 | 2Q2017 | 3Q2017 | 4Q2017 | 1Q2018 | 2Q2018 | 3Q2018 |
| Net Revenue | 1,196 | 1,548 | 1,981 | 4,467 | 3,402 | 3,753 | 4,387 |
| COGS | 2,548 | 5,086 | 4,575 | 5,019 | 4,008 | 5,095 | 5,303 |
| Selling Expense | 7,738 | 11,646 | 9,182 | 14,005 | 10,978 | 12,338 | 12,625 |
| Product Loss | -9090 | -15,184 | -11,776 | -14,557 | -11,584 | -13,680 | -13,541 |
Source: mannkindcorp.com
MannKind has incurred losses in excess of $2 billion seeking FDA approval, and continues to record losses quarter after quarter with no end in sight.
Contributing factors for these losses is a large under-utilized manufacturing facility, and a contract to purchase insulin in excess of Afrezza demand. According to page 47 of the 2017 10K, MannKind is obligated to purchase the following amounts of insulin.
| | | |
| --- | --- | --- |
| 2018 | 1-3 Years | 4-5Years |
| 11,688,000 | 51,116,000 | 46,469,000 |
Since the release of the 10K, MannKind has modified the 2018 obligation. Nevertheless, the quantities are large compared to anticipated sales.
As part of FDA approval, MannKind is required to conduct two post-marketing studies: (1) a five-year 8,000-10,000 patient with type 2 diabetes to assess pulmonary malignancy, and (2) a trial with pediatric patients 4 to 17 years old with type 1 or type 2 diabetes. The pediatric trial completed the first cohort and recently opened enrollment for the last cohort. No time-frame for the pulmonary malignancy trial has been given.
In contrast to Afrezza's numbers, MannKind with a modest R&D budget successfully conducted a phase 1 clinical trial for an active pharmaceutical ingredient and partnered this drug. To put that in perspective, the R&D expenses recorded since 1Q 2017 were as follows.
| | | | | | | | |
| --- | --- | --- | --- | --- | --- | --- | --- |
| (000's) | 1Q2017 | 2Q2017 | 3Q2017 | 4Q2017 | 1Q2018 | 2Q2018 | 3Q2018 |
| R&D | 3,129 | 3,123 | 4,361 | 3,507 | 2,644 | 2,967 | 2,043 |
Source: mannkindcorp.com
With this small R&D budget MannKind initiated in March 2018 a small phase 1 trial of Treprostinil Technosphere, or TreT, for pulmonary arterial hypertension, or PAH. TreT is a drug-device combination product similar to the currently FDA approved drug-device product Afrezza for the treatment of diabetes.
On June 07, 2018 MannKind announced it successfully completed the phase 1 trial of TreT. In addition to meeting the primary endpoint of safety, dosing of TreT significantly exceeded the maximum recommended dose of the currently FDA approved inhalable treprostinil medication.
On September 4, 2018 MannKind and United Therapeutics (UTHR) announced a collaboration for PAH. Under the agreement, MannKind received an upfront payment of $45 million and potential milestone payments of up to $50 million, and low double-digit royalties on net sales of TreT.
United also has the option to expand the collaboration for other active pharmaceutical ingredients, or APIs, for PAH. Each API would entitle MannKind to earn up to $40 million as well as low double-digit royalty on net sales.
In addition to PAH, MannKind and United entered into a research agreement for products outside of PAH. MannKind received $10 million for this agreement.
MannKind was able to rapidly complete the phase 1 trial and form this collaboration for two reasons: (1) treprostinil is FDA approve for inhalation for the treatment of PAH, and (2) MannKind's drug delivery platform Technospere.
Technosphere is a dry powder formulation pulmonary delivery technology that can be used to deliver small molecules, peptides, or proteins that normally require administration by injection. Technosphere is able to deliver medications to the deep lung for very rapid absorption, and avoiding hepatic metabolism.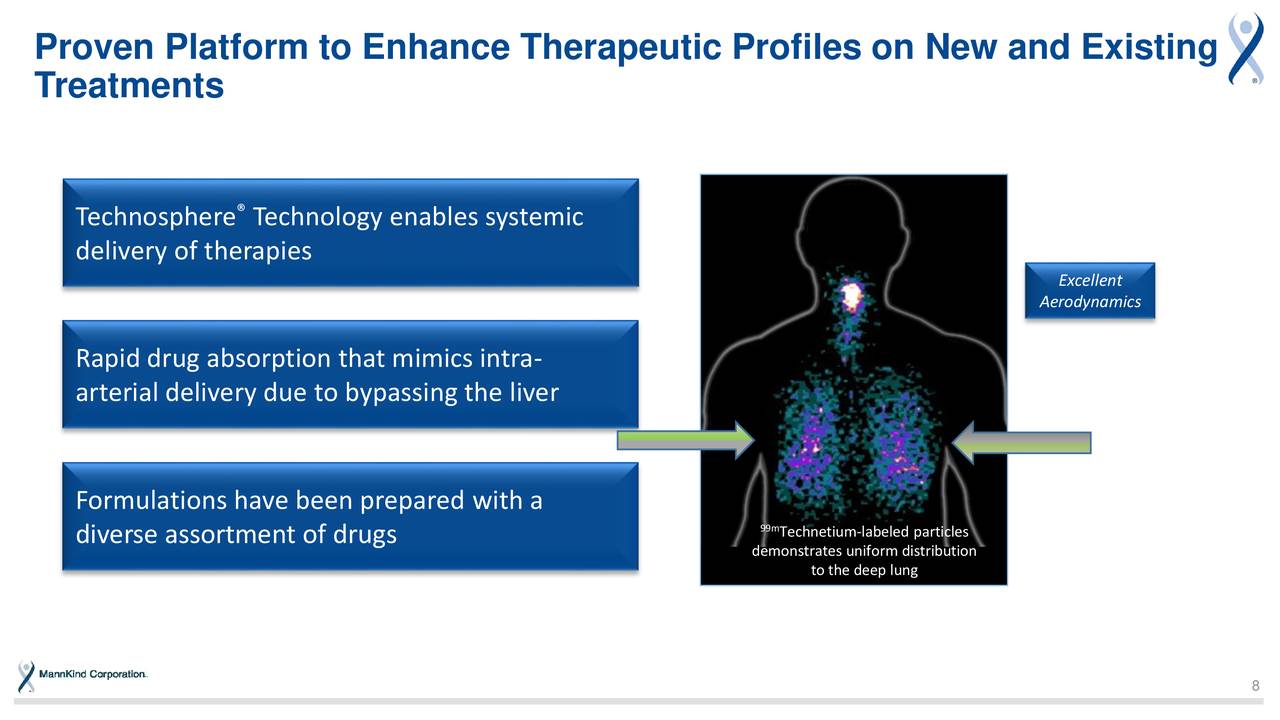 The question some are asking is: should MannKind revert back to the business model it was when Afrezza was initially approved? MannKind's business model is unsustainable with current resources. If MannKind could sell or spinoff Afrezza, it would shift limited resources into developing a pipeline that would potentially attract partnerships. MannKind has indicated it has four molecules in progress.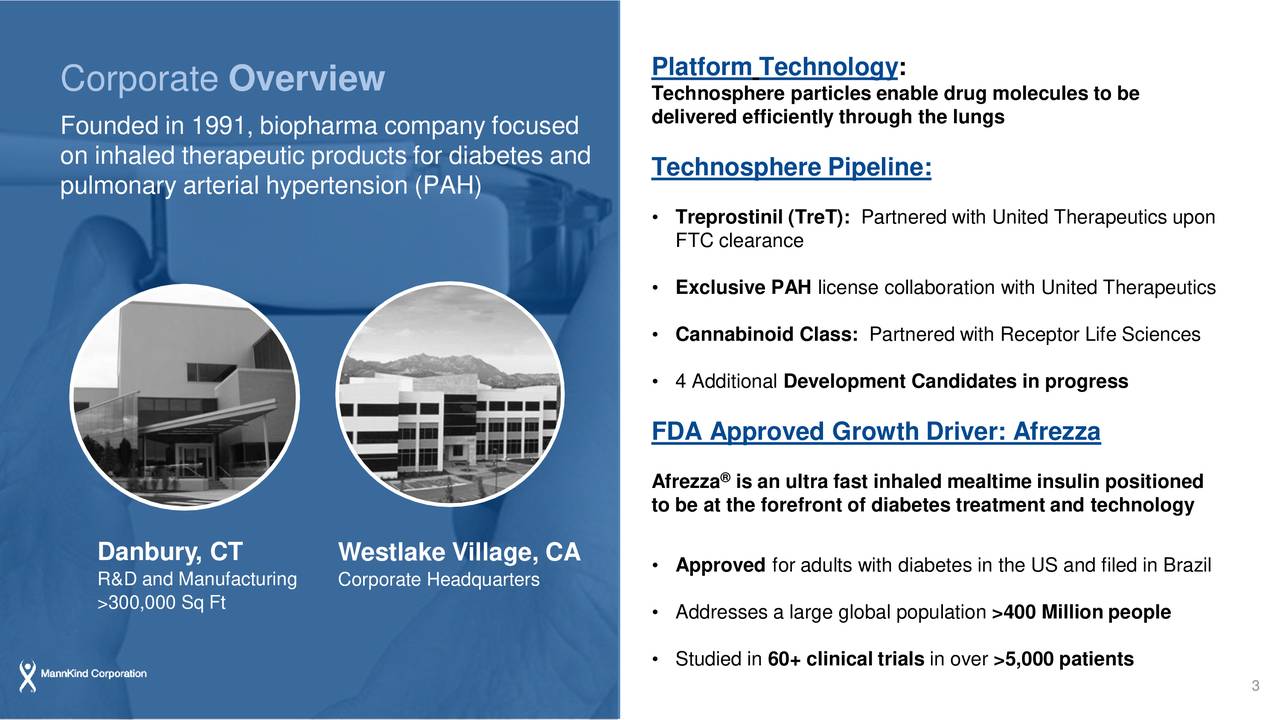 Unfortunately, MannKind lacks the resources to adequately market Afrezza and progress these molecules. This is not unusual for biotechnology companies. An often mentioned example of a biotech unable to adequately market an approved drug and lacking resources to develop a pipeline is Arena Pharmaceuticals (ARNA). Arena made the difficult decision to sell its FDA approved drug Belviq for $23 million, and potential royalties. At the time of this decision, Arena had accumulated losses of nearly $1.5 billion.
Since selling Belviq, Arena concentrated its efforts on developing a pipeline. It successfully tested two molecules, which allowed Arena to raise much need capital to advancement these molecules further and excite Wall Street.
A less frequently mentioned biotechnology company that found itself in the same situation and transformed itself is Avid Bioservices (CDMO), formally known as Peregrine Pharmaceuticals (PPHM). Peregrine possessed two businesses, a contract development and manufacturing organization or CDMO, and R&D for drug development. In January of 2018 it decided to make a shift to contract manufacturing.
Since the transformation, Avid has made progress towards establishing itself as a dedicated CDMO with a focus on biologics. Avid reported 1Q 2019 contract revenue of $12.6 million, and a backlog of $39 million. It is projecting 2019 revenue guidance of $51- $55 million.
What investors should consider
As a long-term investor I am concerned MannKind's resources are insufficient to adequately market Afrezza and develop a pipeline. In the four years since FDA approval, Afrezza U.S. net sales will be less than $25 million, with product losses in excess of $50 million. MannKind is also burdened by underutilized manufacturing facility, a contract to purchase insulin in excess of product demand, and post marketing trials.
It possesses a drug delivery platform that has been tested with approximately forty active pharmaceutical ingredients. With a small R&D budget, MannKind successfully tested a second medication, attracted a partner determined to seek FDA approval, and negotiated for additional molecules.
If MannKind had the resources to test the four molecules mentioned in small clinical trials, MannKind could potentially attract partners and negotiate terms similar to the United collaboration; this is business model I invested in.
MannKind reported for its latest earnings: cash and cash equivalents was $11 million as of September 30, 2018 compared to $48.4 million at December 31, 2017. This amount doesn't include the $55 million MannKind received as part of the United collaboration.
If Arena and Avid transformed themselves into R&D and manufacturing organizations, I don't see a reason MannKind cannot.
Alfred Mann purchased the drug delivery platform Technosphere with the intentions of applying it to many conditions, diabetes just happened to the first application. Current management should make the difficult decisions to ensure Al Mann's desire. That would require transforming MannKind back to an R&D and manufacturing organization I initially invested in.
Limited cash and the lack of ability to raise significant amounts of money, is what prevents me from adding to my position. If you are contemplating investing in MannKind, consider waiting until cash-flow break-even is in sight.
Disclosure: I am/we are long MNKD, ARNA. I wrote this article myself, and it expresses my own opinions. I am not receiving compensation for it (other than from Seeking Alpha). I have no business relationship with any company whose stock is mentioned in this article.