It was yet another of Profire's (PFIE) signature quarters.
The BMS (burner management system) company reported a 3Q18 of substantial revenue and net earnings growth - 15% and 17% YOY, respectively. Profire is on track to having one of the best-selling years in its decade-long life as a public entity and the most profitable one in absolute terms, marking the end of the 2014-2018 oil and gas bear period that put a drag on the company's financial results (see first graph below).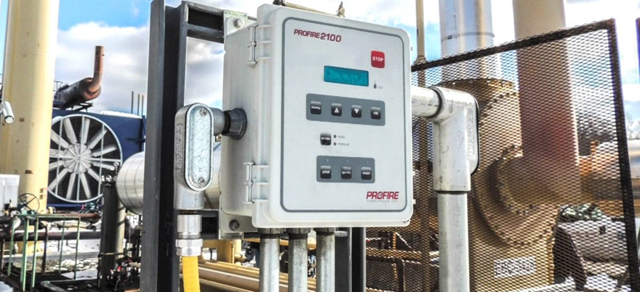 Credit: YouTube
Another piece of good news, in my view, was the improvement in Profire's gross margins, from 50.4% in 3Q17 to 53.0% this year. To be clear, I don't necessarily see the evolution as a sign of a margin expansion trend to play out over the next few quarters. Instead, I view it as evidence that margins do, in fact, oscillate quite a bit from period to period depending on revenue mix and inventory reserves, which would explain 2Q18's 50-bp drop that I indicated could have fueled some post-earnings bearish sentiment in August.
On the opex front, the 15% YOY bump seems reasonable and expected to me, given the investments in R&D and marketing needed to support an increase in the client base that has led to robust top-line organic growth. As a result of production and overhead cost growth that trailed that of revenues, op profits increased a solid 30%, which I find highly encouraging. If not for FX translation gains that were substantially smaller than those recorded last year, net income to shareholders would have been higher, and I estimate that EPS could have landed above consensus by a penny.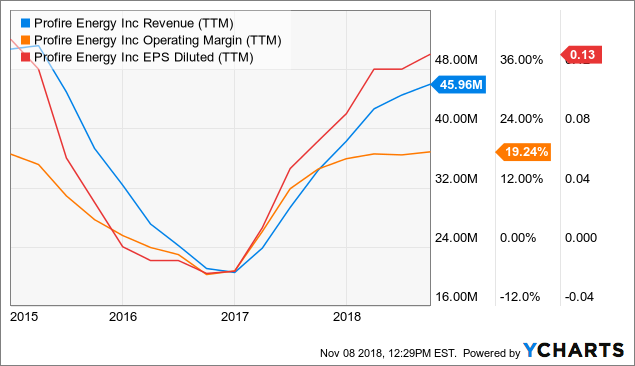 On the stock
However, the Street reacted without much excitement to Profire's solid results. Sure, PFIE is up 3.6% mid-trading day this Thursday, which may look good at first glance. But the gain is minimal in the context of a highly volatile micro-cap stock that, prior to 3Q18 earnings, had lost 47% of its market value since the trailing twelve-month peak reached in June. This is not to mention valuations that continue to look very enticing to me, at 14.7x next-year earnings and a price-to-book multiple of 2.7x that has returned to the low end of the historical range; and the company's pristine, debt-free balance sheet that contains 44% of total assets worth of cash on hand and investments. Yet, shares can't seem to rebound much, even after the release of a robust earnings report.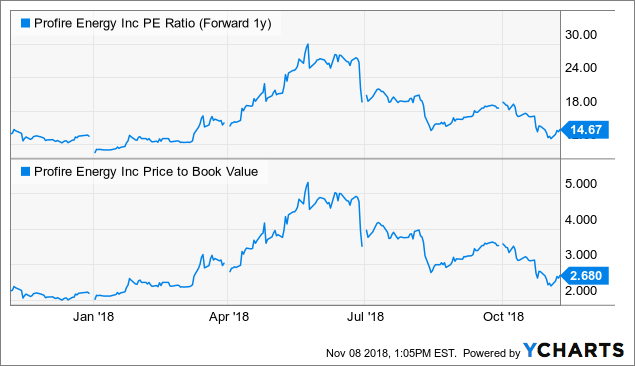 In my opinion, this stock may be suffering from lack of a meaningful catalyst that could push EPS (and stock price) significantly higher in the foreseeable future. The international expansion opportunities have failed to generate much in terms of revenue growth outside the U.S. and Canada, and so has Profire's CMS (chemical management system) venture. Meanwhile, the company's aggressive share buyback program can only do so much to reward shareholders and incentivize new investors to jump in.
PFIE today seems like an intriguing value-play idea, but I am afraid that a spark may be needed to propel shares forward. I believe an acquisition could do the trick here, especially considering Profire's relatively large cash pile. For now, and because I am not particularly looking for opportunities in which to invest idle cash, I will keep my distance from PFIE. But I will continue to monitor this story going forward, curious about what the future may hold for the Utah-based company and stock.
Note from the author: If you have enjoyed this article, follow me by clicking the orange "Follow" button next to the header, making sure that the "Get email alerts" box remains checked. And to dig deeper into how I have built a risk-diversified portfolio designed and back-tested to generate market-like returns with lower risk, join my Storm-Resistant Growth group. Take advantage of the 14-day free trial, read all the content written to date and get immediate access to the community.
Disclosure: I/we have no positions in any stocks mentioned, and no plans to initiate any positions within the next 72 hours.
I wrote this article myself, and it expresses my own opinions. I am not receiving compensation for it (other than from Seeking Alpha). I have no business relationship with any company whose stock is mentioned in this article.
Editor's Note: This article covers one or more microcap stocks. Please be aware of the risks associated with these stocks.