In July I wrote, Trump Aims To Break OPEC. In that article I said, "KSA may feel the need to distance itself from the group (OPEC) to retain favorable relationships with the U.S." And according to a report in the WSJ, Saudi Arabia is studying the effects of a break-up of OPEC on the oil market.
Trump's criticism of OPEC has been withering since an interview in 2008 to this day. In this video (starting 5:38), Trump stated:
The biggest problem I never hear anybody talk about. I told you about it once. Every time they lower interest rates, the cartel, because I call it a cartel - the illegal monopoly - raises oil prices. So the monopoly, because that's what it is, a total illegal monopoly. If businesses ever formed OPEC, everybody would be put in jail. Every time a country hits oil, they are invited into the cartel. It's a disgrace. Now you have oil prices that are going to be over $100, and nobody in this country calls and says. 'Get that goddamn oil price down. You get it down. And you get it down fast.' And you can do it... In the old days, our presidents used to call. We don't call anymore... If spoken to properly, those prices would come down like you wouldn't believe."
Trump has tweeted about OPEC several times this year to get the price down. In late June, he called the king of Saudi Arabia, asking him to raise oil production. Yesterday, he stated, "…you have a monopoly called OPEC, and I don't like that monopoly."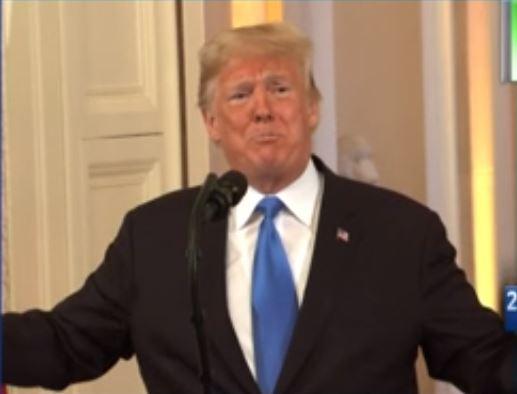 Source: CNBC.
OPEC has kept close tabs on the NOPEC legislation I discussed in this article, U.S. Anti-Trust Law Could Break OPEC's Collusion on Oil Production Deals. Saudi Arabia has hired former solicitor general Ted Olson as a lobbyist to oppose the legislation and to write an op-ed article.
On August 1st, OPEC president and UAE Energy Minister Suhail al-Mazroui, wrote in a letter to fellow members, "We solemnly believe that market stability, and not prices, is the common objective of our actions…I would like to call upon OPEC Member Countries, as well as our participating Non-OPEC colleagues, to refrain from any reference to prices in their commentary about our collective efforts or oil market condition." That was after OPEC members met with a law group, White & Case.
But even a reference to stabilizing prices would run afoul of U.S. law. At a hearing on May 18th, House Judiciary Committee Chairman Bob Goodlatte (R-Va.) stated:
As the Supreme Court has explained, '[u]nder the Sherman Act, a combination formed for the purpose and with the effect of... stabilizing the price of a commodity in interstate or foreign commerce is illegal per se.' OPEC's organizational document, under the heading "[o]bjectives," states that the "[o]rganization shall devise ways and means of ensuring the stabilization of prices in international oil markets."
OPEC Meeting Preview
In an interview with TASS on October 22nd, Saudi Energy Minister Khalid Al-Falih said, "it is important to help moderate the volatility (i.e. stabilizing) so that all participants and especially investors know that big producers like Russia and Saudi Arabia are working together to balance the markets."
He went on to explain that he wanted to get an agreement finalized at the December meeting:
We want to sign a new cooperation agreement that is open-ended. That does not expire after 2020 or 2021. We will leave it open. And what we would like to do is continue for OPEC and non-OPEC to work together. And the difference is that there will be no fixed term for the agreement, which allows us to bring production up or down. It should not have fixed production target. But it allows us to perform regular coordination and sharing information on what are our views on the market, supply and demand, how healthy the market is, what kind of intervention we need, if any, and when."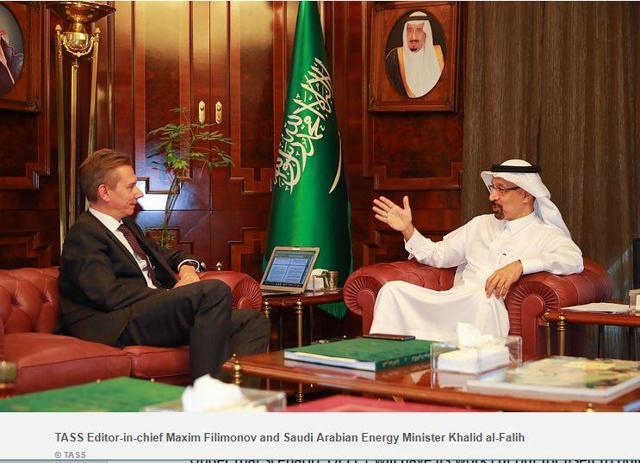 Conclusions
The December 6th OPEC meeting should prove to be very interesting. It will not be business-as-usual.
Because OPEC has become sensitive to U.S. antitrust laws, I do not expect a long-term agreement to "stabilize" the market to be signed. However, I also doubt Saudi Arabia will withdraw from OPEC in a month.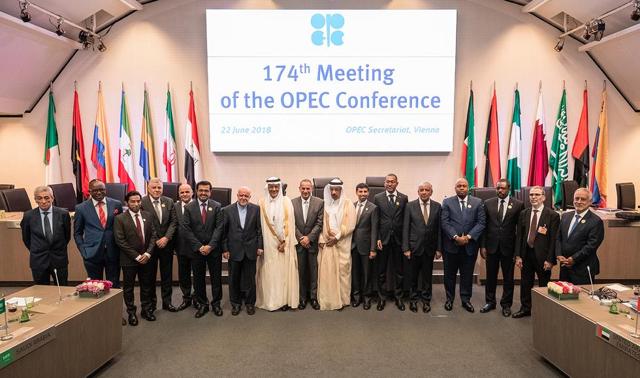 Source: OPEC.
That leaves open the question of what exactly is going to happen at that meeting. But it seems fairly certain there will be no mention of price and probably no mention of specific production plans.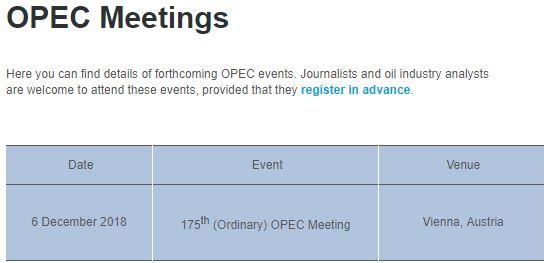 Source: OPEC.
Saudi Arabia is highly dependent on the U.S. for its protection and development of its economy. I think it will bend to President Trump's view that an oil cartel is an "illegal monopoly" (actually, it's an oligopoly).
If Saudi Arabia withdraws from OPEC in 2019, the oil price floor would drop quickly until free-market, competitive forces bring supply and demand into balance. It will be similar to what happened after the November 2014 meeting when the group decided to do battle against shale. In that event, 2019 could end up being a lot like 2015.
On a personal note, I wrote "OPEC Pricing Strategy," as my senior economics thesis at Harvard, when OPEC was 14 years old, in 1974-75. Their 1973 oil embargo captured my attention for economics. I find that the present possibility of OPEC's demise is real. And I believe that this cartel should be broken, and should have a long time ago, and that we finally have the president to put an end to this market manipulation garbage.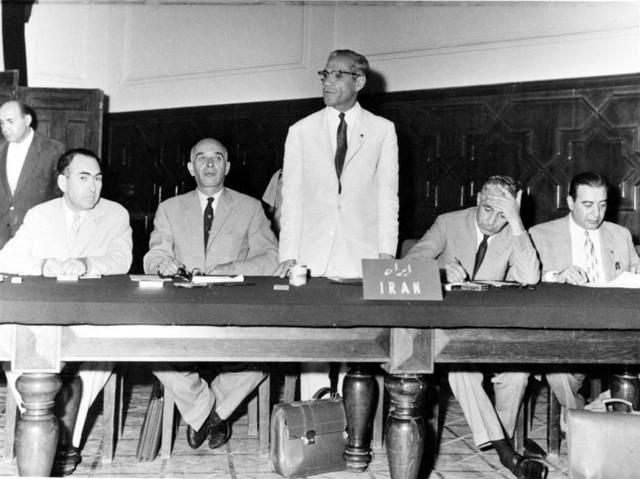 The first OPEC meeting in Baghdad, 1960. Source: OPEC.