The world's largest music streaming company in 10 years
Spotify (SPOT) is a growth stock, and the investment thesis is predicated on rapid growth over the next several years. As the global leader of online music streaming, SPOT has 191 million monthly active users with 87 million or 45% of the users subscribing to Premium membership. The MAU (Monthly Active User) grew at an average annual rate of ~31% between 2015 to 2017, the premium subscriber grew at ~60%. The company has a history of scaling quickly, having only launched 10 years ago.
The current MAU as a percentage of smartphone users is 13% on a global basis. This suggests that upside to user growth is still significant for SPOT when compared to other apps like YouTube and Netflix.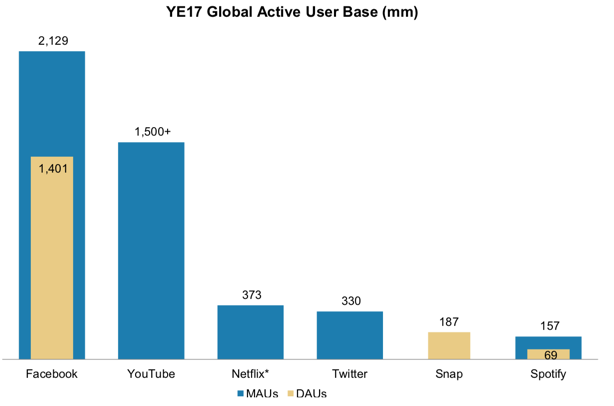 Source: Morgan Stanley
In Spotify's current markets, the TAM will increase to 1.6 billion in 2021 according to Morgan Stanley. Additional markets where SPOT doesn't currently have a presence equates to an additional 1.7 billion users by 2021. Given the size of the addressable market and current growth rates, SPOT can add over 200 million new MAUs and 100 million new premium subscribers over the next 3-4 years.

Source: Morgan Stanley
Business model and new opportunities
SPOT revenue has grown from 2.9B euros in 2016 to 4.1B euros in 2017 (40% growth) and estimated at about 5.3B euros for 2018 (29% growth). A major factor for the growth is its "freemium" model, where mobile users are given limited functionality with advertisements and shuffle playing of music.
The free user base is used as a funnel to a paid plan with several unlocked convenience features, including offline access to the content library, removal of advertisements, and unlimited song skips. This model has proved effective thus far with about 45% of users pay for Spotify Premium.
One of the most unique approaches of the service is its use of user data, which it collects and converts into suggestions for music to listen to and content to explore. The service is active in pop music culture, with curated playlists tailored to specific eras of music, popularity, and user's mood. Users are active engagers of this content, with up to 20% of streams via Spotify's own playlists. Celebrities and figures of interest also have the capability of sharing their personal playlists to an audience, which supports revenue by increasing the public marketability of the service.
Spotify is also venturing into other forms of audio-related content. Podcasts are now available for users, allowing them to engage in an alternative form of entertainment. This expands the portfolio of the company's offerings and provides a platform for future revenue growth in streaming.
Spotify is also entering into the marketplace for concerts, with a curated list of suggested and popular music concerts available from within the service, with the option to purchase tickets. By broadening the offering of music-related products, the service is increasing its value as a "one-stop shop" for music exploration.
IPO and recent performance
Spotify closed on its first day of trading on April 3, 2018, at $149.01 per share. At close, the market value stood at $26 billion, giving it the title of the eight-largest tech IPO. In the next four months SPOT surged, reaching $192 per share in late August. Since it's high, Spotify has fallen to around its IPO price of $149.
Several factors have weighed on the shares mostly related to issues outside of the company's control. The October sell-off was concentrated in Technology stocks and consequently affected SPOT. Furthermore, stocks which have recently gone public sold off more than the market. The IPO ETF which tracks companies which have recently gone public is down 12% since the end of September vs. -5% for the S&P 500.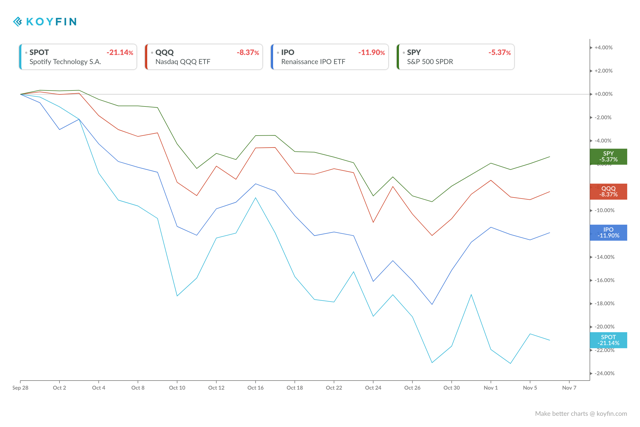 Spotify recently reported 3Q results that were largely in-line with expectations. Premium net adds of 4m for the quarter matched what analysts expected. The company slightly lowered its top-end of guidance for next quarter but this doesn't represent a material change. The company also announced a $1B share repurchase authorization though the implementation and timing are unclear.
How much can the stock be worth in several years?
There are several moving pieces which are difficult to handicap to arrive at a price target. On the revenue side, SPOT will continue to penetrate new markets and the existing smartphone user base. Using assumptions of long-term penetration rates discussed above, it's reasonable to forecast that SPOT can double its user base to 400m in 4 years. The biggest unknown factor is what are the costs that SPOT will need to pay to the record companies. Bears argue that the record companies will raise prices and eat into any profits for SPOT. However, as discussed below, the record companies are incentivized to support SPOT because it's an effective distribution channel. Furthermore, SPOT provides a counterbalance to other distributors like Apple and Amazon which have more bargaining power than SPOT.
Given the difficulty in estimating profits, the best methodology is to use sales. On a P/S basis, SPOT trades at a lower multiple than other internet peers.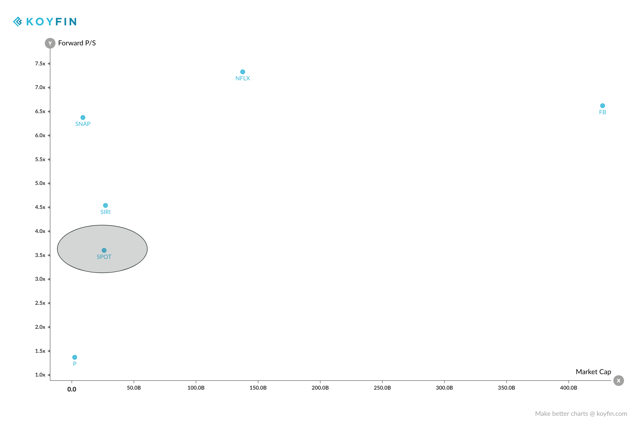 Source: Koyfin
Analysts estimate that SPOT will grow earnings about 65% over the next 2 years. Given its P/S multiple is at the lower range of its internet peers, the stock can increase in-line with its sales growth over the next 2 years.
Background on the music industry
Most investors don't realize that the music industry was until recently in a steady decline. Music sales peaked in 1999 when CDs dominated the way people listened to music. Over the next 10 years, Napster and MP3s allowed music listeners to bypass the high price of CDs in favor of illegal downloads. Though cost-effective, this solution was inconvenient because the files were of poor quality, difficult to find and unorganized. When streaming music was introduced, it gave people access to an on-demand library of any song organized by artist, album or genre. This was a benefit users were willing to pay for.
According to the International Federation of the Phonographic Industry, the global music market grew by 8.1% in 2017, marking the third consecutive year of growth and one of the highest rates since they started tracking the data in 1997. This renewed growth in the industry was driven by streaming which accounted for more than 38% of the total revenue in 2017 compared to 6.7% in 2012.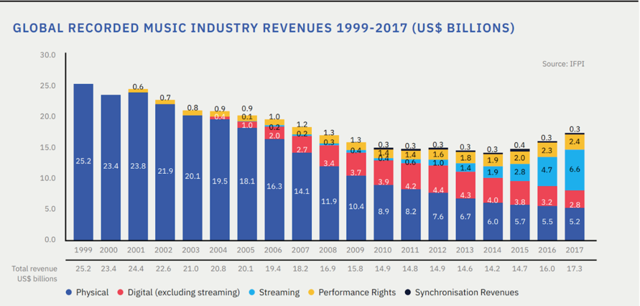 Source: IFPI
Since 2013, streaming revenue has grown at an average annualized rate of ~46% and we believe this trend will continue because of the relatively low penetration rate of the total addressable market. Spotify's leading market share, freemium business model and cross-platform operability gives it the upper hand over Apple Music to capture a significant portion of the streaming music market which is likely to grow by a CAGR of 20% through 2025.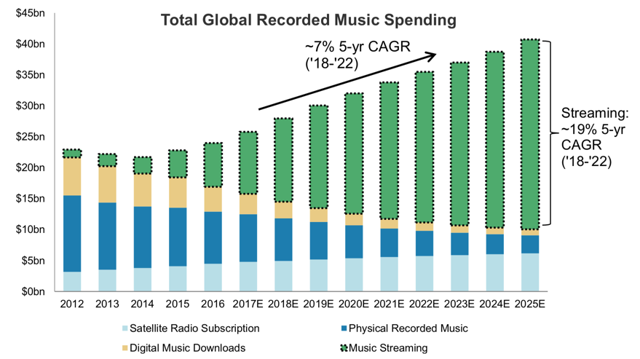 Source: Morgan Stanley
Vested interest of record label companies in the success of Spotify
Though much as been said and written about the battle between record labels and Spotify and eventual judgement day between the two in a Netflix-esque ending because of their push towards two-sided business model, we should not forget the vested interest of record label companies in preventing the demise if not outright success of Spotify.
It was Spotify and its CEO Daniel Ek who innovated and brought the streaming business model to the masses to sanitize the digital music industry which was then plagued with rampant piracy. Moreover, Spotify's existence gives them more leverage when negotiating licensing deals with other streaming platforms like Apple Music.
Spotify vs. competitors
In a space where the products are homogenous, how is Spotify different and moreover, superior to other streaming services? The number one thing that sets Spotify apart from its main competitor Apple Music, is that it offers a free, ad-supported tier. 99 million people listen to Spotify through its ad-supported free service. This allows Spotify to gain users that are hesitant to spend money for a music streaming service.
Spotify is available on almost every device that can play music. Users can stream Spotify to any audio or Bluetooth wire speaker, to an AirPlay speaker from an iOS device, or to a Chromecast speaker from an Android device. Spotify is available on Amazon Alexa speakers, Google smart speakers, and if a device is certified as Spotify Connect compatible, it means you can use the Spotify app as a remote to control playback. Spotify is also available across a wide range of other devices like Xbox and PlayStation. Apple Music is not supported on Amazon Alexa or Google Smart speakers and it cannot be used on game systems.
Technology investment will continue to be a priority for the company to differentiate from competitors. On the 3Q earnings call, CFO Barry McCarthy hammed the point home.
So, the third point I'd make is, for those who aren't familiar with the Company, it's an engineering-driven org, very product-focused, and so, the incremental investments are all about building features and functionality that make for a better user experience, and the point is to accelerate the growth of the business as a concept lens. It's a consequence of those product investments and it's a consequence of the investments we're making in geographic expansion.
Lastly, there is meaningful friction for existing users to leave the app. If users change music streaming services, they lose all their custom playlists and Spotify social network. Furthermore, if users are locked into family plans, an offer that Spotify is heavily promoting, it can be much harder for the users within the family plan to leave. This can be seen in their steadily decreasing churn rate, even as its user growth continues to outpace those of Apple Music and other rivals.
Special thanks to Tenzin Thinlley, Owen Chun and Nikhil Kumar for help with researching this report
Disclosure: I/we have no positions in any stocks mentioned, and no plans to initiate any positions within the next 72 hours.
I wrote this article myself, and it expresses my own opinions. I am not receiving compensation for it (other than from Seeking Alpha). I have no business relationship with any company whose stock is mentioned in this article.