Introduction
It is a pity that European stocks are not often discussed here on Seeking Alpha, but that creates opportunities to highlight some of the gems in fascinating industries. I firmly believe one of those is RPC Group (OTCPK:RPCGF) (OTCPK:RPCGY), a global player in plastics design and engineering. With numerous end markets, the company should be resilient in periods of economic cooling (trade wars are not principal risks, according to the company's risk report). In other words, RPC could act as a perfect fit for defensive value investors, though, it could also serve as a growth stock at a reasonable valuation.

(Source: Company website)
Today, shares are already trading at a reasonable 12.5x forward earnings and yielding an appealing 3.7%, but those figures are meaningless if one bears in my mind RPC's growth opportunities. Throughout this investment thesis, I'd like to take a closer look at why this company should deserve more credit, supported by five significant grounds.
1. RPC Is A Cash Machine, And More Dividend Growth Is Looming
Eye-catching graphs are potent weapons to support investment theses, and if you take a look at the next chart, you can easily conclude that RPC has carved out a niche corresponding with rock-solid revenue growth and an extensive client portfolio with the largest customer base, accounting for 3% of total revenues.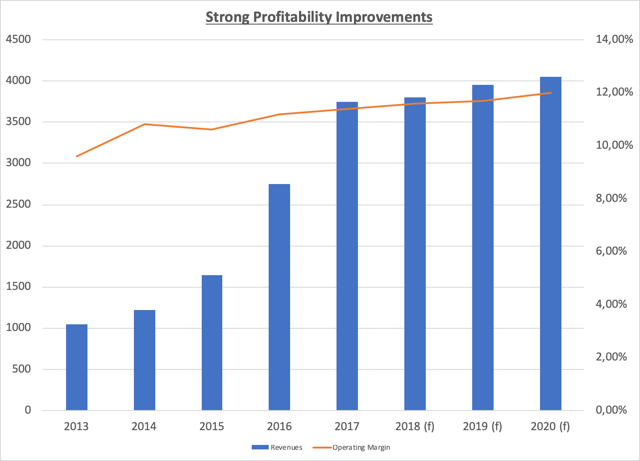 (Source: Author's work based on the company's financial figures)
Furthermore, thanks to accretive acquisitions, RPC was able to triple its net profit margins from 2.5% to 7.5% from 2015 to 2017. Its incorporated FCF result came in at £215M in 2017, excluding working capital changes, as can be seen in the graphics. In sharp contrast to 2016, RPC wasn't forced to issue new shares and massive amounts of new interest-bearing debt after acquisitions.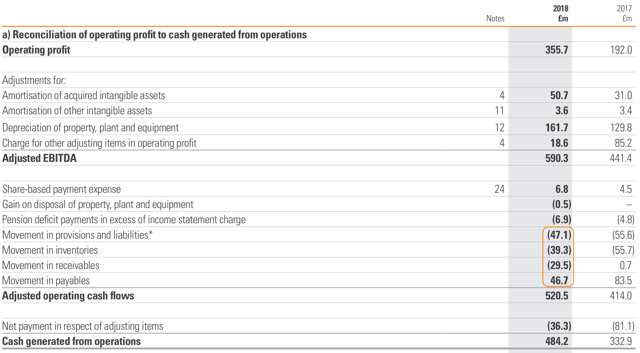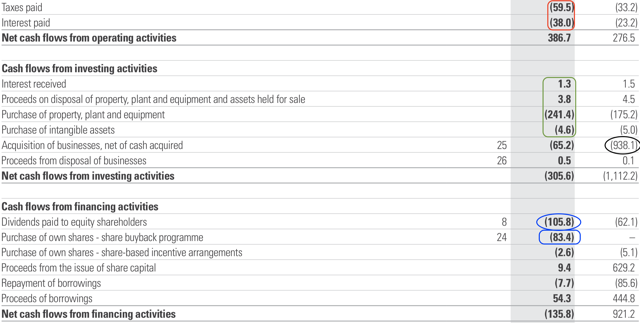 (Source: Company results)
Combined with today's market cap of £3.3B that works out to be an FCF yield of 6.8%, which doesn't seem to be tremendous. However, there's a simple explanation. As usual, acquisitions absorb lots of free cash flow, namely one-off integration costs and a weaker capital structure (given a higher indebtedness and climbing interest costs). In the case of RPC, acquisition costs and restructuring costs amounted to £3.9M and £11.2M respectively in 2017, while major integration program costs stood at £23.8M. Above all, more than half of the capital expenditure is used to be growth capex, which undoubtedly hid RPC's core free cash flow generation.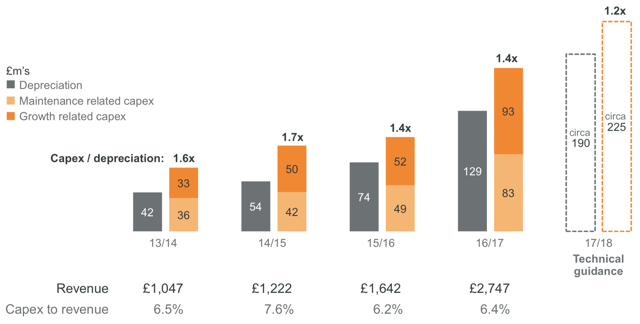 (Source: Company presentation)
So, operational strength can and will become even better once these one-off charges start to fade. In summary, an FCF result of over £360M in 2020 should remain in place barring additional acquisitions. Also, it seems its first-half results indicate that another round of record result is underway, as RPC reported organic growth of 3%.
I always care if a company plans to acquire too many peers, but so far, everything has been all roses with better product mixes, geographical presence, and a debt pile that is indeed manageable. As such, RPC's forward returns could be firing at two key cylinders going forward: lower integration costs supporting profitability, and moreover, a narrowing gap between dividends and EPS (elevated payout rate as debt reduction is gaining traction). By 2020, RPC's dividend yield should take the hurdle of 4.2% with high single-digit growth rates going forward.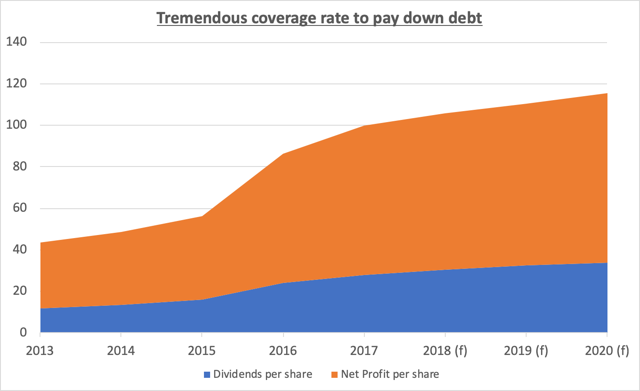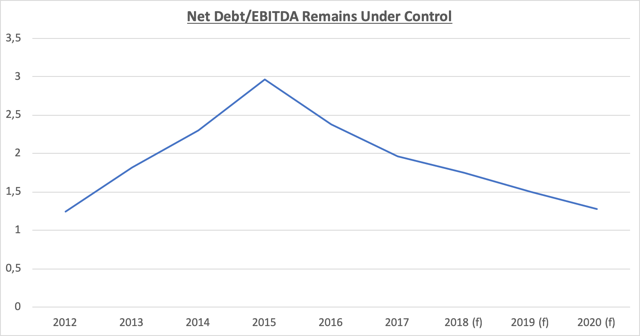 (Source: Author's work)
2. RPC: Eat Or Be Eaten, That's The Question!
As mentioned earlier, something that pleased me when reading through RPC's annual reports was its track record. However, there's even more. Instead of seeking accretive acquisition possibilities, RPC is standing in the center of attention with a market size that could instigate its most prominent competitors to take over other consolidators like RPC.

(Source: Investor presentation)
RPC would probably be the most complementary solution for packaging mastodons since its revenue breakdown has become more diversified with an intensified focus on sales outside Europe. The following key elements make RPC able to distinguish itself from its major peers.
Whereas in 2012, just 5% of total revenues were earned outside Europe, that figure is now standing at around 22%. During the past three years, RPC was able to grow at 3.2% on a like-for-like basis, far above the annual GDP appreciation rate of 2.0% (based on RPC's destination of sales). Driving forces were securing the supply in tight markets and accessing global polymer markets. It offers better product and geographical mixes through innovation and entering new markets. Lately, RPC has established a start-up in South America to improve its global presence.
The return on operational assets improved from 20.6% to 26.0% in 2012-2016.
The cash conversion rate (operating cash flow/EBIT) was stowed from 81% to 95% during 2012-2016.
A stringent cash flow has been used for acquisitions. RPC has been bargain hunting, and ironically, RPC isn't trading at sector multiples (7.2x EBITDA in comparison with multiples of more than 8.5x) despite its excellent financial track record.
RPC is both a hunter and prey, and based on its latest Capital Markets Day of 2017, the packaging market remains extremely consolidated, as just a few key players possess most of the global market share. With a manageable indebtedness rate and sustainable cash flow generation, RPC could easily spend £200 on acquisitions per year. In which was a quiet year for acquisitions, the board announced the approval of repurchasing shares for £100M, a program that has been completed.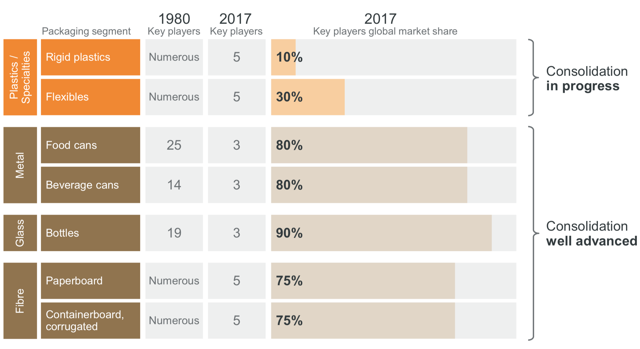 (Source: Company presentation)
3. A Lot Of Growth Potential Going Forward
Based on recent forecasts of both RPC's board and independent research institutions, the global packaging market is expected to grow at 3.7% during 2017-2022. Highest growth is supposed to be measured in Asia and Eastern Europe (5.0%), while Western Europe and North America will lag (2.1% and 2.0% respectively). Flexible plastics and rigid plastics are expected to grow by 4.0% and 3.4% respectively. Several important takeaways will allow RPC to increase its profitability and footprint.
The increasing importance of light-weighting, sustainability, the circular economy, demographics, and lifestyle and economic trends continue to favor plastic packaging. An aging population continues to drive the demand for healthcare devices while an increasing number of smaller single-person households in developed economies and raising income in emerging markets drive demand for packaging. A rising population is also fueling demand for this trend. RPC has responded to these economic and demographic trends through several acquisitions, e.g., ACE Corporation Holdings Limited (ACE), which was acquired in May 2014. ACE will enhance the company's footprint in the emerging markets. In addition to RPC's significantly increasing exposure to the technical components end-market, ACE will maximize its existing plastic packaging manufacturing plant in China.
Cost optimization is increasingly essential. Retailing is changing, as online sales and e-commerce are taking shares from traditional brick and mortar propositions. This shift requires packaging to be more robust for transportation and reusable for any returns. Products are sent in smaller, often individual, packages rather than in bulk packages to sales outlets. Online penetration also results in products' reaching a more international audience. Producers are, therefore, expecting packaging to be consistent across all geographies they serve, reducing regional differences.
Technical components cover many different product and market combinations, including temporary waste solutions, precision engineered parts, and rotomolded components for large vehicles. In the market for temporary waste solutions, key drivers include the need to enhance waste management to avoid litter and plastic leakage into the environment. The demand for integrated waste management solutions and broader waste solutions including underground bins and containers for hazardous materials. RPC has taken several steps to benefit from this growth trend through its acquisitions of ESE, ACE, and Strata Products.
4. Risks Are Limited
RPC Group is undoubtedly aware of the possible risks related to the nature of its business such as failing in integrating acquired companies, economic downturns, contaminated supply, and plastic waste. (Recent publicity has highlighted plastic waste impacting the environment as a significant problem. As a consequence, the UK government has announced its intention to introduce a tax on single-use plastics and plans to eliminate 'all unnecessary plastic waste' by 2042). RPC has proven to be capable of tackling these risks as far as possible through geographical diversification, a clear focus on acquiring quality labels, and a track record of successfully integrating acquired companies.
5. Undervaluation Of 44.2% Based On A Conservative FCF Model
After perusing RPC's financial results, I am convinced of the upside potential and attractive risk/reward that RPC shares provide today. As such, I consider a WACC of 6.5% is to be justifiable following the key factors that underpin RPC as being worth the money. In hindsight, investigating the company's financials bodes well to gain insights in RPC's real value. As such, FCF should be able to hit the £360M level based on maintenance capital expenditures.

(Source: Author's work)
After deducting the net debt rate, my conservative fair value works out to be 1,188 pence, resulting in 44.2% upside potential, which is far above my required 30%.
Conclusion
RPC shares are undervalued by almost 44% and are expected to offer investors appealing returns going forward. Its important end markets are growing decently, faster than GDP. After making several acquisitions, free cash flows will get a boost, leading to higher free cash yields. On top of that, RPC is a prey for bigger packaging companies. The debt pile isn't an issue and is going to be paid down.
Disclosure: I/we have no positions in any stocks mentioned, and no plans to initiate any positions within the next 72 hours.
I wrote this article myself, and it expresses my own opinions. I am not receiving compensation for it (other than from Seeking Alpha). I have no business relationship with any company whose stock is mentioned in this article.