Editor's note: Seeking Alpha is proud to welcome Himalayas Research as a new contributor. It's easy to become a Seeking Alpha contributor and earn money for your best investment ideas. Active contributors also get free access to the SA PRO archive. Click here to find out more »
I've always liked Wynn Resorts (WYNN) for their phenomenal VIP product and was a big bull on Macau gaming since 2016. Right now, despite the massive sell-off this year, I'd actually recommend having a reduced position in WYNN and/or holding off further purchases until there is improvement on China macroeconomic trends. Why?
First, Wynn Resorts announced its earnings on November 7 after hours. Despite the headline beat on revenue and EBITDA, Macau's segment beat of about US$40m is reduced to about US$20m if we normalize luck/hold (though about US$11m came from insurance claims from last year's typhoon), and Vegas missed by about US$20m. Overall, the beat isn't as big as it seems.
But second, and most importantly, the problem was the management's low-ball guidance for Q4, which leaves me scratching my head as to whether the trends are that bad. In the next few sections, I will provide a company overview, share price performance and current valuations, and this year's gross gaming revenue trends thus far (and my estimates). In the last section I will model Wynn's guidance into earnings next year.
Company Overview
Wynn Macau (OTCPK:WYNMF) (1128 HK) is a company principally engaged in the development, owning and operation of destination casino gaming and entertainment resort facilities. The company operates through two business segments: Wynn Macau (Peninsula) and Wynn Palace (Cotai). Wynn Macau as a whole generates close to 80% of net revenues for its parent company, WYNN. Naturally, the market is very focused on its Macau operations when pricing WYNN.
Share Price Performance and Valuation With Peers
No doubt, Wynn shares are down a lot compared to the S&P 500 in a one-year time frame. It valuations are near sector averages but the sector generally is trading down 30%-40% year to date. So Wynn shares are really cheap historically particularly given that we're still at peak EBITDA. I want to say it's trading attractively if we look at the long-term (5 years plus), but in the short term it could go much lower as cyclical stocks tend to under perform during down cycles. It does look like we are in a down cycle, but it's hard to tell if we're at a bottom yet. China macro really matters.
Figure 1. Wynn Resorts 1 year return
Figure 2. Wynn Macau 1 year return
Figure 3. Wynn Resorts Historical EV/EBITDA
Table 1. Valuation with peers
Macau Gaming Valuations
HKD Bn
EV/EBITDA (x)
Est. EBITDA
Ticker
Name
Mkt Cap
2018
2019
2020
2019
2020
27 HK Equity
GALAXY ENTERTAINMENT GROUP L
193
11.7
11.0
9.9
17.6
19.6
1928 HK Equity
SANDS CHINA LTD
264
12.7
11.8
10.8
25.0
27.3
1128 HK Equity
WYNN MACAU LTD
88
11.0
10.3
9.5
11.0
11.9
MLCO US Equity
MELCO RESORTS & ENTERT-ADR
69
6.2
6.9
6.2
12.5
14.0
2282 HK Equity
MGM CHINA HOLDINGS LTD
47
12.4
9.6
8.5
6.2
7.0
880 HK Equity
SJM HOLDINGS LTD
38
8.3
7.5
5.3
4.2
6.0
Median
78
11.3
9.9
9.0
11.7
13.0
Source: Reuters estimates, Himalayas Research
Flattening Gross Gaming Revenue Trends
While Macau is still growing year on year, the trend is clearly softening as comparisons get harder and harder. With slowdown in Chinese consumption and China GDP a known fact, it's difficult to see a huge rebound in the next few quarters. Prior to Wynn's Q4 guidance (and on the back of encouraging comments from rival Galaxy Entertainment's earnings call late October), I revised my GGR estimates for November to December to be about 5% growth over 2017 - i.e., 12.5% YoY for the full calendar year. I'm not changing my estimates yet until I see further clarity from channel checks and sell side commentary this month.
Figure 4. Macau Monthly GGR Trends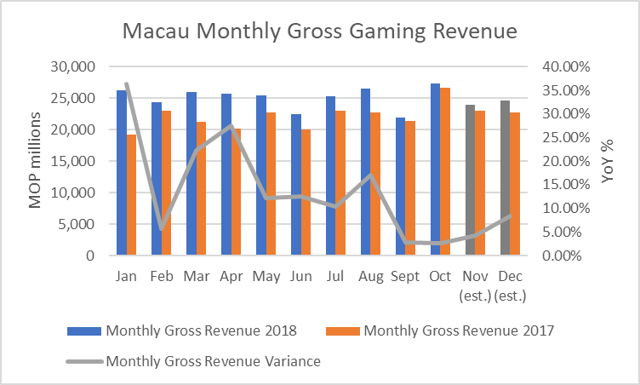 Source: DICJ Macau, Himalayas Research estimates
Chinese macro trends and indicators also are in a downtrend. These add to the bearish backdrop.
Figure 5. China GDP Annual Growth Rate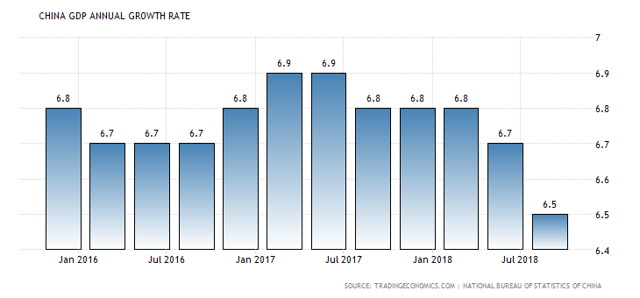 Figure 6. China GDP Quarterly Growth Rate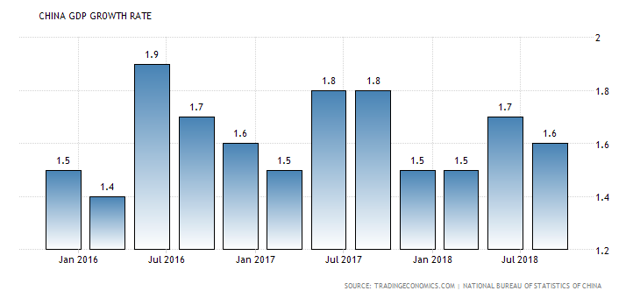 Figure 7. China Caixin Manufacturing PMI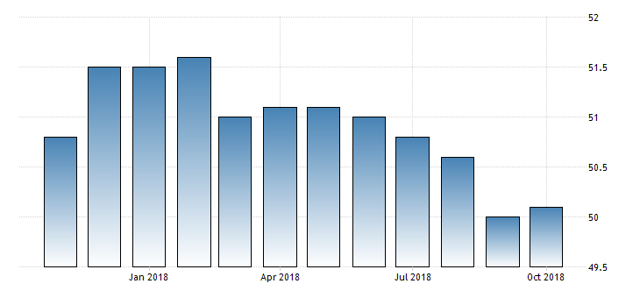 Figure 8. China Producer Price Index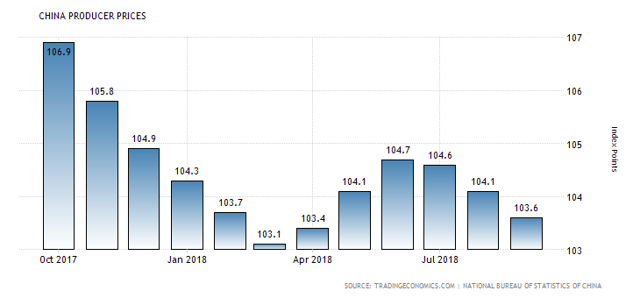 Very Weak Guidance From Wynn Management
Wynn guided US$3.3-3.7m/day for Q4 2018 (vs. US$4.4m/day in Q3 2018). Wow. If I extrapolate this with the midpoint for the quarter, it's roughly HK$2.5bn EBITDA. That's down 20% quarter on quarter! They also said it's inclusive of the strong Golden Week this October.
On the call, Wynn said it's because they are seeing a contraction from VIP and premium mass in Macau with poor midweek traffic and more sporadic weekend traffic. They also mentioned a few times that they're seeing their market share maintain in the 15%-17% range, so (to them at least) they are hinting at the overall pie in Macau shrinking.
But let's put this into perspective. I will model two cases: 1) Using their guidance and keeping their market share constant, I'll imply forward GGR; and 2) keeping a more reasonable GGR, imply their market share loss.
Case 1:
| | |
| --- | --- |
| GUIDANCE: Wynn Macau's Adj EBITDA 2018Q4 | HK$2.5bn |
| Adj EBITDA margin of GGR | 25% |
| Market share | 17% |
| Implied Q4 Macau GGR (Whole market) | HK$59.1bn |
| Minus: Oct (Actual) | HK$27.3bn |
| = Nov-Dec (Implied) | HK$31.8bn |
| Average Daily Rate (Nov-Dec) | HK$520m |
| YoY% (Implied) | -31% |
| | |
| Nov-Dec 2017 (Actual) | HK$45.7bn |
| Average Daily Rate (Nov-Dec 2017) | HK$750m |
This is a whopping -31% yearly growth on the top line!
Case 2:
| | |
| --- | --- |
| GUIDANCE: Wynn Macau's Adj EBITDA 2018Q4 | HK$2.5bn |
| Adj EBITDA margin of GGR | 25% |
| Est. Q4 Macau GGR (Whole market) | HK$76bn |
| Est. Q4 Macau GGR (Average Daily Rate) | HK$826m |
| Implied Market Share | 13.5% |
To be honest, it's possible that the estimated GGR is too high or maybe Wynn did experience some market share loss. Or it's probably a bit of both. I just find it difficult to imagine such a big slowdown.
In addition, after hearing Melco Resorts & Entertainment (MLCO) Q3 earnings call, I'm leaning slightly more to the fact that WYNN might have lost some market share because MLCO's management commented that despite softening VIP play, they don't share the same level of cautiousness that WYNN management has guided. For more details, please review Wynn's Q3 earnings transcript.
Implications
We can't ignore this guidance. Given where Wynn Macau (1128 HK Equity) is trading in Hong Kong right now (~HK$17; -10%), I think the market is taking the guidance at face value. HK$2.5bn per quarter is HK$10bn annualized, and for the sake of simplicity and ignore quarter-to-quarter seasonality, HK$10bn for 2019FY is about 10% off from Reuters consensus estimate of HK$11bn (prior to earnings release). This implies no multiple change.
A de-rating is possible. If EBITDA actually slows down or turns negative in 2019, there's little chance market can continue to value WYNN at 10x EBITDA. I'd suggest it could trade at 5x EV/EBITDA, meaning another 50% downside from these levels. That would put WYNN trading in the $50s.
Risks
Wynn Resorts derive close to 80% of its revenues from Wynn Macau, which is based solely in Macau. Despite strong visitation trends to Macau, it is generally not correlated to gross gaming revenue (GGR) and we should take caution inferring strong earnings from strong tourist data. GGR is driven mostly by consumption trends and habits, as well as wealth levels of the players (with a significant majority coming from China). Below is a quote from GGRAsia:
Investment analysts however have noted in previous commentary on Macau that there need not be a direct correlation between numbers of tourists to Macau and gaming spend in casinos. This is because research indicates that high-stakes play by a relatively small number of visitors is still an important component of the market.
Therefore, stock performance is likely very correlated to the expectations of the underlying economic trends in China.
Conclusion
Since the guidance is so low and because it's a bit of departure from comments of other operators, I'm not too sure if we can truly accept those forward EBITDA figures from Wynn. Yet I don't want to downplay the risks to a broader slowdown in gaming.
There's another recent article on the leverage issue with Wynn. My comment here is that the EBITDA metric is arguably what institutions care most about. Since enterprise value includes market cap of both the equity and debt, the multiple goes up if the EBITDA is low, making the company unattractively rich in valuations. Other than that, debt in any company, increases stock performance if earnings are good and vice versa. Wynn's VIP product is really premium and I'm confident if the macro conditions are right, they are in for a very strong recovery.
But because Macau is the biggest driver of Wynn earnings, I would probably recommend holding out for further data on Macau Gross Gaming Revenue data or additional commentary by brokers or management throughout the quarter.
Disclaimer: All research, figures and interpretation are provided on a best effort basis only and may be subject to error. Any view, opinion or analysis do not constitute as investment or trading advice, please do your own due diligence.
Disclosure: I/we have no positions in any stocks mentioned, and no plans to initiate any positions within the next 72 hours.
I wrote this article myself, and it expresses my own opinions. I am not receiving compensation for it (other than from Seeking Alpha). I have no business relationship with any company whose stock is mentioned in this article.
Editor's Note: This article discusses one or more securities that do not trade on a major U.S. exchange. Please be aware of the risks associated with these stocks.