Introduction
Some four months ago, I wrote several articles (here and here) outlining the bearish case for Intelsat (NYSE:I). If you are new to the stock, I'd recommend going back and having a look at these articles, as well as the two articles by Kerrisdale (here and here), so you can get a sense of the issues that are driving the stock. I'll assume that you understand these issues in this article, but for those short of time, in a nutshell, Intelsat and SES stand to reap billions of dollars in windfall profits if the FCC adopts the CBA (satellite consortium) proposal to clear C-Band spectrum. The question is, will the FCC adopt it?
I have remained quiet on this issue since the NPRM, as post its release, there has been much hype, but no real information of importance. However, last week was the end of the comments period for that NPRM, and on the last day, 62 different parties filed submissions to the FCC, comprising more than 1051 pages. I have read every single page, and I now feel that there is a lot of news worth discussing.
First, some statistics to get a quick look at who supports the CBA proposal and who doesn't.
Figure 1: Support for the CBA Proposal by Industry Type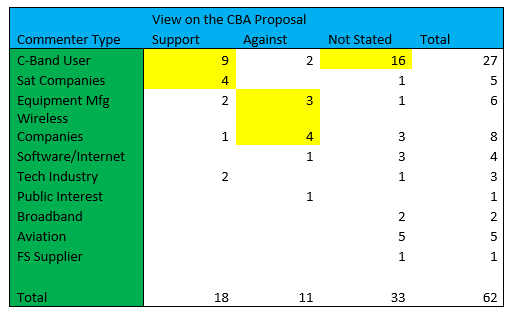 Source: Me Data: FCC Comments
You can see here that nearly all the support for the CBA proposal comes from the satellite companies themselves and C-Band Users. Beyond that, there isn't a huge base of support. It makes perfect sense for the C-Band users to support the proposal because they don't want any spectrum reallocation to occur and just want to be left alone. The CBA proposal offers the least painful outcome for them. Given that the most surprising thing is that most C-Band users didn't support the CBA proposal and 2 were actually against it. The Against responders were spread fairly evenly with the majority of wireless firms and equipment manufactures preferring another method.
Now, let's look at who the major companies were on each side of the fence. I've ordered these from most important to least important.
Figure 2: Major Companies with a View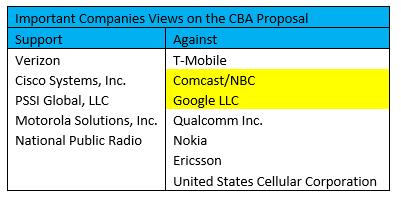 Source: Me Data: FCC Comments
Here, you can see that the Against side has more big name support. The most surprising aspect of this table is that one of the FANG members which dominate the global technology scene (Google (NASDAQ:GOOG) (NASDAQ:GOOGL)) has taken such a strong stance against the CBA proposal. And even more surprising is that Comcast (Comcast)/NBC came out so negatively against the CBA, given they are one of their biggest customers. This seems a very brave stance to take.
What follows next is a somewhat lengthy but highly organized collection of comments from the FCC's NPRM proceeding. It is highly informative to read through all these comments to give you a good sense of the problems that the CBA proposal is facing and the magnitude of resistance against their proposal. The flavour of the comments also provides a good feel for the depth of concern from the companies raising these issues. But if you are in a hurry, just skip way down to the Analysis section, where I provide you my take on what all these comments mean.
I'll begin by focusing on the comments of the 3 main wireless carriers as they will be the primary users of the cleared spectrum. If the US economy is to benefit from 5G, it will be via these companies. So, their views should be of utmost importance to the FCC.
Wireless Carriers
AT&T (NYSE:T) is very neutral on the CBA proposal. Being a large customer of the satellite companies, perhaps they have to be a bit careful about what they say. They begin (p.4) by saying "the Commission and all interested parties should pay significant attention" to the CBA proposal. But then they say, "the ability to capitalize on a potential reallocation may depend on maximizing the market potential of the spectrum for 5G services", more less inferring that the CBA proposal doesn't do this. Later (p.5-6), we find out why the CBA proposal falls short when they cite several comments promoting the need for "100MHz (or more) of spectrum per operator".
On page 16, they reiterate what has just been said, stating that the CBA's proposal "warrants serious consideration". But in the next sentence say, "it remains unclear whether CBA's spectrum reallocation proffer is the efficient amount of spectrum to be reallocated".
Next, they go on to discuss the procedure for bandwidth reallocation and the need for any process to be fair and open. On this matter, they somewhat undermine the CBA proposal (p.17) by saying, "The FCC has years of experience developing auction processes and procedures that efficiently price spectrum, mechanisms that are generally well-known and understood by spectrum licensees and would-be licensees. Even if the spectrum is distributed by a private entity rather than the FCC, the FCC's cumulative auction learning should be leveraged to the degree feasible." This is in sharp contrast to the hands-off approach the CBA proposal requires the FCC to take.
AT&T concludes with the extremely neutral statement, "AT&T urges the FCC to carefully examine all options, including CBA's proposal". So, there is definitely no big tick of approval here from AT&T and a carefully reading of their statements indicates they may even be subtly trying to say they are against the CBA proposal.
Verizon (NYSE:VZ) is very positive about the CBA proposal coming right out on the first paragraph saying, "A market-based mechanism, with Commission oversight, is the most reasonable path to do so", and shortly after (p.ii) "A Market-Based Mechanism with a Transition Facilitator is the Right Approach."
But after that, things start to get less clear. They state (p.6) that, "the market-based mechanism is well situated to repurpose a significant swath of spectrum quickly, to be followed by more tranches of additional 3.7-4.2 GHz spectrum." They get even more confusing on page 9, stating, "the Commission should require an Initial Minimum Spectrum Benchmark greater than the C-Band Alliance's recent proposal of 200MHz." This doesn't sound very much like the CBA proposal they claim to be in support of.
Verizon doesn't stop there in attempting to rewrite the CBA proposal. They not only want a lot more spectrum than CBA has offered, they also want it faster than the CBA has proposed. They state (p.9) that the commission should allow "a maximum of 12-20 months for clearing the band". And if the CBA's plan is not submitted on time, or runs into delays, "the Commission should impose a more traditional 'clear and auction' approach."
Thus, Verizon is at first glance, highly in favour of the CBA proposal, but what they are actually contemplating is something radically different from what the CBA has put forth. So, at best, the CBA proposal will have to be completely rewritten. At worst, it's back to the clear and auction approach.
T-Mobile (NASDAQ:TMUS) completely cans the CBA proposal, saying in the first paragraph, "Wireless companies today measure broadband spectrum in gigahertz, not megahertz, and wireless spectrum auctions have contributed more than $100 billion in auction revenue to the United States Treasury. The satellite operators' proposal, by contrast, caps spectrum for broadband at 180 megahertz and directs all spectrum revenue to satellite investors and none to taxpayers."
So, not only is the CBA spectrum offer grossly inadequate, they have raised the previously unspoken issue of windfall gains being captured at the expense of US taxpayers.
They then go on (p.2) to outline their own preference stating, "T-Mobile proposes a Commission-administered, market-based auction mechanism", and recommend that a minimum of 300MHz be cleared.
Their original points are reiterated again on page 3 where they state, "the C-Band Alliance has only committed to making 180 megahertz of the 3.7-4.2 GHz band available for mobile broadband, which is less than what is required to meet the critical wireless broadband needs for mid-band spectrum." And "Under the satellite operators' proposal, they would retain all proceeds from the sale of spectrum and U.S. taxpayers would get nothing – an outcome directly contrary to the Communications Act's structure for making the public's spectrum available." So, here they are questioning the very legality of letting the CBA realize windfall gains.
Further in the document, they raise additional concerns. On page 10, they state that the CBA proposal would only "purportedly use market forces" and (p.13) "does not represent a transparent or market-based outcome". Following up with (p.17) "the private sale that the satellite operators contemplate is not likely to generate true market-based results", and "satellite licensees together would have a monopoly and would be negotiating as a single entity, they would likely demand higher prices than a truly competitive market would support, which would make less than the socially optimal amount of spectrum available for terrestrial use."
In short, there is almost nothing T-Mobile likes about the CBA proposal. It doesn't free up nearly enough spectrum, it leaves the taxpayers empty handed, is likely illegal, it is market based in name only, lacks transparency, and creates a monopoly seller which will result in less than socially optimum results.
To sum up the three most important views in the debate, one hates the CBA proposal, one wants to rewrite it, and one says, well maybe. This is far from the ringing endorsement that the CBA was hoping for, and their proposal definitely looks to be in trouble.
Next, I'll look at specific issues that arose in the comments which are important enough to potentially swing the FCCs decision. I'll divide these issues into those that favour the CBA proposal and those that are against it.
Specific Issues – In favour of the CBA Proposal
Speed of clearing
This is the number one mentioned issue by anyone in favour of the CBA proposal and even many against it. Most commenters feel that the CBA proposal will get the job done faster.
Verizon (p.5) claims, "the secondary market-based approach likely will clear the band and assign spectrum rights more quickly than other mechanisms, such as an FCC-led auction."
Nokia (NYSE:NOK) (p.2) adds, "Nokia submits that the major benefit of a private sale proposal is the potential for a speedy transfer of spectrum when compared to the length of time, and regulatory steps likely required to execute a Commission-led public sale."
Cisco (NASDAQ:CSCO) strongly supports the CBA proposal, stating so in their first sentence. Their primary reason for this is also speed, stating (p.1) "Voluntary spectrum transitions are much less susceptible to policy and legal friction that will slow the transition of the band compared to directed transitions."
Telecommunications Industry Association states (p.1) "TIA is generally supportive of market-based mechanisms". And further noting, (p.4) that, "that opening spectrum more rapidly would significantly benefit the public interest".
Flexibility
This is another issue that is occasionally mentioned as a strength of the CBA proposal.
Verizon (p.ii) voices, "bilateral negotiations between the Transition Facilitator and prospective flexible use licensees will provide a degree of flexibility that will help address a complicated transition like this one involving thousands of entities with independent interests."
Knowledge
This is the third reason that has been put forth in favour of the CBA proposal.
Verizon (p.ii) remarks, "Satellite operators are best positioned to protect or accommodate those earth stations interests, given their knowledge and expertise regarding C-band capacity, operations, and use".
That is the list of advantages of the CBA proposal. It's a short list, and I didn't purposely make it that way. Numerous commenters say, speed is virtually the only thing this proposal has going for it, and it shows because you need a magnifying glass to find supporters of the proposal saying other positive things about it.
Now, we get into negatives or the issues against the CBA proposal. This is a very long and diverse list. I haven't come close to including all companies or quotes for each issue. This is just a sample of the best.
Specific Issues – Against the CBA Proposal
Amount of Spectrum
Aside from the current users of C-Band who don't want any loss of spectrum, there is near universal disapproval of the amount of spectrum being offered by the CBA. Above, we saw that AT&T wants at least 100MHz per operator, Verizon wants more than the 200MHz offered right now, and then a plan to clear greater amounts in the future. T-Mobile wants a minimum of 300MHz but hopefully, the whole 500MHz.
Qualcomm (NASDAQ:QCOM) states multiple times (p.2,3,5) they want all 500MHz of spectrum to be cleared. They are against the CBA proposal as it does not come close to meeting this threshold, saying (p.5) "The FCC should explore all options to fully clear the band of satellite incumbents before resorting to options that will lead to the repurposing of less than 500 MHz."
Ericsson wants as much of the spectrum as possible, preferable all of it. They are against the CBA proposal as it does not deliver on this need, declaring (p.10), "Ericsson does not favour a transition in which the majority of spectrum remains designated for satellite use; we would like to see the vast majority if not all of the 3.7-4.2 GHz band repurposed for licensed mobile broadband use."
Nokia is against the current plan as it stands because the need for the satellite companies to retain 300MHz has not been justified, and lacks concrete plans for future reallocations. Nokia asserts (p.7), "we continue to be underwhelmed by the amount of spectrum that would be made available in the near term, and by the lack of transparency regarding a future path to additional spectrum." And "The public interest demands that the Commission require a plan and path forward for clearing additional spectrum in the band over and above the recently proposed 200 MHz." "Without a commitment to clear more than 200 MHz, the Commission should also consider utilizing an alternative reallocation mechanism"
Microsoft (NASDAQ:MSFT) has no preference for the spectrum clearing mechanism (p.11) but calls for 400MHz of spectrum to be made available in the first sentence of their comment.
Speed
While speed is an important factor, many commentators note that the amount of spectrum offered is even more important.
AT&T discloses (p.16) "and perhaps most importantly, the spectrum sale should encompass as much spectrum as is feasible".
Google (p.11) reports, "The fastest path to reallocating spectrum may not be the best path, if speed comes at a significant cost to spectrum availability, future competition, and the federal budget."
Nokia (p.2) adds, "However, speed is just one of many factors to consider, and a public auction or other approach may be the better choice if the C-Band Alliance fails to bolster the record on its commitments and rationale to justify the C-Band Alliance proposal".
And again on page 8, "However, speed must be balanced against other public interest factors that could favour a public auction or other process. Paramount among these factors is the amount of spectrum cleared for terrestrial 5G."
Google questions whether a transition facilitator is really any faster citing the historical failure of transition administrators. They advise (p.12-13) "Furthermore, reliance on private parties to oversee the process of transitioning spectrum resources is inherently risky. The Commission is painfully familiar with the 800 MHz rebanding effort. There, 'Sprint, as the largest commercial spectrum holder in the [800 MHz] band, agreed to undertake' the role of Transition Administrator so that 'interference problems that had enmeshed 800 MHz incumbents in increasingly ineffective ad hoc solutions, could be resolved on a more long term basis.' The 800 MHz rebanding commenced on June 27, 2005, with a planned duration of 36 months. More than a dozen years later, the effort is still ongoing"
"In the same way, a significant likelihood exists that unforeseen delays would slow the process of clearing C-band spectrum through a Transition Facilitator approach. By contrast, the FCC's extensive experience with spectrum auctions and reallocations would reduce the risk of an FCC managed transition."
Dynamic Spectrum Alliance which is basically a who's who of leading tech companies including Amazon, Facebook, Google, Microsoft etc. says, "delegation to a private administrator does not assure faster deployment than assignment through an auction". "A process that shuts out potential participants, reduces government revenue to zero, and creates incentives to maximize profits for a subset of companies while minimizing payment to remaining FSS licensees, invites lengthy litigation. The Commission learned this lesson in the pre-auction era, when license assignments were often stuck in legal challenges for years, leading it to adopt the transparency and certainty of auctions."
US Cellular Corp. (NYSE:USM) points out that the market based method isn't really that fast, stating (p.12) "the primary, and perhaps only public interest benefit alleged by proponents of a secondary market reallocation mechanism is that this approach may allow terrestrial mobile operations in the band more quickly than an auction-based mechanism. But these proponents have merely stated that the spectrum could be cleared within three years of a final Commission order in this proceeding."
Then they go on to question whether that three years is actually achievable, remarking "this claim largely is speculative given the untested, and likely extremely complex, nature of this approach and the large number of parties that would need to voluntarily make binding commitments and take specific actions within rather tight timeframes. In contrast, the industry and the Commission have extensive experience with spectrum auctions, and thus, can reliably predict how quickly some or all of the 3.7-4.2 GHz band could be cleared through an auction process involving concrete and readily enforceable deadlines that are not largely established and policed by those responsible for the actual clearing of the spectrum."
Finally, they add that speed isn't worth the risk, explaining, "even if the proponents' claim is accurate, USCC does not believe that clearing a portion of the band more quickly justifies risking the various public interest harms associated with a secondary market reallocation mechanism."
Use of a Transition Facilitator is a Flawed Method
Aside from the multiple worries that AT&T and T-Mobile had about using a transition facilitator, numerous other firms have raised concerns.
Google cautions against the CBA proposal with (p.2) "Relying on a private Transition Facilitator to clear C-band spectrum for mobile uses raises concerns". "Incumbent FSS operators and mobile carriers have incentives that may be inconsistent with the public interest in maximizing the availability of spectrum for terrestrial use."
Comcast calls the CBA proposal (p.3), "an undefined, untested 'market-based' reallocation scheme" and warns (p.23), "Even if this approach may appear to have certain advantages, it remains fraught with unanswered technical, legal, policy, and cost reimbursement questions."
They mock the idea that the CBA proposal is in any way market based or that they can be trusted in regards to compensation, declaring (p.3), "The Commission cannot simply punt all of the questions to incumbent satellite operators and their 'market-based' reallocation 'commitments.'"
Additionally, they (p12) point out that while the repurposing of the spectrum is voluntary for the satellite companies, it is mandatory for their customers!
Competitive Carriers Association, a group of more than 100 wireless carriers, makes the very important point (p.7-8), "the market-based proposal is unprecedented; incumbent satellite providers effectively are proposing a mechanism in which they would play a central role in allocating terrestrial rights that they do not currently possess."
An in regards to running auctions adds, "the Commission has an admirable track record on those issues based on in its recent auctions, private entities do not have the same experience."
Dynamic Spectrum Alliance maintains (p.4), "the Commission should not delegate assignment of new flexible-use licenses to a private administrator that would oversee a set of opaque individual transactions."
And on page 18 adds, "without Commission involvement and oversight, there would always be a temptation by negotiation participants to collude, enter into side agreements, or engage in other behavior to maximize individual financial gain or minimize potential competition, rather than advancing the public interest."
US Cellular Corp. reports (p.8) "proposals by incumbents to have FSS licensees sell some of their spectrum rights to terrestrial operators on the secondary market seems highly unlikely to achieve the public interest goals of putting enough mid-band spectrum into the hands of enough players to maximize the deployment of robust 5G networks due to a number of significant flaws in this approach."
They make an important new argument against the transition facilitator model on page 9, advising, "Another primary concern of all but the largest wireless providers is the real possibility that they would be shut out of an incumbent-driven private sale mechanism. The incumbent FSS licensees simply could decide that it would be administratively easier, or that the negotiation process would be quicker, if they were to deal with, and divide any reallocated spectrum between, only a couple of large buyers"
Public Interest Spectrum Coalition adds another critical new argument into the equation explaining (p.4), "Moreover, a private sale would set a dangerous precedent, suggesting that incumbent licensees should always wage maximum resistance against giving up or sharing unused spectrum unless the Commission agrees to give them all the public revenue that until now has always, with few exceptions, flowed back to the public, as Section 309(j) clearly intends." And (p.32) claiming that such a precedent will "deter band sharing in particular . . . even in the most remote and rural areas . . . spectrum that they fear they won't be able to monetize later".
Other Methods of Clearing Spectrum are Superior
It was explained above that T-Mobile wants to use an FCC run incentive auction method. Other companies have piped in with their own proposals.
Google (p.10) also supports an FCC auction, declaring, "an auction mechanism will promote the most efficient flexible use of the 3.7–4.2 GHz band in furtherance of the public interest". And "One option - a Commission administered auction mechanism - stands out for its history of success."
Nokia does as well, replying (p.8), "Ultimately, the Commission may conclude that a public, Commission administered process is the best way to ensure the public interest is served, taking into account multiple public interest factors."
Ericsson suggests sidestepping the satellite consortium altogether and having the FCC negotiate directly with the earth station operators, stating (p. 15) "Ericsson believes there may be opportunities for the Commission to facilitate an arrangement where incentives are offered to the earth station operators en bloc to transition operations away from or out of the mid-band spectrum."
Comcast seems to be accepting of any other method as long as it's not the CBA proposal. They (p.29) expound "The 'our way or the highway' approach ignores the fact that the Commission has a great deal of experience in addressing similarly complex issues, while balancing the interests of all parties – most importantly, the interests of the American public. The Alliance's suggestion that the Commission is incapable of fully addressing the issues it raises to protect incumbent operations and promote the public interest ignores the fact that Congress has entrusted spectrum allocations to the Commission."
"The reality is that this 'market-based' proposal is a wholly novel, untested, and as-yet undeveloped approach to spectrum reallocation, whereas the Commission has decades of experience crafting innovative mechanisms to make complicated undertakings work for the American public."
Competitive Carriers Association (p.7) claims, "an auction mechanism could be appropriately structured to maximize mid-band spectrum and provide the most pro-competitive approach to freeing up the band."
Dynamic Spectrum Alliance states (p.15), "New flexible-use licenses should be assigned through an auction instead of a private administrator." "Regulators around the world have learned from the Commission's successes that spectrum auctions are the best method of assigning spectrum rights when spectrum sharing is not possible."
US Cellular Corp voices (p.1), "USCC urges the Commission to utilize an incentive auction-based reallocation mechanism for this spectrum in order to maximize the amount spectrum repurposed for mobile broadband services and to ensure that all interested parties have an opportunity to compete for, and acquire, new flexible use licenses for this spectrum."
And (p.9-10), "the reality is that sales of significant spectrum rights on the secondary market invariably have been between a large seller and one or a small number of large buyers." "In contrast, auctions allow for, and attract, broad participation, with each bidder being provided a reasonable opportunity to compete pursuant to a set of pre-defined rules and procedures."
Public Interest Spectrum Coalition prefers yet another method, responding (p.27), "PISC believes that a reverse auction of transponder capacity, under the Commission's incentive auction authority, would be feasible and preferable to abdicating the public's interest in a substantial portion of the value of this public resource."
Prevention of Windfall Gains
I raised this issue back in June, and I believe I was the first person to do so. But now, many companies are attacking the CBA on this issue and bringing it out into the public.
T-Mobile (p.12) articulates, "The satellite operators' proposal also cuts taxpayers out of the equation. While satellite operators secured their spectrum at no cost, they will likely realize enormous returns from the sale of their spectrum."
Google (p.11) expounds, "Unlike a Commission auction, moreover, revenues generated from private industry negotiations will not return funds to the U.S. Treasury."
Dynamic Spectrum Alliance (p.16-17) notes, "eschewing an auction for a private administrator would result in a loss of auction revenue for the U.S. Treasury." Such a proposal is "not aligned with the public interest" and would "preferentially direct those billions of dollars to a small number of FSS operators and their shareholders".
Alaska Communications (NASDAQ:ALSK), which actually support the CBA proposal, nevertheless finish their submission (p.21) expressing that any windfall gains should be "appropriately allocated" and the US Treasury should be one of the beneficiaries.
Public Interest Spectrum Coalition interjects (p.3), "PISC believes the 'market-based approach' described in the NPRM is severely flawed. A private auction or negotiated sale controlled by a few incumbent and foreign-based companies, and with no return of the anticipated proceeds of $10 to $30 billion or more to the Treasury, amounts to a massive and needless giveaway of public assets." "The fact that four satellite operators are lucky enough to be the only cars parked in a half-empty public lot does not mean that they should receive a massive giveaway that needlessly denies the public any return on the spectrum."
Adding to their arguments they tell us (p.27), "Since adopting section 309(j), congress has twice passed legislation reiterating its intent to avoid the massive giveaway this NPRM contemplates".
Windfall Incentives Distort the Process
This is an interesting new angle. What is being argued here is that the CBA is being so blinded by the potential to receive billions of dollars of windfall gains that they will be unable to act as a transition facilitator in any sort of fair and unbiased manner.
Comcast (p.26) notes, "satellite operators stand poised to reap a substantial windfall, and their incentives will be far from aligned with the interests of downstream earth station operators and the consumers they serve when it comes to compensation for transition costs incurred." "Each dollar spent on protecting incumbent downstream users of the band is a dollar less received by the satellite operators in profit, thus creating incentives to cut corners."
"Comcast respectfully submits that the fox may not be the most appropriate guard for the henhouse" (p.iii).
American Cable Association (p.10-11) points out, "Intelsat's and SES's market value has been boosted several times over by the prospect that they will monetize some of their licensed spectrum. As a consequence, it is only to be expected that these two satellite licensees, who would in ordinary circumstances be the vanguard in the effort to prevent any invasion of the band, and to fully protect against all problems that might arise from such an incursion, have a strong economic interest in monetizing the spectrum for which they have satellite licenses."
Foreign Companies to be in Control and to Benefit
This is another extremely sensitive issue that I raised back in June. Now there are some very important firms drawing attention to this concern.
Comcast remarks (p.24), "It is inappropriate for one class consisting of four incumbent, non-U.S.-based, self-interested operators who control nearly 100 percent of the C-Band capacity in the U.S. to make decisions that will have huge implications for more than 100 million American households that rely on incumbent C-Band operations."
And later (p.26-27), "one analyst recently postulated that the total value of repurposed spectrum could theoretically be $60-75 billion under a market-based mechanism. And, amid a government-wide effort to focus on policies that put 'America First', including when it comes to facilitating 5G, the notion of handing the reins of mid-band spectrum clearing for 5G to entities based outside the United States and relying on those parties to reallocate spectrum belonging to the American public seems to cut decidedly against the grain."
Finally (p.29), "The notion that only a group of private, foreign-based entities is capable of accomplishing a fair and reasonable transition for the C-Band strains credulity."
Google (p.11) puts forth, "FSS incumbents, including non U.S. operators that acquired their C-band rights from the Commission at no cost, would reap a financial windfall. As Commissioner O'Rielly recently noted in the context of the CBRS proceeding, 'spectrum belongs to the people and ... it is the Commission's obligation to manage it in the public interest for all Americans.'
And on page 12 notes, "A Transition Facilitator representing international satellite businesses would have little if any concern for the long term development of 5G services in the United States and maintaining this country's global leadership in wireless, which should be of paramount concern to the Commission."
Figure 3: Monthly FCC Open Commission Meeting - Where decisions are made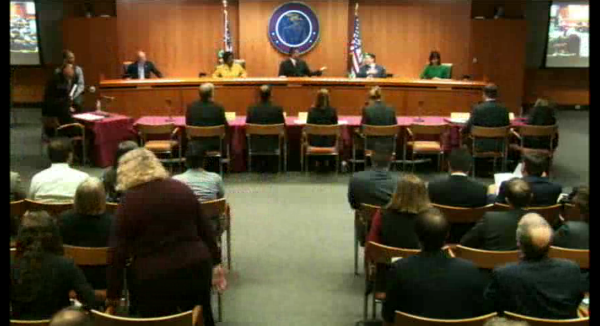 Source: FCC
This is the FCC's Job
Numerous companies slam the idea of the FCC giving up its congressionally appointed role.
Comcast asserts (p.iii), "This scheme would require the Commission to abdicate its traditional role in allocating spectrum, put at risk services whose ongoing reliability it has deemed important for the public welfare, and hand the reins to entities with every incentive to cut corners."
Later, they question whether it is even legal for the FCC to adopt the CBA proposal, arguing (p.24) "The Commission should carefully consider whether this approach would be consistent with its legal and policy obligations. For instance, it would run counter to the public interest for the Commission to abdicate its traditional role in repurposing spectrum."
They conclude this issue by demanding that the FCC seek congressional approval, responding, "Given the magnitude of such a non-traditional reallocation, the Commission first should request clear Congressional direction and legal authority to do so, as it did in the broadcast incentive auction. This is prudent, in contrast to giving an advance "rubber stamp" to satellite operators' efforts to extract billions of dollars from terrestrial providers (in a process that, to date, has not been transparent), and keeping customers, earth station operators and American consumers captive to a reduced capacity C-Band."
Dynamic Spectrum Alliance declares (p.4-5), "such an unusual and risky change from the Commission's long-standing tradition of spectrum auctions should not be undertaken without explicit Congressional approval."
US Cellular Corp articulates (p.11), "USCC questions whether the Commission could satisfy its obligation under Section 309(A) of the Communications Act to ensure that the grant of a license serves the public interest if it authorizes incumbent FSS licensees to engage in private sales of their spectrum usage rights to new flexible use licensees."
Public Interest Spectrum Coalition responds (p.3), "A 'market-based' approach that is tantamount to a private auction or sale would be an end-run around Section 309(j) of the Communications Act in clear contravention of Congressional intent and precedent." They continue on page 4 calling it "unlawful" and saying it "ignores more recent and repeated expressions of Congressional intent forbidding multi-billion dollar giveaways of federal revenue to licensees that never paid for spectrum."
Compensation Decisions
Many firms are extremely concerned about the CBA being the single decision maker in regards to compensation claims.
Comcast (p.29) responds, "The C-Band Alliance's recent 'Commitment to C-band Users' again raises more concerns than it addresses."
PSSI, the largest satellite transmission company in the US, states (p17), "FSS operators should not be the sole arbiters of the compensation."
Compensation Costs
Firms to be affected by the spectrum reallocation are clamouring for all manners of compensation from the CBA, with some already raising the possibility of litigation. The CBA will be facing thousands of these types of claims, with no regulatory authority to dismiss them. Why would anyone think this will be faster than the FCC running the process?
PSSI claims (p. ii) that they would not even be able to operate if more than 100MHz is cleared. They state that the commission must compensate C-Band users that would not be able to continue their businesses by the changes made. They want (p13) compensation for investment, interest, loss of business and future revenue, lost opportunities, management of customer changes, employment loss.
American Cable Association (p.2) even wants to be compensated for the likely increases in prices caused by any C-Band spectrum reduction.
Cisco (p.3) warns, "satellite operators who leave their customers dissatisfied face the risk of private litigation."
Fixed Wireless Communication Association, a group of FS providers, demand that they be compensated equally with the Fixed Satellite Service providers. Presumably that means in terms of windfall gains as well. They state (p.4), "The FS and FSS have co-equal status. They have equal claims for compensation. There is no principled explanation in the Notice - indeed, no explanation at all - for their disparate treatment." In fact, the FS providers would seem to have an even stronger claim for compensation as they actually own terrestrial licenses, something the FSS operators lack.
Small Satellite Operators is a group of satellite operators who have FSS licenses and significant satellite assets deployed in the C-Band, but little revenue yet from those assets. They are demanding to be part of the CBA, no doubt so they can join in the windfall gains. But this is being resisted by the large satellite companies controlling the CBA. This is another lawsuit just waiting to happen.
Analysis
It should be obvious from a careful reading of the comments submitted to the FCC that there is almost no chance of the FCC accepting the CBA proposal at the upcoming NPRM. The reason is that they didn't offer to clear enough spectrum. The absolute minimum amount of cleared spectrum that anyone had claimed to be acceptable was 200MHz. When you strip out the 20MHz guard band, the CBA is only offering 180MHz. This is below what even their biggest fan, Commissioner O'Reilly, said was a minimum. For the FCC to accept this proposal now, would be to lock in a sub-optimal outcome.
To understand why, realise that the approach to clearing spectrum is going to be radically different depending upon the amount of spectrum cleared. The methods employed to clear 200MHz won't look anything like what needs to be done to clear 300 – 500MHz. So the final number needs to be determined before the process begins. You can't clear 200MHz now and then come back and talk about more in 36 months because then you would have to undo many of the steps you just took to clear the initial 200MHz. In addition, the wireless industry needs certainty as to what the final amount of cleared spectrum will be so it can plan its investments and even intelligently make bids for spectrum being auctioned in the near term. Given that China has cleared 500MHz of mid-band spectrum, Japan aims to release 500MHz of spectrum by early next year, and Germany has plans to clear 400MHz early next year, it is highly unlikely the FCC is going to be satisfied with 180MHz as a final number. Therefore the FCC simply cannot adopt the CBA proposal in its current form.
The best case now for the CBA is that in the upcoming NPRM the FCC expresses the need for additional spectrum, delays the whole process for another 4-5 months, and gives the CBA a second chance to improve their offer. However, for many reasons detailed below, I don't think they will.
First, I think the FCC will be extremely displeased with the CBA's measly 200MHz offer. This provides only 180MHz of usable spectrum (vs 100MHz previously) and 30MHz of that came from reducing the guard band. As Nokia (p.6) points out, this is only an "incremental 25% increase in cleared spectrum" from what was offered back in April.
Furthermore, the CBA is not even guaranteeing that we get that 180MHz. Page 5 of the CBA proposal states, "Whether the full 200 MHz is ultimately repurposed will depend on demand from terrestrial mobile broadband providers." And on (p.24-25), "Satellite operators, not the government, are best positioned to determine how much spectrum to make available". They make their plans crystal clear on page 28, informing us, "the C-Band Alliance will designate the amount of spectrum to be voluntarily cleared based upon whether the compensation available from mobile service providers is sufficient to repack the remaining C-band satellite spectrum". So, basically the CBA wants a free option on their potential windfall gains. If they can make billions they will repack the spectrum, if not, it won't even be cleared. This is NOT going to make the FCC happy.
And that is not even the worst of the news. What will be far more concerning to the FCC is that the CBA's recent efforts have taken a giant step backwards. In the 152 page proposal just released, there is nothing, not even a single word about clearing spectrum beyond 200MHz. Previously they were open to additional spectrum being cleared, noting, "The Parties stated that if the terrestrial demand for mid-band spectrum is as robust as claimed, their market-based approach could result in additional spectrum being cleared in the future". But all these ideas have been quietly shelved in the CBA's latest submission. Intelsat CEO Stephen Spengler so much as confirmed this 3 times during the post earnings conference call last week, saying, "We have not done work beyond that [200MHz] to determine how do we go higher, when do we go higher." "we haven't looked at it [going higher] in any specific detail", and "it's not a topic of conversation within the consortium right now".
Secondly, in the last NPRM the FCC asked for a lot of information from the satellite consortium, but they were provided with none of it. For example the NPRM (p.21) says, "We also ask commenters to address how long it will take to transition various amounts of this band to flexible use or to point-to-multipoint FS use, how much such a transition will cost for each 100 megahertz that is transitioned, and how expeditiously the transition can be completed." The CBA proposal completely ignores this request giving the FCC nothing to work with.
The NPRM additionally (p.21) asks, "We also seek comment on the current and future economic value of FSS in the band." Once again the CBA proposal completely ignores this request, and the Intel/Intelsat/SES Joint comments dismiss the request saying, (p.10) to "gather this information will take years". But, almost comically, the consulting report from the Brattle Group included in these joint comments spends several pages (p.25-26) espousing the informational advantages the transition facilitator has over the FCC, remarking "much of the relevant information is already known to the satellite operators". Sidestepping the FCC's questions is definitely not a good way to promote your cause.
Thirdly, there is too much risk for the FCC to adopt this approach. As the comments above note this method is new, untested, and quite undeveloped. With a traditional FCC auction approach the only risk is time. The CBA is keen to note that the average FCC auction process takes 7 years, but as Google pointed out above, the last time the FCC used a transition facilitator it took 12 years and still isn't finished. Also, given the many comments about wanting to be part of the alliance, claims that other companies have as much right to windfall profits as the satellite operators, and most of all severe worries about the motivations and fairness of the CBA as a compensator, it is hard to see how the whole transition facilitator process won't get bogged down in hundreds of lawsuits against them.
Fourth, the whole idea of let a group of foreign satellite companies making important national decisions and reaping billions of dollars of windfall gains at the expense of US taxpayers is so politically unpalatable that it is hard to imagine the CBA proposal ever getting adopted. Back in June I was the only one talking about this. But now you have major US companies like Google, Comcast, and T-Mobile, as well as consumer interest watchdogs like the Public Interest Spectrum Coalition all commenting extensively about this. The cat is out of the bag now. If well connected companies and organizations like these are unhappy about the process you can be sure that both the administration and congress are already aware of this issue.
Moreover, a number of firms have gone so far as to question the legality of using the CBA model and no less than three are demanding the FCC seek congressional approval before adopting it. These firms have a valid point. 47 U.S.C. § 309(j) states the FCC's statutory obligations as follows:
the Commission shall include safeguards to protect the public interest in the use of the spectrum and shall seek to promote the purposes specified in section 151 of this title and the following objectives:

(C) recovery for the public of a portion of the value of the public spectrum resource made available for commercial use and avoidance of unjust enrichment through the methods employed to award uses of that resource;
It is difficult to see how the CBA proposal meets either of these two bolded requirements. And nobody really thinks congress would actually approve a deal such as the CBA envisions. My point here is, if there is even a question of a proposal being illegal, or of the FCC acting in a manner which congress would not condone, there is very little chance it is going to happen.
Conclusion
After the last NPRM, I felt that transition facilitator model put forth by the satellite consortium would likely be the spectrum clearing model adopted. However, I still maintained that this should bring little joy to satellite company shareholders as the FCC is likely to tax any windfall gains they may receive. But after a careful analysis of all the recent comments presented, I now don't even think taxing windfall gains is an issue. I predict the FCC will adopt a different approach to clearing spectrum.
The CBA has spent 4 months putting together its current proposal, and it doesn't even meet the minimum spectrum requirements of the important commenters. In their lengthy proposal, the CBA speaks of the "winning the race to 5G" eight different times. However, what they seem to have forgotten is that to win a race you need a good road to race on. Their proposal cripples America's chances of winning the race to 5G by confining our world class competitors to the equivalent of a one lane horse track. This is a completely unacceptable result which will never be endorsed by the FCC.
The best case here is that we go through another whole NPRM cycle and await a new, completely revised CBA proposal. But now, given their paltry spectrum offering, the growing awareness of the politically sensitive windfall gain, and foreign company issues, questionable legality, disregard for congressional intent even if it is legal, and open hostility towards the plan by one of the big three wireless companies, one of the C-Bands main users, and the world's largest internet company, it much more likely that the FCC just abandons the idea.
As a result, both Intelsat and SES should return to their underlying company values plus a small premium for the long shot possibility that they are somehow able to resurrect their proposal, get it adopted AND avoid the implementation of spectrum taxes strip away their windfall gains. For Intelsat, this implies a price target in the very low teens.
Figure 4: Intelsat Chart – 266% Above my Price Target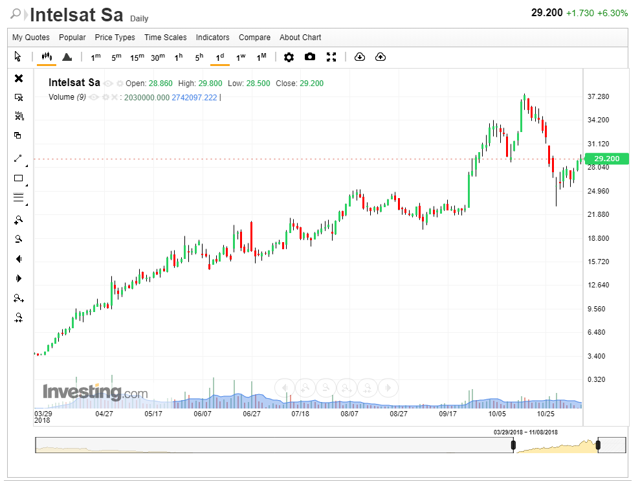 Source: Investing.com
Finally, if after reading this, you still think it is likely that CBA members are going to capture windfall gains, do yourself a favour and read pages 22-32 of the Public Interest Spectrum Coalition report. I can't recommend it highly enough. It is an absolute masterpiece in FCC historical research and legal work, and I can't see how anyone could honestly read it and still walk away with the view that there are any windfall gains to be had.
Before I go...
A word of Advice
Shorting is dangerous. Shorting a stock which has risen more than 1000% in 9 months is extremely dangerous! When my first article on Intelsat came out, the stock was at $19.30. If you had followed that advice and been a "short and hold" investor, you would have lost nearly 100% of your money at the peak last month. Since I wrote that piece back in June, I have been in and out of the stock 6 times (always from the short side). I do have some decent losses, but they are nothing compared to if I short and held. Don't ever be a "short and hold" investor!
Despite this article being in the "Short Ideas" category, I am not actually recommending anyone short it. That is a job for only the most nimble of traders, with years of experience. My purpose here is to present a strong "Sell if Long" idea. But they don't have that category. Best of Luck!
Disclosure: I am/we are short I.
I wrote this article myself, and it expresses my own opinions. I am not receiving compensation for it (other than from Seeking Alpha). I have no business relationship with any company whose stock is mentioned in this article.
Editor's Note: This article discusses one or more securities that do not trade on a major U.S. exchange. Please be aware of the risks associated with these stocks.