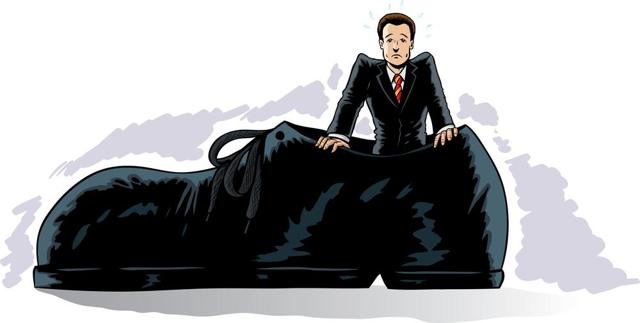 Source: Shutterstock
REITs depend more heavily on their ability to raise capital than most other companies because unlike companies that have discretion to reinvest the cash they generate, REITs are required to distribute much of their cash flow in the form of dividends.
It's not surprising then that if a REIT has difficulty raising capital, it will potentially stop growing, and depending on their operational abilities, could wither away and fade. As a REIT gets bigger, therefore, it must raise higher and higher amounts of capital to fund additional growth opportunities - which include either acquiring another REIT or buying additional properties.
The darling of the REIT world and perhaps the REIT with the lowest cost of capital is Realty Income (O), which as most readers know, owns triple-net lease single-tenant properties and rents them out to the likes of Walgreens Boots Alliance (WBA), CVS Healthcare (CVS) and others.
With a market cap of $16 billion and a portfolio of about $15.6 billion in real estate assets at cost, the amount of capital it needs to continue to grow seems daunting. But investors are accustomed to quarterly dividend increases and if that streak gets broken - a streak I poked fun at in a previous article - investors might get concerned - even if for no legitimate reason.
The growth bogey becomes even more difficult when prior investments - good investments I might add - might actually hurt future results.
Above Market Leases
One of the tables that jumped out at me when looking at Realty Income's Q3 10Q is a table that shows its In-Place Lease Intangibles. This table highlights the impact of above or below market leases on potential future revenue and amortization expenses. In this case, the tables show a net decrease to revenues in future years because current leases have lease terms that are above market rates. In 2019, rental revenue is expected to decrease by $15M and amortization expense is expected to be $97.6M higher. This results in lower net income in 2019 if all other variables are held constant. The table also shows the impact on above-market leases for each subsequent year on revenues and amortization.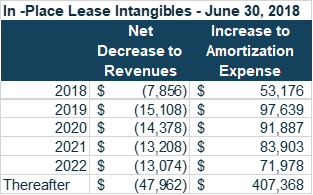 Source: Realty Income 10Q - 2Q2018
The increase to amortization expense is the amount that must be amortized each year due to the difference between current market rates and in-place lease terms. When properties are acquired, the acquirer takes on the in-place lease terms, barring any clause that will allow a tenant or new landlord to change them. Whether they are considered above or below market depends on the calculation of the discounted value of the current contract versus that of the discounted value of a contract at prevailing market rates and includes vacancy, re-leasing costs, etc. in the calculation.
When those values differ, there is the potential for an asset or liability to be created. That is, when an above-market lease is acquired, as in this case, the current leases are considered assets and must be amortized. But while the landlord benefits from above-market rates, when those leases come up for renewal, there is a possibility that lease terms rates might be adjusted downward.
Realty Incomes Above Market Leases - acquisitions needed
With a net decrease to revenues due to resetting of above-market leases, I wondered, how many properties does Realty Income need to acquire to maintain the same FFO, or better yet, meet analyst expectations for 2019 and 2020?
In the table below, I used the YTD data through 2Q and annualized it to arrive at a full year forecast for 2018. The FFO/share forecast is in line with management's guidance but on the lower end of the guidance range.
For 2019 and each subsequent year, I assumed a reduction in rental revenue per the table above, as well as an increase in amortization, which leads to an estimate for net income. The FFO figure is based on adjustments to 2018's FY forecast, and accounting for the revenue differences expected in each subsequent year, assuming margins remain consistent. A brief analysis using a more robust model with varying margins revealed comparable conclusions.
In this example, I assumed no new shares outstanding, which I briefly address later in the article.

Source: Realty Income 10Q - 2Q2018
With the reduction in revenue and increase in amortization expense, FFO per share would decline to $3.11 per share. That's a decline of FFO of about $0.05 per share, which translates into $15M of FFO and $21M of revenue.
Based on Realty Income's current FFO margins, it would need another $263 million in acquisitions to make up for the impact of above market leases in 2019 and then another $250 million to compensate for the impact of above market leases in 2020.

Source: Realty Income 10Q - 2Q2018
Not a big deal considering it is looking to invest $1.75 billion for full year 2018 and has already invested about half of that amount YTD through June 2018.
Acquisitions needed to meet FFO expectations
But analyst expectations at the time this analysis was completed are for FFO to reach $3.27 per share in 2019 and $3.37 per share in 2020. If maintaining the status quo looks easy, what would it take to meet analyst expectations? Again, the amount of acquisitions needed look reasonable, but the numbers certainly start to look daunting.
To meet analyst estimates of $3.27 FFO per share, my estimates show that Realty Income needs an additional $783 million of acquisitions - preferably towards the beginning of the year, to reach $3.27. Since the company has been investing at a $1.5B to $1.75B rate annually, the estimates still look well within reach.
The same analysis shows that it would need another $500 million in 2020, or $1.2 billion over the two-year period - to meet consensus forecasts of $3.37 in 2020. Still not a big deal.

Source: Realty Income 10Q - 2Q2018
Capital needed to fund acquisitions
The challenge is increasingly becoming the need to raise capital. Not that Realty Income has any issues raising capital. But issuing more equity dilutes current shareholders and issuing more debt requires higher interest payments.
Realty Income only has about $30M in cash on the balance sheet so it must raise most of the capital needed for the acquisitions or use its current revolvers. At an estimated FFO per share of $3.27, Realty Income must generate approximately $931M in FFO in 2019, according to our calculations. That's another $30M in FFO above the current annualized FFO rate of $902M before the impact of above market leases. How much capital does it need to raise to generate $931MM in FFO?
The company paid out $373M in dividends through June 2018. If they don't raise the dividend again this year - I know, not likely - it would pay out another $373M in dividends. Net cash provided by operating activities was $477M for the six-month period so we can assume it will be similar during the 2H of 2018. Once dividends are paid, the company is left with $104M in additional cash, bringing its total cash on the balance sheet to $134M.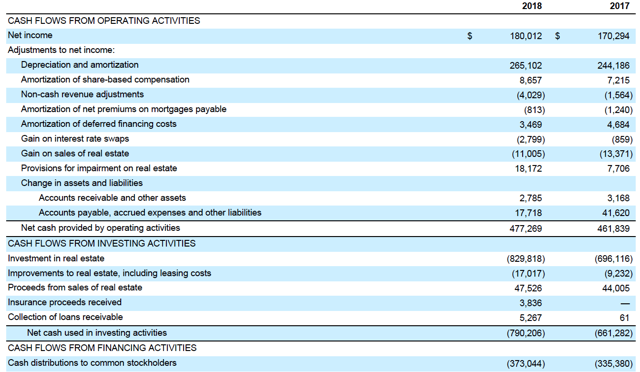 For $783M worth of acquisitions and $134M in cash, it would need to raise approximately $648M.
An Equity Raise
To raise $648M, the company would need to issue an additional 11M common shares at a price of $57. No big deal, but that figure is actually higher if we consider per share metrics. With an additional 11M shares, the FFO for 2019 of $931M would be $3.15 per share - and here we go again, calculating the amount needed to get to $3.27 FFO per share. In fact, by only issuing additional shares, the math just doesn't work.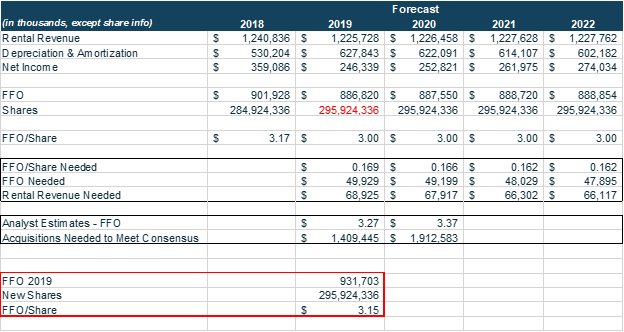 A Debt Issuance
What if the company issues $648M in debt? For starters, it would cost roughly 4%, which translates into a reduction in net income and FFO of about $25.6M, which results in a higher level of acquisitions to make up for the additional interest costs.
Again, quite possible, but as you can see the figures are daunting and at some point we will be extremely concerned that growth can continue at attractive rates.
Our Take
There were plenty of assumption in my calculations. But the reality is that Realty Income's acquisition nut is starting to get pretty big. Even if market lease rates increase to the point where lease rates can be re-priced much higher when tenants re-sign, the amount of new properties needed to drive growth will have to come increasingly from new properties.
Re-leasing Rates
We do believe re-leasing rates will compensate some of the loss of rental revenue from above market leases and contribute to the expected growth in FFO. For example, the rent recapture rate for expired leases has been 104.7% through June 2018, indicating that lease renewals for those leases not included as assets on the balance sheet could be favorable. In other words, some leases have been fully amortized and may now have below-market lease rates that could be increased at expiration - They make up a greater share of the total leases under contract.
Dispositions
Even though we are calling for the need for a greater level of acquisitions, however, if returns are favorable, dispositions could enhance returns and be another form of raising capital. Selling underperforming assets could improve the metrics and lead to a more conservative yet higher value-add acquisition strategy that results in a smaller incremental acquisition figure.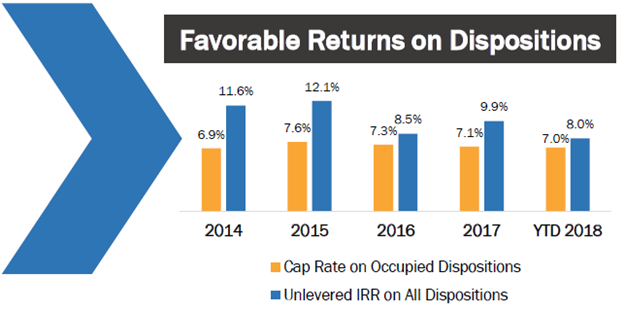 Risks
Selectivity - The table below highlights the volume of deals sourced and the percentage of deals completed as a percentage of total volume. The declining selectivity percentage is an indication of a robust opportunity set. But I wonder, with the acquisition requirement getting increasingly large, will management be able to remain as selective even if the opportunity set deteriorates. At some point, the investment parameters may have to be loosened in order for more investments to be approved.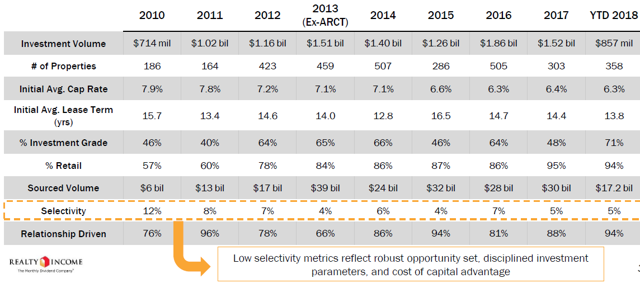 Margins - Despite the size advantage provided by economies of scale, Realty Income's G&A costs are already well below the net lease peer median. Over the last couple of years, they seem to have turned upward, which could have a negative impact on net income, FFO, and AFFO even though they remain the lowest in the industry.
Valuation
From a P/FFO perspective, the stock does look fairly valued at a P/FFO of 18.9.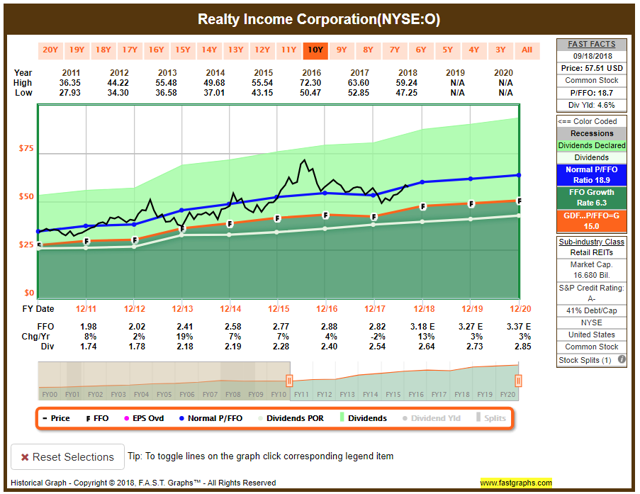 But with an increasingly challenging growth goal and some short-term headwinds as we've described above, we are reducing our rating to Neutral. That means, we will continue to hold the stock in the portfolio for its 4.6% dividend, stability of FFO, and low stock price volatility.
Note: Since this analysis was completed, Q3 results have been announced and while positive, we also note that consensus estimates for AFFO per share have been raised further to $3.30 and $3.46 in 2019 and 2020, respectively.
Disclaimer: This article is meant to identify an idea for further research and analysis and should not be taken as a recommendation to invest. It does not provide individualized advice or recommendations for any specific reader. Also note that we may not cover all relevant risks related to the ideas presented in this article. Readers should conduct their own due diligence and carefully consider their own investment objectives, risk tolerance, time horizon, tax situation, liquidity needs, and concentration levels, or contact their advisor to determine if any ideas presented here are appropriate for their unique circumstances.

REITs, Opportunities, & Income (ROI)
ROI is a service provided to help investors like yourself find opportunistic misplaced bets, income growth generating securities, and coverage on small and mid cap stocks to round out what is probably a large-cap weighted portfolio.
We also share our Low Vol REIT Portfolio, our Strategic Income Growth Portfolio, and our Focus List, which is essentially our universe of coverage. For those of you who like to pick your own stocks and find it difficult to narrow down your choices, we provide a number of lists meeting specific criteria that you can choose from to add to your portfolio.
Try it free for two-weeks with no obligation.
Start a free trial now.
Disclosure: I am/we are long O.
I wrote this article myself, and it expresses my own opinions. I am not receiving compensation for it (other than from Seeking Alpha). I have no business relationship with any company whose stock is mentioned in this article.