America's biggest homebuilder D.R. Horton (DHI) just released its fourth quarter results. The company reported strong earnings growth but rather slow sales growth. Nonetheless, D.R. Horton was able to show impressive new orders growth in a market that can be considered to be extremely tough. We also see that the company's unique position might continue to boost new orders as affordability continues to fall. Despite the good news, the company was not able to avoid being sold after earnings. The best thing to do is to wait and watch. I believe we will get good entry prices once the housing market gains strength again.

Source: D.R. Horton
When Good Is Not Good Enough
Fourth quarter EPS was in line with expectations. EPS totaled $1.22 versus expectations of $1.23. This is 49% higher compared to the last quarter of 2017. It is also another strong number in a series of outperforming quarters that started in Q1 of this year (fiscal year).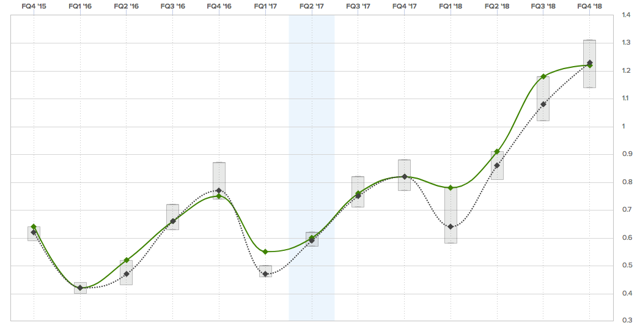 Source: Estimize
Sales rose to $4.51 billion in the fourth quarter. Expectations were $80 million higher. The prior-year quarter was lower at $4.16 billion which translates to a growth rate of 8%. And as good as that sounds, it is a new cycle low. This is the lowest growth rate since the first quarter of 2016 and the first single-digit growth rate since Q3 of 2016.
Consolidated pre-tax income on the other hand increased 25% to slightly more than $607 million. Total home closings improved 11% to 14,674 homes. The total value of home closings improved 9% to $4.4 billion.
Total homes in inventory increased 13% to 29.700 homes. The land portfolio consisted of 289,0000 lots of which 43% were owned and 57% were controlled through options. The trend towards option controlled lots has gained momentum over the past years. NVR Corp. (NVR) for example is only focusing on options to enhance profitability. D.R. Horton is also going in the right direction. Total lots controlled through options have accelerated 195% since 2015 whereas lots owned only added a mere 5%.
And speaking of inventory and returns. The return on inventory improved 360 basis points to 20.2% in fiscal year 2018 compared to 16.6% in 2017. Gross margins also improved to 21.3% in the full year which is 1.3 points higher compared to 2017. It's good to see the company doing so well in a market of rising input prices and pressure on new orders thanks to falling building permits and sentiment as I discussed in this article.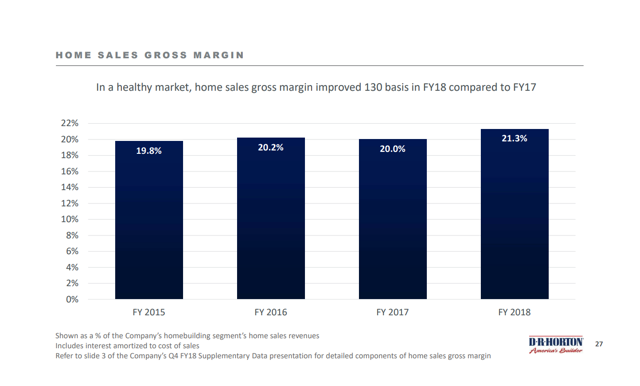 Source: D.R. Horton Q4/2018 Earnings Presentation
With that in mind, there is one number I did not discuss. And that number is total new orders. If I only could look at one indicator per homebuilder, it would be new orders. Not only because it shows the company's ability to start new projects, it also makes it easier to compare homebuilders' performance to economic indicators like building permits.
Nationwide building permits increased on average just 0.3% in the third quarter (DR Horton's 4th quarter). This is the slowest growth rate since the dip in 2016. Permits in the company's main market (South Region) outperformed with 3% growth in the third quarter.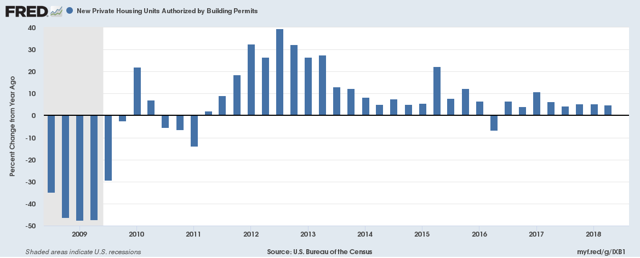 That's why I was very impressed by the company's own new orders. Net sales orders in the fourth quarter totaled 11,509 homes which is an improvement of 11%. The value of these orders improved 10% to $3.4 billion. The cancellation rate slightly increased from 25% to 26%.
What's Next?
I would be lying if I said that I expected new orders growth of 11%. However, I did expect the company to do well. The simple reason is its focus on affordable homes which, in my opinion, is the best place to be right now. With home prices on the rise and affordability going down the drain, the biggest winners will be profitable low- to mid income builders.
And that's why I could not agree more with the company's own view on the market.
Sales prices for both new and existing homes have increased across most of our markets over the past several years, which coupled with rising interest rates has impacted affordability and resulted in some moderation of demand for homes, particularly at higher price points. However, we continue to see good demand and a limited supply of homes at affordable prices across our markets, and economic fundamentals and financing availability remain solid. We are pleased with our current product offerings and positioning to meet demand in the current market, and we will adjust to future changes in market conditions as necessary.
The only problem is that the company did mention market weakness. And if there is one thing you don't want to hear as a bull, it's a negative comment from the nation's biggest builder.
The result of the most recent earnings result is a sell-off that broke the lows that were set just a few weeks ago. I expect this selling to continue until we see some improvement of building permits and housing starts. If these indicators continue to fall, we will see selling pressure even on the best homebuilders.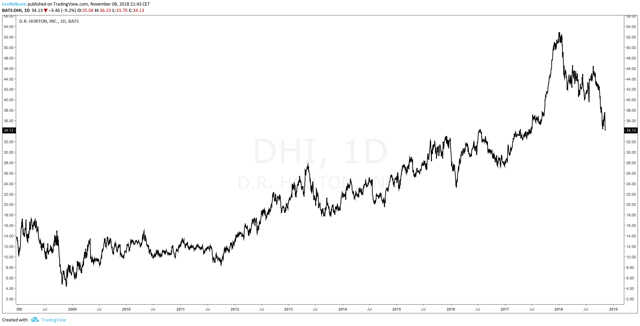 Source: TradingView
Even the current valuation of 8.2 times next year's earnings and a PEG ratio of a mere 0.40 won't change this trend. This valuation gets interesting once leading indicators recover. At that point, we will see the return of traders want to buy the best companies in recovering industries. And one of those companies is D.R. Horton. Both because of its size which makes it a good trading vehicle and because of its product portfolio and valuation.
In other words, the best thing to do, is to wait on the sidelines until things improve. I am looking forward to buying this builder at an interesting discount.
I'll keep you updated!
Thank you for reading my article. Please let me know what you think of my thesis. Your input is highly appreciated!
Disclaimer: This article serves the sole purpose of adding value to the research process. Always take care of your own risk management and asset allocation.
Disclosure: I/we have no positions in any stocks mentioned, and no plans to initiate any positions within the next 72 hours.
I wrote this article myself, and it expresses my own opinions. I am not receiving compensation for it (other than from Seeking Alpha). I have no business relationship with any company whose stock is mentioned in this article.