Speedway Motorsports (TRK) - Closing Short Position - down 32% vs. S&P up 29%
Speedway Motorsports was originally selected as a Danger Zone Idea on 7/13/15. At the time of the initial report, the stock received a Very Unattractive rating. Our short thesis highlighted high fixed costs, the dwindling popularity of NASCAR, and a high valuation driven by misleading earnings.
During the 1,206-day holding period, TRK outperformed as a short position, declining 32% compared to a 29% gain for the S&P 500.
TRK was upgraded to Neutral on 10/17/18 after the falling stock price made its valuation less dangerous.
The company's net operating profit after tax (NOPAT) continues to decline, down from $57 million in 2014 to $42 million over the trailing twelve months. However, the company has maintained a high free cash flow yield (currently ~8%) by cutting back on capex. TRK used this free cash flow to reduce its total debt from ~$400 million in 2014 to ~$200 million (32% of market cap) currently.
Even though we still think the long-term outlook for TRK's business is bleak, the improved balance sheet and lowered valuation reduce the downside risk. As a result, we are closing this position.
Figure 1: TRK vs. S&P 500 - Price Return - Successful Short Call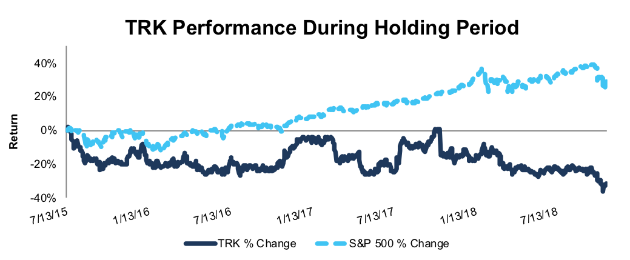 Sources: New Constructs, LLC and company filings
Note: Gain/Decline performance analysis excludes transaction costs and dividends.
This article originally published on November 7, 2018.
Disclosure: David Trainer, Kyle Guske II, and Sam McBride receive no compensation to write about any specific stock, style, or theme.
Get our long and short/warning ideas. Access to top accounting and finance experts.
Deliverables:
1. Daily - long & short idea updates, forensic accounting insights, chat
2. Weekly - exclusive access to in-depth long & short ideas
3. Monthly - 40 large, 40 small cap ideas from the Most Attractive & Most Dangerous Stocks Model Portfolios
Both Ernst & Young and Harvard Business School demonstrate the superiority of our research in recent white papers.
Disclosure: I/we have no positions in any stocks mentioned, and no plans to initiate any positions within the next 72 hours.
I wrote this article myself, and it expresses my own opinions. I am not receiving compensation for it. I have no business relationship with any company whose stock is mentioned in this article.