General Motors (GM) jumped by 10 percent after it announced Q3 earnings on October 31, in addition to the 10 percent increase in the days leading up to it.
Q3 2018 Results
The company included the following table in the release:

GAAP net revenue increased by 6 percent from the year-ago quarter, even though global deliveries dropped year-over-year by more than 12 percent:

The following table illustrates that no brand was spared from the sharp drops:
In the earnings deck, management attributed the drop in unit sales to:
Market share declined across all geographies Y-O-Y primarily due to disciplined incentive spending, transition to our new light-duty pickup trucks in GMNA and adoption of new fuel-efficient technology in China.
In other words, the company is prioritizing profitability over market share, which is in-line with my expectation that management will try to keep dividends intact for as long as possible. In my opinion, this is near-sighted but necessary, as I discussed in GM: Is The Dividend At Risk, and multiple signs indicate that this move will only delay the inevitable.
What GM Did Not Mention
If you scroll down the earnings release all the way to the bottom of the final page, you will see that GM ended stock buybacks altogether.
The following graph illustrates the same: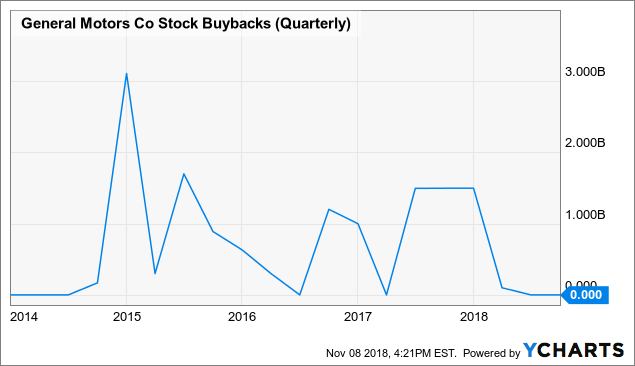 This is the longest GM has gone without repurchasing a meaningful number of shares since early 2014, even though the stock is trading at multi-year lows.
Given its increasing balance sheet leverage and its razor-thin trailing twelve-month GAAP profit margin, as the following two graphs illustrate, I believe ending stock buybacks was the necessary step to have a fighting chance: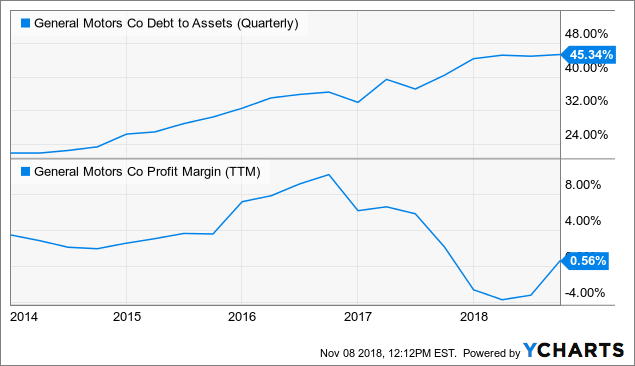 I discuss what I believe are the primary reasons why the company ended its stock buybacks in the following section.
Unfavorable Long-Term Trends
The following three graphs show that the company's operating expenses and total liabilities have persistently increased in the last six years, while its net working capital has dropped sharply to negative $9 billion where it remains:
The persistent rise in operating expenses is the reason why the company's operating margin, which is the more comprehensive and appropriate measure of profitability for a mature company, has declined even while its gross margin has held up in 2017 and 2018: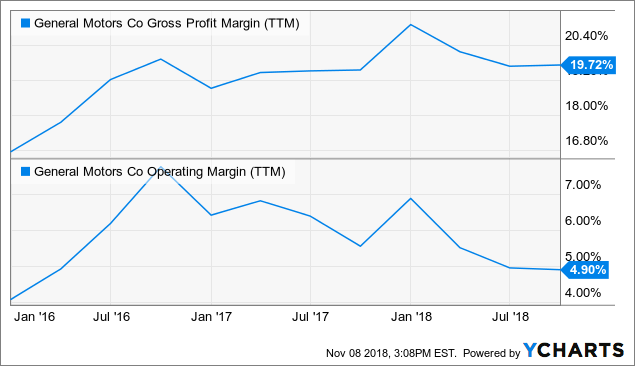 The above, however, shows the past.
Unfortunately, for the company and its investors, GM's future is no brighter.
The Troubling Answer
My long-time followers and subscribers know that I believe stock valuations are less about historical results and more about reasonable future projections.
Also on that front, however, GM is behind the company that I believe is the leader of the fully autonomous, all-electric future, Tesla (TSLA), and the following exchange during the most recent earnings call lays it out perfectly:
Adam Michael Jonas - Morgan Stanley & Co. LLC

OK. Thanks, Mary. Just one follow-up on electric vehicles. So, you currently sell one pure EV at least in the U.S. right now, the Bolt, sales are down around 17% year-to-date. I think you're annualizing maybe around 16,000 units, that's just for the U.S. market. I realize you do sell it globally. But just on the U.S., Tesla makes about as many Model 3s in three weeks as your whole year worth of Volt sales in the States.

So, I guess the question is, when are we going to see – when could we expect to see – and again, taking nothing away from the efforts of the Volt and really you stand apart from a lot of your Detroit brethren from really going heavy on EV, so I think it is an appropriate question to say given your lead and your experience with this technology, when can we see GM bring out like a couple hundred thousand unit type product that could really clean house in the ride-sharing fleets and turn heads and be a real headache for Tesla? Thanks.

Mary Teresa Barra - General Motors Co.

Adam, thanks for the recognition on the Chevrolet Bolt EV. We have announced that we are increasing capacity there. We've been opportunistic as to what markets we are allowing the current production to go to, but I think you'll see our sales in the United States increase. And although I don't have a specific announcement to your question, we have announced that we have several EVs coming in the next few years, so we believe in an all-electric future. I think you'll see that will roll out over the next couple of years. And then very importantly, we're working on our next generation, which we're calling EME 1.0, that we're looking to make sure we have EVs that are affordable, obtainable, desirable and have the right range.

We're also working actively from an infrastructure on several fronts to make sure that the charging infrastructure is there to support the growth of EVs. And even most recently, which was announced, we're working with Delco Electronics on a fast-charging technology because I think as we look at it from a customer perspective, what do they need to really get the growth to make the EV their only car as opposed to their third, fourth or fifth car. You need to solve the charging infrastructure. Fast-charging is a big piece of it. So we're very optimistic and we're 100% committed but I'm not going to – I don't have specific volume announcements to make today.
Mary Barra, did not answer the direct question of when GM will offer "a couple hundred thousand unit type product," but instead thanked the analyst for "the recognition on the Chevrolet Bolt," even though the reason why the analyst brought Bolt up was to point out that sales were down, and preceded with an answer that is vague on quantity and timing, or in other words, a non answer.
The Silver Lining
As management pointed out several times in the earnings release and on the conference call, GM Financial is doing better than I had expected this late into the macroeconomic cycle with a rising rates backdrop:

Despite increasing rates, GM Financial achieved record Q3 revenue and adjusted earnings before interest and taxes.
With rates expected to continue further, favorable credit metrics, charge-offs, and used vehicle price trends may not hold up for much longer, but for now, GM Financial has certainly been a bright spot for the company in 2018.
Bottom Line
Given its increasingly risky balance sheet and its minimal free cash flow, if GM wants to continue to invest in a fully autonomous and all-electric future, it will have to do so through private capital raises, but that is a "very dicey proposition," because as the infamous short-seller Jim Chanos frequently points out, "capital markets close from time to time."
Follow For Free Articles
If you enjoyed this article, please click "Like" below and "Follow" next to my name. Your support will allow me to invest further time and resources into creating proprietary research for you.
Premium Research
If you're interested in my investment methodology and other holdings, join Value Portfolio. I'm confident that you will find my fundamental research to be insightful, and I look forward to discussing ideas with you.
Disclosure: I am/we are long TSLA.
I wrote this article myself, and it expresses my own opinions. I am not receiving compensation for it (other than from Seeking Alpha). I have no business relationship with any company whose stock is mentioned in this article.
Additional disclosure: I am long Tesla via shares and call options.