Emerging Markets: Is It Time Yet?
On June 19th, almost five months ago, I penned an article titled "Sector Study: Long U.S. Vs. Short Emerging Markets" in which I publicly disclosed a short position in the Emerging Markets "EM" that we have had on since May 31 in my marketplace service, EPB Macro Research.
In that report, I recommended investors short emerging markets through the iShares MSCI Emerging Markets ETF (EEM), against a long position in the S&P 500 (SPY) based on three main criteria: Contracting global liquidity, a rising U.S. dollar, and a slowing global economy.
Roughly 12 weeks after the original report, I issued a follow-up article titled, "Here's Why You Should Keep Waiting Before Buying Emerging Markets" where I expanded on the original thesis and included economic data from a variety of countries within the Emerging Markets ETF to highlight that the economic slowdown would continue rather than subside.
The biggest pushback I received on the short EM stance was that the dollar would weaken, causing an EM rally and that on a valuation basis, EM markets were cheap. While these are valid criticisms, I did not think that would cause the Emerging Markets to stop declining. After the second follow up article, EEM fell an additional 9% before rebounding 8% in roughly seven trading days.
Given the rebound in EEM, this is a great time to refresh the thesis and see if it is time to exit the position or use this bounce as an opportunity should the fundamentals continue to point lower.
As an update, since the writing of the first article on June 12, EEM has fallen 5.17% while the S&P 500 is up 2.46% for a 7.63% return on the spread between the two positions.
Emerging Markets Vs. S&P 500 Starting June 19, 2018:

Source: YCharts, EPB Macro Research
Going back to when the position was initiated, on May 31, EEM has tumbled by 8.29% compared to a rise of 4.65% for the S&P 500 for a 12.94% performance spread on these two positions.
Emerging Markets Vs. S&P 500 Starting May 31, 2018:

Source: YCharts, EPB Macro Research
The position has been working and EEM has been struggling, other than a few recent days, due to the three main criteria described above, contracting global liquidity, a rising U.S. dollar, and a global economic slowdown. Each of these criteria has gotten notably worse, not better.
Below I will run through each of those factors and focus most time on the global economic slowdown that started in January of 2018. Before doing so, let's look at the composition of the ETF EEM as a reminder and to hone in on the countries we should be focusing on.
Composition Of EEM
The ETF EEM is heavily weighted towards China (FXI) with just over 33% exposure. South Korea has roughly a 15% weighting. South Korea (EWY) has been slowing rapidly and will be a significant focus of this update. Taiwan (EWT) makes up over 11% of the ETF regarding country exposure.
EEM Sector Exposure Breakdown: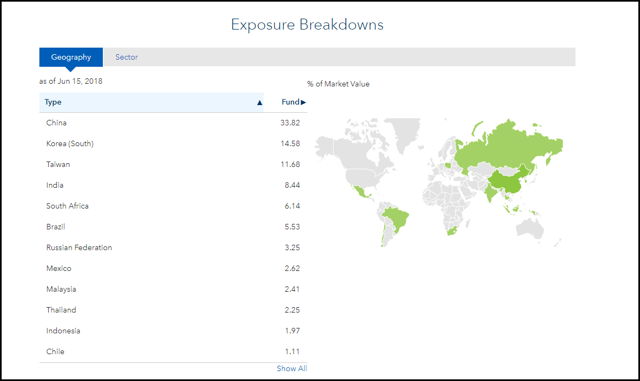 Source: iShares
Many point towards trade wars being the reason for the declines in EEM but the focus of the trade war is with China, not necessarily with the other 66% of the countries in the ETF. South Korea is not a significant factor in the trade war, and the South Korean stock market is down 17.3% year-to-date. There is more going on in the Emerging Markets than just a trade war with China. A material economic slowdown, which will be outlined below is causing most of the declines in equity markets.
From the original thesis, which has not changed, we will take a look at contracting global liquidity due to central banks, a rising U.S. dollar that's set to continue and perhaps even accelerates in its rise towards the end of Q4, and due to these factors, a contracting global economy.
1. Contracting Global Liquidity
Most major central banks around the world have engaged in aggressive monetary easing which came with many different quantitative easing programs. Each QE program started at a different time, is expected to end at different times and was executed with varying degrees of intensity.
The balance sheet and easing measures of the six major central banks (Fed, BoJ, ECB, BoE, SNB, Riksbank) can be looked at in aggregate to determine the thrust of global central bank policy as well as flows in global liquidity.
The U.S. central bank, the Federal Reserve, while not in practice, is the de facto central bank of the world. The U.S. dollar is the world reserve currency and many EM economies use U.S. dollar-denominated debt to fuel their economies in what is commonly known as a "carry trade."
Once the Federal Reserve started to raise interest rates in the United States, pushing the U.S. dollar (UUP) higher relative to local EM currencies, the carry trade, or the issuance of EM debt denominated in U.S. dollars started to unwind and decline.
A chart from the Financial Times shows an absolute collapse in the issuance of EM dollar Denominated Sovereign Debt.
EM Dollar-Denominated Sovereign Debt Sold: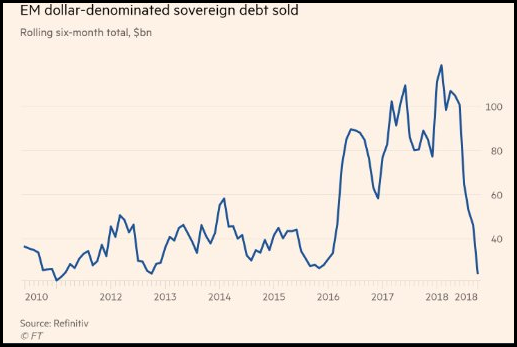 Source: Financial Times
Given the declines in local currencies and the rise in interest rates, the issuance of U.S. dollar debt has become prohibitively expensive.
As the Federal Reserve leads the way out of the era of central bank easing, markets have had to adjust to the first real test of central bank tightening. Although some of the other smaller central banks may still be easing, when the Federal Reserve tightens monetary policy, there's a contractionary impact felt almost instantly around the world as U.S. dollar liquidity is reduced.
Ironically, tightening from the Federal Reserve is felt in EM countries before it becomes worrisome domestically. This has to do with massive U.S. dollar- denominated debt that was issued in the past and a more fragile global banking system (not the domestic banking system).
In the United States it may feel like the process of monetary tightening has gone smoothly, and to some extent, it has, barring a small amount of market turbulence, but the impact in EM countries has not been light.
In 2017, the world saw a massive $2-trillion increase in central bank induced liquidity. By 2019, that will reverse to an $800 billion drain in global liquidity. That change will be massive and has tremendous implications for risk assets around the world. The chart below shows early 2019 being the start of the liquidity drain on the global financial system.
Central Bank Balance Sheets Declining: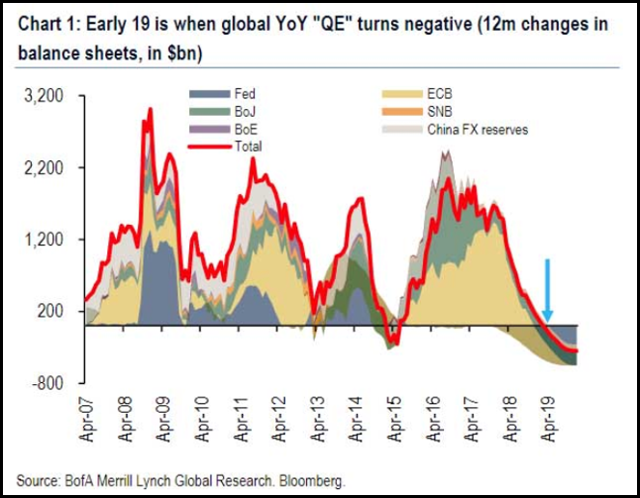 Source: BofA Merrill Lynch Global Research, Bloomberg
These contractionary impacts are just starting. They are going to get worse and more severe, not better as we move into the end of 2018 and 2019.
What should be noted is that we have just seen a rate of change contraction in liquidity. Liquidity has not gone negative year over year and is not expected to until early 2019. If only a rate of change slowdown in liquidity provided by central banks has caused 20%+ declines in EM markets, the collapse of some local currencies (over 20% declines in currencies), and a global economic slowdown, what will be the result when liquidity starts to outright contract?
Looking at the S&P 500 (SPY) will not show monetary conditions. Monetary policy lags and can take up to one year to flow through to the economy and the economic data that the market responds to, including corporate profits. Real-time monetary and credit aggregates show how with just a small amount of tightening, banking liquidity has been reduced domestically in a dramatic fashion.
Looking at the asset side of the U.S. bank balance sheet, we are starting to see the early signs of contraction. In year-over-year terms, total bank asset growth has declined to the lowest level of this entire economic cycle at just 1.36% year over year. U.S. bank asset growth has seemingly stalled and is nearing contractionary territory.
Declining assets for the U.S. banking system are not typically a bullish sign or a sign of increased liquidity, but rather the opposite. As the Fed continues to raise interest rates and also continues to reduce their balance sheet, we can expect more liquidity contraction and thus, more declines in U.S. bank assets.
U.S. Banks are global. A reduction in total banking assets often means less international economic activity and things like debt issuance which was described above.
Total Commercial Bank Assets (Billions) | Total Bank Assets Year-over-Year Change:

Source: FRED, Federal Reserve, EPB Macro Research
In addition to bank asset growth, bank credit growth has been in free-fall in growth rate terms since the start of more aggressive monetary tightening in 2017.
Bank credit growth includes all loans and all securities holdings of banks. Bank credit growth was expanding at roughly 8% for two years spanning from 2015-2017. Once the Federal Reserve ramped up the tightening, bank credit growth fell sharply down to a rate of approximately 3.5% today.
Lower asset growth and sharply reduced bank credit growth show the rate of contraction in liquidity.
Total Bank Credit (Loans + Security Holdings) (Billions) | Total Bank Credit Year-over-Year Change:

Source: FRED, Federal Reserve, EPB Macro Research
The contractionary actions from the Federal Reserve also can be seen clearly in the monetary base. As a reminder, the monetary base is comprised of excess reserves from the baking sector held at the Federal Reserve as well as cash in circulation.
The monetary base was declining at the end of 2015 and at the start of 2016. These contractionary measures caused a near meltdown in emerging markets at the beginning of 2016. The declines in risk assets around the world were only abated by a coordinated effort from central banks around the world.
As the Federal Reserve tries to contract monetary policy once again and the monetary base moves toward the lows made in 2016, emerging markets are once again collapsing notwithstanding a small rebound in the past several days. Markets are not expected to go up or down in a straight line. If the conditions that caused the original declines persist, and are worse, more declines should be expected.
The chart below (left) shows the monetary base in millions, and the year-over-year change in the monetary base (right).
The monetary base in contracting over 8% in year over year terms.
Monetary Base (Millions) | Monetary Base Year-over-Year Change (%):

Source: FRED, Federal Reserve, EPB Macro Research
As the monetary base contracts, excess reserves are simultaneously reduced in the domestic banking sector. While many investors will say that excess reserves are still plentiful, which is true, the rate of contraction is enough to reduce the liquidity of the U.S. dollar around the world.
As I wrote in the original article back in June:
It is my opinion that as the liquidity contractions intensify, which they will with each passing month, global risk assets (stocks) will decline and the global economy will slow, led first by emerging markets, followed by Europe, China and, lastly, the United States. - June 2018
Lacy Hunt, economist and portfolio manager at Hoisington Investment Management, one of the most successful fixed income funds, discussed the contraction in U.S. dollar liquidity due to the Federal Reserve's monetary policy.
In Lacy Hunt's Q3 review, published in mid-October, he wrote:
With lags, the impact of Fed policy, however, has a broad reach. As noted in past quarterly letters, Fed policy determines world dollar liquidity. That liquidity is palpably shrinking around the world where debt productivity is considerably lower than in the U.S. As such, the erosion of dollar liquidity should weaken foreign economies before the monetary restraint is visible domestically (Chart 2). The symptoms can be seen in emerging markets with declining equity prices and in locations where the cheap money policy of the past has encouraged dollar borrowing. These markets are now facing rising interest costs and a more expensive dollar, making repayment difficult.
Lacy Hunt also provided a chart on World Dollar Liquidity to augment his succinct argument for continued EM weakness.
World Dollar Liquidity: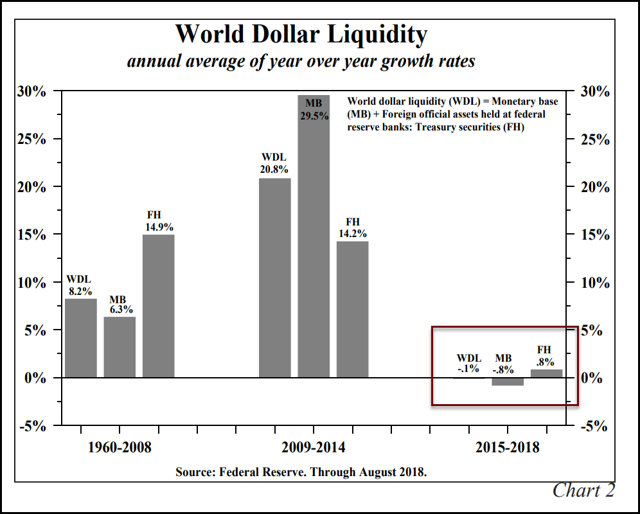 Source: Hoisington Investment Management, Federal Reserve
With the Federal Reserve set to raise interest rates in December, and for now, again in March, along with a continued reduction in the balance sheet, world dollar liquidity and banking liquidity will continue to contract. It is nearly a certainty given the mechanisms of monetary tightening.
Liquidity will be reduced; the argument is whether or not it will have an impact greater than what has been already felt. I would argue that further contractions in reserve aggregates, credit aggregates, and monetary aggregates and thus global liquidity, will cause more pain in EM economies, markets, and currencies.
2. Rising U.S. Dollar Will Continue
A stronger U.S. dollar is undoubtedly a negative for EM. Over the past two years, the U.S. dollar (UUP) has increased in value and EM currencies as a whole, defined by ETF (CEW) have declined. Recently, the dollar has given back some of the gains and EM currencies have rebounded. As with equity markets, nothing goes up or down in a straight line. Is this just a bounce in a longer-term downtrend or is the rally in the U.S. dollar over?
U.S. Dollar Bullish ETF (UUP)/Emerging Market Currencies (CEW):

Source: YCharts, EPB Macro Research
Given the expected trends in U.S. dollar liquidity, I believe the U.S. dollar will continue to rise which will further pressure EM markets.
A chart I posted in the last article, from Nordea Markets, outline the expected path of excess liquidity, overlaid with the U.S. dollar. The graph indicates that liquidity will not bottom in rate of change terms until at least the early part of 2019.
U.S. Dollar Set To Continue Its Rise Into Global Tightening: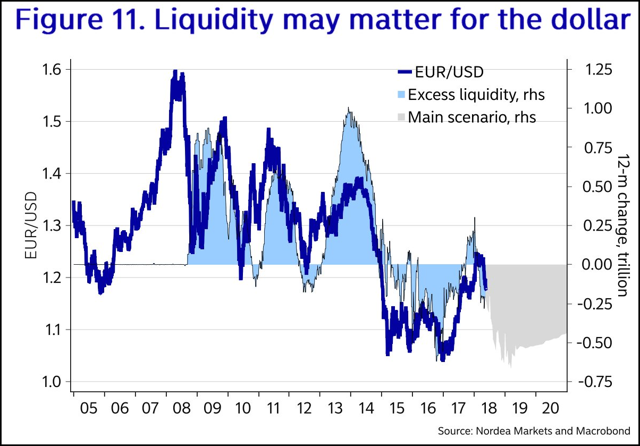 Source: Nordea Markets, Twitter
As dollar liquidity contracts, fewer dollars are available. This supply shortage drives up the value of the dollar. With dollar liquidity expected to continue declining with the outlined pace of monetary tightening, there is no reason for the declines in EM currencies to reverse and move higher. Coupled with slowing economies, local EM currencies have more downside.
3. Contracting Global Economy
As mentioned in the introduction, much of the declines EEM are attributed to trade wars or tariffs, but there has not been much discussion around the collapsing economic data that is being seen around much of the world outside the United States.
Many of the countries that are in the worst shape economically have little or nothing to do with current trade tensions. The economic weakness is simply a result of reduced global liquidity, a stronger U.S. dollar, and a normal business cycle slowdown.
As many EM economies start to contract, the value of their local currency should be expected to decline.
Since we are most concerned with the ETF EEM, the countries we should look at most closely are China, South Korea, Taiwan, India, and South Africa. These five countries comprise roughly 75% of the EEM ETF.
We know from the sections above that the macro overlay is quite bearish for EM as a whole. We can now look at the individual country level to gauge the actual economic impact.
Before doing so, if we look at the 33 international ETF performance table below, we can see that many of the biggest decliners YTD are EM countries. Many of those countries have nothing to do with the trade war.
Emerging Market Equities Are Declining: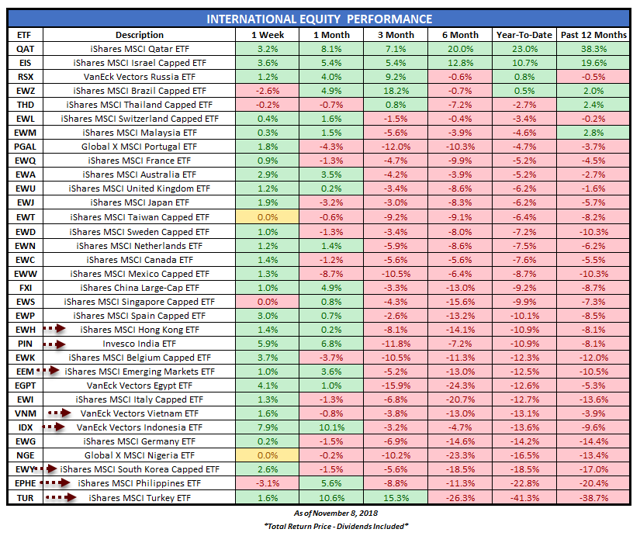 Source: YCharts, EPB Macro Research
Countries such as the Philippines (EPHE), South Korea (EWY), Indonesia (IDX), and Vietnam (VNM) are not particularly intertwined with trade war talks but have all seen substantial declines in their equity markets due to economic slowdowns. The Philippines is down 23% YTD while South Korea has fallen nearly 20% in the past six months.
Let's take a look at some of the economic data starting with the largest component in the EEM ETF, China.
In late 2015, through early 2016, China's economy was slowing quite dramatically. The manufacturing PMI reading dipped below 48, well into contractionary territory and the Yuan was weakening. The weakness out of China spread globally as stock markets around the world started to decline. A globally coordinated effort dubbed the "Shanghai Accord" lifted markets and revived the economy with a record stimulus coming out of China.
The recovery in the Chinese economy can be seen in the chart below, with the manufacturing PMI rising for most of 2016 and through 2017. Starting at the beginning of 2018, the acceleration subsided, and the globally synchronized recovery began to falter.
Fast forward to the present, and China's manufacturing sector is on the cusp of contraction once again with the Caixin Manufacturing PMI hovering around the 50 line.
An economic slowdown in China has been underway since the start of 2018. The slowdown has contributed as much if not more to the weak stock market performance compared to the trade wars and tariffs.
China Caixin Manufacturing PMI: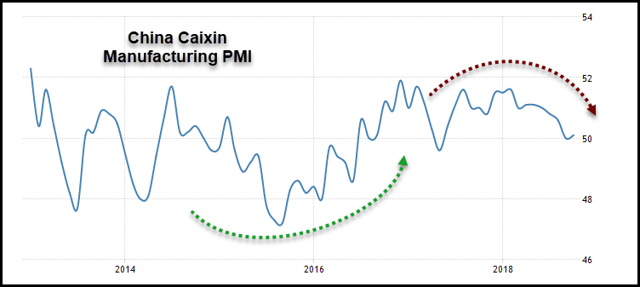 Source: Trading Economics
Flipping over to the second largest component of the EEM ETF, South Korea, showed PMI readings below 50, a contractionary reading, for most of 2018. In the recent two months, the PMI reading rose just out of negative territory to 51.
South Korea Manufacturing PMI: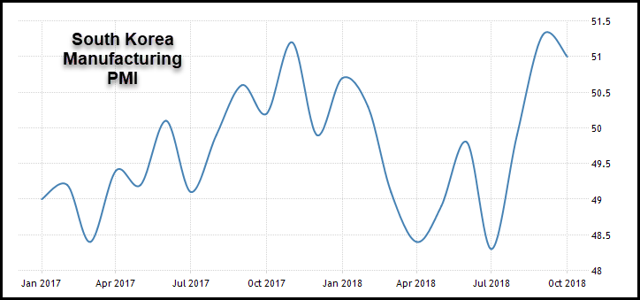 Source: Trading Economics
The rise in the PMI out of South Korea is not all good news because most other industrial data is still plunging. South Korea is a manufacturing bellwether which makes their industrial declines worrisome for the health of the global economy which the United States is unlikely to stay decoupled from.
Industrial production growth in South Korea plunged to nearly -10% year over year. At the end of 2017, when the global synchronized recovery was at its peak, industrial production growth in South Korea was +10% year over year. A 20-point swing in one of the world's most important manufacturing economies should outline the global growth slowdown.
South Korea is not declining due to trade wars; their economy is simply slowing. The slowdown globally is due to a contractionary monetary policy which is reducing liquidity, and a rising U.S. dollar which is set to continue, especially after the Federal Reserve seems determined to keep raising rates after their November meeting.
South Korea Industrial Production Year over Year: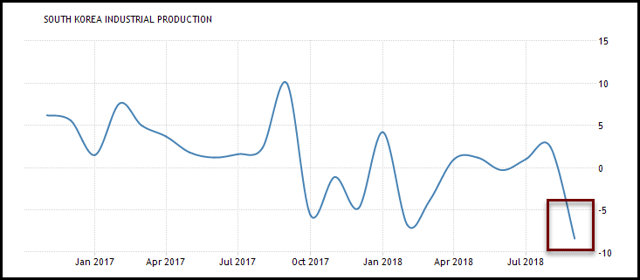 Source: Trading Economics
Furthermore in South Korea, construction output in plunging. The global recovery can be seen in the accelerating in construction output, but again, in late 2017, the global economy rolled over. Construction output in South Korea is now down nearly 20% in year over year terms.
South Korea Construction Output Year over Year: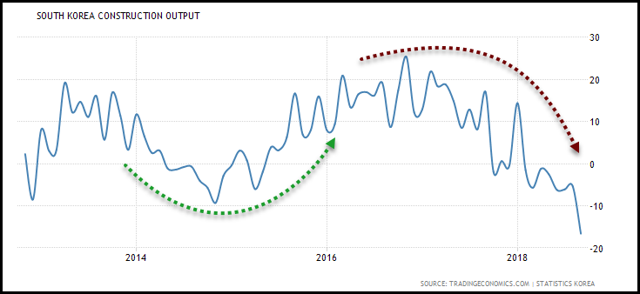 Source: Trading Economics
The manufacturing PMI reading for Taiwan (EWT) has also slipped below 50 and into contractionary territory. The three largest components of the EEM ETF are near or in contractionary territory. At the risk of redundancy, the global recovery can be seen in the rise from 2016 through 2018 in the PMI below. Starting in 2018, the global economy rolled over and manufacturing PMIs, and global growth began to roll over. We are now seeing outright contractions in many EM countries.
Taiwan Manufacturing PMI: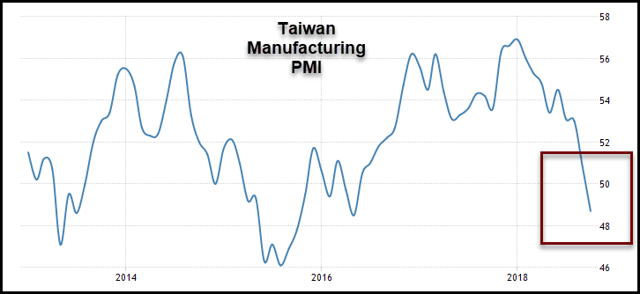 Source: Trading Economics
Thailand is also in a contractionary territory with a PMI reading of slightly less than 49.
Aside from China, the other countries covered are not heavily involved with any trade war or tariff discussion that is meaningful, yet their economies have seemingly rolled over simultaneously.
Thailand Manufacturing PMI: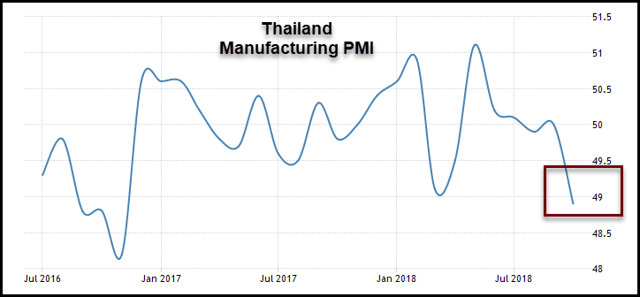 Source: Trading Economics
The globally synchronized recovery that took place from 2016 through 2018 is now very clearly a globally synchronized slowdown. The only country to not join the party, just yet, is the United States. You can make the argument that growth has already started to slow in the United States, and I have made that argument, but it is not as clear as it is in the EM countries.
Even the slowdown in Europe is moving to the forefront as there is recessionary data all across the eurozone. The global slowdown can perhaps be seen most clearly in the composite Euro Area Manufacturing PMI which peaked right at the end of 2017, unsurprisingly with the rest of the world.
Euro Area Manufacturing PMI: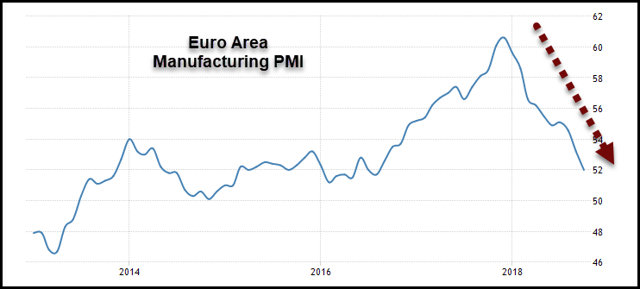 Source: Trading Economics
The global economy is slowing. The slowdown started at the beginning of 2018 and now, the slowdown is accelerating, especially in most EM countries. Those who are looking for a bottom in EM markets should ask when the global economy will bottom (or stop slowing) and when EM economies will reverse because right now, it is starting to look like the slowdown is intensifying.
Summary
The Federal Reserve started to aggressively contract monetary policy towards the end of 2017. This had almost an immediate effect on EM economies who borrowed money in U.S. dollars. The rising interest rates and contracting global liquidity squeezed EM countries and banking sectors quite hard.
As the monetary policy became increasingly intense throughout 2018, with Quantitative Tightening "QT" increasing in pace each quarter, the slowdowns in many EM economies became more apparent.
EEM Peaked When The Global Economy Peaked: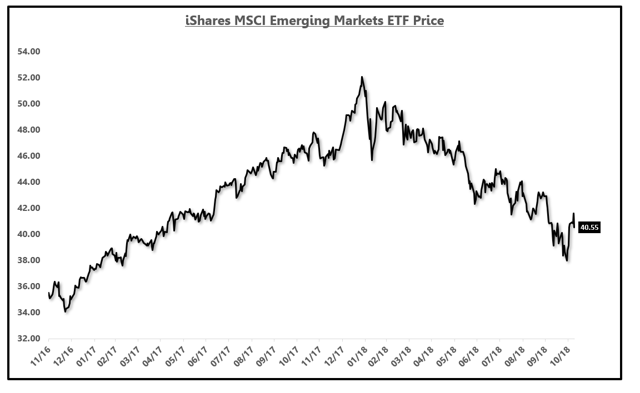 Source: YCharts, EPB Macro Research
The monetary policy actions from the Federal Reserve very clearly contracted global dollar liquidity. This contraction in liquidity and interest rate differential has put upward pressure on the U.S. dollar which is exacerbating the pain in EM economies.
As many economies around the world are starting to suffer, as described above, they may begin to ease policy which will cause a further disparity between interest rates and monetary policy, especially if the Federal Reserve continues on their current path to raise rates in December and again in March in conjunction with QT.
JPMorgan Global Composite PMI: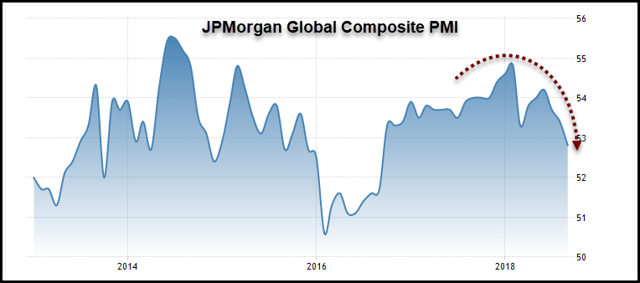 Source: Trading Economics
It is not enough to say that EM markets are cheap and therefore a good buy. Cheap can get cheaper if the economy continues to roll over for the Emerging Markets.
What is the fundamental reason for a turnaround in EM markets?
The recent move higher was a bounce within a longer-term downtrend. The U.S. Market bounced, led higher by Technology (QQQ) and all the sectors that were beaten down such as banks (XLF), leading to a squeeze higher in EEM which, at one point was down 27% from the January high.
EEM Percent Off High: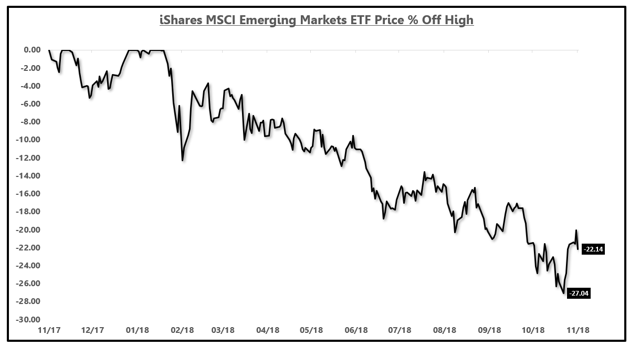 Source YCharts, EPB Macro Research
The reasons that have caused this decline, that we foresaw in early 2018 including contracting liquidity, a rising dollar, and a slowing economy are all still present and empirically worse.
As long as these conditions remain, there is more downside in the Emerging Markets.
Quick Housekeeping Note:
Please note that articles are now only being sent out to those that have chosen to "Follow" me. So, if you would like notification as to when my articles are published, please hit the orange button at the top to "Follow" me. Thank you.