Hampered L Brands (LB) stock has shown some signs of life recently, and with good reason. The company's biggest headwind, falling popularity of the Victoria's Secret brand, is easing, and VS is actually showing signs of improvement ahead of the holiday season. Meanwhile, Bath & Body Works is reporting its best Fall season comparable sales growth numbers in the past five-plus years. Also, holiday retail sales projections are starting to roll in, and they are quite optimistic given the strength of the consumer.
Meanwhile, LB stock trades at discount multiple amid all these positive developments. As such, although the stock has rallied considerably off its lows, this rally is far from over. Given this dynamic of improving fundamentals converging on a discounted valuation, we think LB stock will stage a similar year-end 2018 rally like it did in 2017, implying potential runway to $60.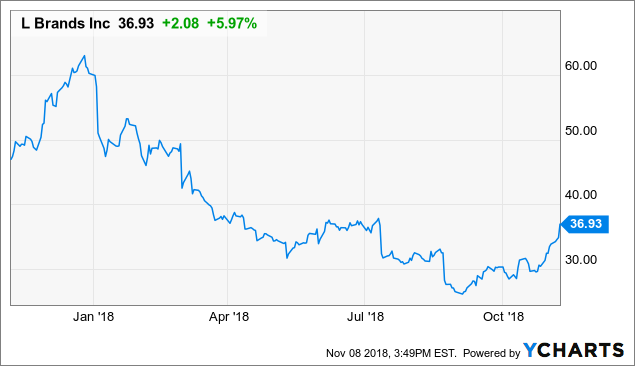 The L Brands story is one that has been dominated by pervasive and persistent weakness in the Victoria's Secret business. Simply, VS is losing intimates market share as the market shifts away from bombshell beauty and towards natural beauty. Whereas VS made a killing over the past decade on bombshell beauty trends that increased the popularity of push-up bras and provocative intimates apparel, those trends have now been replaced with natural beauty trends. Consequently, push-up bras are being subbed out with bralettes and provocative intimates apparel is being subbed out with more natural looking lingerie.
The net result is big losses for VS, and big gains for more natural-oriented lingerie companies like Aerie, owned by American Eagle Outfitters (AEO). Look no further than recent operating results for evidence. Aerie posted comparable sales growth of 27% in the second quarter of 2018. That follows 38% growth in first quarter of 2018 and 34% comparable sales growth in the fourth quarter of 2017. Meanwhile, VS has struggled to report even positive comparable sales growth.
Clearly, Aerie is winning where VS is not. But, the market for push-up bras and provocative lingerie isn't going away any time soon, and growth trends at VS have been gradually improving over the past several months. While VS's flat comp in October 2018 isn't exactly anything to write home about, that flat comp comes against an up 1% lap, so comparable sales are up 1% on a two-year basis. That is something to write home about. This is the first time since December 2016 that comparable sales on a two-year stack basis are positive, and it continues what has been a multi-month uptrend in two-year stack comparable sales. Moreover, BBW is reporting comparable sales growth in the 10-15% range, which is a multi-year best.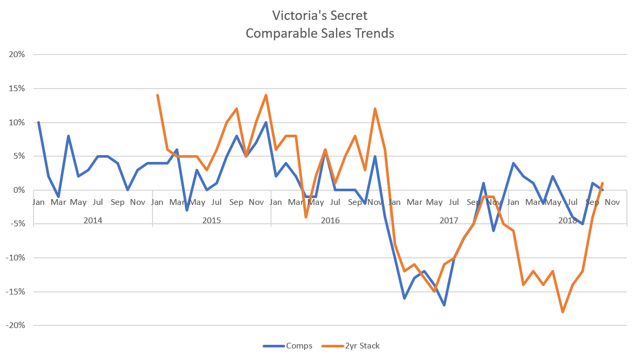 We saw a similar uptick around the same time last year. Granted, the uptick didn't last, and comparable sales trends started worsening in early 2018. But, excitement surrounding potential VS stabilization pushed LB stock dramatically higher in late 2017.
We could get a similar rally here. In October 2017, LB was a $40 stock with a 13 forward multiple and 6% dividend yield. We have a very similar situation today. LB is a near $40 stock with a 14 forward multiple and a 6.5% yield. Thus, considering we are seeing a similar and arguably even better uptick in VS comparable sales this year and that BBW is performing at a multi-year best, we believe that LB stock is due for a similar 2018-end rally like the one it had in late 2017. This is especially true since everyone from the National Retail Federation to Moody's to eMarketer is upbeat on retail sales this holiday season, much like they were upbeat last year, too.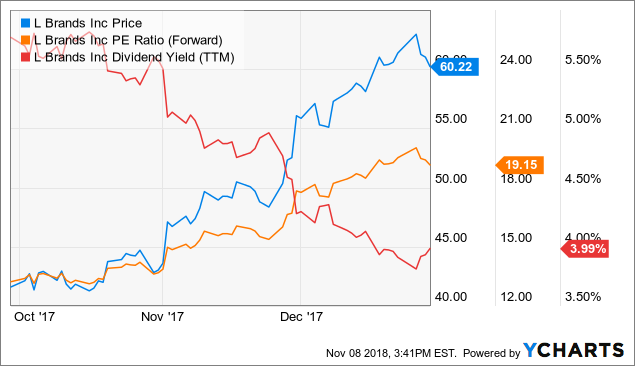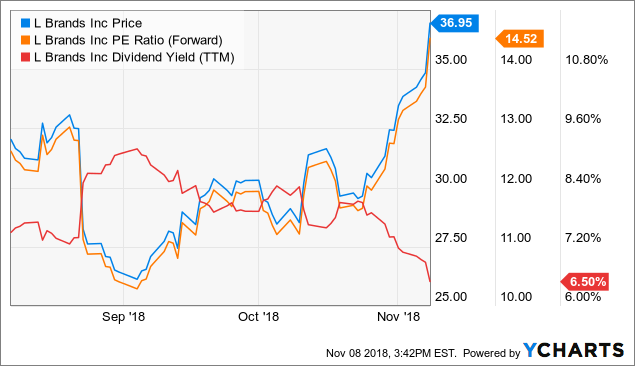 Overall, we think there are reasons to be bullish on LB stock ahead of the holiday season. Fundamentals are improving, with VS comparable sales trends improving and BBW comparable sales growth at multi-year highs, and those improving fundamentals are rapidly converging on a discounted valuation. This is a similar convergence to the one we saw last year, and it resulted in LB stock going from $40 to $60. LB stock could be in store for a similar rally to end 2018.
Disclosure: I am/we are long LB. I wrote this article myself, and it expresses my own opinions. I am not receiving compensation for it (other than from Seeking Alpha). I have no business relationship with any company whose stock is mentioned in this article.