Market Intro

US stocks (SPY, DIA, QQQ, IWM) felt the sting of loss in the Friday morning session, likely in relation to the hot PPI release. That said, US Treasury yields are down across the board. Spot VIX is up a little over a vol point as of about 11:15 AM.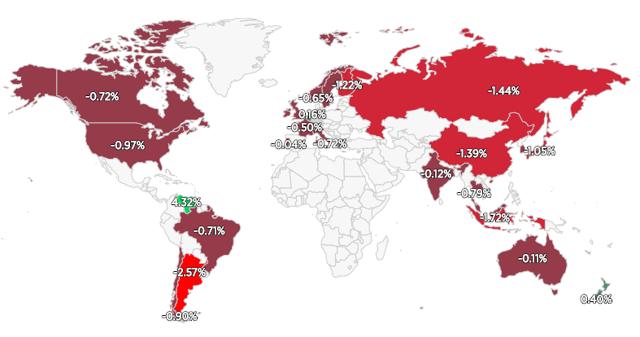 CNBC: 11:15 AM EST
Perhaps in relation to yesterday's FOMC release, international stocks (ACWX, EEM, EFA) fell in the final day of trade for what has otherwise been a positive week for equity.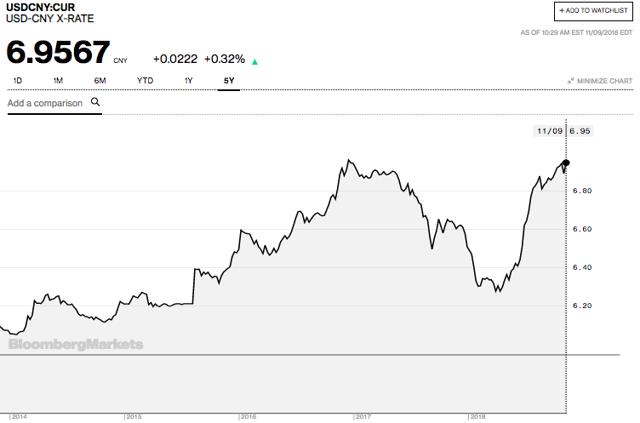 The USD:CNY pair remains on the cusp of breaching the 7 mark, something not seen in over a decade. History does not have to repeat, but rapid CNY devaluation was arguably one of the major causes of sharply higher volatility in mid 2015 through early 2016.
Thoughts on Volatility

The unwind of QE was never going to be easy. While I was not a big supporter of Chair Yellen, I recognize that almost anyone who followed Chair Bernanke was basically going to have their leadership defined as working through the immediate implications of his experimental policies.
I laud the Fed for continuing forward with the balance sheet reduction: we are no longer in a crisis, and it is irresponsible to treat a reasonably healthy patient as though they were in the emergency room.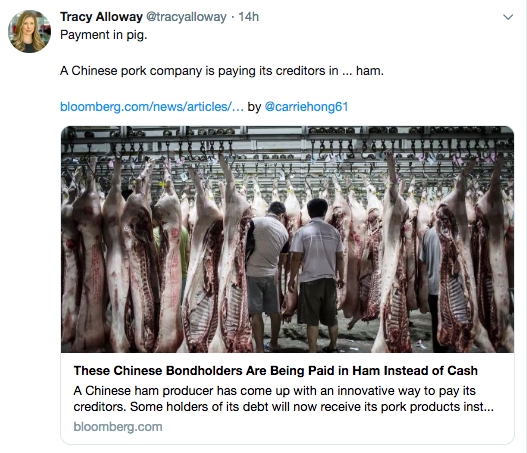 In-kind payment! In actuality, such schemes (I do not use the term "schemes" here in a negative sense) have existed at several points in human history. In fact, this approach can function as a form of money in times of tight credit.
And in fact that is what might be revealing about this story: why not just pay in cash? It turned out that this ham producer was unable to pay its debts.
Companies encounter trouble all the time, and I do not believe that this should be treated as some kind of red flag. To the contrary, I am a staunch proponent of thinking flexibly, and I laud this company for trying to work through its woes in a pragmatic but creative fashion.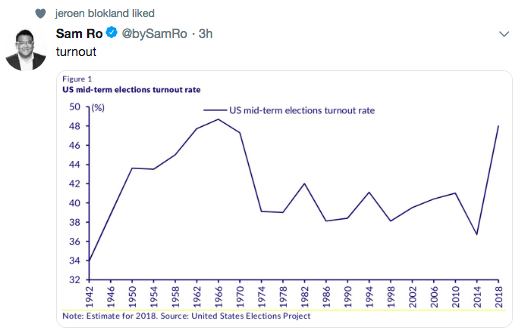 Well, people decided to go out and have their voices heard on this past election cycle. That's exciting.
Time will tell what the effect in the reshuffling of leadership and influence brings to US fiscal policy, but I for one am hopeful (though I'm hardly holding my breath) that a split Congress encourages more bipartisanship. I am of the mind that we maximize the net present value of our aggregate national interest when we compromise and look across both aisles for effective solutions to shared problems.
Term Structure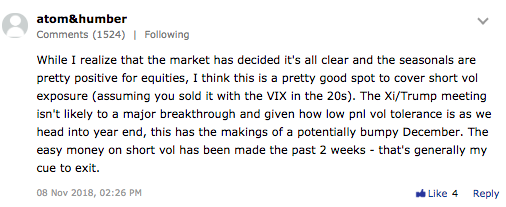 Thanks for sharing your thoughts, A&H. We ought to keep in mind that no one single factor caused October's persistent thrashing. It may be difficult to exorcise demons in a week or two.
The term structure has become far more neutral here. One can easily make the argument that vol longs (VXX, UVXY) will soon take the opportunity to reload. In particular I liked A&H's point that institutions and professional money managers may have a low vol p&l, especially given that the year has seen a lot of upheaval.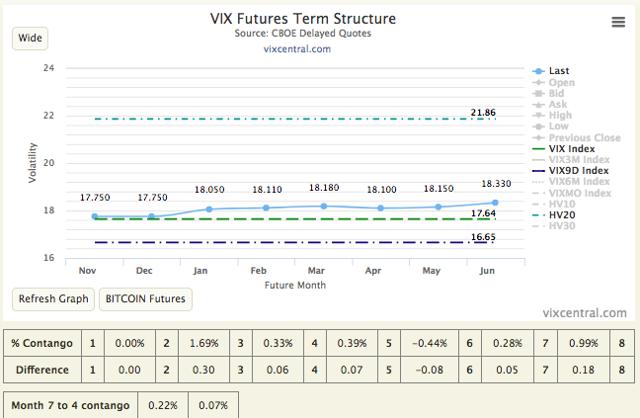 The term structure is flat at the moment. It surprised me to see the VIX9D hold its ground in spite of the reasonably large down move in the SPX today. I read that as short-term volatility traders viewing today's action as contained.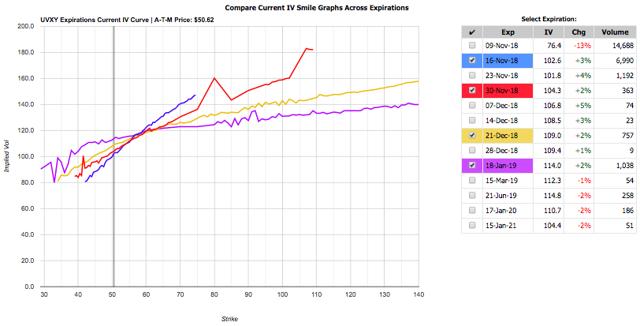 MarketChameleon.com: UVXY Implied Vol by strike Price
Careful with options strategies that involve skew on volatility products such as UVXY, featured above. I run into individuals who clearly do not understand that asymmetry is already baked into the options market. Above one can see how implied volatility varies across differing strikes and maturities on this product.
Conclusion
If this is your first time reading Market Volatility Bulletin, thanks for giving it a try. If you're a regular, we thank you for your ongoing contributions in the comments section.
Thank you for reading.
Please consider following.
Disclosure: I/we have no positions in any stocks mentioned, and no plans to initiate any positions within the next 72 hours.
I wrote this article myself, and it expresses my own opinions. I am not receiving compensation for it (other than from Seeking Alpha). I have no business relationship with any company whose stock is mentioned in this article.
Additional disclosure: I actively trade the futures and options markets, potentially taking multiple positions on any given day, both long and short. I also hold a more traditional portfolio of stocks and bonds that I do not "trade". I do believe the S&P 500 is priced for poor forward-looking returns over a long timeframe, and so my trading activity centers around a negative delta for hedging purposes.