Even though I expected Ctrip.Com International Ltd. (CTRP) to be volatile, I was still a little surprised with its 19% drop in a single day. Here's my take on the drop and whether it's a buy now or not.
Business Overview
Ctrip is a leading travel service provider of accommodation reservation, transportation ticketing, packaged tours, and corporate travel management in China. It's the largest travel company in China.
It aggregates comprehensive travel-related information and offers its services through an advanced transaction and service platform comprising of its mobile apps, Internet websites, and centralized, toll-free, 24-hour customer service center.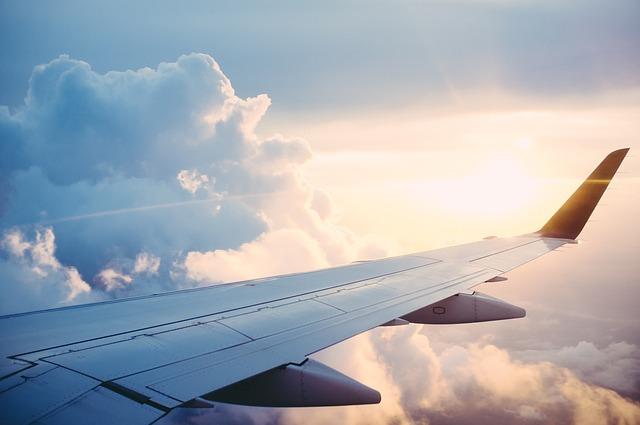 Over the years, Ctrip has integrated with the global travel supply chain to offer more choices and better prices and experiences for its users. It offers 60-plus products and services, including flights, hotels, ground transportation, ferries/cruises, tour guides, in-destination restaurant partner capabilities, and more, as an integrated one-stop shopping experience.
For example, at the end of 2017, Ctrip had linked up with nearly 300 airlines, offering 3 million-plus routes globally. It had partnered up with 1.3 million hotels around the globe and offered nearly 1 million alternative accommodation listings via Tujia, a leading alternative accommodations platform in China.
Its train ticketing business covered all train routes in China and also train travel in overseas markets such as Europe and Korea. "Rail (is a) broader and faster network (and) covers two-thirds of where Ctrip customers want to go." (Source: ChinaTravelNews)
Its bus ticketing business covered 3,000-plus bus stations in China, and its car rental and chauffeur team provided services in 300-plus cities across 200 countries.
Weak Currency
Like many other Chinese stocks listed as American Depository Receipts ("ADRs") or American Depository Shares ("ADSs"), the stock has fallen a lot, partly due to a weaker Chinese currency to U.S. dollars. The devaluation of the Chinese Yuan may be a tool "to offset the impact of any trade deal that curbs exports" (Bloomberg).
Here's a chart showing the CNY to USD in the last two years.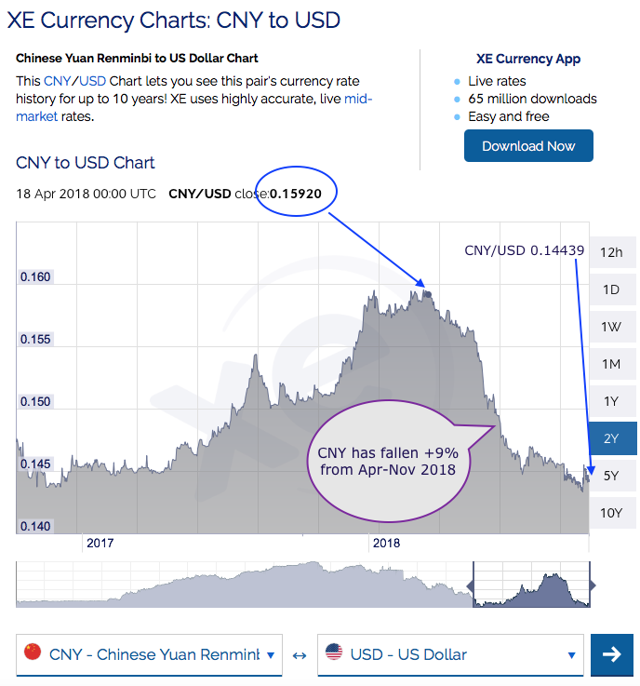 Source: xe.com with author's annotations
However, there's something more to it than just a weak currency when Ctrip stock dropped 19% on November 8.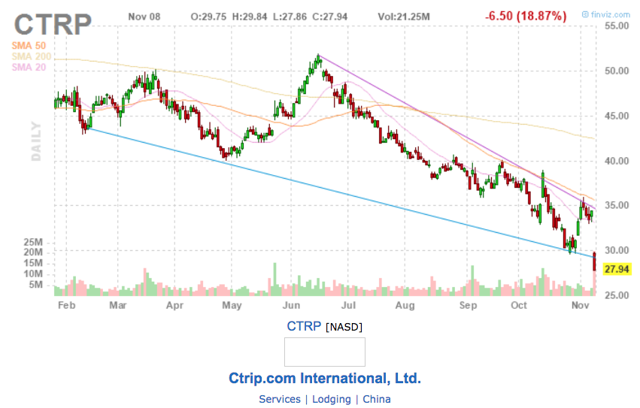 Source: Finviz
Compressing Margins
Ctrip just reported its Q3 2018 results on November 7. And the stock fell 19% on the next day.
Compared to the same period in 2017, Ctrip's net revenue increased by 15.2% to RMB9.36 billion (US$1.36 billion). Ctrip experienced revenue growth across all its segments, with a particularly strong growth of 21% to RMB3.63 billion in accommodation reservation, 28% to RMB1.38 billion in the packaged tour, and 31.5% to RMB267 million in packaged tour.
Here's the Q3 revenue diversification: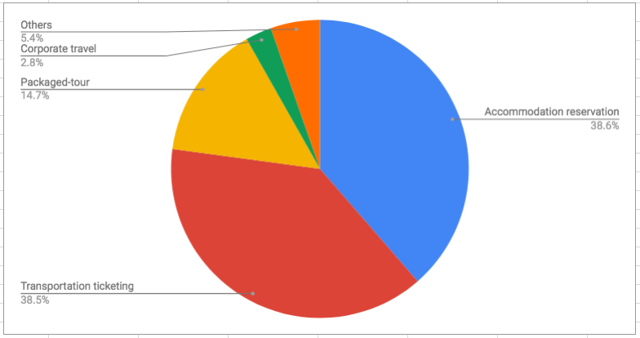 Source: Data from CTRP's From 6-K Q3 2018
Its cost of revenue was 21.3% of net revenue compared to 16% in Q3 2017. Its gross profit margin decreased from 83.4% to 78.7%. Its operating margin was 16%, which was lower than Q3 2017's 19%. Compressing margins imply it may be becoming more expensive to increase revenue, for example, due to increased competition.
We'll need to observe over time to see if margins will continue to be compressed (seemingly in exchange for revenue growth).
Why Did Ctrip Fall 19%?
I think what really threw the market off was Ctrip's net loss of -RMB1.14 billion (-US$165 million) for the quarter, which equated to diluted losses per share of -RMB16.62 (-US$2.42) for its ordinary shares and diluted losses per share of -RMB2.08 (-US0.30) for its ADS.
The business performance wasn't nearly as bad with Ctrip reporting operating income of RMB1.48 billion (US$215 million), which declined 6.3% from Q3 2017's RMB1.58 billion (US$724 million), partly due to an increase of 12.4% in its operating expenses.
Additionally, Ctrip booked a huge loss of -RMB2.63 billion (US$382 million) on its investments, which is what really led Ctrip to the huge loss. Without the loss from the investments, the net income would have been RMB1.52 billion (US$222 million) for the quarter.
Balance Sheet
Ctrip's balance sheet seems pretty solid. The investment loss was about 12% of the cash and cash equivalents on Ctrip's balance sheet.
At the end of Q3, Ctrip had current assets of RMB84.5 billion (US$12.3 billion), including cash and cash equivalents of RMB21.5 billion (US$3.1 billion) and short-term investments of RMB37.8 billion (US$5.5 billion). It had total assets of RMB$189.4 billion (US$27.6 billion).
It had current liabilities of RMB69.1 billion (US$10.1 billion) and total liabilities of RMB99.4 billion (US$14.5 billion).
Ctrip's debt/equity was 1.1, compared to its competitors, Booking Holdings' (BKNG) 1.4 and Expedia's (EXPE) 2.2. Ctrip's debt/asset was 0.52, compared to Booking's 0.59 and Expedia's 0.69. Based on these metrics, Ctrip doesn't look overleveraged.
Is Ctrip a Bargain?
Given that Ctrip's business operations are intact (even though it would be supportive to see margins stabilize or improve in the coming quarters) and an expectation of a busy holiday season for the company, Ctrip should recoup its investment losses through its operations within a couple of quarters.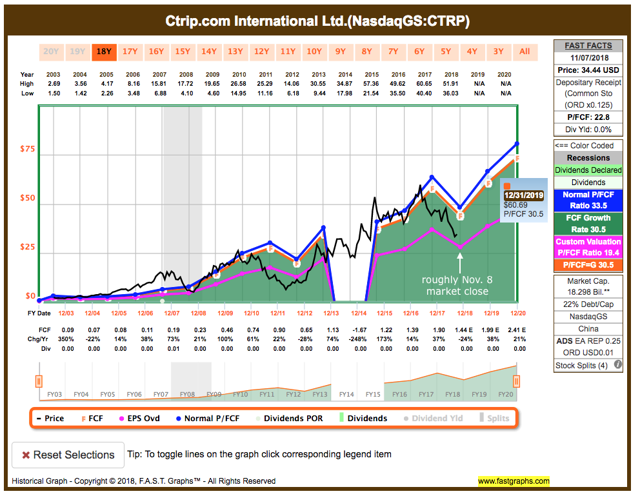 Source: FAST Graphs - Price to Free Cash Flow
Assuming Ctrip doesn't book another huge loss on its investments, it's likely a buy at current levels for investors with a high-risk tolerance, as the stock is above-average volatile. However, it would be safer to wait for consolidation in the stock first.
Investor Takeaway
Ctrip's operations are still intact even though it has experienced margin compressions. In the coming quarters, it would be supportive to see stabilized margins if not an improvement. It also would be more meaningful to compare full-year margins over time. Management gave revenue growth guidance of 15%-20% for this year in the press release.
The stock probably overshot itself. In the near term, it can experience above-average volatility (even for its standards) as the market digests the Q3 results.
The company's balance sheet is strong and its cash and cash equivalents can absorb the blow from the investment loss with no problem. It's also positive that Ctrip seems to be less leveraged than its peers.
The stock is undervalued, and investors with a high risk tolerance can consider a position in the stock, although it would be safer to wait for some stock consolidation before buying.
Ctrip stock can climb much higher if it experiences a strong holiday season in the next quarter or if the company books gains on its investments in the future.
Disclaimer: This article consists of my opinions and is for educational purposes only. Please do your own research and due diligence and consult a financial advisor and or tax professional if necessary before making any investment decisions.
DGI Across North America subscribers got more details for this article, including the accounting details with regards to Ctrip booking a loss on its investment, valuation analysis on Ctrip based on P/E, price targets from analysts, and technical analysis.
Disclosure: I am/we are long CTRP.
I wrote this article myself, and it expresses my own opinions. I am not receiving compensation for it (other than from Seeking Alpha). I have no business relationship with any company whose stock is mentioned in this article.