Quick Take
Marchex (NASDAQ:MCHX) announced it has acquired Telmetrics for up to $13.6 million in cash and RSUs.
Telmetrics operates as an enterprise call and SMS/text tracking and analytics company.
MCHX is gaining additional enterprise offerings that are complementary with its existing call analytics solutions as well as exposure to new customer verticals.
If management can take advantage of the new capabilities to further bolster its offerings in the conversation analytics space, the deal may be a significant growth driver in 2019.
Target Company
Mississauga, Ontario-based Telmetrics was founded in 1990 to enable, track and analyze consumer interactions to increase engagement and return on advertising spend.
Management is headed by CEO Andrew Osmak, who has been with the firm since 2016 and was previously Managing Partner at Leverage Capital.
Below is an overview video of the company's platform:
(Source:Telmetrics)
Telmetrics' primary offerings include:
Dynamic Number Insertion
Call Scoring
Text and SMS Messaging
Caller Profile
Call Routing
Major customers include DexYP, National Bank of Canada, Autotrader, Yelp, and Web.com.
Market & Competition
According to a market research report by Markets and Markets, the global contact center analytics market was valued at $710 million in 2017 and is projected to reach $1.5 billion by 2022.
This represents a strong CAGR of 15.9% between 2018 and 2022.
The main driver for this expected growth is the high demand for better customer experience management solutions.
The customer experience management segment is expected to grow at the highest CAGR during the forecast period.
Major vendors that provide call center analytics include:
Cisco Systems (CSCO)
Genpact (G)
Verint Systems (VRNT)
8X8 (EGT.F)
Genesys
Oracle Corporation (ORCL)
Mitel Networks Corporation (MITL)
Acquisition Terms and Rationale
Marchex disclosed the acquisition price and terms as $10.1 million in upfront cash, potential payments of up to $3 million based on the achievement of certain revenue and OIBA (Operating Income Before Amortization) targets over the two 12-month periods following the close, and $0.5 million in RSUs and options to certain employees of Telmetrics.
MCHX said it expects Telmetrics to 'contribute $1.25 million in core analytics revenue,' in the partial fourth quarter. For 2019, management believes the acquisition will be accretive on a non-GAAP basis.
A review of the firm's most recent quarterly results indicates that its revenues were flat, but core analytics revenues, which are relevant to the Telmetrics deal, were up 8% sequentially.
Management is seeing 'favorable trends...from the early adoption by large brands of our conversation analytics solutions. We're seeing favorable results from customers utilizing solutions built off of our proprietary speech technology. Given the growth and margin profile as well as the stickiness of these products, we plan to increasingly optimize resources to support our areas of greatest growth potential.' [Italics mine]
As Marchex Executive Director Russell Horowitz stated in the deal announcement,
Our vision is to create the leading conversational analytics company, including voice and text solutions. With the addition of Telmetrics, Marchex has increased our footprint of opportunities, expedited our growing text communications product initiatives, and captured additional scale and efficiencies with our call analytics business.
In the past 12 months, MCHX' stock price has dropped 8.1% vs. the S&P 500 Index increase of 4%, as the chart below indicates: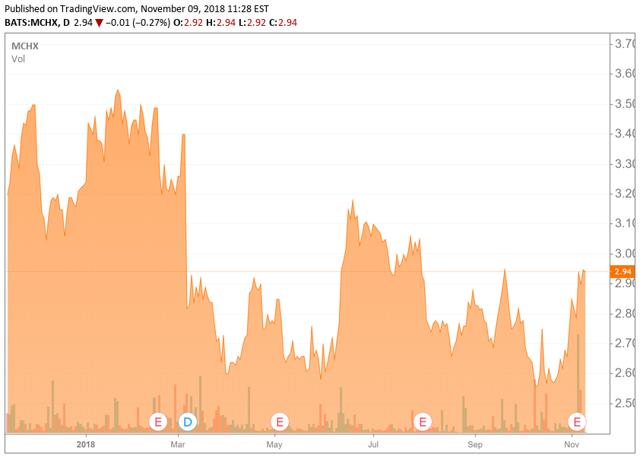 (Source:Seeking Alpha)
Marchex acquired Telmetrics for its enterprise call/text tracking and analytics capabilities.
It's 'Smart Number' service is used by enterprises to collect and analyze SMS/text conversations with their customers in real-time.
Telmetrics has customers in the vertical categories of auto, digital agencies, local aggregators, and online directories.
So, the deal for Telmetrics increases Marchex' footprint in these new customer verticals, enabling increasing cross-selling opportunities.
Since announcing the deal, MCHX stock is up 5.7% on increased volume, so it appears investors like the deal in addition to the recent upward trend of the stock.
If management can quickly integrate Telmetrics' technology into its offering and continue to innovate, especially around its conversation analytics offerings, the combined deal may be a significant growth driver for MCHX in 2019.