The Federal Reserve says the pace of consumer credit growth slowed in September. Yet the pace of growth of consumer credit has been growing nearly double the pace of retail sales growth.
Consumer credit does not include mortgages. It does include revolving credit (e.g.credit cards) and non-revolving credit (e.g. car loans, student loans, time payments, etc).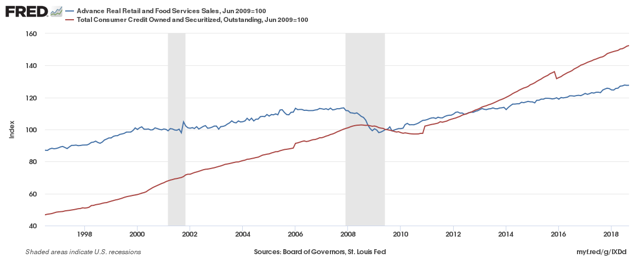 The graph above has indexed retail sales and consumer credit to the end of the recession. It seems that consumer credit has resumed the same pace of growth relative to retail sales seen prior to the Great Recession (after significantly slowing 2008-2010). The data in the above graph has not been adjusted for inflation.
In contrast to the graph above which shows significant growth when compared to retail sales, the overall rate of year-over-year growth of consumer credit is nearly the same as it was a year ago (blue line in the graph below).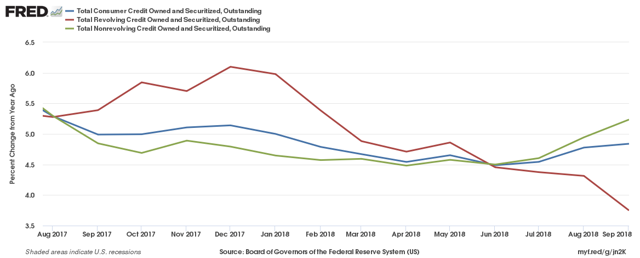 The Federal Reserve's rate of growth number jumps around because monthly growth is compounded to produce annual change. This method exaggerates small change and shows significant volatility and distortion from month-to-month. The bottom line is that consumer credit growth is increasing around the average seen since the end of the Great Recession.
I continue to believe that consumer credit cannot continue to grow faster than the sectors of the economy it services - and every month
To view the complete analysis - (click here).
Economic Releases This Past Week
The following table summarizes the more significant economic releases this past week. For more detailed analysis please visit our landing page which provides links to our complete analyses.
| Release | Potential Economic Impact | Comment |
| --- | --- | --- |
| October Conference Board Employment Index | N/A | The Conference Board Employment index rate of growth slowed. Our Econintersect employment index too has slowed. Still we do not expect to see a noticeable slowdown in jobs growth for the rest of the year. |
| September JOLTS | N/A | After the previous month's record setting level of job opening, job openings for September settled back to July's level. Still it was a good report and it suggests continued strong job growth. |
| September CoreLogic Home Prices | N/A | Although there is little affect on GDP, home price growth is forecast to slow by CoreLogic. However, their year-over-year home prices accelerated 0.1 % to 5.6 % |
| September Consumer Credit | Indirect | The headlines say that consumer spending significantly slowed (and it was well under expectations). However, the unadjusted data showed a modest YoY improvement - so the bottom line is that there is something wrong with the Fed's seasonal adjustment. Still, once you eliminate student loans and factor in inflation - there is little growth in consumer credit. |
| FOMC Meeting Announcement | None | This meeting announcement had no surprises and no increase in the federal funds rate. Cannot wait to see the meeting minutes - hopefully there was some fire in the meeting which was not discussed in the meeting announcement. |
| October Producer Price Index | Minor | There was a jump this month in producer price inflation from 2.6 % to 2.9 %. Recently producer price inflation has not creeped into consumer prices. |
| September Wholesale Trade | Unknown | Although the headlines say wholesale trade sales improved, the rolling averages declined - and the unadjusted data showed a significant slowing. Inventory levels remain very high but were little changed from last month. Because inventory levels have been so high for so long - it is likely there has been a change in what is being inventoried - and the high inventory levels are not indicative of a economic slowdown. |
| Surveys | Negative | The Markit and ISM Services surveys were released this week. The trend lines for services were different as well as the intensity. It is hard to draw a conclusion except that both surveys are well into expansion. |
| Weekly Rail Counts | Signs economy is slowing | The rolling averages and the year-over-year growth continues to slow. There is a correlation between rail growth and economic growth - and rail is saying the economy will slow. |
In summary, there was little this week to indicate any real change in economic growth. The economically negative news seems to be in balance with the positive developments. The economy does not grow across all sectors at the same pace.
Our Economic Forecast for November:
The Econintersect Economic Index for November 2018 continues to show the improvement cycle continues and remains well into territory associated with normal expansions. With the stock market correction, it's natural to assume that the economy is degrading. And there are several pundits throwing around forecasts of a recession. But our Econintersect Economic Index (EEI) moderately improved and still remains well into territory associated with normal expansions.
Our last forecast showed a significant decline in our economic index. This month there was a slight bounce. Still we are seeing mixed trend lines - which usually happens when there is an overall reversal in trends. Our major worry is the rapid deceleration of growth in rail transport data - a usual flag for a slowing economy.
Disclosure: I/we have no positions in any stocks mentioned, and no plans to initiate any positions within the next 72 hours.