Although shares of Sanderson Farms (SAFM) can be heavily influenced by outside factors such as commodity pricing or something like bird flu, we believe management is behaving in the right fashion by continuing to invest through the cycle. When valuing companies, we place a higher importance on the book and sales multiple than on other valuation metrics. Currently, SAFM trades with a book multiple of 1.6 and a sales multiple of 0.7. Its low book multiple, for example, has not been seen since 2010. Low price to book ratios invariably means a strong balance sheet. Sanderson Farms boasts $1.433 billion of equity on its balance sheet. Its present market cap of $2.38 billion gives us our book multiple of 1.6.
Why is investing in stocks with low book multiples important? Because the lower the book multiple, the more assets we receive from our investment. Those assets have resulted in net income of $178 million over the past four quarters in what has been a very difficult trading period for SAFM. We believe shares are going through a multi-month bottoming process which will ultimately end up in a breakout. Here are reasons to back up our point of view.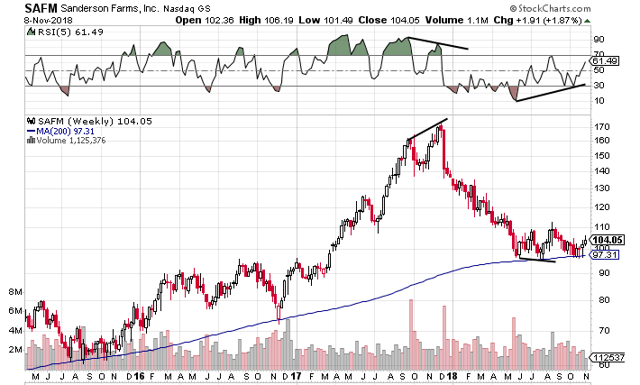 If we look at the long-term weekly chart first, we can see that the 200-week moving average has provided solid support for more than three years now. Price bounced off this support level at various stages in 2015, again in late 2016, and once again at various stages this year. Furthermore, look at how the momentum RSI oscillator consistently diverged from price when a trend change took place. Although price dropped fractionally lower in July of this year, the RSI indicator didn't even drop into oversold levels. The beauty of the RSI indicator is that divergences usually occur before price changes direction. With shares trading at around the $104 level, price remains only around $6 above the 200-week moving average. The RSI momentum indicator though is now well above the significant "50" crossover line and has diverged significantly from where it was trading 6 months ago or so. Is the RSI telegraphing an imminent move?
In fact, if we construct a long-term trend line from the lows of 2015, we can see that price once again recently bounced off this trend line. The longer and more point of contact a trend line has, the more significant the line becomes as support as shown below.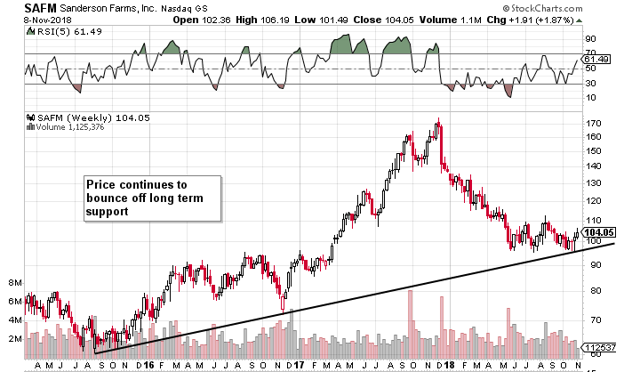 Sanderson Farms also broke above its highs of the past 4 weeks. The "4-Week Rule" can be an invaluable early signal that shares may be about to trade outside of their trading range. Obviously, if shares continue within their current trading range, the 4-week rule is not of much use. However, SAFM's trading range is now longer than the similar consolidation period we had in 2015. Shares have now bounced off support at least 3 times over the past 6 months. This means we could have a triple bottom reversal pattern on our hands.
If we do have a reversal pattern in play, we would expect (once a break-out occurs), for price to rally at least the width of the current consolidation box. The width of the current area is around $16 a share. Therefore, since price surpassed $112 in August, we would be looking for a potential move to at least the $130-mark. Obviously, the reversal pattern would not be confirmed until price breaks above the upper resistance line on heavy volume.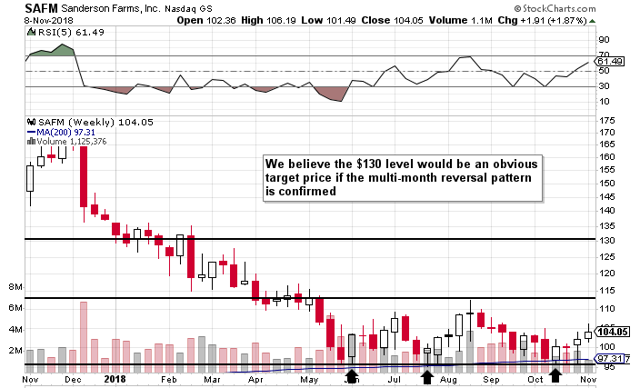 The company will announce its earnings next month on the 13th. Implied volatility is up near 40% at the moment in this stock which brings potential opportunity. The market is definitely expecting a significant move shortly. To lower risk, one could sell something like a put or put spread through earnings. The advantage of this strategy is that one could get well away (in terms of strike price selection) from the current share price which obviously increases the chances of having a profitable trade. The disadvantages are that gains would be capped and that we most likely would not get a significant contraction in IV until earnings are announced. We will update how we will play this shortly.
Come join us for a free trial.
Disclosure: I/we have no positions in any stocks mentioned, but may initiate a long position in SAFM over the next 72 hours.
I wrote this article myself, and it expresses my own opinions. I am not receiving compensation for it (other than from Seeking Alpha). I have no business relationship with any company whose stock is mentioned in this article.