On October 15, I expressed my view that while I believed the Swiss franc to have long-term upside, any potential gains could be limited in the short-term due to continued loose monetary policy by the Swiss National Bank, as well as the fact that GDP growth on the whole continues to remain below average historical trends in Switzerland.
When we look at the CHF/USD, we see that the currency has seen a significant fall in the past month, even more so than the yen which also shares the franc's status as a safe haven currency: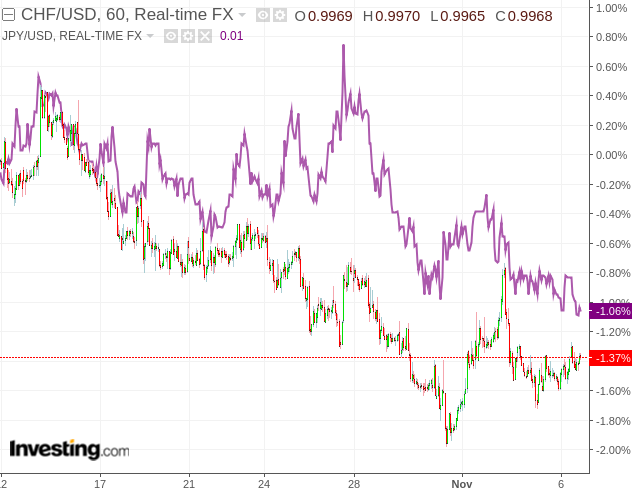 Source: investing.com
That said, when we zoom out onto the daily chart, we see that the CHF/USD is hitting a key support level of 0.99 and the relative strength index recently dipped below 30, indicating that the currency pair could be oversold.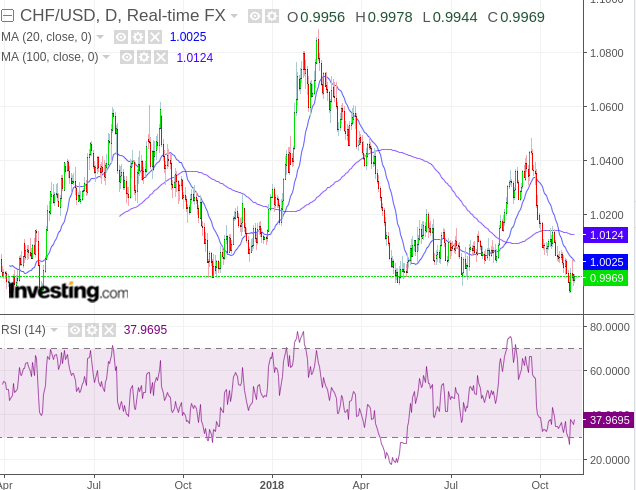 Source: investing.com
So, is this a signal that the Swiss franc could be set to rise after a period of weakness?
With trade tensions causing some concern for the world economy, one might be inclined to think that this would fuel demand for safe haven assets such as the franc.
However, the chairman of the Swiss National Bank recently expressed the view that Switzerland could in fact be vulnerable in the event of a fully-fledged global trade war. As a small, open economy, Switzerland is highly dependent on a vibrant export market to sustain economic growth. Should the effects of a trade war become particularly acute, then this would be of particular risk to Switzerland's economy.
That said, rising tariffs could also have the effect of increasing the tightening of monetary policy. With consumers expecting higher prices, this would have the effect of higher spending in advance of such rises which would trigger inflation and force central banks to raise interest rates.
Switzerland already has the lowest interest rate in the world at -0.75%. Should the Swiss National Bank decide to keep rates at record lows even with inflationary pressures, then it is likely that investors could decide to abandon the franc, and the currency would not necessarily adopt its usual safe-haven status.
Indeed, we saw this occur earlier this year when the franc fell to a three-year low agianst the euro, as low rates continued to lead to capital outflows and concerns regarding a trade war did not entice investors to hold the franc.
Moreover, with the US-China trade war having the effect of a weaker yuan due to China's commitment to a loose monetary policy, this has had a knock-on effect of strengthening the Japanese yen, and it may well be the case that the yen would act as a safe haven in lieu of the Swiss franc.
While the Swiss franc is a safe haven currency, an ultra-loose monetary policy has continued to lead to capital outflows. In this regard, there could be more weakness ahead for the franc in spite of its safe haven status.
Disclosure: I/we have no positions in any stocks mentioned, and no plans to initiate any positions within the next 72 hours.
I wrote this article myself, and it expresses my own opinions. I am not receiving compensation for it (other than from Seeking Alpha). I have no business relationship with any company whose stock is mentioned in this article.