Investment Thesis
This article marks the 12th month that I've been keeping track of John and Jane's Taxable portfolio and continued to discuss the dividend raises that continue to benefit the income produced by the portfolio. Recently, I've been so busy that I completely forgot that October marks the final month in the first year since I took over managing the taxable portfolio. While this is the 12th month since I started managing the portfolio, it is only the 10th month I have been tracking the dividend payments accurately since most stocks did not pay when they were purchased in late 2017.
Even with that excitement, I am reminded of the bloodshed that took place during the month of October, causing the total value of the taxable account holdings to fluctuate significantly over the course of the month. Although the major swing in the account balance can be somewhat unsettling, it is important to remember that this portfolio was designed to withstand turmoil. Simply put, I view October as a test of the taxable portfolio, and I'm grateful to say that it not only survived tumultuous market conditions, but it even allowed me to make a few changes that position it for future success (I will discuss these changes later in the article).
Although this may sound repetitive, I would like to include a disclaimer that this article is based on an actual portfolio for clients of mine. The goal is to build a portfolio of dividend-paying stocks, bonds, etc., that will continue to produce a growing and long-lasting income stream and simultaneously preserve capital. Capital appreciation is the least important characteristic of this portfolio. It is important that you do your own research when creating a portfolio that meets your needs!
Dividend And Distribution Increases
Companies that increased their dividend or paid a special dividend include:
Altria - The North American cigarette company has struggled over the last year as the stagnant cigarette sales and the threat from alternatives like vaping threaten their business. Their most recent earnings in October was refreshing as they beat on non-GAAP EPS and also on revenue. With these positive trends, we have seen shares climb back from a 52-week low in May where share prices were just under $54/share.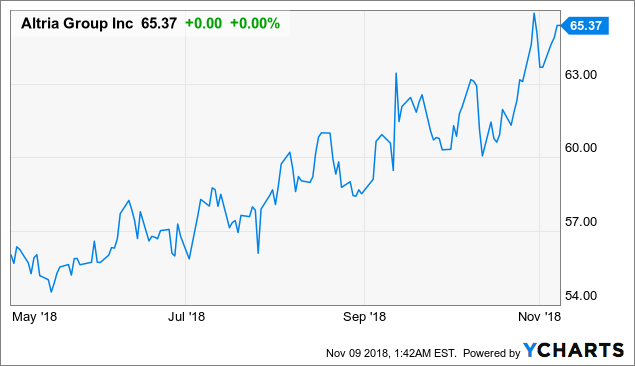 MO's dividend was increased from $.70/share per quarter to $.80/share per quarter. This represents an increase of 14.3% and a new full-year payout of $3.20/share compared with the previous $2.80/share. This results in a current yield of 4.90% based on a share price of $65.37.
WP Carey - WP Carey has continued to blow earnings estimates out and this most recent quarter was no exception. With a current yield of 6.3% WPC is a phenomenal income vehicle for investors looking for consistent and conservative income. The most recent quarter was boosted by their completed merger of CPA:17. AFFO estimates in line with estimates from their August earnings release with full-year AFFO of $5.34-$5.44 per share. Based on the current dividend payout of $1.025/share per quarter or $4.10/share per year we are looking at a payout ratio between 75.3% and 76.7%. The average dividend in 2017 was closer to $1.00/share ($4.00 annually) and WPC had FFO on the year of $5.06/share which is closer to a payout ratio of 79%. Therefore, WPC's conservative approach to dividend growth is continuing to pay off as the company grows AFFO at a faster pace than the dividend. I rate WPC a BUY below $64/share and a STRONG BUY below $61/share.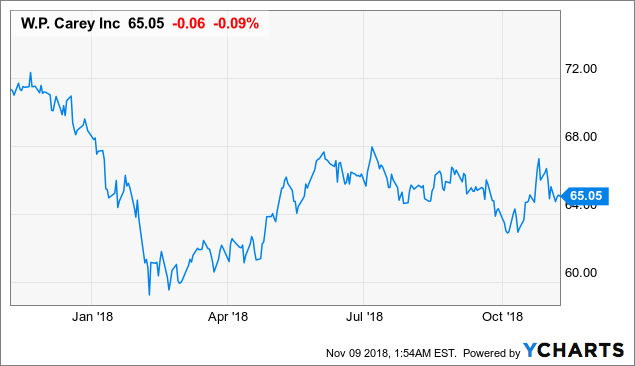 WPC's dividend was increased from $1.02/share per quarter to $1.025/share per quarter. This represents an increase of .50% and a new full-year payout of $4.10/share compared with the previous $4.08/share. This results in a current yield of 6.3% based on a share price of $65.05.
Positions Added To The Taxable Portfolio
Because of all the market volatility in October, we took the opportunity to sell select positions and add others because the discounts were too good to ignore. Not only were these good deals, but they also allowed us to enter into new positions that I consider to be stronger and more prepared to handle the potential of an economic downturn. Here is some background on the new stocks to the taxable portfolio:
Leggett & Platt (LEG) - LEG focuses on the design and fabrication of various consumer and industrial components. Products range from furniture to automobile and aircraft components. The company has been growing its dividend for 46 consecutive years and recently announced that it was increasing the dividend from $1.44/share annually to $1.52/share annually for a total increase of 5.6%. I wanted to add LEG to the portfolio because of the following graph that shows LEG has not carried with it a 4% yield since prior to 2015 and its share price hasn't been this attractive since early 2016.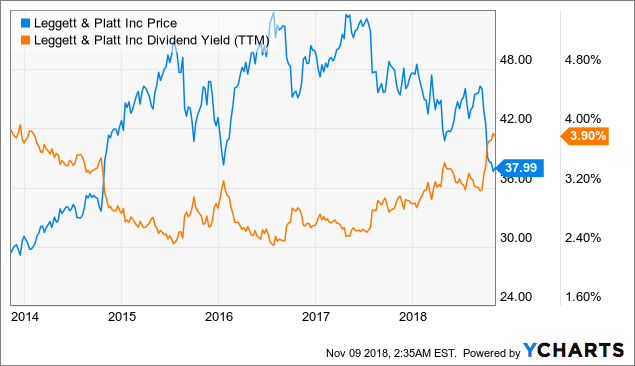 Texas Instruments (TXN) - Honestly, I never thought I was going to get a chance to add TXN to the portfolio and it's always because it appeared overvalued at the times it came up for consideration. TXN has become one of the best dividend-paying tech stocks, with 15 years of consecutive dividend increases and a 5-year average annual increase of 24.1%. TXN continues to reward investors with strong growth and an extremely compelling dividend with hefty annual increases. The market downturn in October dropped TXN to its 52-week low of $87.90. With my price target under $100/share, I took this opportunity to add 50 shares to John and Jane's portfolio. The graph below (although it is missing the current yield of 3.17% since it hasn't been paid yet) demonstrates that it is nearly impossible to get ahold of TXN shares with a dividend yield north of 3%.
October Income Tracker And November Estimates
I have created the following charts to assist with keeping track of John and Jane's taxable portfolios, with the intention of maintaining a database that can be compared on a month-to-month and YoY basis.
Green is used to show when dividends were actually received.
Yellow represents dividend estimates that haven't occurred yet (estimates).
Red indicates a position that's no longer held.
In order to de-clutter these charts going forward, I am going to start including the dividend earned from sold positions in a separate chart. If shares are repurchased, I will move the position from the "sold" chart back to the current holdings chart.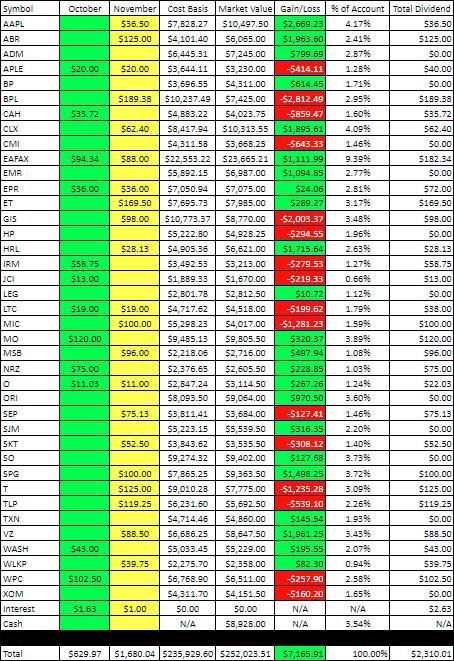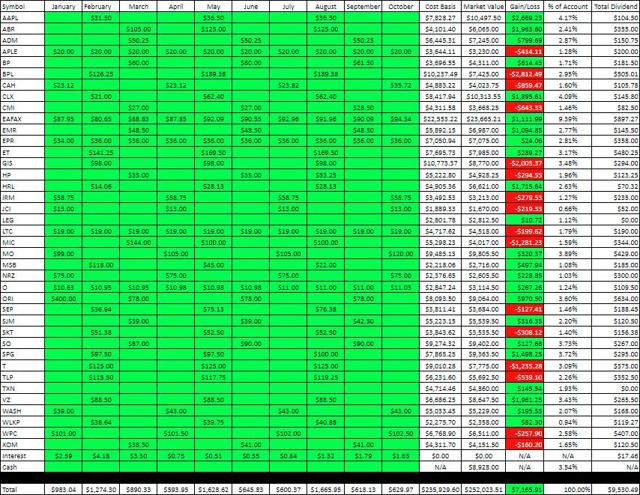 I think it is important I reiterate the following:
Dividends are not reinvested. John and Jane are at the point where they don't need the money, but we also want to build a cushion that allows us to purchase additional stocks in case the market drops and equities become more attractive.
Since dividends are not reinvested, the only time payments increase is when the dividend is raised or when additional shares are purchased with excess cash.
Conclusion
The stocks held in John and Jane's Taxable Portfolio continue to maintain high valuations while also generating over $9,530.49 in dividends in the first 10 months of the year. I would also like to point out that stocks no longer held in this portfolio contributed $253.89 for a grand total of $9,784.38.
This means that the taxable portfolio is (on average) generating $978.00/month. We expect to see the same monthly average through the end of the year, which means we are right on target for exceeding our estimate of $12,000 in dividend income.
Using our cost basis of $235.9k, we can estimate that dividends are returning a consistent and safe yield on cost of 5.1%.
We expect John and Jane to receive a total of $1,662.94 of dividend income in their Taxable account during the month of November.
Final Note: If you enjoy my articles, please take the time to follow me. While I enjoy performing analysis, following me is the best method for showing me that SA subscribers are finding my work useful. I welcome all meaningful feedback and I enjoy using the Seeking Alpha platform to enhance and improve my own knowledge as well. My promise to readers is to be as open and transparent as I can be. The numbers presented are accurate as of the time I wrote this article.
In John and Jane's Taxable account, they are currently long the following mentioned in this article: Apple (NASDAQ:AAPL), Arbor Realty (ABR), Archer Daniels Midland (ADM), Apple REIT (APLE), British Petroleum (BP), Buckeye Partners (BPL), Cardinal Health (CAH), Clorox (CLX), Cummins (NYSE:CMI), Eaton Vance Floating-Rate Advantage Fund A (EAFAX), Emerson Electric (NYSE:EMR), EPR Properties (EPR), Energy Transfer (ET), General Mills (GIS), Helmerich & Payne (HP), Hormel (HRL), Iron Mountain (IRM), Johnson Controls (JCI), Leggett & Platt (LEG), LTC Properties (NYSE:LTC), Macquarie Infrastructure (MIC), Altria (MO), Mesabi Trust (MSB), New Residential (NRZ), Realty Income (O), Old Republic International (ORI), Spectra Energy Partners (SEP), J.M. Smucker (SJM), Tanger Factory Outlet Centers (SKT), Southern Corp. (SO), Simon Property Group (SPG), AT&T (T), TransMontaigne Partners (TLP), Texas Instruments (TXN), Verizon (VZ), Washington Trust (WASH), Westlake Chemical (WLKP), W.P. Carey (WPC), and Exxon Mobil (XOM).
Disclosure: I am/we are long T, GIS. I wrote this article myself, and it expresses my own opinions. I am not receiving compensation for it (other than from Seeking Alpha). I have no business relationship with any company whose stock is mentioned in this article.
Additional disclosure: This article reflects my own personal views and is not meant to be taken as investment advice. It is recommended that you do your own research. This article was written on my own and does not reflect the views or opinions of my employer.