Rocky Mountain Chocolate Factory, Inc. (RMCF) is an international franchiser of gourmet chocolate, confection / self-serve yogurt stores, and a manufacturer of premium chocolates. As of August 2018, RMCF through its franchisees and licensees, operated 452 Rocky Mountain Chocolate Factory and self-serve yogurt stores in 38 states, Canada, South Korea, Qatar, Panama, and the Philippines. During the first half of FY 2019, the company opened an additional ten stores and closed fifteen stores – 60% of stores closed were U-Swirl franchises.
As of August 31st, 2018, their wholly-owned subsidiary U-Swirl International, operated four company owned stores, 106 franchised cafes, 4 company-owned stores, and 1 international licensed location. In addition to their wholly-owned subsidiary and Rocky Mountain Chocolate stores, in January 2007, the company entered into a co-branded agreement with Cold Stone Creamery. These co-branded stores are established in retail environments where a stand-alone Rocky Mountain Chocolate store wouldn't be supported. As of August, 2018, Cold Stone Creamery franchisees operated 89 co-branded locations and are expected to open an additional nine stores.
The company's revenues are primarily derived from three sources; sales to franchisees and other 3rd parties (68% of revenues), sales at company-owned stores (11% of revenues), and the collection of initial franchise fees and royalties from franchisees (21% of sales). What separates RMCF from other confectionery stores is their in-store preparation of numerous products, including fudge and caramel apples. The in-store preparation and aroma of their products enhances the ambiance of the stores and conveys an image of homemade quality.
As you can see from the below table, RMCF's earnings and return on invested capital have been rather consistent over the last six years, with an average ROIC of 14.91% and an operating margin of 11.42%. The company has paid 61 consecutive quarterly dividends to shareholders and that dividend is currently yielding 5.87% using the closing price of $8.18 on 11/07/18. The historical payout ratio has been 79.6% and pays out $0.48 per share, for a total dividend payment to shareholders of $2,821,874. The company also has $638,000 remaining in their stock repurchase program as of 8/31/18. Insiders of RMCF, hold approximately 11.74% of the outstanding stock, with CEO Franklin E. Crail personally owning 8.39% of the stock.


*Author generated charts using numbers pulled from each year's 10k
The main thesis of my article is going to revolve around the type of impact the new tax cuts will have on RMCF. Starting in 2018, the effective tax rate for corporations dropped from 35% to 21%. The effects of this law are still being played out and the benefits of this law will enhance RMCFs returns in the coming years. However, before I drive into the tax benefits, I want to detail out the current situation of RMCF before the tax benefit analysis.
Last year saw RMCF's EPS decline by 18%, from $0.59 to $0.50. The bulk of the difference was due to the decline in franchise and royalty fees. Franchise and royalty fees have been steadily declining over the past three years. In 2016, revenues for RMCF's franchise and royalty fees equaled $9,096,150 and in 2018 these revenues dropped to $7,906,935. The drop can be contributed to a combination of a decrease in franchise units in operation and lower same store sales. The average number of total franchise stores in operation decreased from 371 during FY 2017 to 317 during FY 2018.


The first half of FY 2019, saw the company post an EPS of $0.22 and an ROIC of 11.69%. In the same period of FY 2018, EPS was $0.30 and ROIC was 15.26%. Revenues also decreased to $16,166,000 or 8.22% y/y. These numbers are the greatest risk to this company and is something to monitor very closely. From the above charts, you can see the rise in factory sales rose 2.5% in FY 2018, however, factory sales have a much lower gross margin than other areas of revenue. The gross margin for retail sales is around 60% and is a source of great profitability, but revenues are still only 11% of sales.

Despite the falling revenue, which is due to a large drop in the amount of stores the company owns, the financial position of the company is strong. In the first quarter of 2019, the company has current liabilities of $5.68 million, which is a decrease of $2.53 million since 2/28/18. The net current asset value at the end of the first quarter of 2019 equaled $7.78 million or $1.30 per share. With roughly $6 million of cash on hand, the company has more than enough cash to meet their current liabilities. This gives the company flexibility to maneuver and invest money in the company to grow their international operations.
Even though the sales of the company are in a downward decline, the fact remains that RMCF is consistently earning double digit returns on the amount of capital the company deploys. That's the hallmark of a great company. If a company can consistently maintain low costs while achieving the double digit return on investment for shareholders, what else is there to ask for?
With all potential investments, we should seek a reasonable margin of safety to ensure our investments are safeguarded. Each investor will have a different comfort level for their margin, so there's no perfect purchase point. The investment value for RMCF using a dividend discount model for perpetuity is roughly $11.20 – using a 4% interest rate. I've attached the calculations for my investment value below.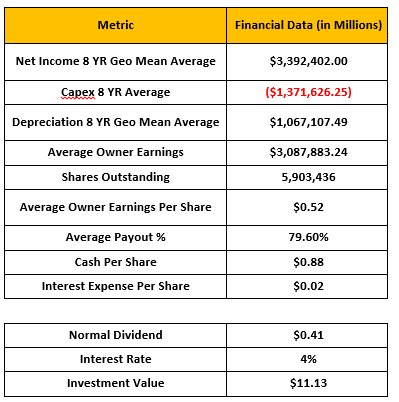 So, using yesterday's closing price, we can safely assume a 26% discount to the intrinsic value of RMCF. However, this intrinsic value is being calculated using historical metrics and doesn't factor in the effects of the new tax law. Using the same historical information that I've used to calculate the above investment value, but with the new tax rate, results in an 8 year net income average of $3,810,000. This would put our investment value at $13.13 and would imply an upside of roughly 37%.
The new tax rate will more than offset the decline in revenues and the new rate should benefit long-term shareholders over time. The new law gives the company back roughly 10% of net income which the company can retain to grow the business or increase the dividend for investors. Although RMCF has declined 30% this year, I wouldn't want to purchase the company just yet. Given the recent rise in interest rates, I believe a more attractive buying opportunity will rear its head during 2019. Rising rates decrease the discounted future value of cash flows a company earns. Which in turn decreases the value of stocks over the long-pull.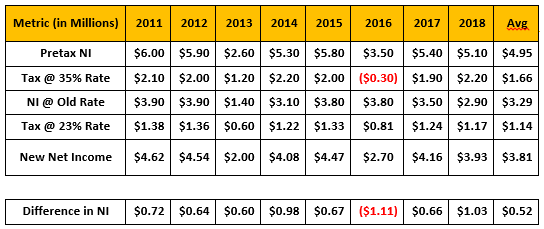 Disclosure: I/we have no positions in any stocks mentioned, and no plans to initiate any positions within the next 72 hours.
I wrote this article myself, and it expresses my own opinions. I am not receiving compensation for it (other than from Seeking Alpha). I have no business relationship with any company whose stock is mentioned in this article.
Editor's Note: This article covers one or more microcap stocks. Please be aware of the risks associated with these stocks.