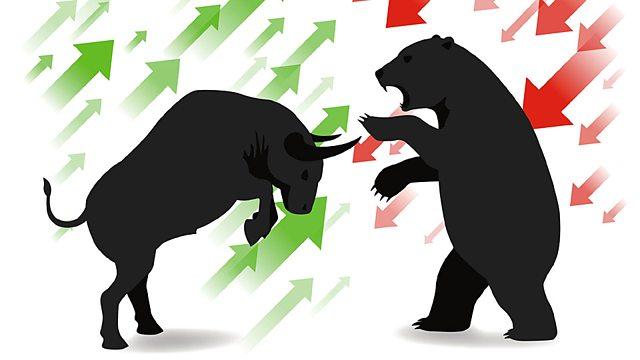 Background
Yesterday (11/8/2018), I published a post midterm elections article with an unequivocal title: "Are You Ready For An End Of Year Rally? We Are!"
One of the loyal readers was a bit puzzled by the unusual bullish tone that I've expressed there:

Here's my reply to him: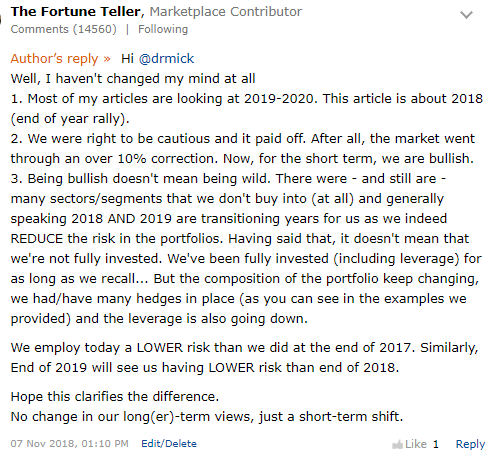 Since @drmick's question was spot on, and since my reply was concise in nature, I find it important to add a bit of color (literally and figuratively) to short reply.
Simple is Better
When we talk about our short-term (few months) bullish stance versus the long-term (over one year) bearish stance, there are, predominantly, two dimensions (I can think of) that describe this divergence in the best - and most simple - way.
The first one is the political-macro front, fiscal policy (e.g. tax cuts) and international aspects/effects (e.g. trade war) if you'd like, which is what the above-mentioned article touched upon.
The second one, which this article will be focusing on, is the corporate-micro front. When I say "corporate-micro front", I refer to the monetary policy (e.g. rate hikes) as well as to financial results (e.g. earnings).
In order to simplify things even further, I'll touch upon each part of the corporate-micro front separately, starting with the financial results.
Financial Results
Remember: What we are trying to do here is to explain why we are bullish on the short term and bearish (or, more accurately, cautious) on the long(er) term.
Therefore, this article is not about how great or poor this earnings season is, rather how different/strange it is.
With that in mind, three major global banks are coming to help here, explaining why this time is different for corporate America (at least when it comes to earnings).
1. Hit the Beat
Deutsche Bank (DB): Companies that beat earnings expectations are getting punished.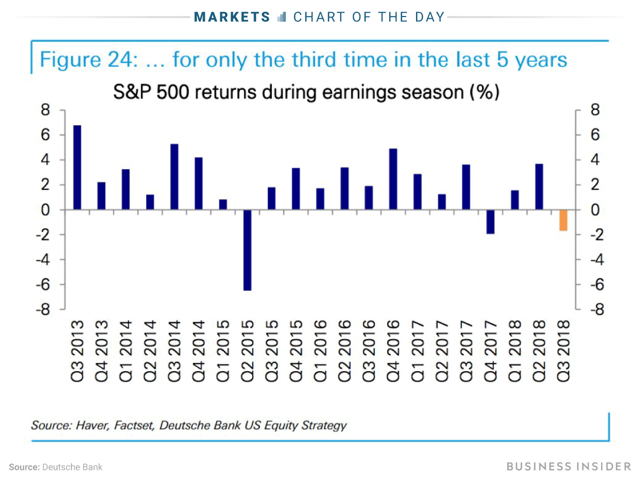 2. 'Buying the Dip' Malfunction
Morgan Stanley (MS): It seems like the "buy the dip" investment strategy is not working anymore.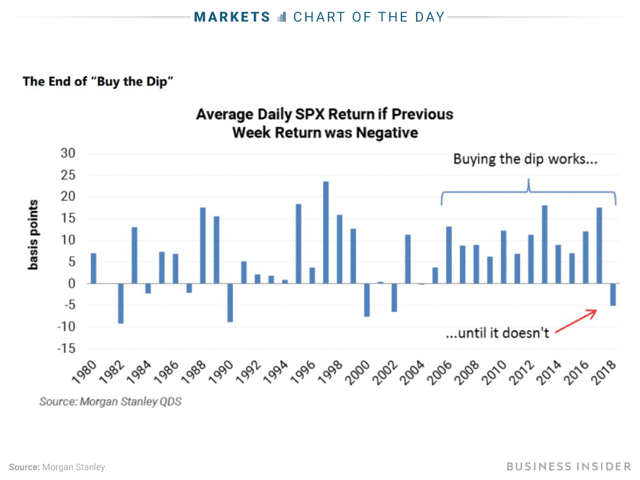 3. Present - Out, Future - In
Goldman Sachs (GS): Beating market-current expectations is much less relevant than sounding an upbeat tone regarding future earnings outlook.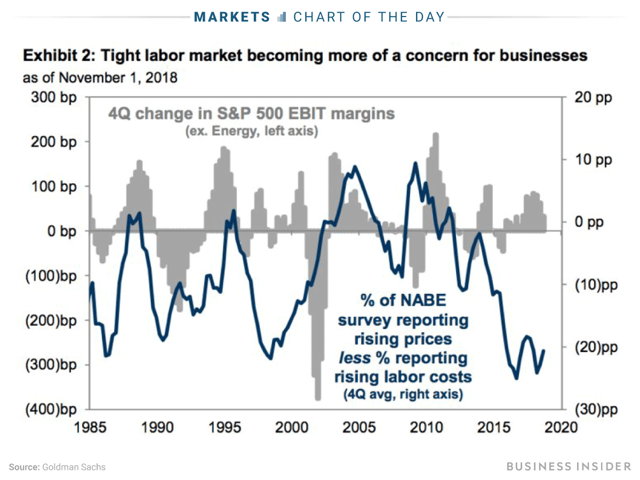 Monetary Policy
Now, let's move to the other part of the corporate-micro front: monetary policy.
On one hand, we have a strong US economy and labor market that keeps the Federal Reserve on course for further increases in short-term interest rates.
Not only that unemployment rate near its lowest level since 1969, but average hourly earnings just had their biggest Y/Y jump since 2009.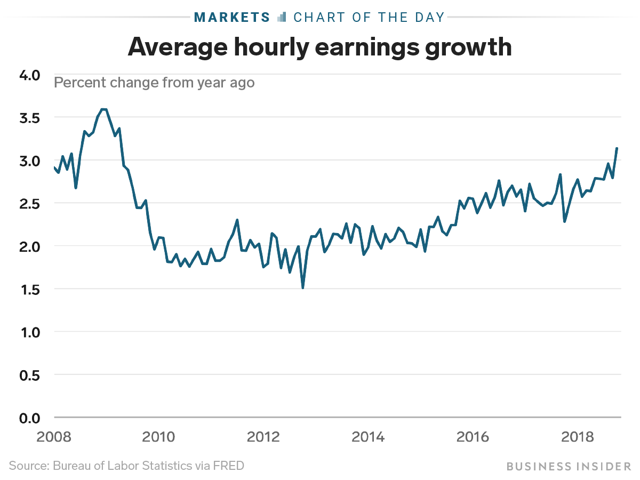 On the other hand, there are many "distortions" that cause us to believe that the tightening cycle in monetary policy isn't going to last much longer. As a matter of fact, we expect short-term rates and, more so, long-term yields to peak in 2019.
1. Moving in the 'Wrong' Direction
Credit Suisse (CS): 10-Year US Treasury Yield is diverging from its high historical-traditional correlation with global PMI new orders indices.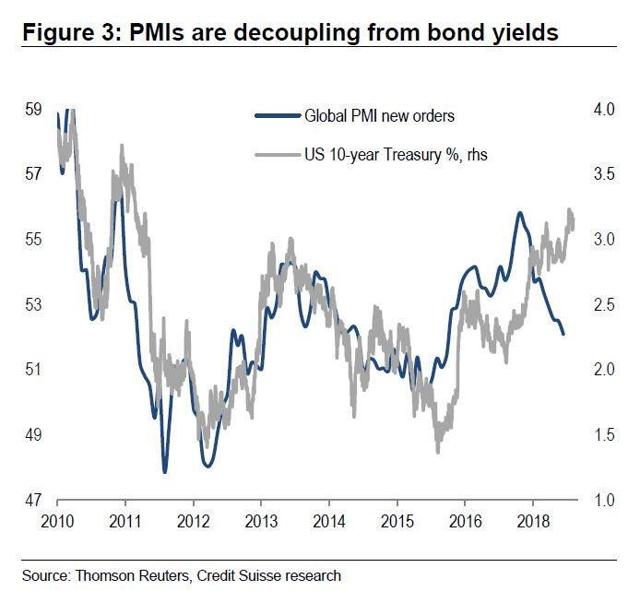 2. Stocks-Bonds Trade-Off
Wells Fargo (WFC) Securities: Short-duration US investment-grade bond (AGG, BND, LQD, BSV) funds reported a record $3.6B in inflows in the past week, with YTD inflows of $49.8B just 6% shy of the full-year record in 2017.
Thing is that the exact same picture is happening in junk bonds (HYG, JNK, AWF, BKLN). Even as rates/yields are still, clearly, on the rise - investors are willing to put money to work in (short-medium duration) bonds.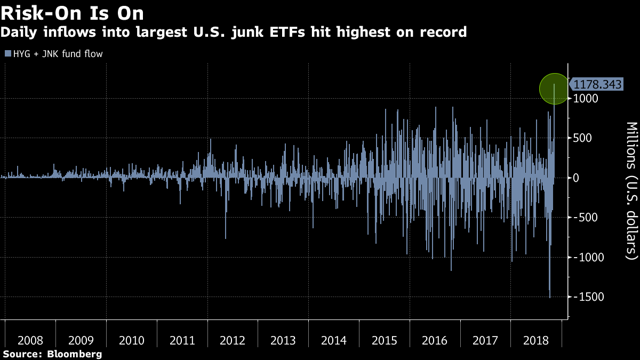 3. Rates-Economy trade-Off
Higher rates are hurting growth. It's as simple as that.
Take, for example, the 30-Year Mortgage Rate in the US that has just touched 4.94%, its highest level since February 2011.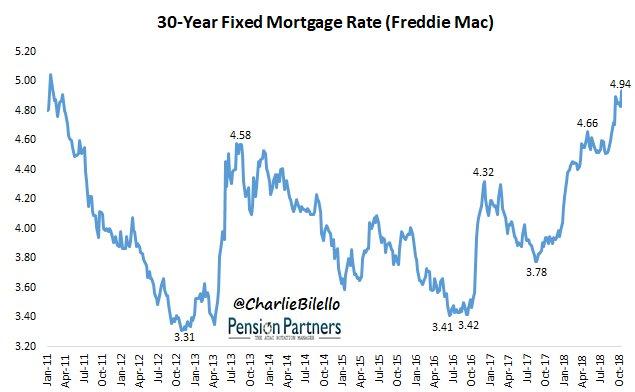 Is 4.94% just another number we read about? No! 4.94% is cooling off the real-estate/property (VNQ, SCHH, IYR, XLRE, RWR, ICF) market.
Don't believe me? New home sales are down over the trailing 2 years for the first time since 2012.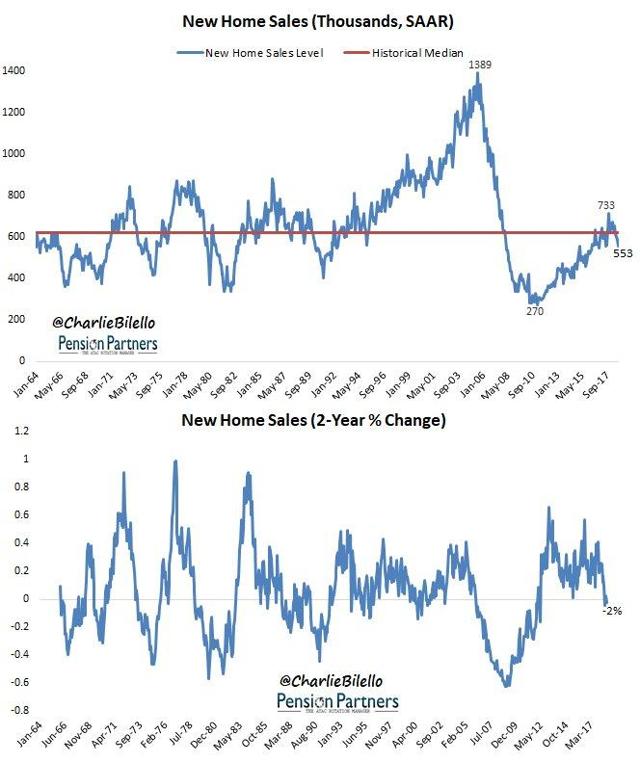 Conclusion
What do we see here?
1. Financial results (e.g. earnings) are being treated differently than they were in recent years. This tells me that the market is uncomfortable with corporate America future earnings path.
2. Monetary policy (e.g. rate hikes) is having a real meaningful effect, on both growth as well as on investment trends. The trade-offs I'm referring to above are only going to accelerate in 2019 (and beyond), as long as the Fed doesn't pause.
Since all signs are pointing at another 3 (per market probability) to 4 (per FOMC statements) rate hikes till end of 2019, there is a good reason to believe that we are already seeing, or will see over the next year, the peak of many cycles.

Source: CME Group
From Short-Term Bullish to Longer-Term Cautious
Back to what we started with.
We are fully invested, and we are likely to remain so for the coming months. Nonetheless, over the past year, we already started to reduce the level of risk within our portfolios. This trend will continue in 2019.
2018 marked the end of passive investment. After many years that investors only needed to pick their preferred stock ETF (SPY, DIA, QQQ, IWM), this year is bringing active portfolio management back to life.
I believe that this will be even more vivid in 2019 and 2020. Stock-picking and riding the right momentum will allow for a better chance to succeed than sticking to the main indices.
We are mostly shifting from growth to value, becoming less aggressive and more defensive.
Here are two of the main shifts we are taking and/or intend to take:
More Value, Less Growth
We believe that US growth stock glory days are gone, and value investing is the right-better play.
Paying premium for shares of fast-growing companies (IWF) over those viewed as good value for money (IWD) has been a recipe for success for over 5 years.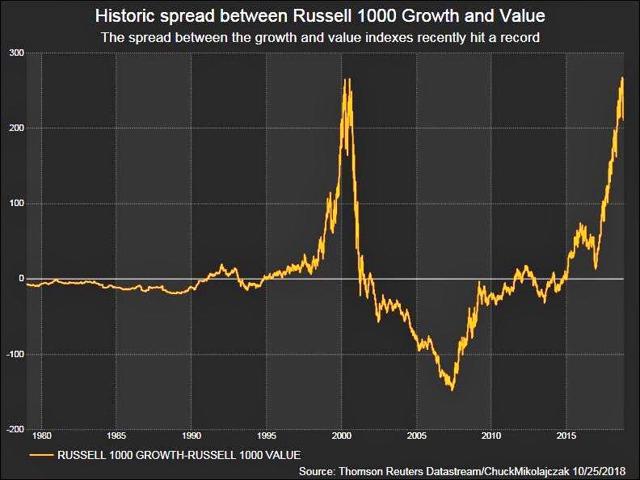 Less Equities, More Debts
As a result of years of outperformance, the equity risk premium on US stocks has fallen to historical low levels, especially relative to the risk premium in other regions.
Having said that, global equity risk premiums are relatively low (on an aggregate basis).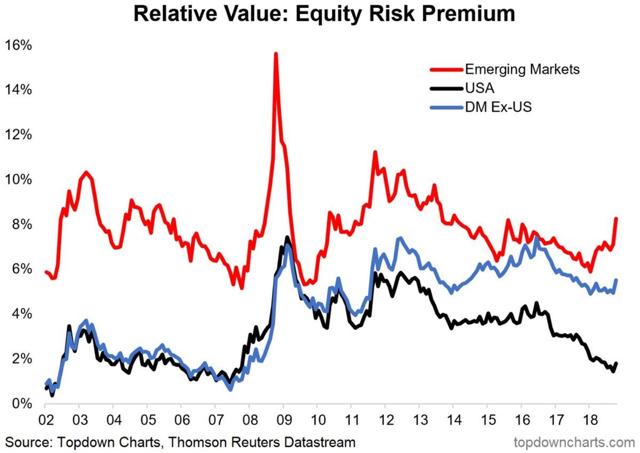 Remember: Timing is everything...
Allow me to finish with two quotes - a very old one and a fresh one.
The old one is attributed to King Solomon who was most famous for his wisdom:
For everything there is a season, and a time for every purpose under heaven - World English Bible, Ecclesiastes 3
The fresh one is from Michael Batnick, aka The Irrelevant Investor:
When you were born might be the single most important factor when determining your experience in the market. It's also the one that is completely out of your hands. - Michael Batnick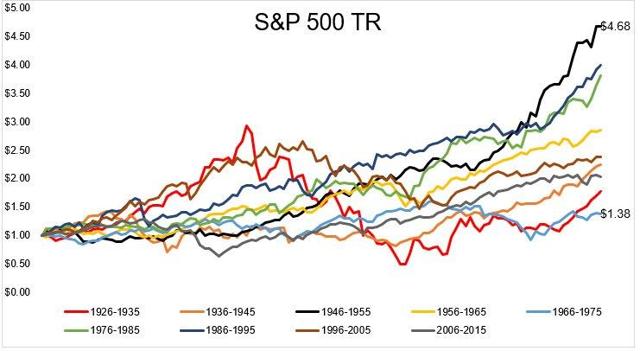 Source: Michael Batnick, The Irrelevant Investor
...so is Risk Management!
Author's note: Blog post notifications are only being sent to those who follow an author in real time. In order to receive notifications for both articles and blog posts, go to Author Email Alerts, which lists all the authors you follow and turn on "Get e-mail alerts" (see below).


The Wheel of FORTUNE is one of SA Marketplace's most comprehensive services. We view our service as a "supermarket of ideas" with an emphasis on risk management and risk-adjusted returns.
Our monthly review for October, where you can find all suggestions since launch, is only one click away.
We cover all asset-classes: common stocks, preferred shares, public debts, baby bonds, options, currencies, and commodities.
With Trapping Value on-board, you're getting two leading authors for the price of one.
Before committing to the service on a long-term basis, take advantage of the two-week free trial.
Disclosure: I am/we are long MS.
I wrote this article myself, and it expresses my own opinions. I am not receiving compensation for it (other than from Seeking Alpha). I have no business relationship with any company whose stock is mentioned in this article.